English is a common language used in numerous countries, including India. It has been used daily in every area, such as the banking sector, day-to-day life, companies, schools, institutions, etc.
Learning or improving any language always starts from the ground level; similarly, in the first step of learning English, topics like Sentence, Verb, Tense, and Reported Speech are covered.  A correct grammar book helps to cover all the basic parts of the language. Also, it helps in cracking competitive exams because nowadays English is considered the primary aspect for eligibility in every exam.
Additionally, it can help to become a better English teacher, writer or novelist. While buying a grammar book for yourself or your kid, you'll find numerous options by different authors. But, determining which the best is is one of the difficult tasks.
Whether you are a professional who wants to improve your command of English or a beginner who wants to learn basic concepts, the given list of English Grammar Books available in the Indian market will help you to improve your speaking and writing skills.
List of Top English Grammar Books in India:
| | | |
| --- | --- | --- |
|  Serial No. |  Book Name |  Author Name |
|  1. | English Grammar & Composition |  S.C. Gupta |
|  2. | High School English Grammar & Composition Book |  Wren and Martin |
|  3. | Descriptive English |  SP Bakshi |
|  4. | Word Power Made Easy |  Norman Lewis |
|  5. | Key to High School English Grammar and Composition |  Wren and Martin |
|  6. | Objective General English |  R.S. Aggarwal |
|  7. | Cambridge Essential + Intermediate + Advanced English Grammar (Combo) |  Raymond Murphy |
|  8. | Practical English Grammar |  A.J Thomson |
| 9. | A Practical Guide to English Grammar |  K.P Thakur |
|  10. | Spoken English and Grammar |  NEO |
1. English Grammar & Composition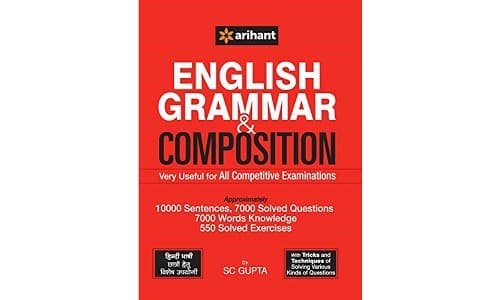 Written by SC Gupta, and published by Arihant Publications, English Grammar & Rachna is a perfect choice for those looking for a book for any competitive exam. This book covers all the essential parts of the English language & the basics along with the subject and grammar part.
The main advantage of choosing this book is to learn English from the starting point as it is designed to provide deep knowledge. However, it includes all the topics that are asked in competitive exams. Important topics that are limited in this book with different lessons include the formation of words, phrases & idioms, antonyms, synonyms, phrasal verb formation, sentences, etc.
2. High School English Grammar & Composition Book
The High School English Grammar and Composition Book have been proving its value by offering exclusive knowledge of the language, that's why it has gained immense popularity among the students. In addition to detailed guidance on how to use the English language as a form of communication, this book is a suitable choice.
With the bigger format of their regular edition, content has now become even more convenient. There is also a separate writing space for taking notes. Some of the useful aspects of the book are comprehension, syntax, sentence construction, various functions, etc.
3. Descriptive English
Descriptive English is one of the leading books in the market as it is accurately written for all competitive exams. The book is written in clear, nice and straightforward language, which makes it one of the best books to understand. It covers the topics like expansion writing, grammatical skills, grammar-related topics, verbal skills, essay writing, and other writing skills.
Additionally, it helps learners deal with the comprehension skills of the language. Another best thing is, that it also comprises all the current affairs topics along with the general topics for the writing portion. In the exams like CDS, NDS, SSC, IFS, State-level Civil Services examinations and Railways exam, this book helps a lot.
4. Word Power Made Easy
This book is written by well-known grammarian Norman Lewis listed step by step guides and compositions related to the English language. This book is one of the hubs of premium English books on many words, synonyms, antonyms, sentence formation etc. It is also a great option for those preparing for competitive exams like CAT, XAT, GRE, TOEFL, GMAT etc.
5. Key to High School English Grammar and Composition
The book comes with all the important qualities to enhance the child's knowledge and learning productivity. The book has an easy to understand vocabulary and comprehension with the grammar portion and is exceptionally convenient even for weak students. The books allow students to complete difficult tasks on their own and offer great assistance. The words have been used in a proper manner, which helps the students not to get confused by the level of written context.
6. Objective General English
Moving to another popular English book in India 2022 is Objective General English written by R.S Aggarwal. The book is becoming popular among the students, hence it is one of the best in the market. This book removes the barrier of the English language in the way of students' success and helps several students to score well in competitive exams. It includes vocabulary, one-word antonyms, synonyms, substitutions, passage comprehension, phrases and words, active and passive, and many other aspects that belong to the grammar part.
7. Cambridge Essential ( Combo)
The Cambridge Essentials book covers all the essentials for all types of people interested in learning the multipart of the English language. In 2018, this book is published by Oxford University Press. Various aspects of English grammar are listed most systematically for step by step improvement in grammar, comprehension and vocabulary. The book has practice pages that help the students to prepare for competitive exams at the top level.
8. Practical English Grammar
The book has been widely applauded as one of the best grammar books. This book stands apart because of its comprehensive scrutiny of the important components of the English language. Apart from written English, it helps develop knowledge of vocabulary. Every topic is presented most effectively, making it quite easy for the students to understand the basic start. This book caters to the needs of children, adults and even those who started learning languages ​​in a few days.
9. A Practical Guide to English Grammar
This book explains the horizon as well as the modern aspects of the grammatical part of the English language. The given grammar exercises in the book ensure a complete assessment of the things learned by the students. A book is a perfect option for all those who have a Non-English background. Every chapter or page has been described easily and gently. The book is designed in such a way that candidates who find it difficult to grasp the basic concepts of English can make a good start with this masterpiece.
10. Spoken English and Grammar
As the name suggests, this book by NEO has been thoughtfully designed for all those who want fluency in English. The book is filled with all the essentials required for English speaking proficiencies and proper learning of grammar. The book is itself a seminar because all the lessons are arranged for easy implementation and understanding.
Alternative Way
So, if you think the above books are kind of difficult for you, then don't worry. Here we will show you an easy and alternative way from where you can improve your grammar without reading a book.
In this way, you can take help from an online grammar checker. Such grammar tool utilizes advanced AI technology in their algorithms. You just have to upload the text, and an online grammar checker will detect any kind of grammatical errors in it. Not only that, it will also provide suggestions for those errors, which you can use to correct them.
This will help you learn and get a good grip on grammar quickly because when you correct your own mistakes, you will be able to avoid them next time.
How to Choose the Best English Grammar Book in India
Choosing the right English grammar book can significantly impact your language learning journey. In this article, we'll discuss the factors to consider when selecting the best English grammar book in India.
Identify Your Level
The first step in choosing the best English grammar book is to determine your current level of proficiency. Are you a beginner looking to build a solid foundation? An intermediate learner striving to enhance your skills? Or an advanced student aiming for fluency and precision? Different books cater to different proficiency levels, so it's crucial to pick one that aligns with your needs.
Content and Structure
Consider the content and structure of the grammar book. A well-organized book will guide you through the language learning process systematically. Look for books that cover the fundamental aspects of grammar such as tenses, sentence structure, and parts of speech. Ensure that the book provides clear explanations, examples, and exercises to reinforce your learning.
User-Friendly Format
A user-friendly format can make your learning experience more enjoyable and effective. Look for books with a clear layout, readable fonts, and organized chapters. Visual aids like charts, diagrams, and illustrations can help you grasp complex concepts easily. A book with interactive elements, such as exercises with answer keys and online resources, can be especially helpful.
Author Credibility
The author's expertise and experience in teaching English grammar are crucial. Research the author's credentials and their background in linguistics or education. Renowned authors often produce high-quality grammar books. Reading reviews and seeking recommendations can also provide insights into the author's reputation.
Focus on Practical Usage
English grammar books should not just be theoretical; they should focus on practical usage. Choose a book that provides real-world examples and scenarios, making it relevant for everyday communication and writing. Practical exercises that mirror real-life situations will help you apply your knowledge effectively.
Bilingual or Monolingual
In India, you may find both bilingual and monolingual English grammar books. Bilingual books often include explanations in your native language, which can be helpful for beginners. Monolingual books, on the other hand, immerse you in the English language, aiding in better comprehension and fluency. Choose the type that aligns with your learning preferences.
Consider Online Resources
In the digital age, many English grammar books come with online resources such as audio files, video lessons, and interactive quizzes. These supplementary materials can enhance your learning experience, so consider books that offer such resources.
Price and Availability
English grammar books in India come in a wide price range. While premium books often offer comprehensive content, there are budget-friendly options too. Consider your budget and availability of the book in your region. Online marketplaces and local bookstores can be good places to explore a variety of options.
Overall, Choosing the best English grammar book in India is a crucial step in your language learning journey. It should align with your proficiency level, offer well-structured content, be user-friendly, and focus on practical usage.
Final Words:
Despite Hindi being our national language, conversation in English has become essential in every field as it indicates how sophisticated you are, how confident you are, are you able to deal with foreign customers, etc. You should go with a good grammar book to learn sentence formation, and improve English in writing or speaking form.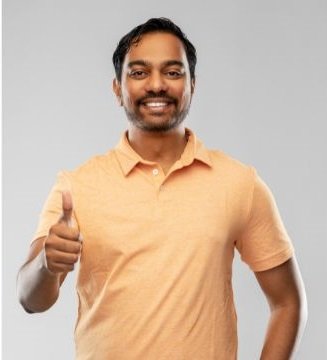 Rahul Kumar is a passionate educator, writer, and subject matter expert in the field of education and professional development. As an author on CoursesXpert, Rahul Kumar's articles cover a wide range of topics, from various courses, educational and career guidance.