Saving the country from terrorist attacks is a difficult task for every defence sector.  The three defence sectors – the Indian Navy, the Indian Army and the Indian Air forces play a vital role in securing the lives of people. Each defence sector has its contribution to the serving country and maintaining peace inside the nation. These sectors take bits of help from some special forces. Special Forces like GARUD, paramilitary forces are backbones of the Indian Army,  A MARCOS is another special force, overlooked and kept by the Indian Navy. The role of the Macros is to tackle emergencies which are arises from different means and helps in controlling situations like Terrorist attacks, war, security of the nation etc. Many have dreams to join the Marine Commando force but very few know about its joining procedure. If you are interested to join MARCOS then you should explore the whole article. Here, we have listed MARCOS, how to apply for it, eligibility and procedure follow for joining MARCOS.
About MARCOS / Marine Commando Force
The MARCOS is popularly known as the Marine Commando Force or special force units. It is a part of the Indian Navy and is responsible for directing special operations. Because of their bristly attire, the MARCOS is known as the DadiwalaFauj by various terrorists. The entire force members can contribute themselves in Special Forces operations in the naval domain.
They are also capable of undertaking special activities of air and land as well. The force member of this force acquires years of experience and a global reputation for professionalism. MARCOS forces are divided into various units and become a part of the Armed Force Special Operations Division. Such units are formed for special tri-services.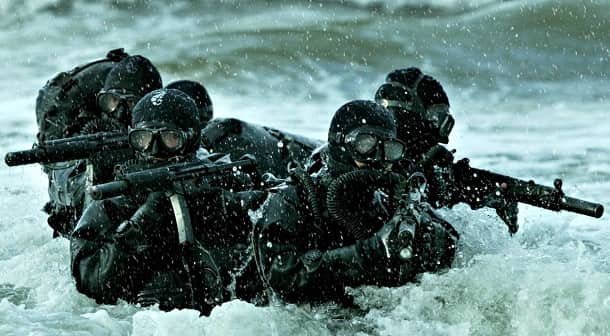 Usually, special operations are undertaking in Jammu and Kashmir. From J&K state many terrorists can attack easily.
History of MARCOS
The MARCOS was established in 1983 and receive official acceptance in 1985. This force is specialized in counter-terrorism, unconventional warfare, amphibious warfare, special operations, rescue operations etc. Currently, more than 2000 soldiers work in the force. After involving in operations like Pawan, Cactus, Leech, Kargil War etc. it has become nationally and internationally as well. Ideally, it follows propaganda like "The few the Fearless".
Purpose and Role of Marine Commando Force
Some of the major roles of MARCOS include:
The primary role of MARCOS is to conduct underground attacks against enemy ships, dynamics assets behind enemy lines and offshore fixings.
Another purpose of this force is to support marine operations including pre-assault ops.
They can also take part in undercover diving operations.
To support naval operations and make them successful, it conducts rescue missions and doing observations.
Fight against terrorist attacks in a maritime environment.
Special Operations:
Apart from major operations and support activities, the MARCOS conducts special operations in the maritime environment like amphibious warfare. These days MARCOS force works effectively with better progress entitled with other capabilities. Some of them include:
Unconventional Warfare
Direct Action
Counter-Terrorism
Special inspection
Lop-sided warfare
Hostage Rescue
Personnel Recovery
Counter Explosion
Safeguarding of offshore energy assets
Anti-piracy, etc
Recruitment of MARCOS
Only male candidates can join MARCOS. The selection in MARCOS is based on the age criteria and core strength. Those who want to join MARCOS should join the Indian Navy first. The candidates get a chance to get selected in the India Navy through CDS, SSC and NDA. Moreover, candidates must be physically and mentally fit and strong. The Selection Procedure of MARCOS consists of two parts namely physical test and screening. In the physical test, the soldier's stamina is accessed and in screening further training the stamina will be checked for further training. Many soldiers will reject the selection process. It is one of the toughest screening tests. Soldiers are advised to work on their stamina level before applying for MARCOS.
Selection Procedure and Training for MARCOS
As we mentioned below, you should join the Navy first then go for the selection procedure. Male volunteers can undergo Indian Navy training and take part in war activities. Before applying for MARCOS, volunteers can be either enlisted sailors or commissioned officers. Other military services application form is not accepted for MARCOS. Generally, the MARCOS selection procedure is resolved around on the two phases but it may expend up to 4 phases. Let's have a look:
Phase I – Pre Selection
Phase II–Selection
Phase III – Basic SF Training ( Qualification Training )
Phase IV – Advanced SF Training
MARCOS Phase I Pre Selection
It is a primary stage to becoming a Marine Commando. This stage is also known as the enrolment stage. The duration of this stage is 3 days. On successful completion of enrolment, applicants will go through five weeks selection process. It is the most difficult stage and very few candidates have cracked it.
MARCOS Phase II Selection
Once you complete the primary stage, you will go for attending the five-week physical task training which might be difficult. Some of the major tasks that applicants may encounter during the selection procedure:
20 Kilometres ( approx 12.4 miles) – Morning run
Carrying a 60 Kg weight and Night March for 12.4 miles ( 20 KG)
Will being a part of training with live bullets, shells etc.
Carrying a 60 Kg weight for a specified period (OncePer Week).
Conduct a March of 120 KG
Being a part of daily training over hours each day including physical energy training.
During the selection period, candidates can only sleep for less than 4 hours. In case you will receive a chance to sleep more than 4 hours then you will be lucky.
The 800-metre long run will be done by candidates, at the end of the week.
At the end of the week, candidates will be a part of crawl carrying (25Kg) etc.
Further activities like 2.5. Kilometre obstacle course.
MARCOS Phase III Basic SF Training
After clearing the second phase, candidates will move to the next stage that is Basic SF training. This stage consists of Basic SF Training and advanced SF Training.
In that stage, candidates will undergo for wide-range of training with different organizations. The activities and training of candidates are judged by the  INS Abhimanyu.
Duration of Basic SF Training – It takes a total of 10 weeks to complete. The training includes sub-training or activities such as:
Ammunition and Explosives Training
Weapons Handling Training
Kayaking
Unarmed Combat Training
CQB ( Close Quarter Battle ) Training
Photography training
Ship Intervention drills
Recapture of offshore installations
Hostage Rescue
Apart from 10-week training, the three 3 weeks basic parachute course is also required for the third phase. The training is given by the Indian Army's Parachute Training School, situated in Agra.
Basic Combat Drivers – Candidates will also get combat drivers training offered by the Indian Navy's Dive School, situated at Kochi.
MARCOS Phase IV Advanced SF Training
Candidates completing pre-stages and all courses will move to the next and final phase which is advanced SF Training. This phase includes probationary duration for applicants and they must complete  During the final phases, candidates will undergo different training. Let's have a look:
Anti-Piracy and Anti-Hijacking
Capability Training
Water-Para Jump Training along with full combat load
Combat free-fall Training
Counter-Revolution at the counter-revolution and jungle warfare school in Mizoram
Observation and Surveying and Inspection Training
Clandestine Operations
Amphibious Operations (including riverine, beach and coastal)
Unconventional Warfare
Different Language Training especially Mandarin or Arabic
Submersible Craft Training and Submarines operations
Sniper Competence and Training on shoulder-launched MMGs and Missiles, bullets etc.
Take participation in Improving IEDs devices with readily available items.
The following school and institutes will provide these types of professional training courses:
High Altitude Commando Course – The Parvat Ghatak School has situated at Tawang, Arunachal Pradesh. The duration of such a training course is 4 – weeks.
Desert warfare School – The Desert warfare School has located in Rajasthan.
After successful completion of long and daunting training, candidates will have the right of firing a weapon in front of terrorists in different positions like standing, running, lying down and backwards. They will become capable of shooting and attacking within .27 seconds.
Gateway for MARCOS:
To be a part of all phases, candidates need to join the Indian Navy as a sailor.
He can also opt for the special force. To become a sailor in the Indian Navy, you will appear for competitive exams like INET.
List of Exam – you can join the Indian Navy as an officer. To become an officer in the Indian Navy you can appear for exams like CDS, INET Officer Exam, NDA Exam etc.
Final Words:
Thus, to join Marine Commando Force, you need to be a part of the Indian Navy First. Take proper work experience and high-level training. Moreover, work on your physical strength and mental power. Maybe this blog will help you, how you can join the popular MARCOS special force.