Construction Management Engineering is a vast course that can help the student to work in different industries with ease. Construction management comes in handy for different fields like science, technicians, and analyzer. So, if you plan to work as any of the listed job profiles, the Construction Management course would be an excellent choice for you to go with.
In India, Construction Management is an engineering stream, and along with this, you can opt for the diploma and certificate courses for the same too. Though the density of the course is different, you can rely on any of these courses according to your budget and educational qualifications.
In case you are confused about which stream you should opt for, we are going to talk about these courses in detail and will help you decide which one you should go for at the different stages of your education. Stay with us until the end and know more about the Construction Management course so that you can decide whether this is the right course for you or not.
Construction Management Courses: Course Details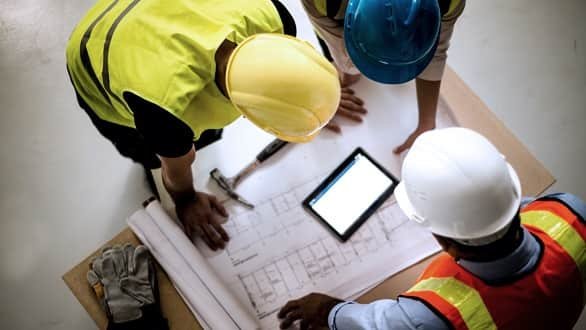 The best thing about the Construction Management course is that it can be done in various streams. Whether you are looking for a business degree or an engineering one, you can get the Construction management course easily. The private colleges in the country offer BSc, BBA, MBA, BTech, MTech as well Diploma in Construction Management. So, you can easily choose the one that suits your needs well.
Basically,the Construction Management course lets the students build the intellect to make the right decisions in the construction so that their decisions and suggestions can help the company to make better construction on that piece of land. The course offers knowledge of both management and technical skills that make the student well versed in the field. In all, if you are looking to work as a Construction Engineer or a project manager in the field, you should consider the Construction Management course for yourself.
Construction Management Courses: Eligibility and other Prerequisites
As discussed earlier, the Construction Management course is offered at different levels of education. And as obvious all of them have different eligibility criteria that the student must fulfill in order to get admission. In this section, we are going to talk about the eligibility criteria of most of these Construction Management Courses and will try to help you choose the right course for you as per your educational qualifications and the amount you can invest in the course.
B.Sc. In Construction Management: This Bachelor course has a duration of 3 years. Normally, the fee for the entire BSc course is around 1-2 Lakhs depending on the college and university you have chosen.
As this is a bachelor course, you can take admission in the course after completing your schooling, i.e., after your 12th. It is essential to have science as the core courses in schooling and a few colleges require a small entrance test to enroll you in the college. So, check the prerequisites before finalizing the college.
BTech In Construction Management: This is an engineering stream that is the most popular choice for students who want to learn the different aspects of engineering and get complete knowledge about the field. This course has a better scope than the other courses for Construction Management.
In case your college does not have a specific course stream for Construction Management, you can complete your Civil Engineering and learn about the course as a specialization. The course duration is 4 years and you can enter the Engineering College after completing your schooling and after clearing the Engineering entrance test. The course is a bit expensive than BSc and others but the scope makes it a worthy course to consider.
BBA In Construction Management: Bachelor in Business Administration also has a specialization in Construction Management. If you are looking for Construction Management and other management strategies in both theoretical and practical ways, the BBA in Construction Management is going to be the best choice for you.
Talking about the eligibility, the BBA in Construction Management can be done after completing the 12th and appearing for the entrance exam for the course. The course has a duration of 3 years and you can complete the course in around 1-1.5 lakhs.
MBA In Construction Management: This is a Post Graduate program in Construction management. This course is primarily designed for those students who have completed their graduation in management and are after a great course that can help them earn better money and respect. The course duration is 2 years and you can enroll for the course after appearing in the entrance exam and completing your graduation. You can also opt for the course after completing your 4-year engineering course. So, if you were looking for a perfect post graduate course in Construction Management,MBA would be an ideal course to go with.
Diploma In Construction Management
Diploma in Construction Management is another brilliant course for the students who have done their 10+2 and are not too keen to invest a large amount and years for the degree. The diploma course can be done in a year and the maximum amount you will need to pay for the course is 20-30thousand. So, if you have completed your schooling and are after a reliable diploma course to gain practical knowledge of Construction Management, this diploma is going to be an ideal choice for you. Depending on the city you live in, you can check the list of available colleges that offer a 1-year diploma in Construction management.
Construction Management Courses: Availability of colleges and Universities
Another important thing that you should consider while choosing the right course for construction management is college. Though you can find relatively lesser colleges with the proper course of Construction management, if you have scored well in your entrance exams, top-colleges in the country can help you get admission in your desired stream. In case you are not getting the course in the Engineering stream, you can also opt for Civil Engineering and then do the specialization with the course.
Typically, all the major institutions of the country including the IITs and IIMs offer the Construction management degree and you can opt for them if you have scored well and are good in your studies.
What you should know after the Construction Management Course?
The Construction Management course is an ideal choice for the students who are after a good job after completion of the course. However, like there are many candidates to choose from, the companies hiring the Construction Management candidates look for some specific qualities in the aspirants. Some of these qualities are better team management, core knowledge of the field, better communication, and the adaptability to work in different conditions.
Most companies hire candidates who have better skills than the other aspirants. So, if you have the following capabilities, you will have better chances to be hired by the recruiters. These qualities are better mathematical and computational skills, logical thinking, and better decision-making ability. If you have things in you, you shouldn't have to worry about getting a good job after the course completion.
Construction Management Courses: What are the options after Graduation
Once you have completed your graduation, you can either opt for the post-graduation or go with the research field by opting for the Doctorate. Regardless of the way you choose, you can be assured of earning a good amount after the completion of Construction Management.
After completing the course, you can approach the job profiles like the Facilities Manager, Site Engineer, Building Surveyor, and many others. All these job profiles are highly paid and respectable in the industry. So, if you are after a great career and outstanding salary, Construction Management will be an ideal choice to go for. Just be sure to choose a better college and company after completion of the course. These two decisions can help you construct your career as per your desires and you will be able to get a secured future along with a better-settled life.
Are Construction Management Courses worth considering?
TO conclude, let's talk about whether the Construction management course is worth considering or not. So, basically, it depends on what your expectations are and whether you are looking to enter the field after course completion or not. If you are in love with Construction Industry and willing to invest more time in the job, Construction Management would be an ideal choice for you to go with. On the other hand, if you are more into office things and are not too keen to go and research about the field, you should opt for some other engineering field for yourself. Other than this, the course is great for those who want to enter a great career and want to try something other than unusual management and engineering streams. So, think calmly and then decide whether you should go with Construction Management or not.