Have you completed your bachelor's degree in Commerce? So, what is your next plan? There are two basic options for a Commerce degree holder; you can either opt for a good job as there are several career options immediately after you graduate. But you can also continue your studies further if you aim for a better career. If you want to get your master's degree, then MCOM and MBA are the most popular options. But which is better for you is a difficult question to answer.
MBA and MCOM are different from one another, but they have their importance in their respective fields. Well, when it comes to choosing one course from these two options, it entirely depends on your skills and interest. So, let us have a look at some more details about these two courses, which can help you in making your choice.
About MCOM:
MCOM or Masters in Commerce is a post-graduation program offered for BCOM students. This course is basically for students with commerce and accounts background in their bachelor's degree level. You will be able to enhance your knowledge in commerce and accounts and gain in-depth knowledge about both. Even if you have started your career and still in an entry-level position at your organization, then you can pursue MCOM to grow in your career.
You will be able to choose your specialization based on your interest or your requirement at the organization. Along with the subjects related to accounting and commerce, you will also be able to gain theoretical knowledge of a few management subjects as well. By the time you complete the course, you will be trained very well in core subjects so that you will be able to face the challenges in your career.
About MBA:
Now, coming to the MBA, it is also a post-graduation level program and can be pursued by anyone who has completed their bachelor's degree. You can have any background in your bachelor's degree and that is not at all a problem. MBA is one of the most common choices made by students who wish to make a career in business management and administration.
If you are a commerce student, then you can opt for finance and accounting as your specialization to improve your skills in that field. MBA in finance is not going to be an easy course if you do not have a commerce and accounting background. You will be able to enhance your skills in both theoretical and practical ways. There are several job opportunities for students with an MBA finance degree.
Want to know more about these two post-graduation courses? Then continue reading. We have provided a lot more information about the course below.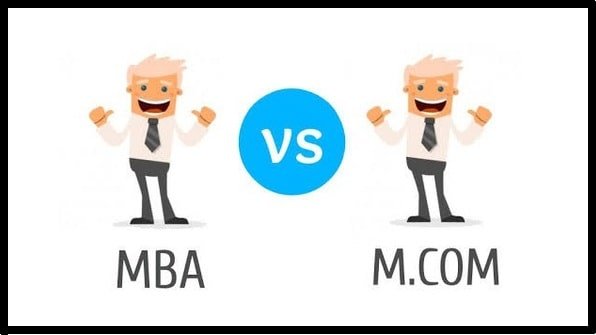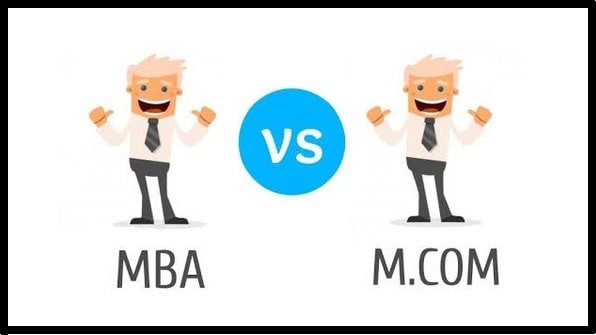 Eligibility and Admission Process:
An eligibility criterion is an important factor to know as both of them have different criteria to qualify for admission in MBA and MCOM programs.
When you are looking for admission into the MCOM program, it is mandatory to have a bachelor's degree in commerce, finance, or accounting. But that is not the case with an MBA. You will be able to get admission to an MBA program without any commerce background. Any student with a bachelor's degree in any stream can apply for MBA admission. But if you are looking for an MBA in finance, having prior knowledge of the subject will make it pretty easy for you to learn the subject. The terminology related to finance and accounting is not easy for everyone.
Now talking about the admission process, for MCOM, you will have to clear the entrance test conducted by the college or university. The next stage is the counseling process. But for an MBA, you will have to give the national level entrance test and the next stage is PI or GD. Some colleges and universities will conduct their entrance test for admission into the MBA as well. It all depends on the university that you are choosing.
Course Fee and Duration:
We all are aware that MBA is one of the most popular post-graduation programs and it is highly in demand. You need to score very well to get admission to any top university or college. With so much popularity, even the course fee is high for this post-graduation program, when compared to MCOM.
MCOM has its importance, but it is not as popular as MBA in any place across the world. The average course fee for MCOM is one lakh for the entire course. An MBA program is going to cost you somewhere between six lakh to eight lakh. The course fee depends completely on the college and university that you are choosing. Top and best colleges are going to charge you high.
When it comes to the duration of the course, both the post-graduation programs are two-year courses. Both the courses are offered full-time and part-time basis as well. So, if you are a working professional, then you will have to make a choice depending on those factors. Part-time programs are usually online, and that should not be a problem for working professionals to enroll.
Curriculum and Specializations:
The curriculum for MCOM and MBA is different. Let us have a look at some of the common subjects you will learn in these courses. This will help you understand what you are going to learn in each course. That means it will help you decide whether you are interested in the subjects or not.
Subjects in MCOM:
Elements of Income Tax
Managerial Economics
Financial Management
Corporate Governance
Managerial Communication
Subjects in MBA:
Financial Management
Operations Management
Human Resource Management
Marketing Research
Customer Relationship Management
These are some of the common subjects, but there are many other subjects as part of your course. This is going to be your first semester. But when you go ahead in your program, you will be able to choose a specialization from the electives provided to you.
There are some colleges or universities that offer you a specialization in just one subject. But you can also choose two different subjects as your specialization and that depends on the university you are choosing. Not all universities offer you a dual specialization option. You can talk to the college before you get admission into the college. Having a dual specialization will help you with more job opportunities. You can also switch your career from one field to another when you know both.
Specializations available in MCOM:
Banking and Insurance
Economics
E-Commerce
Finance
International Accounting
Statistics
Taxation
Specializations available in MBA:
Business Analytics
Finance
Information Technology (IT)
International Business
Supply Chain Management
Marketing
Human Resource Management
So, now based on your interest, you will be able to make a choice. For the working professionals, this specialization will help in gaining more knowledge in their core subject. A post-graduation program can be very helpful when you pursue them after a few years of work experience. Your practical knowledge when combined with theoretical knowledge will help you grow in your career.
Job Opportunities:
After you complete your MCOM or MBA program, you will be able to find many job opportunities. But the job profile and core areas where you will be recruited are going to be different. You will receive job opportunities based on your key skills and real-time work experience if you are having any. Even if you are having just a few months of experience, it is good to add it to your resume to get more and better job offers.
After MCOM:
You will be able to find jobs in both the private sector and also government sectors after the completion of your MCOM.
The core areas where an MCOM student will be recruited are:
Banking Sector
Indian Statistical Services
Accounting Firms
BCom Colleges in India
Job opportunities include:
Auditing
Investment Banking
Banking and finance
Management consulting
Financial Analyst
Electronic retailing
Finance Consultant
Funds management
Investment Banker
Stockbroking
After MBA:
When compared to the career opportunities after MCOM, you will receive more offers when you have an MBA degree. That is because there is no specific requirement for an MBA program, MCOM is only for commerce graduates. So, the job options after MCOM are limited to finance sectors only. That means the MBA offers your more job opportunities.
Core areas of recruitment after MBA:
Investment Banking
Banking
Management Consultancy
Financial Services
Insurance (BFSI) Sector
Private Companies
Job offers after an MBA are:
Accounting Managers
Credit Managers
Chief Financial Officers
Cash Managers
Corporate Controllers
Investment Sales Associates and Traders
Investment Bankers
Financial Managers or Financial Analysts
Investment Banking Associates
Risk and Insurance Managers
Management Consultants
Treasurers and Finance Officers
Marketing Managers
Human Resource Managers
Project Managers
Business Analyst
This clearly shows that the job options are more for an MBA graduate. You should always aim at getting selected for the best universities or colleges. You will be able to take advantage of the campus placement facility provided by many top colleges. It gets easy to find a job when you apply through campus placements.
Pay and Perks:
Pay or Salary is one of the most important factors that you need to consider when choosing a course. We work hard to earn and if the salary that you get from your job is not satisfying, then there is no point in choosing such a career. Your job should pay you for your hard work. Both MBA degree holders and MCOM degree holders will receive very decent pay.
If you are a fresher, then you will be recruited for the entry-level posts and then the salary is going to less compared to those with experience in the field. People with a few years of experience will be recruited for mid-level or higher-level positions. So, your salary will depend on the position for which you are getting hired. Also, your salary differs from a private organization and government organization.
MCOM Vs. MBA at a glance:
Let us have a look at the comparison of MBA and MCOM:
| | | |
| --- | --- | --- |
| Factor | MBA | MCOM |
| Pre-requisites | Any bachelor's degree from a recognized university | Bachelor's degree in Commerce, Finance or accounting |
| Popularity | MBA is popular in India and also in other countries | It is recognized well in India, but not very popular in other countries. |
| Course Fee | It costs you between six lakhs to eight lakhs | It costs around one lakh. |
| Duration | Two Years | Two Years |
Which is better for you – MCOM or MBA?
Whether you consider in India or across any part of the world, MBA and MCOM are regarded as some of the best post-graduation programs. Once you go through all the details about each course, it gets pretty easy for you to make a decision. You will have to make a choice based on your interests and also based on your skillset.
Your prior educational background and your work experience can play a main role in making this choice. If you belong to a commerce background, MCOM, and MBA, both are good options. If you are not having any background in finance or accounting and still want to make a career in accounting or finance, then MBA finance is a good choice. But the MBA is available in many other specializations as well.
As both are exceptional post-graduation programs, it is going to be easy to decide which is best over the other. It can be a tough decision to make as it has both pros and cons. So, you need to make a choice based on your interest and your future goals. Your future goals can help you better in making a choice.