Data is considered a treasure, and there is a lot of analytical information that you can extract from the data. You can use the data for predicting future trends, and these things help the organizations in demand forecasting. All this valuable information helps the organizations in planning for operational capacities. Apart from the operation capacities, the data also helps the companies in making an informed decision. In addition to this, the capital expense is planned based on these forecasts and predictive analytics that is required for day to day functioning.
The analysis methodologies like the sentiment analysis can help the companies predict the product's response even before it is launched. Many of the exit polls also use sentiment analysis to predict the election results. To do so, the data in the tweets and other social media platforms are used. It can be said that data can be used anywhere, and it is a significant part of the decision making process. It helps the organizations in optimizing productivity and the cost.
A lot of methodologies and tools have been developed for data analytics, and they are also used in the analysis of the big data. If you do not know what really big data is, let us tell you that the only difference between the data and the big data is size. The size of big data can reach terabytes and analysis of that sort of data can be difficult. This is precisely the reason why big data analytics is considered a different field altogether. To keep up with the demand of industries, many educational institutes have come up with big data analytics courses. If you are also interested in such courses, then you are in the right place. We will help you learn more about the big data analytics and the courses associated with it.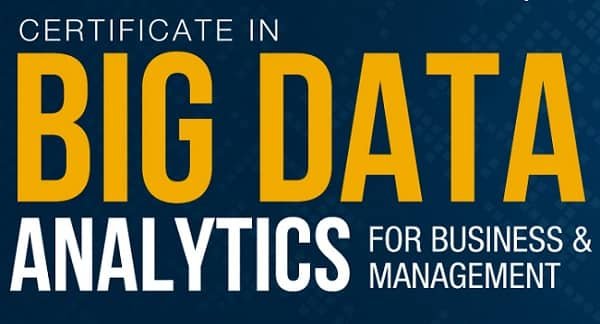 A Little More about Big Data Analytics
If you are already working in IT or code development, then it would be easier for you to grasp the concepts, however, do not worry if you do not have these skills. You can learn about the big data analytics even without knowing development. While learning the core subjects, you also learn about the software like SQL Database, Sharepoint, Microsoft Access and the most basic Microsoft Excel. It has been a big trendsetter in the last few years, and there is a significant increase in the demand for big data analysts. Today, the data analyst plays a significant role in healthcare, media, food, manufacturing and service industries.
You can also switch your profile even if you have a lot of experience. A lot of experience in a particular domain will help you become the SME data analyst of the field. The point here is that the specific domain experience will help you better understand data associated with the same domain. Enough of talking about the big data analytics. Let us learn about the eligibility criteria, syllabus, fee and career path related to big data analytics.Before we move ahead, we will talk about the eligibility criteria associated with big data analytics so that you can understand if this course if for you or not.
Big Data Analytics Course –Eligibility Criteria& Skills Required
In this section of the page, we will talk about the eligibility criteria as this remains the most crucial part when you are planning to pursue a course. You should note that the big data courses are available at various levels, including graduation, post-graduation, doctorate and certificate level. Depending on your current qualification and time availability, you can pursue a course.
If you have already done your graduation, you can opt for a post-graduation course in big data analytics. These courses are available in full-time and part-time delivery models.
If you are working and do not have years to spare for education, you can also opt for a certification course. Most of the working professional goes for certification course as it gives them valuable insight about the field.
To get into a right college, you should have scored at least 60% marks in the current qualification you hold. You must also have a basic knowledge of statistics.
Suppose you are planning to pursue a course at graduation level. In that case, you should have completed 10+2; however, if you are planning to purse a degree at post-graduation level, we would recommend you to have a degree in statistics, computer science or mathematics.
Many colleges require you to have at least two years of work experience. So, for the detailed eligibility criteria, you must check the individual college or university website.
We have talked about the eligibility criteria, but you might also want to know about the skills that you should possess to succeed in the field. Go ahead and check out the details in points below.
You should have good analytical and problem-solving skills. It is also good to have statistical skills for the big data analytics course.
You should have a high level of concentration, and you should be able to understand the patterns.
You should have good communication skills, and it is an add-on to have codding skills.
You should also have good decision-making skills, and you should be able to interpret data.
You must also possess attention to details, and apart from this, you should have critical thinking ability.
Big Data Analytics: Disciplines & Syllabus
In this section, we will talk about the disciples and syllabus associated with big data analytics. You can pursue this course in, multiple disciplines, so you can check out the list below. Pursuing a course in any of these disciples would prove to be great, and we would recommend you to choose according to your interest.
Business/Management Information System
Computer Science
Economics
Information Management
Mathematics
Statistics
These are the main disciplines, and the syllabus remains the same, more or less. There are many subjects covered under the course, but we have listed the main ones below.
Big Data Integration
Big Data Modeling & Management System
Big Data processing
Challenges of Big Data Analytics
Descriptive Statistics
Inferential Statistics
Graph Analytics
Machine Learning
Prescriptive Analysis
Regression Techniques
Regression & Analysis of Variance
Big Data Analytics: Admission Process
In this section of the page, we have listed the admission process associated with the big data analytics course. You can go ahead and check out the details below.
If you are planning to pursue a certificate-level course, then there is nothing much needed. You need to shortlist the institute, and you can then go ahead and enrol for the course depending on the specialization and other such details.
If you plan to pursue a bachelor level course, you would have to be first eligible for the course. If you qualify, you can go ahead and fill in the respective universities' form. IITs and many other colleges offer the course via exams like JEE & AIEEE. Some of the management institutes provide this course via Management Entrance exams. You can check for the type of entrance test and enrol for the same. After clearing the entrance exam, you will have to go through the counselling to get the admission.
If you plan to pursue a post-graduate level course in Big Data Analytics, you would again have to check for the entrance exams. The most common entrance exams here are GMAT & CAT. Most of the colleges offer courses based on the results of these two exams. During the counselling, you will also have to go through GD & PI to get the admission. Some colleges also offer admission on merit basis. If you have scored well in graduation, there are chances that you will get admission on merit basis.
For the doctorate level, the criteria & process differs from one university to another. Hence, you need to check the same with the college/university that you are interested in.
Big Data Analytics: Top Colleges in India
There are many colleges and universities available in India that offers courses in Big Data Analytics. People looking for a certification course may go ahead and enrol themselves on platforms like Coursera, PluralSight & Udemy. Please note that this represents our personal opinion and there are a lot of other colleges that you can choose from. If you are interested in the course, you can check out the best colleges in the list below.
IITs
ISB
Christ University
IP University
Amity University
NITs
Delhi University
Mumbai University
S P Jain College
NM College
Big Data Analytics: Scope & Career Prospects
End of the day, it is all about the job and the remuneration that you are earning. You can easily get good roles after completing the course. In most cases, the role would be a fusion of the management and tech role. The responsibility depends on the position you hold. You may also choose a domain before you make a choice. The information about the different domain options after the course is listed below.
Business Intelligence
Data Assurance
Data Quality
Finance
Higher Education
Marketing
Sales
The job designations available after completing the course are listed below.
Analytics Manager
Business Analyst
Business Consultant
Data Analyst
Operation Manager
Project Manager
Vice President
The primary responsibilities depend on the roles, but the common ones are listed below.
Development of record management processes.
Inception and maintenance of data models.
Assessing and implementation of predictive analysis required to support operations.
Monitoring and auditing the data for quality.
Compiling the documents for the business requirements.
Collection of data and design of surveys.
Creating data visualizations and graphs along with the dashboards.
Conducting analysis on the sector or product.
Analysis of large datasets and reporting the data using the same.
Providing information to management to aid critical business decisions.
Usually, the salary starting range after the big data analytic course starts at Rs 10 lakh Per Annum. It mostly varies depending on the city, designation, organization and experience levels. The salary would undoubtedly rise as you progress in your career. Some of the specialists in languages like R, SAS, Python, earn north of Rs 25 Lakhs per annum. There is no denying that big data analytics is an excellent course, and the demand will keep rising in the upcoming years.
Big Data Analytics: Top Employers
While you are pursing the course, you might even want to know about the top employers in the field to prepare yourself accordingly. The best employers in the field of big data analytics in India are listed below.
Amazon India
Accenture
Bank of New York Mellon
E-Clerx
Ernst & Young
Factset
Genpact
Goldman Sach
Global Logic
Gramener
HCL Technologies
HSBC
IBM
IMS Health INC
KPMG
Latenet View Analytics
SAXO Bank
Tata Consultancy Services
Wells Fargo
WNS Global Services
Wipro Technologies
Wunderman Inc
Zyme Solutions
Final Verdict
By now, we have covered and every detail associated with the Big Data Analytics Course. You can now choose the course depending on your interest. We are sure that the information listed here will also help you choose the career path and the college that you wish to enrol into. You can pursue the course from India, or you can even go abroad for the courses in Big Data Analytics. If you are a working professional, then go for a quick certification course, and it will offer you with a lot of knowledge and practical experience. If you have any other question about the Big Data Analytics Course, you can write back to us, and we will try to get back to you soon with the answers to your questions.