There is no dispute over the fact that the engineering course is one of the most sought and in-demand higher education options for most people. Just 10 or 15-years before, engineering courses were not so prominent and the demand was dormant, however, today, most candidates that do not choose medical or paramedical course has a greater chance of considering any one of the engineering course.
Yes, there are over 20+ different engineering courses in India today, each stream focusing on a specialized subject. Based on the job opportunities and interests of the candidate, they consider a particular course. However, some candidates consider perusing a particular engineering course just because they are unaware of other engineering streams, to get rid of such an issue. Here is the list of 10 best engineering courses in India. Each of these courses was selected based on the job scope, popularity, and better career chances.
List of Top 10 Best Engineering Courses In India
| | | | |
| --- | --- | --- | --- |
| Course Name | Course Duration | Eligibility | Course Type |
| Mechanical Engineering | 4 Years | After 12th Pass | Undergraduate |
| Electrical Engineering | 3 Years | After 12th Pass | Undergraduate |
| Civil Engineering | 4 Years | After 12th Pass | Undergraduate |
| Computer Engineering | 4 Years | After 12th Pass | Undergraduate |
| Electronics and Communication Engineering | 4 Years | After 12th Pass | Undergraduate |
| Aeronautical Engineering | 4 Years | After 12th Pass | Undergraduate |
| Chemical Engineering | 4 Years | After 12th Pass | Undergraduate |
| Marine Engineering | 4 Years | After 12th Pass | Undergraduate |
| Biotechnology | 4 Years | After 12th Pass | Undergraduate |
| Nuclear Engineering | 4 Years | After 12th Pass | Undergraduate |
Here is the list of 10 best engineering courses in India –
1. Mechanical Engineering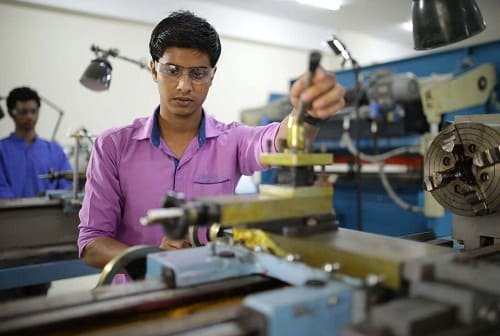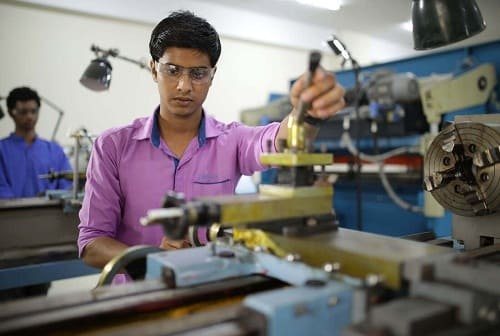 Perhaps mechanical engineering is one of the oldest and still in demand engineering course in the world today. It is not different in India, to be frank, we haven't seen any drop in demand for this course for a very long time. While this engineering course was considered to be one of the male candidate's domains, today, we see a rise in female enrollees in mechanical engineering. Unlike other courses, mechanical engineering graduate has a diverse job scope. As far as we know, the maximum salary of an experienced mechanical engineer is close to 25+ lakhs per annum. You could imagine how good this course must be, however, few of the subjects in this course are not easy to pass.
Some of the common subjects in the course include robotics, mathematics, manufacturing technology, kinematics of machinery, fluid mechanics, solid mechanics, engineering material, the strength of materials, quantitative analysis, industrial engineering, thermodynamics, heat and mass transfer, etc.
Common job profiles –
Junior engineer
Senior engineering
Supervisor
CAD technician
Toolroom in-charge
Mechanical process engineer
Mechanical design engineer
2. Electrical Engineering
Yet another oldest engineering course in India today, yes, it is true that electrical engineering is one of the oldest engineering branches but not as old as a mechanical engineering course. However, the demand for an electrical engineer has decreased over the past few years, but, it is expected to gain more popularity and rise in demand in the future. This course is designed in such a way that a graduate of this course could get better job opportunities and draw a good per annum salary.
Before you consider any other course, you should know that electrical engineering is one of the core branches of engineering, peruse this course and you would have a diverse option for postgraduate studies. Most of the other engineering courses like power engineering, electronics, and communication engineering have been derived from electrical engineering. The electrical engineering course deals with the transmission, generation, and use of electricity. It also deals with electromagnetism, generators, inverters, AC/DC, their uses, application, working, and construction of devices related to it.
An electrical engineering course includes subjects like electrical design, control theory, switchgear, electrical machine design, advanced power electronics, circuits and networks, analog and digital electronics, power system safety and protection, etc.
Common job profiles –
Electrical engineer
Assistant electrical engineer
Plant designing and planning officer
Automation engineer
Purchase and quality control engineer or officer
Electrical technician
3. Civil Engineering

Civil is one of the traditional branches of engineering and it is also one of the oldest and core branches of engineering. While in the beginning, people used to build a structure without an engineering degree, today, most of the state governments have made it mandatory that building structures should involve a civil engineer. Therefore, the demand for civil engineers is increasing these days. Like all the engineering courses, the civil engineering course is also a 4-year course split into 8 semesters which covers several subjects.
Unlike the above-listed engineering courses, civil engineering should be perused only if the candidate is really interested in designing, constructing, or demolishing a structure or building. Remember, civil engineers need to have some sort of artistic skill to design and construct buildings and structures as the customer demands. The course does not only deal with construction, design of buildings, but also, designing, planning, construction, and maintenance of roads, stadiums, bridges, buildings, dams, etc.
Some of the common subjects taught in this course include fluid mechanics, mathematics, engineering graphics, CAD, concrete technology, engineering geology, water resource management and engineering, environmental engineering, building construction, structural analysis, advanced surveying, town and city planning, restoration of the structure, hydraulic structures, etc.
Common job profiles –
Junior civil engineer
Assistant civil engineer
Planning and design officer
Site engineer
Supervisor
Assistant project manager
Planning and design officer
Contractor
CAD designer
4. Computer Engineering

Computer engineering is also referred to as computer science engineering that came into existence while computers started to dominate most of the businesses. It is one of the core branches of engineering and it is considered to be old, at least 10 or 20-years old. Perusing this course could get any candidate a good job opportunity. The demand for computer engineers has always been on a rise and it is predicted to increase in the future.
To be frank, any course related to a computer is very good these days, India businesses and people are getting more dependent on computers these days, this, in turn, increases the demand for employees with computer knowledge. A computer science engineer could find a job in diverse fields today. The basic pay of a computer engineer is comparatively better than other computer-related courses.
Some of the core subjects that are taught in this engineering course include logic design, theory of computation, soft computing, advanced Java, software quality testing, file structure, database management, operating system, web scripting, advanced processors, compiler design, web data management, object-oriented programming using C++, compiler design, etc.
Common job profiles –
Software engineer
Project manager
Team leader
Software tester
Application developer
Programmer
Floor manager
Web designer
5. Electronics and Communication Engineering

Electronics and communication engineering was derived from an electrical engineering course and therefore, this course is not a core engineering branch. However, in recent years, the demand for electronics and communication engineers has skyrocketed. Today, graduates of this course get an attractive salary package and better job opportunities.
As the course name itself suggests, this engineering course deals with both electronics and communication and teaches the importance of both in the world today. A graduate of this course could do research, design, and development of various electronics and communication systems. The job opportunities for this course is not just limited to India, but also abroad. Unlike other courses, this engineering course is not easy to crack, only candidates with an interest in electronics and communication could pass this course.
Some of the common subjects covered by this engineering course include, along with electronics, signals and systems, electromagnetic field theory, network analysis, and synthesis, information theory and coding, VLSI design, microwave engineering, data communication, and network, antenna, and wave propagation, wireless communication, embedded systems, industrial management, control systems, etc.
Common job profiles –
Junior electronic engineer
CAD engineer
Design engineer
Research and development engineer
Application engineer
Verification engineer
Communications engineer
6. Aeronautical Engineering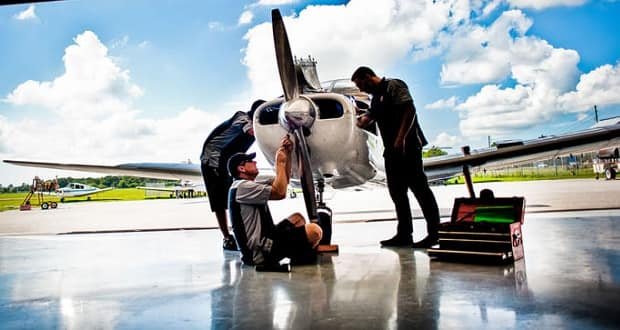 Aeronautical engineering is considered to be a part of aerospace engineering and it is one of the most complicated engineering courses in the world. This engineering course is all about planning, designing, manufacturing, and maintaining aircraft and spacecraft.
Aerospace engineering is commonly categorized into major parts, aeronautical engineering, and astronautical engineering. While astronautical engineering deals with spacecraft's or structures that have to travel outside the earth's atmosphere, aeronautical engineering deals with aircraft that move inside the earth's atmosphere. In the aeronautical course, a candidate would be focusing on studying aerodynamics, propulsion, engines, fuel, and material required for aircraft.
Some of the important subjects covered in this engineering course include engineering mathematics, aircraft structures, aerodynamics, propulsion, flight mechanics, the theory of vibration and noise control, theory of heat transfer, aircraft systems and instruments, computational fluid dynamics, aircraft maintenance, control and navigation, rocket and missile design, etc.
Common job profiles –
Aeronautical engineer
Aerospace engineer
Mechanical design engineer
Consultant
Thermal design engineer
Flight engineer
Aeronautical electrical engineer
Aircraft production manager
7. Chemical Engineering

Chemical engineering is not a core engineering branch, yet it is one of the oldest engineering branches in India today. This course offers a candidate the knowledge to apply chemistry to day to day life as well as for industrial purpose. There is chemistry everywhere and the job scope of a chemical engineer is diverse even the food production and processing industry requires chemical engineers.
To get a better knowledge of this course, these are some of the subjects taught in this course, organic chemistry, chemical processes, biochemistry, inorganic chemistry, process automation, thermodynamics, mechanics of solid, environment science, physics, petrochemicals, fertilizers, pharmaceutical processes and products, chemical reaction engineering, etc.
Unlike most other engineering courses, this course involves providing the candidate both theoretical and practical knowledge on almost everything related to industrial and day-to-day chemistry.
Common job profiles –
Plant manager
Plant designer
Purchase and quality control officer
Chemical engineer
Junior chemical engineer
Production manager
Safety management officer
8. Marine Engineering

Marine engineering is an engineering course that is highly job oriented, you could either work on a ship, work on the land, or consider teaching if you peruse a post-graduation degree. It is not an easy task to get a job abroad on a ship or liner. The candidate needs to have experience and better knowledge of what he/she is supposed to do on the ship.
While this is a popular course today, not too many colleges, institutes, university offer this course and not all the marine engineering course offered by every college, university, or institute is approved. Even if you graduate from some of the fine UGC approved colleges or university, you might be rejected. Therefore, you must check the standards and norms, and regulations of the current year and join this course accordingly.
A few of the common subjects taught in this course are engine watch keeping, marine pollution, and prevention, auxiliary management, plane trigonometry, electro technology, basic safety, general chemistry, marine power plant, diesel, spherical trigonometry, ships and ship routines, etc.
Common job profiles –
Junior marine engineer
Sailors
Engine room manager
Marine engineer
Deck manager
9. Biotechnology

Candidates who love biology and technology both interesting would find this biotechnology course better tailored for them. Yes, this engineering course is designed in such a way that it teaches the candidate how to use principles of biology and technology to produce a better result. This course is more about the application of both biology and technology to various levels of life and business.
In simple words, a graduate is supposed to know how to tweak, modify biological systems, processes, and cell structures, so that they could be applied in engineering and technology-related application. Some of the common subjects included in this course are environmental science, basics of civil engineering, mechanics of solid, food science, instrumentation, chemistry, life sciences, process engineering, thermodynamics, taxonomy, genetics, molecular biology, etc.
Common job profiles –
Medical scientist
Biomedical engineers
Microbiologist
Research and development scientist
Biochemist and biophysicists
10. Nuclear Engineering

Nuclear engineering is a complicated branch of engineering. This course deals with nuclear physics, atoms, protons, neutrons, etc. This 4-year course could be interesting for those candidates who love studying matter and laws of physics more.
The demand for nuclear engineers could rise in the future as most nations are becoming more dependent on nuclear energy. The subjects covered in this course are not so easy to learn. While the course is popular in India, the number of enrollees is always low. Knowing some of the common subjects taught in this course might help you understand the course better, nuclear fuel systems, computer in reactor analysis, reactor theory and kinetics, biological effects of radiation, molecular and cell biology, chemistry, material science, fast reactor theory, applied reactor analysis, etc.
Common job profiles –
Junior nuclear engineer
Engineering technician
Research and development engineer
Field engineer
Project engineer and controller
Project manager
No matter which engineering course you consider to peruse, it is very important that you join a university/college/institute approved by the UGC. You must not neglect this, as far as we know, some several colleges/institutions do not have UGC approval, and a degree from such colleges/institutions are not worth anything. No employer would accept such a degree.
Engineering Courses Frequently Asked Questions
1. Can I change my specialization after the first year?
Yes, most of the universities allow you to change the specialization after the first year. The subjects in the first year of engineering are the same, and hence some students get a chance to change their specialization. Most universities have specific criteria based on which you can change your specialization. It is not a free movement, and most of the times, this is allowed only on a merit basis. It is better to check with the university if you are allowed to change the specialization after the first year and the criteria for the same.
2. What is the best way to find a job after an engineering course?
It is always easier to get a job via campus placements. While you are looking for admission, you should look for a college that offers placement services to the students. There are often pool campus placements arranged in some universities, and you can register yourself for those as well. Apart from that, you can be a part of a job fair where many companies hire in bulk. You must always prepare well for the interview, and that helps you in cracking the interview. Polish your resume and make it presentable so that you can pass the selection round.
3. What branch of engineering is the best?
There is no correct answer to this question. You should choose the branch of engineering that interests you the most. This way, you will love the subjects that you learn in your engineering. Your peer may tell you that computer science is better than electronics or vice versa. We want you to avoid all these conversations. There may be a slight difference in the employment opportunities, but there are still ample employment and growth opportunities in all the fields. In such a case, you can choose the specialization or the branch of engineering that interests you the most, and you will excel in your field.
4. What happens if I am not able to clear a subject in engineering?
Generally, you will have to reappear in the exam of that subject until you score the pass marks. Some universities may stop you from appearing in the following semester if you have subjects pending from the last year or semester. You should always try your best to clear the subjects in the first attempt as well. Some universities may even ask you to attend summer classes for those subjects again before appearing for the exam. Most of the universities would charge a fee for the exam and the classes.
5. What is the grading system followed in engineering?
It differs from one university to another. Some universities have a percentage system, while others have a CGPA system. Both of these systems have their advantages & disadvantages, but we would not talk about those. If you are keen on understanding the grading system followed in engineering college. In CGPA, the marking is based on the relative marks, and hence it prepares you for the competition in the industry.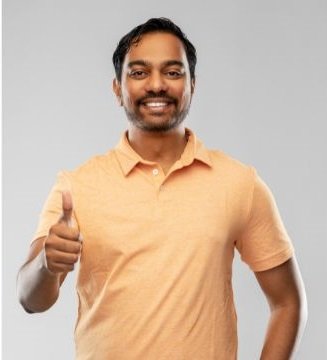 Rahul Kumar is a passionate educator, writer, and subject matter expert in the field of education and professional development. As an author on CoursesXpert, Rahul Kumar's articles cover a wide range of topics, from various courses, educational and career guidance.