BCA stands for Bachelor of Computer Application. The core subjects of BCA are data structures, database systems, and computer networks. There are Regular as well as Distance Learning Programs offered by Institutions. It is a three-year course, divided usually into six semesters.  Various BCA specializations are Accounting applications, Animation, Computer graphics, Database Management, Internet Technologies, System Analysis, Word Processing, and Programming Languages.
Eligibility Criteria
For attaining a seat in a BCA degree course, you need to get a minimum of 50% marks for plus two or equivalent examinations with computer application or science as an additional subject. You may get admission either by Entrance exam or by merit. The minimum age for joining the BCA course is 18 years. There are State Level as well as National Level entrance exams for BCA admission.
Benefits of BCA
You may get a lot of career opportunities in the IT sector as a programmer or software developer. During your BCA studies, you learn about software languages like C, JAVA, etc. Students attain knowledge with which they can design programs and applications which can renovate the world. It gives a platform to show your potential and skills. You are getting a chance to dive deeper into the interests of your choice. BCA experts can work remotely. They don't even have to go to the office. When compared to other disciplines and sectors, BCA professionals have a higher level of job satisfaction.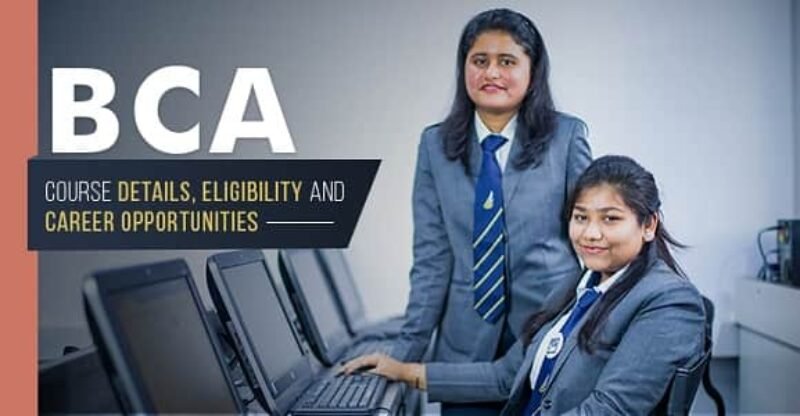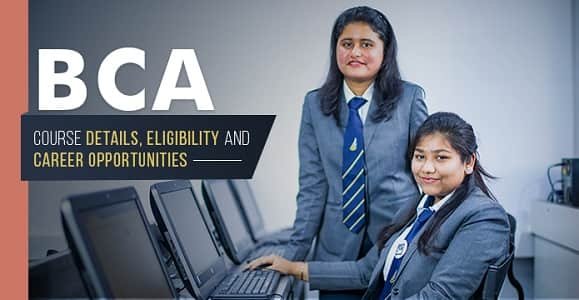 Scope after completing BCA
Higher Studies after BCA
You may also go for higher studies like Master of Computer Applications, Master's in computer management, Master's degree in information management, Master's in Business Administration, Postgraduate Diploma in Management, G-CAT Master, Post Graduate Programme in Corporate Studies, and Master of Science in Information and Technology. Core subjects of computer Applications covered in the higher studies after BCA. Those subjects are a continuation of what you have learned during your graduation. Computer Networks, Java programming, Software project management, Visual C++, Computer Architecture, and Data Structures are the main topics for higher studies. All these postgraduation courses give you more opportunities in the market.
Jobs in IT Sector
Multinational Companies are looking for skilled aspirants with a BCA degree. It gives you a bright career. BCA graduates are always in demand in India as well as abroad. Top Companies like Infosys, Oracle, IBM, and various other MNCs conduct recruitments for BCA graduates with relevant technical skills. System Engineer, Web developer, Programmer, Server Administrator, Software or Application Developer, and Network Administrator are the attractive job roles after BCA.
System Engineer
System Engineer manages and monitors all the Installed Systems and Infrastructure for the organization. He is responsible for installing, configuring, maintaining, and testing operating systems, application software, and Management Tools. He Coordinates with vendors and other IT personnel for resolving problems. Maintain security, backup, and redundancy strategies. System Engineer jobs are available in the IT as well as Government sectors.
Web Developer
A web developer needs to create website and web applications. Create website layout or user interface by using standard HTML/CSS practices. Full-time and part-time jobs are available for Web developers. The role of a Web developer is to design and develop the website as per company requirements and keep it updated as required. After your BCA degree, you may appear for an interview and start your career as a web developer once you are selected.
Programmer
Programming languages are the backbone of the information and technology sectors. Every year programmers create thousands of programming languages. Always make sure to learn the languages which are highly in use. With these languages, you can excel in any field of technology and computing. Programmers Write, modify, and debug software for server applications. An attractive salary can be earn by working in the programming field.
Server Administrator
The server Administrator controls the entire servers of an organization. Opportunities for a Server Administrator are increasing day by day. Vacancies are there in India as well as abroad.  It is a high-paid job. The average annual salary for a Windows Server Administrator is $80,167 in the United States.
Software or Application Developer
After BCA, the software developer job primarily involves the role of a trainee. He has to develop software while learning and become an expert in different computer languages. Once the software developer trainee becomes an expert in a particular computer language, he will be asked to complete a project. You may earn between three to Four Lakhs per annum when you are a trainee. While working as a trainee, you may polish your skills to get jobs with more earning potential. A Software developer creates applications that allow people to do specific tasks on a computer or mobile. They often work for computer firms and manufacturers.
Network Administrator
Network administrators manage an organization's computer networks. It is a full-time profession. Network administrators need to work overtime based on the request of the organizations. It is a challenging career for Freshers. Network administrators prepare and maintain documentation of network configurations and cabling layouts.
Freelancing
Apart from working in industries like Bank and Investment Firms, Software development Companies, Government Institutions, and Financial Institutions, you may also freelance or develop your application or software. A freelancer is a self-employed person. He is not related to a particular company. If you start freelancing after your BCA, you may get good earnings without any investment. For that, you only need excellent skills. All computer science professionals can use the BCA degree to engage in self-development and advance in their careers daily.
Government Jobs
Government organizations like NIC, Indian Air Force, Navy, Police department, Railways, and Army also recruit computer professionals for their respective IT departments. Indian Institute of Technology, Education board, Central Medical Services Society, Cooperative Banks, High court, and Agriculture Research Institute offer jobs for BCA students. Public sectors like BHEL are also inviting BCA degree holders for various jobs. Government sectors like the Indian Institute of Oilseeds Research, Indian Institute of Millets Research, Central Institute of Mining and Fuel Research, and National Institute of Open Schooling are giving various career opportunities to Fresh graduates in BCA.
Blockchain Professional
Blockchain technology is an emerging sector that offers various career opportunities for BCA professionals. You can join this industry as a blockchain developer or manager. Their main job is to work with tools of blockchain technology such as Ethereum and Bitcoin protocols, Java, Solidity, and more. Blockchain experts develop advanced solutions for blockchain demand and control. A blockchain developer can earn nearly six lakhs per annum. Leading companies like IBM and Accenture are hiring blockchain developers and managers. Very few skilled professionals are present in this field. So, the salary companies offering are worthwhile.
Data Scientist
Data scientist is a prestigious job you may choose after BCA.  Some certification courses such as data visualization, predictive analysis, big data, and machine learning, along with your BCA, will be an added advantage to get the job as a data scientist. Data scientists are analytical experts. They utilize their skills in technology and social science to find trends and manage data. To get a job as a data scientist, you need to create an online portfolio to display a few projects and showcase your accomplishments to employers. You may also choose a company that gives you career growth. As a fresher, you may be doing an analytical role rather than the duties of a Data scientist. You learn more from your experience, and that will prepare you for more senior positions.
Jobs in Banks
Banks are also offering jobs for BCA graduates. It can either be in sales or operations reliant on your interest. If you need a consistent job, you can choose Operations. If you want to earn good money, sales would be a good option. Banks take in graduates as probationary officers and probationary clerks.IBPS is conducting exams for various posts in various banks. The probationary officer is one of the posts which any graduate prefers to opt for. Try to score high marks in the IBPS exam. After that, various banks will publish their advertisements for Vacancies. You may apply for these posts based on the cut-off marks and IBPS scores. You also need to attend a personal Interview and Group discussion session after that.
An advantage of doing BCA is that you have the freedom to choose your line of work. Immense opportunities are also available in the Market. You may select the sectors you like. BCA is largely software-oriented and has less focus on hardware. Therefore, you will not have to put in manual hard work. Professionals in the BCA stream earn a lot of money. These professionals, without fail, will get a five-figure income. They acquire technical and personal skills during their studies.  It gives them the confidence to develop any application, regardless of domain or sector. So, it is one of the best courses you may go after your Plus Two as it gives career growth and money.