The full form of BCA is Bachelor of Computer Applications. It is an undergraduate course program offered in many colleges. As the name suggests, it is a wonderful course for students who are tech-savvy and want to make a career out of computers and dream of working as an IT professional. The course largely deals with computer applications and developing software. With our industry's requirement for more and more software professionals, this course is an apt choice for successfully ending up there. Preferences would be given to BCA students in top reputed companies.
This program provides detailed knowledge about various concepts such as computer networks, programming language, different hardware and software, and much more. They will learn in-depth about each concept with hands-on practice. After completing this course, one can either apply for jobs or strive to study computer applications furthermore deeply by choosing the Masters program.
Course Summary:
Bachelor of Computer Applications is a three-year duration UG course. It teaches students about computer programming, software development, and other important computer applications. An overview of the main subjects includes C Programming, Data Networks, Data Structures, and much more. Students will learn through classroom teaching, seminars, practical application, research, and project works.
After the completion of this course, you can get selected for jobs through campus recruitments or walk-in interviews. There are several job opportunities in the field of information technology. The jobs related to BCA include Network engineer, UI/UX Developer, System Analyst, Software Developer, Website Development, Computer Networking, Banking, and many others. You can earn quite a sum in this field by becoming a system analyst or software engineer even after finishing your bachelor's degrees. The companies will take you in and give you some practical learning related to their needs.
What is BCA?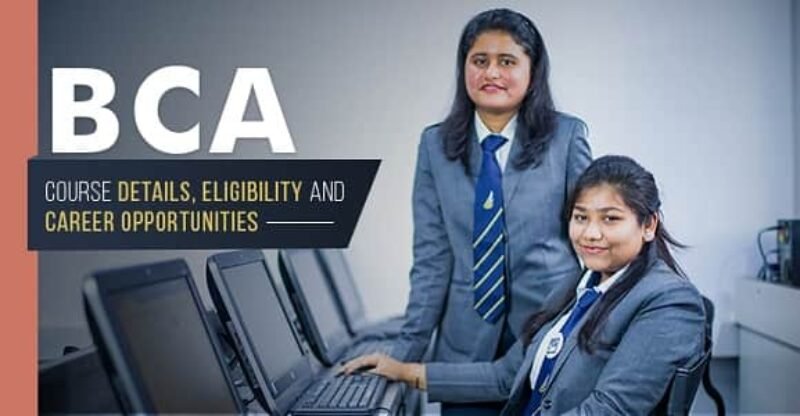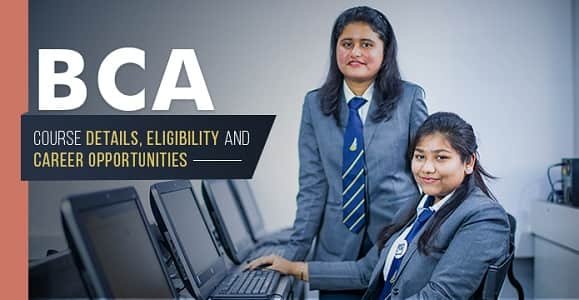 The Bachelor of Computer Application program trains students for a period of three years in computer coding and software development. Each year consists of two semesters, so totally, there are six semesters for you to complete this course. It is a specialized full-time course, but it also gives you the option of pursuing it through the distance education program.  Distance learning can be pursued through recognized Institutions like IGNOU, NSOU, which provide an excellent alternative to the mainline course. The course is also made available online by some colleges. BCA is quite like B. Tech in Computer Science and Engineering but with little variations here and there.
Why take BCA Course?
If you are interested in computers, mobiles and gaming software, and animation, then this is where you can start. You can apply for the BCA course. In a BCA course, the students are introduced to and given instructions in computers, computer software, and other related applications. You can start to know about computers in the first year, and by the time you finish the course, you would have gained a lot of knowledge of computers and computer applications and information technology through this course.
BCA course also lays a foundation stone for business administration. After finishing the BCA course, the student will have some knowledge about business administration, which can be a stepping-stone to join business administration.
BCA Course Details
| | |
| --- | --- |
| Course Name | BCA |
| Duration of Course | 3 Years – 6 Semesters |
| Course Fee | Rs 70,000 – 2 Lakh Approx |
The course fee may vary according to government and private colleges. The fee range begins from Rs. 70,000 and can go up to 3 lakhs.
Specialization Courses in BCA 
Students are given a choice of selecting specialization courses in BCA. Some of them include,
Animation and Multimedia
Music and Video Processing
Programming Languages
Word Processing
Computer Graphics
Internet Technologies
Database Systems
Accounting Applications and
System Analysis
The courses may vary in each college.
Eligibility for BCA
To be eligible to apply for the BCA course, one must have passed 10+2 with a minimum of 45 to 55% marks. It may differ for each college. The individual must have Physics, maths, and chemistry as the main subjects in class 12. Having Computer Science as the core subject can be an added benefit for the student. In recent years, candidates who have studied Commerce or Arts are also eligible to apply. Having English as the main subject is crucial since many companies rely on good communication apart from computer skills. Courses are also offered based on merit. Some institutions conduct entrance exams and one on one interviews as a selection method.
One other basic eligibility is that the candidate should be of 18 years of age. This is considered compulsory in some colleges.
Other abilities
The candidate should have good English communication and have the ability to convey information. They should know how to browse through the computer, all the information about Windows Desktop, how to use the mouse, basic MS Word, MS PowerPoint, MS Excel, move and resize windows, customize windows, and a piece of general knowledge about the parts of the computer.
Apart from all this, the individual should be creative with good analytical thinking, should possess general information about programming, and a good team spirit.
Syllabus for BCA:
The three-year Undergraduate program consists of six semesters totally. Every year there will be two semesters. The student gets to learn in-depth about subject matters like software engineering, computer architecture, database management, C++, C, Java, HTML languages, web technology, and many more.
Here is an outline of the syllabus followed by a large majority of colleges and universities. You can go through them and be one step ahead of other students in your class.
| | |
| --- | --- |
| Semester 1 | Semester 2 |
| Hardware Lab (CIA Only) | Case Tools Lab (CIA Only) |
| Creative English | Communicative English |
| Foundational Mathematics | Basic Discrete Mathematics |
| Statistics I For BCA | Operating Systems |
| Digital Computer Fundamentals | Data Structures |
| Introduction To Programming Using C |   |
| C Programming Lab |   |
| PC Software Lab |   |
| | |
| --- | --- |
| Semester 3 | Semester 4 |
| Interpersonal Communication | Professional English |
| Introductory Algebra | Financial Management |
| Financial Accounting | Computer Networks |
| Software Engineering | Programming In Java |
| Database Management Systems | Java Programming Lab |
| Object-Oriented Programming Using C++ | DBMS Project Lab |
| C++ Lab | Web Technology Lab |
| Oracle Lab | Language Lab(CIA Only) |
| Domain Lab (Cia Only) |   |
| | |
| --- | --- |
| Semester 5 | Semester 6 |
| Unix Programming | Design and Analysis Of Algorithms |
| OOAD Using UML | Client-Server Computing |
| User Interface Design | Computer Architecture |
| Graphics and Animation | Cloud Computing |
| Python Programming | Multimedia Applications |
| Business Intelligence | Introduction to Soft Computing |
| Unix Lab | Advanced Database Management System |
| Web Designing Project |   |
| Graphics And Animation Lab |   |
| Python Programming Lab |   |
| Business Intelligence Lab |   |
Education After BCA
Before deciding on the course, the candidate should think ahead about the future in BCA. There are multiple courses to choose from after completing the undergraduate program. You always opt to study for a Masters in Computer Applications, which provides you in-depth knowledge about the courses studied in BCA and other new concepts. This may give you an extra benefit when you apply for top companies.
Below are the curated options for other courses you can choose.
Master's in Business Administration is an excellent option. Some institutions demand a CAT score. So be prepared for it.
Your next option is applying for Masters in Information Technology, which is also a smart choice.
Other courses include Masters in Management (MIM), Master of Computer Management (MCM), Information Storage and Management Certification Training Course (ISM), and Post Graduate Program in Corporate Studies (PGPCS).
Or you can do certification courses like CCNP and CCNA and other computer courses.
BCA Career Opportunities
Once you are done with BCA, you are in for a whole new plethora of opportunities up to your sleeve. With the rising use of computers and computer applications in mobile, hotels, hospitals, and the gaming field, BCA students have great career opportunities almost in every field. They can find jobs both in the private and public sectors. There will be a need to pass certain exams before acquiring the job.
Some of the job possibilities one can find are,
Web Developer
Software Developer
Junior Programmer
Software Tester
System Engineer
System Administrator
Security and Surveillance
Government Departments
System Manager
Game Developers
Games testers
Software Architect
Project Manager
Team Leader
Android App Developer
Finance, and many more.
Server/ Networking Trainee
E-Commerce Executive
Actuaries
Chief Information Officer
BPO
Other opportunities options include becoming a teacher or professor in a school or college. There are a couple of jobs available in The Indian Navy and Indian Army related to the IT department. If you are good at coding, you can become an independent web designer.
The average salary scale for a BCA student
Top reputed companies offer the best package for a BCA graduate. A fresher can earn between 25K to 40K in common IT companies. Training will be given in every company with a salary ranging between 15-18K. But when it comes to topmost companies, a person can earn a 6-digit salary with the right skills and talent. A hike in salary will be made each year based on your performance and dedication.
An experienced BCA student will earn up to 1lakh per year, with ten years of experience. To go to a higher level in a company, the individual has to finish a Master's degree to increase his income. The salary may vary in each sector. With years of expertise, a computer professional can be more than happy with the salary he earns. A good, settled life is what a person will lead.
List of prominent colleges offering BCA in India
Below are some of the best colleges which offer BCA course.
DAV College, Chandigarh
Presidency College, Bangalore
Christ University, Bangalore
Madras Christian College, Chennai
Symbiosis Institute of Computer Studies and Research, Pune
Stella Mary's College, Chennai
Loyola College Chennai
Xavier Institute of Computer Applications, Ahmedabad
Dept of Computer Studies, Kurukshetra University
Birla Institute of Technology, Mersa
College of Engineering, Roorkee
You can decide and shortlist any of the colleges which suits your requirements.
The above-mentioned details will help you in picking the right choice at the best place and plan your future one step ahead.
BCA Course Frequently Asked Questions
Is BCA better than B.Sc (IT)?
The BCA course is a lot better than B.Sc. (IT) since the focus of BCA is on computer applications. This way, you learn about the programming language, Database Systems, Object-Oriented Programming, and many other concepts you will not learn in B.Sc. Moreover, if you intend to work in the IT industry, the BCA will be a more suitable option for you. You can study BCA for software development related jobs. You get a lot of practical knowledge in BCA, which remains the most significant advantage of BCA over any other specialization or B.Sc.
Can I get a job at Google after BCA?
BCA is almost equivalent to B.Tech, and it remains one of the most demanding courses in the IT industry. Many reputed companies like Oracle, Infosys, IBM, Microsoft and even Google hires BCA graduates. You can be assured that you will get a job in the top corporate house after BCA if you develop the required skills. Moreover, after a few years of work experience, no one will look into your graduation, but it will be more about your work experience and the technologies you have worked upon. So, go ahead and opt for BCA without any second thought.
Can I apply for PR after BCA?
Many students wish to move abroad after BCA, and they plan to apply for a permanent residency in Canada, Australia, UK and the USA. Our advice here is to work for at least six months before you start applying for jobs outside the country. The work experience will increase your chances of getting a PR, and it will also increase your chances of getting a job once you move to another country. You can also focus on the technology that is in as it would help you get a PR. Just ensure that you pursue BCA from a recognized university to get a job.
Is it necessary to do MCA after BCA?
It is not necessary to do MCA after BCA. You can directly start working in the industry after BCA. Many companies allow you to pursue executive MCA while you are associated with them. MCA certainly helps you grow in your career, but it is not a mandatory requirement. Maybe, what you can do is that you can start working after BCA, and you can opt for MCA after some work experience. You can go for a part-time or a full0time course if you wish to pursue MCA.
During BCA, what are the programming language that I should concentrate on?
It depends on your interest in what language you wish to focus on while pursuing BCA. If you wish to be a software developer, then you should focus on Java or Python. If you wish to be a database specialist, you can focus on DBMS, Data Structure, Oracle Labs and similar subjects. There is a dedicated subject for Web Programming and Web designing. You can focus on that, or you can get into the cloud computing side of the technology. So, understand your interest and put in extra effort for those courses.