Banking and Insurance is one of those popular sectors that offer a wide range of job opportunities as well as better future growth to their aspirants. There is a misconception that the banking and finance programmes can be only pursued by students who have a commerce background. Candidates from science and arts also take admission to banking and insurance courses. Now, the question is which course is suitable after the 12th. So, the answer is BBI. Yes, BBI is a simple gateway that helps you to understand modern and traditional banking and finance concepts and principles. Even you can also learn new policies of banking, regulations, market reforms and many other relevant aspects. In this blog, we have listed some major factors that you should know before applying for the BBI programme.
About BBI Course
BBI or Bachelor of Banking and Insurance is a degree course that can be pursued after completion of 12th. Candidates can pursue BBI either full-time or part-time through distance learning. Very certain institutes offered correspondence learning through distance education. The major purpose of the BBI course is to provide in-depth study and training in the field of accounting, insurance law, finance, insurance regulations etc.
The course not only covers the topics from the banking sector but also involves topics of business, accounts and many other commerce-related topics. In between the whole duration, of course, candidates will get a deep vision of the real world of banking and insurance. Most of the universities offer both practical and theoretical sessions in the BBI course. The curriculum and teaching method may differ from institute to institute. But candidates will prepare to handle real-life challenges related to the banking and insurance sector.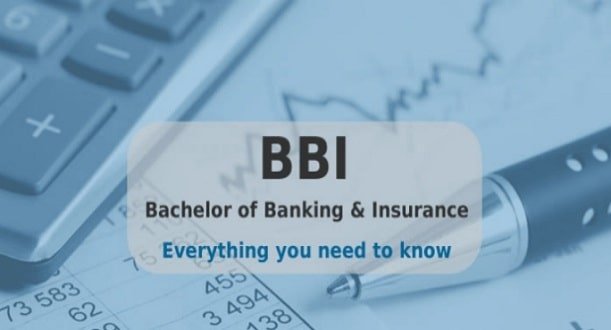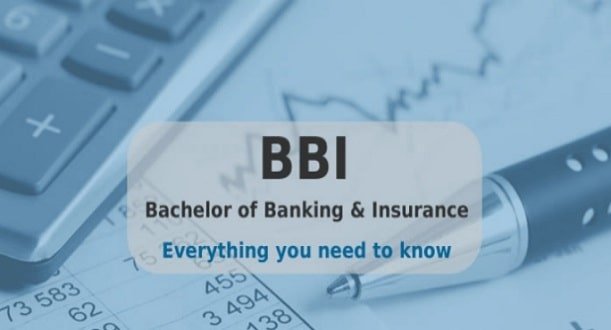 An aspirant enrolled in the BBI course will learn how modern technologies are used in the field of insurance and banking. During the course period, candidates will have to present in the different presentations, assignments, projects, field-visit to understand the subtleties of banking and insurance in a better way.
Duration of BBI Course
The duration of the Bachelor of Banking and Insurance course is 3-year, which is divided into 6 semesters. It may extend up to 4 years according to rules and regulations of college and university.
Bachelor of Banking and Insurance Eligibility Criteria
Before applying for the BBI course, candidates should meet with eligibility criteria. The students need to fulfil the below-mentioned requirements:
Academic Qualification:
The students must have completed their 10+2 with commerce as the mainstream from any recognized board.
In case, any candidate is waiting for the examination of the 12th standard can also be applied on a provisional basis.
Minimum Marks:
Candidates should secure at least 50% marks in their qualifying examination.
The minimum percentile may vary from college to college or university to university.
Documents Requirement:
During the process of admission, candidates must submit all mandatory documents, proof of passing, mark-sheet and other certifications.
Entrance Exam:
Some institutes offered direct admission to the BBI course which is based on merit-list and Personal Interview Round / Group Discussion Round.
There is no national level entrance exam to get admission to the BBI course.
Some of the popular state entrance exams include:
D.K. College entrance test
Chandigarh University Entrance Exam
Paul's College, Ulhasnagar Entrance test
N.N. College, Thane Entrance Test
Mumbai University Entrance Test
Naree Monjee College of Commerce and Economics Entrance Exam
Who Should opt? B.Com in Banking and Insurance?
Well, the B.Com in Banking and Insurance can be pursued by every student from a different stream. But candidates must possess some major skills such as:
Good Communication Skills
Basic Knowledge about the Industry
Ability to accomplish huge loan files
Good Knowledge of Foreign Exchange
Specialization in a specific area like credit analysis skills
Good knowledge of the Banking sector, etc.
What are the top Colleges / Institutes / Universities for BBI Courses?
In India, several public and private colleges and universities offered various UG level courses to commerce students. Some of the popular colleges for the BBI course are listed below:
ManavRachna International University, Faridabad – INR 4,08,000
Sir PadampatSinghania University, Udaipur – INR 6,70,000
Chandigarh University, Chandigarh – INR 1,95,000
University of Technology and Management, Shillong – INR 2,37,000
Quantum University, Roorkee – INR 69,000
Sandip University, Nasik- INR 3,00,000
CT University Ludhiana- INR 40,000
GD GoenkaUniversity, Gurgaon – INR 8,40,000
ApeejayStya University, Gurgaon – INR 2,50,000
Jain University, Bangalore – INR 1,40,000
International College of Financial Planning, Delhi – INR 68,000
Lovely Professional University, Delhi – INR 3,98,000
Indian School of Business Management and Administration, Ahmedabad – INR 14,900
RNB Global University, Bikaner – INR 1,80,000
ThadomalShahaniCenter of Management, Mumbai – INR 45,000
Admission Process of B.Com (Banking and Insurance)
Admission to B.Com in Banking and Insurance is generally complete through a relevant entrance test. However, the admission process may vary across colleges. Most of the colleges offered direct admission based on the student's performance at the 12th standard.
In case, any entrance exam will be organized by the university, candidates should be prepared for the following subjects:
General Awareness
Logical Reasoning and Critical Thinking
Quantitative Aptitude
English Communication
How to prepare for B.Com Banking and Insurance Entrance Exam
Generally, there is no specific entrance exam for getting into B.Com Banking and Insurance. In case, you will admission into a private institute/university then you will have to clear the university level entrance test. A candidate can follow few steps before preparing for the entrance test:
Before appearing in a university level entrance exam, candidates must have familiar with their topics and subjects.
The candidates are advised to go through to the previous year questions paper.
Students will have proper guidance and accurate study material.
Apart from the above-mentioned point, a candidate must obtain good aggregate marks in their 12th.
He or she should have a clear vision regarding relevant subjects.
B.Com in Banking and Finance Syllabus
The curriculum of course involves various subjects who are related to insurance and banking. Let's have a look:
Subjects for Semester I:
Financial Accounting – I
Tamil I / Hindi I
English – I
Principles and Practice of Banking – I
Business Management
Principles of Insurance and Physical Education
Value Education
Subjects for Semester II:
Financial Accounting – II
Tamil II / Hindi II
Insurance Law and Practice
Principles and Practices of Banking – II
Financial Mathematics
Environmental Studies
Subjects for Semester III:
Non-Major Elective
Company Accounts – I
Legal Regulatory Aspects of Banking – I
Financial Management
Workshop on Numerical Skills
Campus Recruitment Training – I
Business Economics – I
Subjects for Semester IV:
Campus Recruitment Training – II
Non- Major Elective
Institutional Training
Company Accounts – II
Services Marketing
Legal Regulatory Aspects of Banking
E-Commerce and E-Business
Workshop on Reasoning Skills
Subjects for Semester V:
Campus Recruitment Training – III
Income Tax
Cost Accounting
Financial Statistics
Business Environment
Subjects for Semester VI:
Management Accounting
Business Communication
Auditing
Project Works
B.Com Banking and Finance Job Roles and Career Opportunities
Candidates with BBI degrees can seek jobs in the private and public sectors. Banking and insurance is a vast field where you can get an excellent job position. Candidates who are interested in government jobs can also appear for banking exams along with this course. Apart from this, candidates can pursue further studies in the respective field like M.Com in Banking and Finance, PhD course etc. Here is a list of few job areas that you can explore:
Hedge Fund Opportunities
Investment Banking
Corporate Finance
Private Equity and Venture Capital Industry
Commercial Banking
Job Role for BBI Graduates:
A BBI Graduates can work in following positions:
Banker
Finance Officer
Insurance Manager
Financial Analyst
Investment Banker
Marketing Agent
Accountant
Financial Advisor
Sales Representative
Private Equity, etc.
Average Annual Salary of BBI Graduate
On successful completion of the BBI course, a BBI graduate can get handsome salary packages and perks. Jobs in government sector will also be a better option in the term of pay-scales and benefits. By doing this course, you can easily expect INR 30,000 to 40,000 monthly in the private sector. Here we have listed some salary packages according to job roles:
Accountant – INR 2,64,000 Per Annum
Cashier – INR 1,77,000 Per Annum
Insurance Manager – INR 6,13,000 Per Annum
Loan Counsellor – INR 2,00,000 Per Annum
Financial Advisor – INR 4,00,000 Per Annum
The below-mentioned salary packages can vary according to the company.
Top recruiter for BBI Graduates
The recruiters that look to hire BBI graduates:
Infosys
TCS
Deloitte
Amazon
PwC
EY
Accenture
Capgemini
HDFC, etc.
Final Words:
Thus, B.Com in Banking and Insurance is an ideal option for candidates who have a keen interest to work in the insurance and banking sector. Before seeking admission into this course, you should have good knowledge related to aspects of banking. After entering into this field, numerous job offers and benefits will always offer to you. You just need to have more focused and attain skills related to this field.