Most of the people around the world and in India still might not know what data science is and how it helps the market. This is a fact that most of our readers should agree to and it might be one of the main reasons why the majority does not know how to become a data scientist.
There are several questions related to the same, what are the skills required to become a data scientist? is it possible to learn data science? what type of course, should be perused? being a data scientist offers good employment opportunities? are these online and offline classes for data science? To get a clear answer to these questions, you need to dive deep into the subject. In this article, we would discuss everything about data scientists and how to become one in India. We would lay out the entire road map that could help you gain knowledge as well as become a data scientist.
What is Data Science?
Before explaining how to become a data scientist, you need to know about data science and why it is important. Data science is a field of education of study that deals with the analysis of data collected using specific parameters and then making a decision based on the pattern and result of the analysis. Data science is an interdisciplinary science that employs scientific methods, algorithms, rules, and processes to study the data at hand and gain maximum knowledge from it to predict the present and future trends and patterns. If you need to become a data scientist in the right way, you need to peruse the data science course and master the skills and knowledge to analyze that data.
Who could be called a data scientist? What does he do?
Have you perused a data science course? Do you know how to analyse data using specific parameters and draw patterns and make decisions based on the result of the analysis? If yes, then you are a data scientist.  In simple words, a data scientist is a scientist/person who uses a combination of different topics/concepts from statistics, business intelligence, information science to formulate or write algorithms, which, in turn, would analyze a given data. The result thus produced using the algorithms is used to make a smarter decision. In general, a data scientist should have the skills and knowledge to write a code and the scripts, in order, to run and process the data fed to it.
Anyone could become a data scientist?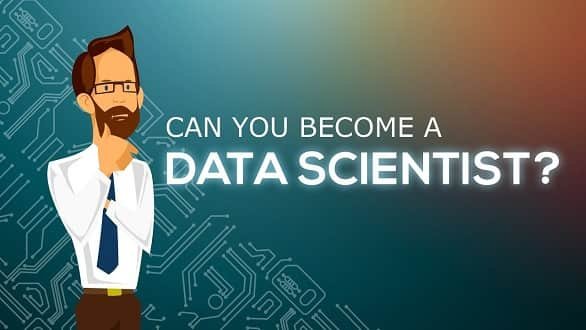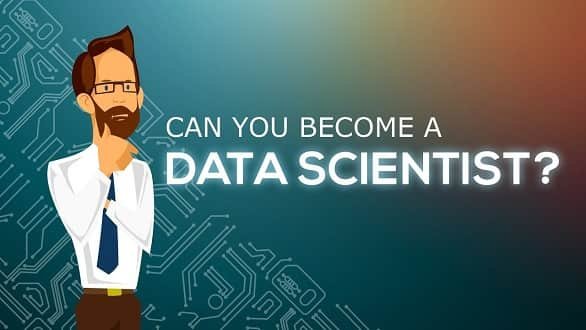 Not everyone could become a data scientist, becoming a scientist is not an easy task. There would be a lot of data to analyse, code and scripts to write, and also a lot of mathematical, information science, and business intelligence topics to learn. Since technology is advancing, even if a person lacks coding and script writing skills, he/she could become a data scientist as there are graphical user interface software's/programs that could help the user bypass writing codes/scripts. However, without strong knowledge and skills in statistics, information science, and business intelligence, becoming a data scientist is impossible.
Now you know all about data scientists and its importance. To make things clearer, here are the advantages and disadvantages of becoming a data scientist.
The advantages
A data scientist could analyse sample data and draw meaningful conclusions and decisions for industries.
Being a data scientist might not seem like a good position to most of the people outside the organization or industry, however, as far as we know, most of the management of the organizations respect data scientists for their skills and output.
Experienced data scientists could be able to predict the future specific market and therefore, help the organization or industry make the necessary changes and arrangements to reap the maximum benefits.
Data scientist is one of the most integral parts of the problem-solving team in an industry or organization.
Data scientist could write codes and scripts that could make the employee recruitment process more easy and efficient. Just enter the details of the applicant and then obtain the result, the recruiter does not have to go through the resume and spend a lot of time analyzing the applicant.
There are some of the common reasons why the demand for a data scientist is increasing these days. Today, almost all the top industries in India have a data scientist working for them. Unlike other job profiles, data scientists are closer to the management as they help the management take marketing, financial, production, and other related decision with ease.
The disadvantages –
While being a data scientist has its perks, the same job has disadvantages too.
Just because a person has perused data science, he/she cannot become a data scientist. Even if he/she manages to become a data scientist in an organization or industry, if he/she is not open to learning more, then it would be impossible to maintain the job title as a data scientist. Data science is an expanding field, where new technologies and ideas are added into the pool each day, a data scientist have to keep track of these developments/changes, try to gain knowledge of these and then use it. A data scientist unknown of the current trends and technology would be considered obsolete.
One of the most important tasks of a data scientist is to draw conclusions and decisions based on the sample data collected. If the decision or conclusion is wrong, the outcome could be worse. Therefore, while the job offers very good pay, if the data scientist is careless, the same job could land you in big issues.
Data scientist always works with sample data, collecting the sample data is not an easy task. Some data scientists have to breach customers or other people's data privacy to obtain the required sample data, which could expose the data scientist and organization to legal issues.
Time-management, patience, good management, proper utilization of resources are some of the keys skills required for efficient data analysis, if you are careless and neglect any one of these, the entire analysis and outcome could be worthless.
How to become a data scientist in India?
To be frank, just perusing data science would not make a person a data scientist, to become an expert data scientist. Here are the core things to know on how to become a data scientist.
Educational qualification
A person could become a data scientist in different ways, some organizations consider the education qualification first and some of them consider the skills and talent possesses. When it comes to a data science course, a person could peruse several courses to become a data scientist, it could be a diploma, degree, or certificate course. Different organizations/industries have different standards. As of today, there is no general standard for it. A person could peruse 6 months course, UG, PG, any other course of data science.
Master these skills
As already mentioned, becoming a data scientist is not an easy task. The skills required are numerous and all the skills cannot be cultivated easily, the skills have to be polished and maintained. Here are some of the common skills that you need to develop, polish, and maintain.
2.1.   Programming language
Having deep knowledge of a programming language is not very important these days. We have already mentioned that above, however, it does not mean that you should not try to learn any programming language. You must remember, data science is a strong competitive field, the more you know, the more important you are for the employer. If you know a programming language, it could enable you to play with the data at hand without any restrictions. If you depend on the existing tools/programs/software, they might serve the purpose for the time being, but, if you need to impress the employer and climb the management ladder, you need to do things on your own. Having programming skills could help you in such situations.
2.2.   Tools and frameworks
As mentioned above, today, a data scientist does not have to do the programming, some existing tools and frameworks would enable a data scientist to bypass the process of program writing. However, to use these existing frameworks and tools, you need to be familiar with it. Different industries and organizations use a different stack of tools and frameworks, understand these stacks, and obtain maximum experience using these tools and frameworks.
2.3.   Statistics is important
No matter what framework or tools you are using, the key skill that a data scientist requires is a better understanding and extensive knowledge of mathematical statistics. You should be able to read the sample data and identify the type of statistical method applicable to the case. If you lack knowledge and skills in statistics, forget becoming a data scientist. If you want to become a data scientist, work hard and master, polish and maintain your knowledge of mathematical statistics.
Like programming language, you could survive as a data scientist even if you do not know machine learning. However, if you need to grow and reach the top of the ladder, do not neglect to learn the basics and important machine learning algorithms. Remember, if you know programming languages and machine learning, it might help you somehow.
The sample data available for analysis might not always be perfect. Some of them might be imperfect. This is where data-wrangling kicks in, master data wrangling skills and you could analyse imperfect sample data with ease.
2.6.   Interpretation or visualization –
A data scientist should be able to interpret and visualize everything to laymen/employers and make them understand the finding, plan of action, and recommendation. Most of the organizations around the world and India, consider visualization as a key skill that a data scientist should possess.
Develop communication skill
A data scientist should know how to communicate with the laymen/employer. The findings, plan of action, and recommendation should be explained in such a way that it does not panic the employer. If there are complicated technical and non-technical terms, a data scientist should be able to make simple explanations of it. A data scientist who could make things easier to understand and easy to decide, tend to be more successful in any organization.
Practice using real data sets
There are international/national/local platforms that offer real data sets that could be used for practicing various scenarios in data analysis. Theoretical knowledge is important in data science, but, applying the knowledge practically is more important. Before attending an interview, try to do live projects with real sample data sets, continue doing it until you are confident that you could handle more complicated data.
Prepare a detailed CV
Unlike other jobs, the CV of a data scientist should be very detailed. Avoid all the unnecessary details and focus more on your skills and knowledge. Attach your sample data analysis project with the CV. Make sure the result, recommendation, and plan of action are simple, effective, and attractive. You must remember that a recruiter or an employer would consider the technical and communication skill above educational qualifications.
Follow and maintain contacts with successful data scientist through social media platforms or LinkedIn
Trends in data science would keep on changing as the field itself is evolving. To keep track of the changes and to familiarize with the new trends, maintain contact, and follow top data scientist and dedicated data science industries. Try to read as much as you can and learn the new technologies without fail.
Apply for all the data scientist jobs found
Unless you are planning to start a business on your own, do not cherry-pick recruiters and data scientist jobs. If you are on a platform searching for a data scientist job, apply all the data scientist jobs and not just a few of them you like. Some of the common job profiles that you could apply are a model data analyst, lead data analyst, senior data analyst, senior data scientist, etc.
Data Scientist Frequently Asked Questions
What are the programming languages used by data scientists?
Many programming languages are used by data scientists. It also depends a lot on the organization that they are working for. The popular programming language remains to be R & Python. Some of the organizations also use SAS & Tableau but remember that SAS is not an open-source application. Thus, it involves the cost of the software. The same is the case with Tableau. This is the reason why a lot of preference is given to R & Python. You can also start learning these languages if you wish to be a data scientist.
I am not good with math; can I still be a data scientist?
We are sorry to break your heart, but math is an essential skill for the data scientist. As a data scientist, you are supposed to perform complex operations on the data, and you need a solid mathematical background for the same. You should also have great statistics and quantitative analysis skills since that helps you work as a data scientist. Many organizations would also test you on these basic skills when looking for a job in this specific domain. So, if you are not good with math, you should avoid working as a data scientist.
Are there any tailored courses for me that can help me becoming a data scientist?
Yes, many universities have started offering bachelor and master-level courses for you to become a data scientist. You can explore these bachelor level courses. If you have already completed your graduation, you can opt for a PG course that teaches you the skills required for a data scientist. Colleges like ISB and Great Lakes have some such courses. There are options available for the working professionals as well. If you want, you can also take up online courses that can help you acquire the skills you need to become a data scientist.
Can you help me with a fee and salary comparison for data scientists courses?
The fee of the course depends on the option that you are choosing. For example, the online courses may start at Rs 500 only. The graduation can cost you anywhere between Rs 10,000 per year and Rs 1.5 Lakh per year. For the PG level, the premium institutes like ISB have a fee of as much as Rs 10 Lakhs for the courses. Talking about the salary, it also depends on your skillset, educational qualification, and work experience. The minimum salary can start at Rs 3 Lakh per annum. However, there is no limit to the highest that you can earn.
Who hires Data Scientists?
Today, various domains hire data scientists since the business is being driven by data only. You will find banks, IT organizations, consultants, audit firms, product-based companies and food chains hiring data scientists for some of the other jobs. You can also try to find a domain for yourself where you have specific expertise. This will not only help you in finding the job, but it will also help you in performing well because of the prior domain knowledge.
Conclusion –
We hope that all the key facts about data scientists and the course have been covered in this article. However, we would like to conclude this article by stating that the demand for data scientist has skyrocketed and it is predicted to do the same in the future. Read the facts mentioned above, follow instructions carefully to become a data scientist. Best of Luck.
Related Topics About Data Scientist