Data science plays an important role in business operations and helps businesses grow.To understand the data and its trends, one needs special skills that can help the business grow efficiently. These professionals make a lot of research and analysis to bring changes in the data that can lead to the growth of the business. Both business analysts and data scientists perform this task mutually.
However, business analysts and data scientists have different roles and responsibilities that give them two separate positions in a company.Though the main objective of these two job roles is two help businesses grow properly, the actual work that they do in the companies is different, and that's what creates differences between these two job roles. So, let's understand the difference between these two job roles in detail.
Business analysts do several tasks like understanding the needs of the business, creating plans, etc.They have important skills such as analytics, business insights, domain knowledge, and many more. On the other hand, data scientists analyze, make ready, and maintain information.Data scientists usually have skills like mathematics, statistics, and computer science.
Who Is A Business Analyst?
A business analyst is a professional who finds the needs of a business, identifies the changes to be made, and implements those changes. To do that, he/she engages with various departments in the company and execute the business plans effectively. So, the business analyst needs to have complete knowledge of the business so that they can make the necessary changes in the business that will improve the customer experience and employee productivity.
Business analysts are also responsible for leading projects, enhancing business processes, and helping finance and account departments when required. They also work actively with key business stakeholders in the finance and accounting departments to understand the challenges of business. Also, he/she needs to prepare documents of all business processes and needs to meet the business challenges effectively. They are responsible for changing the existing business processes by analyzing the current methods.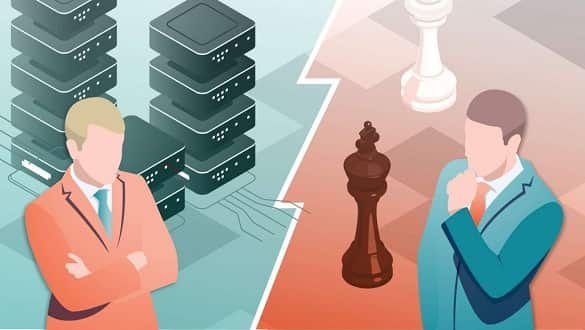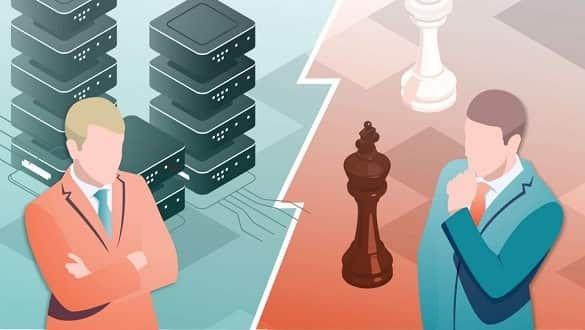 Who Is A Data Scientist?
Data scientists are professionals who create algorithms and analyze data sets. They explore complex data patterns and make them easier for understanding. Because Data Scientists study and understand complex data sets, they need to have various skills to perform their tasks effectively. They analyze a large volume of data, understand those, and make the necessary changes by implementing mathematical and statistical programs. Data scientists usually need to have the capability to work with new people,evaluate the data, and implement scientific techniques in the business and products. They also have strong knowledge in mathematics, statistics, data science, engineering, and data handling so that they can implement data products.
By using their programming skills, data scientists provide advanced analysis to the company. After getting the data, they can start the analysis and bring the latest trends and patterns to help the businesses grow. They also have knowledge in several programming languages like Java, Python, R, and many more. Apart from that, they also need to have skills in machine learning and data mining to build analytics applications.
Job Requirements:
Although both data scientists and business analysts work together to improve the business process,the requirements for both job posts are different. For a business analyst job, technical knowledge is not mandatory, whereas data scientists need to have the technical knowledge to understand the complex data sets. The following are the requirements of both job posts that you need to know.
Job Requirements of Business Analyst:
The candidates must have a business degree like MBA or BBA or a technical degree like engineering or MCA to apply for this post.
A minimum of 4 to 5 years of experience is needed in the software or consulting industry.
Experience in consulting skills such as business case development, business process redesigning, process mapping,and business analysis.
Knowledge of system implementation skills such as detailed design, testing, configuration, process analysis, training, change management.
The capability of setting and managing customer needs and work actively on projects
Ability to build better customer relationship
Project management skills with effective planning and organizational skills
Availability to travel when required by providing consulting tasks to clients
The capability to work remotely from anywhere
Strong communication skills and presentation skills to explain the new concepts
Knowledge of information security processes
Certification in information security, IT infrastructure, or business process management (Optional)
Job Requirements of Data Scientist:
Strong knowledge in programming languages like Python, R, etc.
Bachelor's degree in mathematics, statistics, computer science, data science, or any other related discipline.
Experience in analytics, data science, machine learning, or other related job roles for a period of three years or more
Experience in designing and employing machine learning programs in production systems.
Efficient communication skills to understand business problems and discuss those with non-technical people.
The candidate should be from a software-focused background
Strong knowledge of databases like SQL and NoSQL to maintain the databases
Knowledge of data visualization tools and techniques
The candidate should understand data warehousing and know about AWS
Advanced degree in mathematics, statistics, or data science (optional)
Text analysis and natural language processing experience (Optional)
Responsibilities:
The responsibility of business analysts and data scientists is to help in the growth of the business. Business analysts prepare documents, analyze those, and find out all the requirements. After that, they identify the changes to be made and execute those changes discussing them with the IT team. Then they make the testing of the changes to make sure that those are done as per the requirements.
On the other hand, data scientists are responsible for analyzing and performing the necessary changes in the data infrastructure. They handle large volumes of data effectively with in-depth knowledge of machine learning, SQL, data science, etc. Here are the responsibilities of both business analysts and data scientists.
Responsibilities of Business Analysts:
Make sure that there is continuous growth in product recognition, acquisition, and usage by customers.
Display products and concepts by preparing presentations and demos
Conduct training sessions of clients
Connect with the customers and encourage them to use the products and solutions of the company to improve their business operations.
Understand the business objectives and system needs of clients by conducting meetings with IT and business users.
Understand the features and technologies of the product and design solutions that can meet the needs of the clients.
Find resolutions of problems spreading awareness about it
Promote solutions and support clients
Work with customer success teams to complete the project milestones successfully.
Give customer feedback to the product team regularly.
Responsibilities of Data Scientist:
Translate the data infrastructure to understandable forms for ease of understanding of stakeholders.
Solve the real-world business problems by implementing machine learning models
Combine more technical knowledge and expertise to perform the tasks efficiently
Receive the requests of partner product teams and prepare monthly sprint plans according to that.
Identify opportunities to automate and scale the analysis process when needed
Automate the reporting process for weekly business metrics
Work with the product team to develop important performance indicators and methodologies for measurements.
Help in building data science capabilities
Help inside and outside team members of the data science team to build and deliver the best quality data science projects.
Create custom algorithms and models
Design effective solutions to solve complex business problems
Salary:
The salaries of business analysts and data scientists are almost similar. So, you will be satisfied irrespective of the career option you choose.
Salary of Business Analysts:
The starting salary of business analysts is around 6 lakh per annum.Generally, the salary of the business analysts increases as per their experience,just like other fields.So mid-level business analysts get a salary of around 8 lakhs to 10 lakhs per annum. Business analysts with experience of more than 10 years can earn around 15 to 18 lakh per annum.
Salary of Data Scientists:
Data scientists can earn around 5 lakh per annum at the beginning of their careers. With an experience of 2 to 5 years, data scientists can earn around 6 to 7 lakh per annum. Data scientists with five to ten-year experience can earn around 7 to 10 lakh per annum. This way, the salary increases depending on the experience of the candidate.
Bottom Line:
Business analysts and data scientists work closely in any company to understand and implement new strategies and make the required changes. This way, both have a higher scope in industries. Also, both job roles overlap with each other sometimes. Because both data scientist and business analyst job roles involve data in them, they have many similarities. However, the Data Scientist is a more technical role while the Business Analyst requires expertise in business development and project management.
Actually, both roles can vary according to the needs of the company, although both of them work for the growth of the business. Sometimes data scientists may find themselves performing the job of a business analyst and vice versa. So, it all depends on your skills, experience, and how you do your job.