We all might have come across the phrase once in life that a pen and paper cannot decide our destiny. It might be practically correct because even Albert Einstein was a mediocre student. Your thinking ability and knowledge of relating things makes you superior. However, in our country, exam holds a lot of value. It is the primary deciding factor of your depth of knowledge. It helps to distinguish students into poor, mediocre, and topper (which shouldn't be this way). Therefore, one of the most challenging decisions that one has to make in student life is picking a stream after 10th grade.
The fuss about choosing out of these three streams after your 10th grade starts right from the day you are born. HAHA, as a middle school student, you will be able to relate. Parents already decide at birth that our baby is going to be so and so. Many students have a completely contrasting interest from that of their parents. The situation becomes even trickier here. You consistently have pressure to either make your parents happy or fulfill your dream. Many students fail to take an appropriate decision and end up taking the wrong path. Whether you choose science, commerce, or arts, the carrier options in all of them are limited. Therefore, picking sapient is the only way to save your life from disappointment.
Science Vs. Commerce Vs. Arts Subjects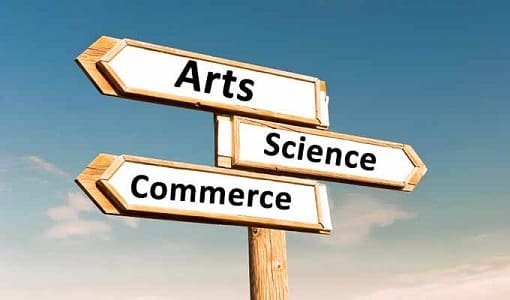 We always recommend choosing the subject according to your interest. But, make sure that you do not pick it under the influence of your friends. Most of the students are immature at this age, and they repent later. Therefore, listen to what your parents have to say. Discuss your interests and career goals with them. We are listing out several necessary points related to how to choose a stream out of science, commerce, and arts. At the end of the article, we hope you will be able to make up your mind and have a final decision.
1. Let us first look at some myth busters
Students who are good in academics should always prefer science as their high school stream is a wrong perception by many students. This conventional thinking has stopped many bright students from picking a suitable stream of their interest.
One cannot earn if they choose arts because it has limited carrier options, and payscale is lesser in contrast to science & commerce too. Well, we will be detailing it further. Therefore, make sure you do not fall into this trap.
People who pick arts possess the lowest set of knowledge among the other subjects. Everyone can pass the arts subjects without much difficulty. Then, why do so many people are still stuck there?
Picking the biology or maths (science stream) will make you a successful person. You will be a scientist, engineer, doctor, or astronaut. Without a doubt, the earning will be more! However, don't forget the fact that you need to work hard to achieve that position. Fighting competitive exams is not as easy as you think.
Pro tip- Irrespective of whatever stream you choose, being consistent with it, and giving your best will make you successful. Comparison of streams will grow you with a similar conservative mentality as most of the people in India still have.
Before jumping on to the career options and requirements of different stream, make sure to do a reality check with your attitude and what matter you most in life. Deciding your goal will make it hurdle less for you to choose between science, commerce, and arts.
2. Are you a passionate thinker?
If you have a wide range of imagination, even picking the wrong stream will never stop you from thinking. The reason being most of it is involuntary. Such students will repent on taking commerce. Science and arts will be ideal for people like you.
3. Do you often fascinate about the economy?
If you take a keen interest in the economy of our country, compare it with other places, and things like that, commerce is looking forward to welcome you. You can achieve great heights in commerce if you give your best. You can also opt for the economics of literature and arts. Does it sounds new to you? Don't worry, we have an entire explanation below.
4. Are you a creative mind?
If you have a creative mind, doing and learning about new things will fascinate you. Look for science and arts for enhancing your mind.
5. Are you an introvert or extrovert?
Yes, your personality and communication skills with others has a huge impact on your career. Introverts can show their skills in jobs like research scientist, librarian, writer, social media manager, legal administrative, chef, IT manager. All these jobs involve lesser interaction with people in contrast to teacher, doctor, manager, sales representative, journalist, politician, financial advisor, and event planner, which is ideal for extroverts.
6. How much does money matter to you?
Career options like surgeon, physician, IT engineer, pilot, block chain developer, chartered accountant, firm lawyer, and judicial and civil services are some of the top-paying jobs in our country.
7. Students who should choose science
Whatever be the reason for picking science as a stream, don't choose because you scored 9-10 CGPA in lower classes. It can be one of the silliest reasons for selecting this stream. If you cannot stop yourself from questioning why, what, and how in almost everything that you see, nothing could be more ideal for you than the science stream. However, merely by wondering, one cannot step forward. You need to show that interest in form of studying and yield it in results. Science is a subject that bursts your ideas and imaginations & makes you learn to relate things.
Career options
Science is subdivided into two subjects- PCM & PCB
Both are amazing career options. Evaluate your mind and soul. If it is more inclined towards plants, animals, and the human body, PCB is your niche. However, for students who love to solve equations and get fascinated by innovations & technologies, PCM will open your doors to the future. PCB consists of physics, chemistry, and biology, and PCM consists of physics, chemistry, and maths. These two branches are also known as medical science and engineering otherwise. Many people study maths as they are helpless. Therefore, when you get a chance to remove this compulsion from your life, do not hesitate to pick medical science. Let us now look at some career options after picking these two subjects:
PCM – Engineering, professor, scientist, architect, pilot, astronaut, merchant navy, automobile designer, programmer & coder, army & defense, fashion technology, animation & graphics, researcher, technician, and landscape designing are some great career options.
PCB – Medicine, dentistry, Unani, Ayurveda, Veterinary Science, Animal husbandry, nursing, professor, scientist, agriculture officer, pharmacist, physiotherapist, zoologist, microbiologist, biochemist, rehabilitationist, audiologist, fishery science, home science, botanist, nutritionist, biomedical engineering, optometry, and anthropometry.
 Competitive exams:
Biology students:
National Eligibility cum Entrance Test (NEET)
All India Institute of Medical Science (AIIMS)
Indian Institute of education and research
National Entrance Screening Test (NEST)
National Institute of Fashion Technology (NIFT)
Indian Maritime University Common Entrance Test (IMU-CET)
Other than this, you can also opt for exams held by private institutes for B.Sc.
Maths students:
Joint Entrance Examination Mains(JEE)
JEE Advanced
Birla Institute of Technology and Science Admission Test (BITSAT)
COMED-K
VITEEE
NDA Entrance exam
State PET's
8. Students who should choose commerce
People think of commerce as a very easy subject. Therefore, most of the mediocre students opt for it. Your friends and seniors will usually say that opt commerce & you will enjoy your high school period to the fullest. You might be seeing the commerce students roaming out of class when science students are busy attending classes. But, it is not like what you see. Spoon feeding at the high school age holds lesser significance. You have to understand the concept and do self-study. Your primary motive for getting into high school should solely be studying. Enjoying school life is a part of it. But, ignoring studies will lead to bad consequences, irrespective of whichever stream you choose.
Career options
 If you are a calculative person and live life with a thought of profit and loss, nothing could be better than commerce for you. A business-minded and analytical person should never be forced to choose another stream by parents. People in our country believe that business and management is better for students who have a similar business family background. Have you ever questioned yourself that who was the one to bow the seed of business in your family? Well, you have your answer now! Here are some career options after pursuing commerce:
Chartered accountants
Financial analyst
Banking jobs
Loan executive
Economist
Financial planner
Human resource manager
Venture capitalist
Agriculture economics
Stockbroking
Statistical analyzer
Competitive exams
To get into your favorite job, you need to pass some of the competitive exams. Unlike any other stream, competitive exams hold importance in commerce too. Here is a list of competitive exams that you can appear:
Chartered accountant common proficiency test (CACPT)
CS Executive Entrance Test ( CSEET)
Cost and Management Accountant Exam (CMA)
Certified Financial Planner Exam (CFP)
Actuarial Common Entrance Test (ACET)
NMIMS National Test for Programmes after 12th (NPAT)
Delhi University Joint Admission Test (DU JAT)
SET by Symbiosis university
CET by Christ university
Xavier's entrance test
Subjects of commerce:
Accountancy
Business studies
Economics
Information practices
English
9. Students who should choose arts
In our society, the impact of what people say is much more than what you think. Under the load of society, your decision gets manipulated. But, never leave your passion in the influence of other people. People consider art as one of the most easiest and low rated subjects. But, according to us, if you will not get into a stream, how will you know about its detailing. Many people have left this stream unexplored due to the pressure of society. People have degraded it to such an extent that many schools do not even include it in their 10th plus plans. When you will come to know about the career options and life of arts people, you will be amazed about its submission over other streams. If you are someone who always wanted to do something out of the norm, go for arts. Arts students have a superior understanding of creativity, language, literature, craft, film, music, and photography. Therefore, if your heart belongs to any of these, pick the arts.
Career options
Arts can be further divided into literary arts, visual arts, and performing arts. Here are some career options:
Literary Arts: Poet, writer, social media manager, publishing assistant, copy editor, and editorial assistant.
Visual arts: Photographer, painter, sculpturist, conceptual art, architect, textile worker, and many more.
Performing arts: Actor, dancer, choreographer, musician, singer, martial art professional, theatre artist, journalism, reporter, and director.
Other mainstream career options- lawyer, politician, computer application bachelor, retail manager, fashion designer, weather broadcasting, paleontologist, scientist, and traveler.
You can opt for courses like BA, BALLB, BCA, BBA, and BHM.
Subjects in arts:
History
Political science
Geography
Sociology
Psychology
English
Hindi
Sanskrit
Competitive exams
You can fill up forms for the following exams:
BHU UET, SUAT, JNUEE- Humanities and social sciences
NIFT, UCEED, NID- Animation & designing
CUSAT, NCHMCT JEE- Hospitality & travel
Goenka aptitude test, LUACMAT, SRMHCMAT- Mass communication & journalism
GSAT, BUMAT, SET- Computer application
CLAT, ACLAT, LSAT- Law
Conclusion
Make sure that you welcome suggestions from your parents, relatives, teachers, and friends. Attend an educational fair or session and get professional guidance if you are too much confused. Also, stay updated with the latest educational & career paths. Relate your personality with the career option you are considering. It will help you analyze your strengths and weakness. Never be under the influence of someone who is not so knowledgeable. The final call is always yours! Think & select wisely. All the best students!