Among the different simple and best courses that a student could peruse after passing 12th standard, BCA and BBA are the most common options. Most of the students often end up selecting any one of these two. However, the majority of them regret it in the end. While both of the courses are good, it does not mean it could be suitable for you. To select the right course, you need to first understand all about the course.
Understanding a course is not an easy thing, every detail has to be checked and this alone might not help. If you have friends that could help you, you need to ask them for their reviews on the course. Ask them how the course helped them if the course has served them well, etc. But, this is not always the best option as the reviews would depend on person perception. However, if you are a person who needs help to decide which among the two courses to be perused, the facts mentioned below would help you.
To make things easier for you, we will lay out details of each course separately in the beginning and then compared both courses in detail in the end. This structure of explanation would help you grasp more details.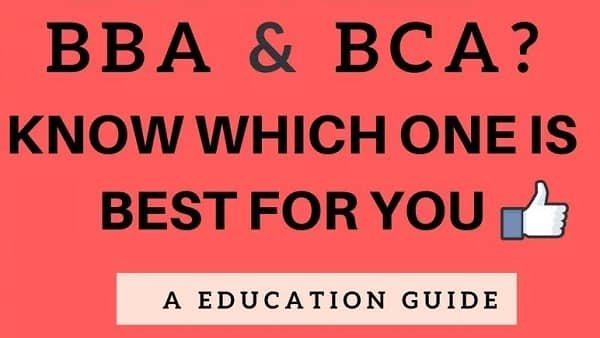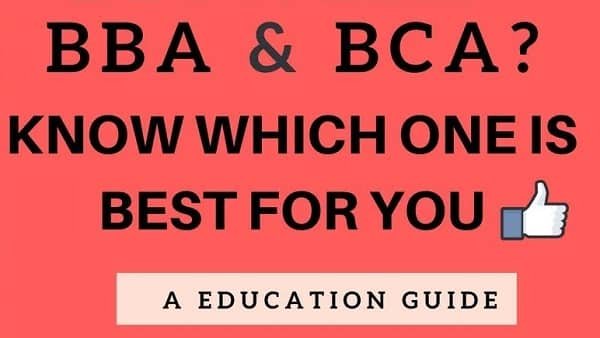 BCA

BCA is one of the most common computer-related course perused by students who have completed 12th. Bachelor of Computer Application course is unlike most of the other courses in India today. This course is specially designed in such a way that it could offer a lot of practical as well as academic knowledge of computer applications.
As you know, knowing the application of computers is very important these days and therefore the job scope of BCA graduate is better. As far as we know, this course covers a diverse range of computer application fields like Web developing, software development, programming language, networking, data structures, etc. This course is best for students who are fascinated by the world of computers. BCA is a technical course that focuses more on the IT field.
Eligibility

A candidate is eligible to peruse BCA course if he/she satisfies the below-mentioned criteria –
The applicant should have passed 12th with a mark not less than 50%
The applicant should be at least 18-years old
The applicant should have opted for arts, science, or commerce stream in 11th and 12th with English as one of the core subjects.
If you are planning to join a reputed college or university, you should check their website or contact the college or university first, some colleges/universities accept applicants that have attended an entrance test conducted by a state or central government. Find out the entrance test suggested, attend it, and pass.
Some of the common entrance tests related to the BCA course are HP CET, KIITEE, UPSEE, AUAT, IPU CET, GSAT, AIMA UGAT, BU MAT, etc. Some of the colleges/universities conducted their own entrance test to filter top students.
BCA course duration

The course duration of the BCA course is the same all over Indian, this 3-year undergraduate course is divided into 6 different semesters, 2 semesters each year. Each semester is completed with a final exam, that evaluates the candidate's development each semester.
BCA course syllabus

The syllabus of BCA is not the same all over India, some of the colleges/university consider teaching different subjects and practical's. However, the end outcome of the course is the same. Here is a general syllabus followed by most colleges/universities.
First-year – Modern operating environment, mathematics 1, principles of management, financial accounting, business communication, tally/MS office lab, business accounting, data structures, e-commerce, statistics, database management system, C programming, organizational behavior, C/SQL lab, object-oriented programming and UML with C++, digital electronics, communication skills, problem-solving techniques in programming.
Second-year – software engineering, business mathematics, operating system, computer network, computer organization and architect, data structure using C, C or SQL lab, relational database management system, visual basic, agile systems, open elective 1, Python scripting, computer networking, enterprise resource planning, human resource management, program elective 1, C++ or VB lab, Web technology with PHP.
Third-year – Web technologies, C++ or VB project, computer graphics, and animation open elective 2, program elective 2, .net, core Java, digital marketing, android development, Java/Web technologies/VB.net lab, object-oriented software engineering, information security, software testing, recent trends in IT, advanced Web technologies, program elective 3, program elective 4, advanced Web technologies/advanced Java lab, Java or VB.net project.
BCA specialization –
Computer graphics
Cyber law
Animation
Music and video processing
Word processing
System analysis
Programming languages
Internet technologies
Database management
Future after graduating BCA –
There are three option for any BCA graduate
Peruse PG course in an appropriate stream
Get employed in a related industry
Get employed in a related industry and peruse PG course as distance education.
Most of the things that you need to know about BCA have to be laid out above, now let us look into the BBA course.
BBA

Unlike the BCA course, the BBA course is an administration course and it is totally different from the BCA course. Bachelor of Business Administration is one of the popular degree courses that a person with business administration should peruse. When compared to other courses, the BBA course is unique as it trains and helps a candidate to gain knowledge in business administration. This course focuses more on management and administration studies, while this course focuses on both, they do not dive deep into a topic, this is why BBA is termed as general management course.
The course is designed to cover basic management and administration topics like HR management, management skills, finance management, business law, business ethics, planning, marketing, operation management, etc. In other words, this course would lay a stepping stone to your business administration based career. While the BBA course could be perused as distant education, honors, or regular, it is all up to the candidate on what to do.
BBA course eligibility criteria

Like the BCA course, the eligibility criteria for BBA is almost the same. However, there is a slight difference.
The candidate should have passed the 12th standard with a mark not less than 50%.
The candidate should be at least 18-years old
The applicant could be from any stream, however, we recommend that only students who have perused arts or commerce stream to join for this course.
Most of the reputed BBA colleges/universities demand the candidate to have appeared for an entrance test. The entrance test requirement for each university or college might differ, contact the college or university for more details. Here are some of the common entrance tests to attend if you are planning to peruse the BBA course, NPAT, UGAT, BHU UET, IPMAT, FEAT.
Some of the reputed colleges and universities conduct their own entrance test to filter their applicants and to shortlist candidates.
BBA course duration

The course duration of BBA is the same as that of the BCA course. Wherever you join in India, this course duration would not be different. This 3-year undergraduate course is split into 6 semesters, 2 semesters each year and each semester extends about 6-months. Each semester ends with a final exam that determines the candidate's development.
BBA course syllabus

The syllabus of the BBA course could vary based on the college or university, however, most commonly, all the colleges and universities follow the below-listed subjects. Unless it is an honors B BA course, this syllabus might not be different.
First year – Quantitative methods 1, computer applications, principles of management, human resource management, financial accounting, business law 1, management accounting 1,  managerial economics, effective communication 1, principles of management 2.
Second-year – Business law 2, business environment, management accounting 2, project work, family business management, human resource management 2, financial management 1, managerial economics 2, quantitative methods in business 2, effective communication 2.
Third-year – Indirect taxes, direct taxes, research methodology in management, marketing management, operations management, environment management, international marketing, project management, export/import management, public relations management.
BBA course specializations

Event management
Human resource
Logistics and supply chain
Professional
E-Banking and Finance
Marketing
Financial markets
Family business management
Insurance and risk management
Hospitality and tourism management
Future after graduating BBA course

There are always three options for the future a candidate who has graduated BBA course.
Peruse PG course in any appropriate specialized stream
Get employed somewhere in a field related to management or administration
Get employed and peruse PG through distance education.
When it comes to BBA, as already mentioned, it a general management course that does not focus deep into any particular field. Therefore, the knowledge gained from the course is not enough to build a strong career. This is why you must consider perusing PG to specialize in a particular field and polish their skills and knowledge in management and administration. However, if you are confident that you have the adequate knowledge and skills to get employed, then consider getting employed and perusing PG as distant education.
Almost every detail about both the courses is mentioned above, but, this pool of information and facts might not help you come to a decision. To help you come to a decision, as already mentioned in the introduction, here is a direct comparison between both courses.
BCA Vs. BBA: Comparison

While both BCA and BBA course is almost the same in different aspects, there is still a considerable difference between both the courses. Here is everything you need to know laid in simple words.
Course duration

Both BCA and BBA courses are undergraduates courses that have a maximum course duration of 3-years. Both of these courses are split into 6 semesters and each year has 2 semesters. As far as we know, each semester could extend up to 6-months or close to 6-months.
Course fees

If you compare the course fee of both BBA and BCA of different colleges and universities, then, you would find that there are differences in some colleges and the same at some other colleges. However, the course fee would depend on the reputation of the college and university. Both BCA and BBA courses could be expensive if you prefer to join any one of the top 15 BCA and BBA colleges in India.
Course outcome

When it comes to BCA and BBA course, the main difference between them lies here. While the BBA course is a business administration course that teaches the candidate about various fields of management, administration, and business-related activities involved. BCA is entirely different, BCA is a technical course that revolves around computer application. BCA course focuses more on computer programming and computer application in various fields of business and industries.
Specialization

Both BCA and BBA have their own specifications when it comes to the honors course, however, general BBA and BCA course does not have any specializations. But, if you plan on perusing Hons BBA or Hons BCA course, you could specialize in a particular stream related to BBA or BCA respectively.
Eligibility

Eligibility criteria for both BCA and BBA are the same, any students who have passed 12th with a minimum of 50% marks and opted for any stream could peruse this course. However, when it comes to BBA, top colleges or universities only allow students who have opted for the arts and commerce stream. This is because students from the arts or commerce stream have more basic knowledge of subjects related to business administration than science stream students.
Admission

The admission process of both BCA and BBA courses might be the same or different based on the college/university. Some college/university allows direct admission based on the 12th board exam merit and some of them allow only if the student has attended and passed a specific entrance test.
Job opportunities

Both BCA and BBA graduates have a diverse range of job opportunities waiting for them, however, unlike the BCA course, which is a technical course, job opportunities for BBA graduates could be less. However, if it is a Hons BBA degree, the job opportunities could be more than BCA.
Salary

The CTC of BCA and BBA could be the same or it could be different based on the job title decorated. However, as far as we know, BBA graduates tend to get more salary than BCA graduates in some firms. This is because BBA graduates are closer to management and administration, which makes them more important for an organization or industry.
Conclusion – which is better for you?
We cannot answer this question because the answer could be based on our perception. However, if you are adamant that we offer an answer to this question then we would like to mention that both the courses are good, none among them is inferior to others. Read the above-mentioned course details and if anyone of them attracts you, then consider perusing that course. You must remember that the best course for me might not be the best for you, the best depends on your likes and dislike.