Engineering is a popular graduation stream in India. After completing your 12th and giving the engineering entrance exams, you can enter the engineering colleges with ease depending on your merit and score in the engineering entrance exam.  You can opt for the numerous engineering streams according to your choice and interest. However, if you are not willing to opt for the computer and IT streams, then Civil Engineering and Mechanical Engineering are the two most popular and talked about engineering streams in India. And along with being extremely popular in the country, they have an enormous scope abroad also. However, the core of both the engineering streams is the same. And for the students who do not have much knowledge about the streams, choosing one of these engineering streams can be a tough task to accomplish.
If you are also looking forward to entering one of these engineering streams after your schooling and need some assistance that can help you choose the better and more stable field to study, this article can be extremely helpful. In the article, we will compare these two engineering streams in almost every important aspect that a student looks for before entering Engineering. So, be with us until the end of the article and know which one is a better engineering stream for you: Mechanical engineering or civil engineering.
Mechanical Engineering v/s Civil Engineering: Scope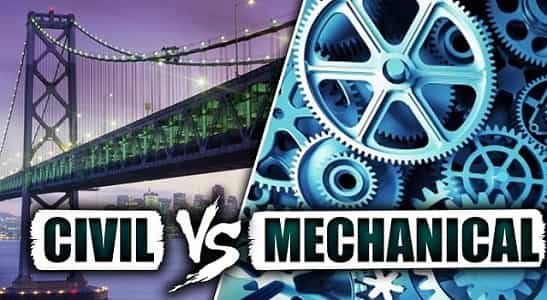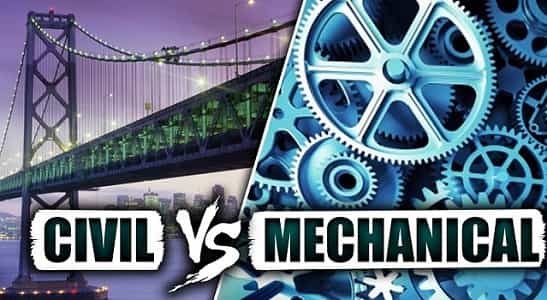 The first thing that a student looks for while entering the engineering field is the scope of the course. And here, both mechanical and civil engineering are gaining immense popularity with every passing year. Once the boom and craze that was reserved for the Computer science and IT field, has shifted to the mechanical and civil fields.
Comparatively, as mechanical engineering is a core branch, it has a better scope than civil engineering. With better and broader subjects, Mechanical engineering offers better scope than civil engineering.
Civil engineering primarily targets a field whereas Mechanical engineering can be further divided into a variety of fields. This makes it a better choice for the students who are looking for higher studies in the desired direction. The better possibilities for higher education from a reputed institution, you can get better job opportunities and scope as a Mechanical Engineering student rather than being a Civil Engineering student where there are not so vast higher education choices to go with.
In other words, if you are taking scope as a prime aspect of choosing the engineering branch, you should go with Mechanical Engineering without a second thought in mind.
Mechanical Engineering v/s Civil Engineering: Course Complexity
The second big thing that most students look for while choosing an engineering branch is the complexity of the courses and availability of the legit course material. As already said, Mechanical engineering is a vast subject that has numerous branches, and thus getting legit and trustworthy research papers and course material a bit tough deal. On the other hand, Civil Engineering is considered a much easier course to learn and master.
Comparatively, Civil Engineering is considered easier than Mechanical Engineering. Whether it is due to the subjects or the lack of good reading material, Civil Engineering is the first choice for the students when it comes to course simplicity. So, if you were looking for an easy yet future-ready course to get in Civil Engineering would be a more reliable and better choice for you to go with.
In case you are looking to learn hard and want to have better future benefits, you can opt for Mechanical Engineering too. Though the course material is not par with civil engineering, you can make some research and get the required knowledge about the subject.
Mechanical Engineering v/s Civil Engineering: Job Opportunity
The next big thing that most students have in mind while selecting the engineering stream is the Job opportunity.It is essential to choose an engineering field that has future aspects and through which you can enter the industry quite easily. And in this case, both Mechanical and Civil engineering are great fields to opt for. With better job opportunities in local and government projects, Civil Engineering can be a perfect choice for those students who aren't too keen to leave their city for a job. On the other hand, Mechanical engineering can help you opt for the more reliable jobs that are hard to get otherwise. You can also go for jobs abroad after pursuing engineering in the mechanical stream.
So, the choice is completely yours. Whether you are looking for the local jobs by opting for Civil engineering, or are after more prestigious jobs by choosing mechanical engineering.
In addition to opting for a job in a prestigious firm, you can also opt for further studies in your preferred specialization. So, choose wisely and get enrolled in the stream that provides you better job opportunities after studies.
Mechanical Engineering v/s Civil Engineering: Salary and dependability
One more important thing that you should consider while choosing an engineering stream is the salary and dependability in the job after your studies. Depending on the jobyou have opted for, both Mechanical and Civil engineering opens up a great gateway to the world of new opportunities. Both Civil and mechanical engineering provide great job openings with industry-leading salaries and incentives.
The major thing that plays an important role here, is the difference between firms and their operation. Yes, you heard it right. Both Mechanical and Civil engineering industries operate in two different areas, and thus you can see the differences in the salary of the job profile. The mechanical engineers get a higher salary package as their area of work is broader than that of a civil engineer. Also, many firms hire mechanical engineers on priority. The reason behind this can be seen as the better subject knowledge and compatibility with other fields of the firm.
In other words, if you are looking to work with a reputed firm in a good position, then we will suggest you opt for mechanical engineering from a reputed college and university. This will help you choose the most reliable job that will make you financially strong and get the best dependability for a better future.
Mechanical Engineering v/s Civil Engineering: Availability of colleges and universities
One of the most important things that you should consider while choosing an engineering stream is the college and university's reputation. Getting a college with a good reputation can really make a difference in your studies. Choosing a good Engineering stream from a less reputed or new college is inferior to choosing other branches in a good college and university.
By choosing a reliable college and university, you will get preferences from the firms along with getting a more legible salary for the position you work for.
So, if you are looking to get better knowledge and a better job along withthe outstanding, you should opt for a better college and university. For this, you can talk with the previous students of the college and know the review of the college faculties and you can judge whether the college can help you achieve knowledge about the subject with ease.
Comparatively, as mechanical engineering is an older engineering stream, you can get more reputed colleges in which mechanical engineering is a great option to go with. ON the other hand, Civil engineering is still a new branch and there are not many colleges and qualified faculties for the subjects. So, you can try hands on the Civil engineering, but if you are after better scope and knowledge gain, the mechanical stream would be a better choice to go with.
Better Engineering course between Mechanical Engineering and Civil Engineering
This clearly depends on your city and college preferences. However, if you are looking for an excellent engineering stream with lots of opportunities and future aspects, Mechanical Engineering would be a far better choice to go with. And in case you are willing to try your hands on the new and more focused course that can get more responses from the companies and better job prospective, you should opt for Civil engineering.
Mechanical Engineering v/s Civil Engineering: The Verdict
For the students who have the potential to learn new things, both Mechanical and Civil engineering stream are great to go with. However, it would be better if you choose a stream that has a better reputation among the industries and offers you better scope than the other popular streams. And in comparison, Mechanical Engineering is an excellent option to go with. So, if you are looking for a perfect course that can help you get a better job after the course completion and a better salary, you should look for mechanical engineering for sure.
Just make sure that you choose a good university and college for the course and you can be assured of getting a brilliant future and better financial security throughout your career.