Perusing a degree course after completing the 12th is not an easy task. It is not just perusing the course, but, selecting an appropriate course to peruse. 15 or 20-years before, the number of degree courses were limited and a person could choose a course without much confusion, today, things are totally different. There are over 50+ different courses offered in India. Some of the degree course, some diploma, and some certificate courses. Among them, BCA and B.Tech are two prominent courses.
Do you know the difference between these courses, while both B.Tech and BCA are degree courses, they are not the same. Any person could peruse the course, however, how do you find if the course is suitable for you or not? Among all the different courses offered in India, selecting the best among BCA and B.Tech is the most confusing and challenging task. As far as we know, the best among BCA and B.Tech depends on the student. If you are such a person who finds it hard to decide which course to peruse. Here are some of the facts and details of this course. We hope these details could help you decide on the best course.
BCA
BCA stands for Bachelor of Computer Applications and the course deals with the basics of computer application and development of software's/programs. Unlike other courses, this course is designed in such a way that it offers the candidate both theoretical as well as practical hands-on training in both software development and computer application.
BCA is the best course for students who are interested to work with computers and gain knowledge of computer applications like software development, hardware, website designing, networking, etc.  While there are other computer-related courses offered in India, there is no course like BCA that offers in-depth knowledge in technical aspects of industrial computing systems and software.
Eligibility

The eligibility criteria for perusing the BCA course are as follows.
The applicant should have completed 12th with at least 50% marks
The candidate should have opted for arts, science, or commerce stream with English as their major subject.
The candidate should be at least 18-years old
Most of the reputed BCA offering university/college/institutions conduct entrance test or demand that the candidate appears for a central or state government entrance test. Some of the common entrance tests that could be attended are IPU CET, KIITEE, GSAT, AUAT, UPSEE, AIMA UGAT, BU MAT, HP CET, etc.
BCA course duration

BCA is an undergraduate course with a course duration of 3-years. The 3-year course is divided into 6 different semesters and each semester is ended with an exam.
BCA course syllabus
The syllabus of the BCA course is unlike other computer-related courses. It is diverse and more interesting. The syllabus tends to focus more on the operating system, software development, Web technology, programming languages, database management systems, etc. For a better understanding of the course, here are common subjects taught in the course.
Semester 1 and 2 – Creative English, data structures, PC software lab, programming lab, operating systems, communicative English, case tools lab, foundational mathematics, hardware lab, statistics, visual programming lab, basic discrete mathematics, data structures lab, digital computer fundamentals, introduction to programming using C.
Semester 3 and 4 – introductory algebra, oracle lab, financial accounting, database management system, software engineering, object-oriented programming using C++, domain lab, C++ Lab, interpersonal communication, financial management, programming in Java, DBMS project lab, web technology lab, language lab, computer networks, professional English.
Semester 5 and 6 – Unix programming, Unix lab Python programming lab, business intelligence, user interface design, OOAD using UML, web designing project, graphics and animation lab, business intelligence lab, design and analysis of algorithms, client-server computing, cloud computing, multimedia applications, advanced database management system, computer architecture, introduction to soft computing.
Future after BCA –
After BCA there are several options open for a graduate. He/she could peruse PG or could get a job. Most commonly, BCA graduates peruse PG courses like MCA or MBA and some people get employed. The employment option for BCA graduates is diverse today. Most of the industries rely on a computer for their functioning and therefore, the requirement for computer application skilled employers are a basic requirement.
Now, you know almost everything you need to know about BCA, if you are thinking about the salary and other details, we will discuss it in the end when we compared the courses. Apart from everything mentioned above, you need to know that unlike B.Tech course, the courses offered under BCA is not too diverse, in fact, there might be only less than 5 or 6 different BCA courses offered.
B.Tech

B.Tech stands for Bachelor of technology and the course deals with different fields of engineering and technology. Most of the people around the world and India are familiar with this course. To be frank, B.Tech is one of the most popular and in-demand courses in India today. The course is designed in such a way that it helps develop the technical skills and theoretical knowledge of a candidate in the field of technology and engineering.
Unlike most of the other degree courses, B.Tech offers a lot of different courses. This is something that makes B.Tech stand apart from other courses. When it comes to the diversity of courses offered, no other UG course could compete with B.Tech. There are more than 15+ different courses offered under B.Tech.
Eligibility

The applicant should have completed 12th with at least 50% marks
The candidate should have opted for science or computer stream with PCM/PCB as their core subjects.
The candidate should be at least 18-years old
80% of the colleges/university/institution demand their aspirants/applicants attend some sort of entrance test conducted by the central or state government boards. Some of the university or colleges conduct their own entrance test. Based on the college/university/institution and course, the applicant should attend this entrance test and secure the required rank or marks.
B.Tech course duration
B.Tech is an undergraduate degree course with a course duration of 4-years. The 4-year course is divided into 8 semesters and each semester covers different subjects and practical classes. Each semester is ended with an exam to evaluate the candidate's development.
B.Tech syllabus

It is not possible to lay out the syllabus of this course, while B.Tech is an undergraduate degree course, several other courses come under B.Tech, each course covers different subjects and practical classes. Some of the popular B.Tech courses are.
Computer science engineering
Electrical engineering
Mechanical engineering
Electronics and electrical engineering
Petroleum engineering
Chemical engineering
Civil engineering
Aerospace engineering
Ceramic engineering
Instrumentation engineering
Electronics and communication engineering
Metallurgical engineering
Mechatronics engineering
Marine engineering
Biotechnology
Automobile engineering
Electronics and telecom engineering
Food technology
Instrumentation and control engineering
Mining engineering
Telecommunication engineering
Aerospace engineering
Applied electronics engineering
Apart from these B.Tech courses, there are still a lot more courses to mention. However, now you might have understood the diversity of the courses offered under B.Tech.
One of the things about B.Tech course is that, unlike most of the degree courses, even if B.Tech has more than 2 dozen specialization courses under it, almost all 1st year B.Tech courses follow the same syllabus, the core subjects or the specialization subjects are only taught from the 2nd year or the 3rd semester.
Future after B.Tech

As you have seen, B.Tech is a diverse course, a candidate could choose to peruse any one of the courses that come under B.Tech. However, after the course, he/she becomes a graduate of a specific B.Tech stream. Based on the B.Tech course perused, a graduate could opt to peruse a PG course or consider working. While the B.Tech course itself has several specializations, the PG course, M.Tech also has a diverse range of specializations. The candidate could select any one of the M.Tech courses and peruse it. If he/she decides to work, there are always job opportunists for B.Tech graduates in India and all around the world.
Now you know almost everything you need to know about B.Tech course, however, these general facts might not help you make a satisfactory decision. To make things easier for you, here is a direct comparison between both the degree courses.
BCA Vs. B.Tech – Comparison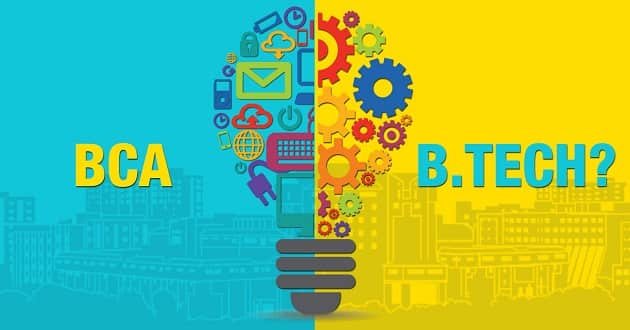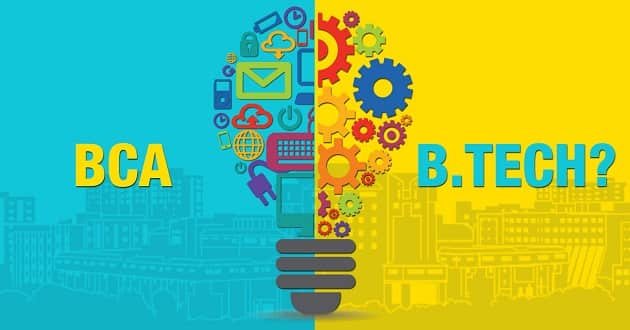 Comparing BCA and B.Tech courses is not an easy task, both the courses are different, but, they are similar too. Here is a detailed comparison between the two.
Course duration

As you have already seen, BCA is a 3-year UG course and B.Tech is a 4-year UG course. While B.Tech has a 1-year more course duration, the number of subjects and topics taught in B.Tech is comparatively more extensive and diverse.
Course fees

The course fee for both the courses might vary based on the state, university/college/institute. Some of the reputed colleges demand more fees while others don't. However, in general, the course fee for BCA is cheaper than B.Tech.
Course outcome

The course outcome here refers to the amount of knowledge and skills a candidate gets from the course. When it comes to BCA, a BCA graduate would have superior skills and knowledge in computer application and programming languages. BCA course is more about computer applications, web designing, programming, database management, etc. However, when it comes to B.Tech graduate, the level of knowledge and skills acquired is diverse. While the BCA course focuses on only a certain field, the B.Tech course focuses on many.
Specialization

As you have already seen, BCA course diversity/specialization is very limited when compared to the B.Tech course. While BCA offers 5 or 6 specializations in total, not all universities/institutions/colleges offer these specializations, in other words, BCA is not really a degree course that offers specializations like B.Tech. On the other hand, when it comes to B.Tech, the specializations available is diverse, to be frank, it would take at least a day to understand each specialization and select one from it.
Eligibility

When it comes to eligibility to peruse this course, there is a major difference that most people overlook, BCA course could be perused by students who have completed 12th with at least 50% marks and the student could be from any stream, science, commerce, or arts. But, when it comes to the B.Tech course, students who have passed 12th from the commerce and arts stream cannot peruse the B.Tech course. To peruse the B.Tech course, the candidate should have opted for PCM or PCB based on the B.Tech specialization he/she prefers to peruse.
Admission

While the above-mentioned eligibility criteria are met, it is not enough to get admission for a B.Tech course. While not colleges/universities/institutions demand students to attend entrance tests for the BCA course, a candidate cannot enroll for a B.Tech course without attending at least one entrance test. Based on the specialization, college/university/institution, the number of entrance tests you need to attend might vary. Anyway, at least one central or state government conducted test must be attended and passed.
Job opportunities

The job opportunities for a BCA or B.Tech graduate is diverse. However, to be frank, when it comes to BCA graduates, the job opportunities would be concentrated in the IT field which is evolving and growing. But, on the other hand, the job opportunities for a B.Tech graduate would depend on the specialization, however, the job opportunities would be comparatively more diverse.
Salary

Comparing the salary of a BCA graduate employee and a B.Tech graduate employee is a challenging task. The CTC of both could be the same or different. However, in general, B.Tech engineers tend to have slightly higher pay than BCA graduates. But, there are also B.Tech engineers who draw less salary than BCA graduates.
Conclusion: which is better for you?
The answer to this question lies somewhere in between the facts mentioned above. A second person could never recommend a good course for you, it is a fact that you need to understand. After reading the facts mentioned above, find out which course excites and interests you the most, peruse that particular course. You must remember, when it comes to salary, it all depends on your talent, job title, and industry. Therefore, it is all up to your personal discretion to decide which among these two courses is the best for you.