Anesthesiology is a study of medical science concerned with the administration of anesthesia and anesthetic agents. Anesthesia is a controlled and induced state of short-term loss of sensation, awareness, and consciousness that is used for medical procedures and procedures. As a medical professional, an anesthesiologist is someone who has completed a postgraduate medical degree, is board-certified, and is properly eligible to oversee anesthetics & related techniques to patients who are undergoing medical treatment.
Details about this course
This three-year undergraduate program is called the Bachelor of Science in Anesthesia Technology (BSAT). The curriculum is divided into three sections: class 1, class 2, and class 3. The course begins with fundamental biomedicine such as physiology, anatomy, and other subjects that serve as a strong foundation for the more advanced concepts of anesthesia that will be covered later in the semester.
Basic medicine & surgery are also taught by him so that students understand the numerous surgical techniques and the different types of drugs that are administered to patients. Additionally, surgical techniques and advanced medical technology are taught as part of the educational program. Regarding the anesthetic method, the training should be conducted in accordance with the outline provided below.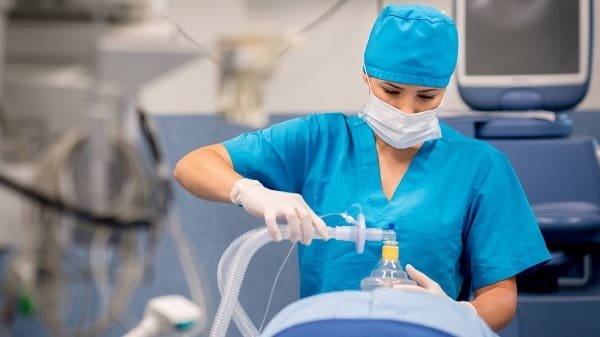 Eligibility criteria 
Generally, students must have completed class XII in a recognized table and received at least 45 percent -50 percent in Physics, Chemistry, and Biology to be considered for admission to the Anesthesia program. The category of accreditation awarded varies from one institution to another. Admission to the program may be granted on the basis of 10+2 results or based on the merit list compiled by the institution proffering the course or by the National Eligibility and Eligibility Test (NEET).
The admission policy of your selected college should be thoroughly read and understood before applying to the institute in question. People who have passed a Certificate in Anesthetic from a recognized institution may be able to get admission to the 2nd year of college at some institutions.
Curriculum
The course is split into 6 semesters and its three years. The following are the different topics that will be covered throughout the course.
Microbiology
Biochemistry
Physiology
Human Anatomy
Pathology
Anesthetics basics
Applied anesthesia
Clinical Anesthesia technique
Applied pathology
Applied Microbiology
Applied Pharmacology
Medicine related to anesthesia
Course duration and fees
The B.sc in Anesthesia is an undergraduate program that takes place entirely on campus. The course will take three years to complete and will be divided into six semesters. Though tuition fees vary from college to college, the average annual tuition fee ranges between 25K and 41 INR (approximately). The rates charged by public universities are lower than the rates charged by private organizations.
Admission
The following is the application process for the Diploma in Anesthesia:
Admissions to this course are granted based on the merit list, which will vary from institution to institution and college to college. Aspirants can obtain a request form & prospectus from the institution, or they can access them online through the college's official website. Candidates who have been shortlisted are notified either through their official site or through email.
For the B.Sc. in Anaesthesia program:
From one institute to the next, the admission for this course is different. Some academic institutions select students on the basis of their academic performance, i.e. the grades they received in their 10th and 12th grades. While some institutes give admission to students based on their performance in an entrance test for the course, such as the NEET, others grant admission based on their academic record.
M.Sc in Anaesthesia
In the case of a M.Sc. in Anaesthesia, the admission requirements differ from one institute to another. The majority of the time, admission is based on the results of an entry exam (such as the NEET PG) and a personal interview. Some institutions also offer direct admission based on a merit list, which is available at some locations.
Skills Required
Anesthesiologists/Anesthetists are medical doctors with extensive training in anesthesia technology who specializes in the field of anesthesia. They provide pain medicine or anesthetics to patients before, during, and after surgeries or other critical medical procedures, as well as after they have recovered. Students who wish to pursue a career as anesthesia specialists must possess the following set of abilities in addition to a strong academic record.
The ability to handle multiple works and manage workload, as well as being capable enough to work well under pressure, are all essential.
The ability to collaborate effectively with members of a multi-disciplinary healthcare team
The ability to communicate complex ideas clearly and to use logic and reasoning to identify the advantages and disadvantages of alternative solutions
Taking into account the associated costs and merits of possible actions and choosing the most suitable one
Giving complete attention to what others are saying, taking the time to understand the points made, and asking questions when they are appropriate, and avoiding ill-timed interruptions are all examples of active listening.
Keeping an eye on the dials, gauges, as well as other indicators to make sure that the healthcare machines are operating properly is essential.
The willingness to recognize criticism and perform well when under time constraints
Scope 
One of the most beneficial areas in the healthcare profession is anesthesiology, which can be found here. Anesthesiologists have a diverse range of employment options. These professionals can find employment in medical schools, government entities, outpatient care centers, highly specialized medical facilities, and medical laboratories.
Patients are cared for and monitored by graduates of the Bachelor of Science in Anesthesia program in emergency departments, critical care units, and intensive care units. They could also work in conjunction with nurses and doctors in operating rooms and surgical wards, among other places.
Students can continue their education by pursuing a postgraduate course in the same profession, such as an M.Sc. or a Ph.D. in Anesthesia Technology, among others. Students will be able to undertake higher-paying jobs as a result of this.
Alternatives for a Career
Employees who have completed B.Sc. Anesthesia Technology courses are in high demand by a large number of Indian corporations. Graduates of the Bachelor of Science in Anaesthesia Technology program are hired based on their educational credentials and skills. They are employed by healthcare facilities for the following positions and roles. Listed below are several good professions in the world.
Anaesthesia Technician (also known as anesthesia tech)
In the operating room, an anesthesia specialist is a team member who helps the anesthesiologist in making sure that patients are appropriately given medications & given anesthesia before the surgery. Several practical aspects of medicating patients are managed by anesthesia technicians, allowing the anesthesiologist to devote his or her attention to the patient's requirements.
Anesthetist
Anesthetists are medical professionals who specialize in providing general anesthetics to patients undergoing surgical procedures or medical treatment. Moreover, anesthetists have a broad scope of practice that includes pain management, emergency surgery, and other procedures in addition to providing anesthesia for surgical procedures. They are doctors who, after graduating from medical schools, have chosen to pursue at least 7 years of postgraduate specialized study in anesthesia after completing their residency training.
Surgeon
A surgeon is a medical person who performs methodologies on patients who are suffering from ailments, injuries, or disabilities. An individual could train to be a medical doctor or focus on specific neurosurgical, orthopedics, cosmetic procedures, or cardiothoracic surgical procedures, among other things. In the operating theatre, the surgeon is supported by a large group of people who are in charge of the pre-operative procedures.
Top recruiters
Lilavati Hospital & Research Centre
Max Super Speciality
Medanta
Kolkata Medical College
Apollo Hospital
Fortis
Aster Medcity
Narayana Health
Expected Salary 
For students in their undergraduate years, a B.sc in Anaesthesia is an excellent option for specialization in the field. For students in the anesthesia technology field who have one year of work experience, the average monthly salary is approximately Rs. 30,000Candidates who have gained sufficient expertise can earn around INR 50K every month in the industry.
With much more than 5 years of experience, an anesthetist can expect to earn approximately INR 80K every month. Salary varies depending on the location of the organization and the level of expertise of the employees.
| | |
| --- | --- |
| Experience | Salary (Average- per annum) |
| 0 to 1 years of experience | 2,00,000 INR to 3,00,000 INR |
| 2 to 3 years of experience | 4,00,000 INR to 6,00,000 INR |
| 4 years and above | 5,00,000 INR to 12,00,000 INR |
Conclusion
Professionals in a variety of medical disciplines, including anesthesiology, are finding new opportunities as the healthcare industry continues to grow at an exponential rate. Anesthesia specialists are in high demand in hospitals & surgical centers, both government and private, and the demand is expected to continue to grow in the future. It is possible to earn a salary of up to 12 lakh rupees per annum. According to past experience, this amount can reach as high as 20, 00,000 per year. Overall, the anesthesia course is a good choice for biology students who are interested in medicine.