ADCA is one of the most popular and demanded Computer course in Advanced Diploma. ADCA (Advanced Diploma in Computer Application) is a full one-year diploma program that provides advanced computer knowledge in depth. It includes technical, theoretical, and practical's aspects. This course helps you learn about various computer applications such as HTML, Operating System, MS Office, Internet Applications, DBMS, and many more.
The candidates also learn about the computer software's and learn the computer-related developments and designing which will be required in upcoming business. The scope is high, and there is a huge demand for this course, so the competition is slightly tedious. Due to such reasons, eligibility criteria are also tough to get enrolled.
Course Details of Advanced Diploma in Computer Application
| | | | |
| --- | --- | --- | --- |
| Course Name | Course Duration | Eligibility | Course Type |
| Advance Diploma in Computer Applications | 1 Year | Aftrer Class 12th | Diploma |
All the applications and programs are regarding the creation of better design and provide ease to its user. In the field of computers, there is an intense demand for skilled people who must operate a computer application with ease.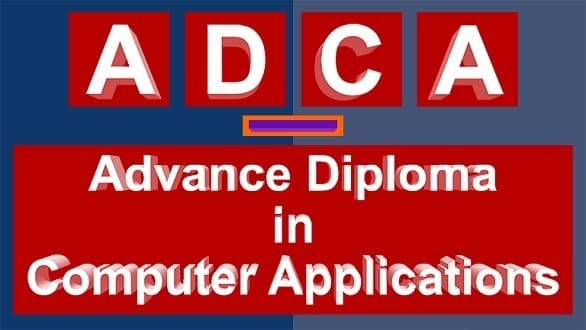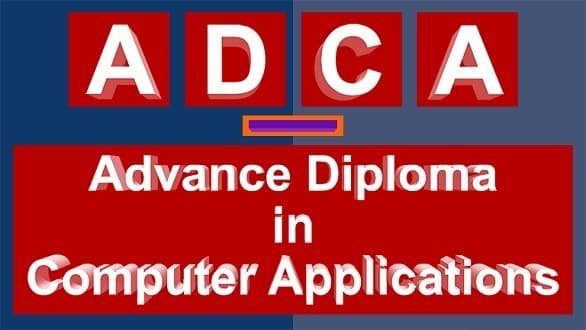 Eligibility Criteria for Applicants
For every course, there is a minimum requirement that every applicant must fulfill to get enrolled. These requirements are similar for most institutions, but they might vary based on the institution. For pursing ADCA course, the aspirants must fulfill the following mentioned requirements –
The applicants must clear class 12th or any equivalent examination from a sanctioned college/university or any recognized institute.
The eligibility required for this course may fluctuate from institute to institute or college to college.
There is no cut-off required for applying to the course, which makes things easier for below-average students.
Some institutions require you to pass a basic entrance exam test. Once you pass the test and meet with mentioned eligibility criteria, you are ready to enroll.
Admission process for ADCA Course
Most prominent universities and colleges consider entrance tests before admissions. However, for the course, there is no entrance test are required in most institutions. The process is as follow –
To get information about the fee structure, admission process, and form fees the candidates should check the colleges' and universities' official websites.
Mostly the admissions are open in April and closes in June. Anyone willing to enroll should consider applying for the course in desired institution.
There are certain colleges and universities available that may conduct their entrance examination.
Before the last date of submission, The Applicants are compulsory to submit their form with fees.
Almost the final selections are based on the performance level of candidates.
In India, the Savitribai Phule Pune University, University of Madras, and Lovely Professional University are the pronounced ones to offer this course.
After completion of this process, and going through all the requirements, anyone with eligible can enroll for the ADCA course. However, the process might vary based on the university you are choosing.
Popular colleges for ADCA Course in India
Candidates who are willing to do this course can check the online website of colleges and universities. Given below is a list of top-notch colleges that gives you proper guidance for ADCA Course-
Acharya Narendra Dev College- New Delhi
University Of Calcutta – Kolkata
Mata Sundri College- New Delhi
Ram Manohar Lohia Avadh University-Uttar Pradesh
Jamia Millia Islamia- New Delhi
Savitribai Phule Pune University- Pune
Lovely Professional University- Jalandhar
Aligarh Muslim University- Aligarh
Punjab University- Chandigarh
University of Madras- Chennai
Manipur University- Manipur
Saraswati College of Arts and Science- Tamil Naidu
SiddharSivagnani Arts and Science College for Men- Tamil Naidu
Tirukkovilur College of Arts and Science- Tamil Naidu
These are the well-known names that you can choose based on your locality or the reputation of the institution. Make sure that you go with a well-known name to have a better experience while pursuing the ADCA course.
ADCA Course Syllabus
The course is dividing into two semesters. Semester 1 for 6-month Duration and Semester 2 for rest 6 month
Semester1 –
Computer Fundamentals
Microsoft Window XP/ Vista
Microsoft PowerPoint
Microsoft Office
Microsoft Database Access
Microsoft Excel
Microsoft Word
Email and Internet
Computer Network and Multimedia Concept
Introduction to Computers
Principal of Programming
Word Processing and Spreadsheet
System Analysis and design
Computer Graphics
Semester2 –
Corel draw
Tally 5.4
Visual Basic
Photoshop CS
C Programming
Project Management
Unix Operating System
Financial Accounting System
Management Information Systems
Fee Structure Among Popular Institutions
The minimum ADCA course fee is approximately 14,000, and the maximum fee is 40,000. The admission fees respectively depend on colleges and universities' reputation and popularity. Fees of top private institutions vary as they offer great placement options, and they provide slightly better faculty as you can allege from the history of that institution.
Benefits of doing ADCA course
The candidates who want to become masters in computer can pursue this course. It is the most beneficial and high-worth course across the country. The following mentioned points signify the other benefits of ADCA-
There are no specific criteria to pursue the course. The enrollments are completely dependent on the merit list.
If you are a high school degree holder, then you can also apply for it.
The one-year program develops your essential skills in computers and saves a lot of time.
Mostly the well-known degrees and courses sustain a high fee structure. The DCA is the only program that provides an equaling reputation and job opportunities.
The candidates interested in further studies can consider joining bachelors in the same subjects, or opt for masters.
No doubt, the computer field offers you employment in different sectors like- insurance, digital marketing, banking, commercial, etc.
Some other advantages come along with the ADCA course. You learn plenty of skills while pursuing this course, and these will help in daily life.
Additional Skills That you Learn with ADCA
The candidates who have basic knowledge of computer can easily catch these skills in computer programing. The course provides you with the most important skills in the computer department. After completing, the course qualifiers can make professional Documents, Document cover, Data entry, Online Emails, Tally Accounting, Taxation Entry, Graphic Designer, Image Designer, Searching, Pamphlets, posters, flyer, hoardings, and Surfing.
The list doesn't end here as there are plenty of fields opening after completion of this course. You can apply for further education in a particular department to harness more skills in that subject. Or, you can choose subjects based on your interest in software. This method will help you get better with the desired software and help in expecting better job packages.
How to prepare for the ADCA exam?
The aspirates who have to build their career through the course, then they need to learn computer typing and increase their personality and improves their English speaking.
do Personality Development Course
learn Computer Typing
join English Spoken Classes
Get CTT training at least for 6 months
Join CCC classes
Join CTT Training
Once you start preparing for the mentioned course, the chances of getting enrolled increases. You are more capable of clearing the entrance examination test.
Job Opportunities after completing ADCA course
Nowadays, in every field, in every profession, computer knowledge is an essential aspect. There is a huge demand for such candidates who are genuinely qualified with a computer degree. The qualifying candidates can work in the IT sector, ERP, PC Assembly, and E-business. In the world of technology, the pronounced companies require employees who know about database management, programming languages, computer software development, system analysis, and many others.
Although students can choose the operator job as an accountant in any office. Still, some students won't like working as an accountant due to the lower salary packages in most companies. You can consider an accountant job as an option and find excellent salary jobs in the below-mentioned job profiles –
Technical Writing
Database Development and Administration
Programming- Development
teaching
Language instructor
Software designer
Engineer
Applications Support Engineer
Computer Technician
Clerk
System Officer
Computer Operator
Back-office Executor
BPO Executive
Computer Technician
Photoshop Designer
graphic Designer
These are the popular job options for all ADCA degree holders which lead to better placement options in the future. Anyone with a degree can easily apply for these jobs and get impressive packages in the IT career.
Job Description and Salaries
Below given are the popular Job description of most popular jobs for ADCA degree holders. Apart from the job profile, you can expect these salaries-
Computer Operator-3 Lakh per annum
 A computer operator controls the computer equipment and gives instructions to employers. The important part of this job is to have better coordination in teams and getting better productivity.
Web Designer- 5 lakh per annum
A person who creates the layout and outlook of a particular website and keeping the site updated is known as a web Designer. Designing websites, creating extension pages, maintenance, and few other types of job options are available in this field.
Software Developer-5 lakh per annum
A person who maintains the designing, software, testing, updating, and installing in computers is known as Software Developer. From the development of computer software to games, there is a range of career options in this field.
Accountant- 4 lakh per annum
A person who controls the account information and entries manages the liability, assets, and prepares a capital account is known as an Accountant. The command in TALLY, BUSY, and such other programs is important to get this job.
C++ Developer- 6 lakh per annum
A person who prepares code, debug, and software applications and works in a team. As you can say that the package is excellent in this job profile, but the work is also slightly typical and requires excellency in skills.
The Final Verdict
Apart from learning computers and programs, the in-depth knowledge of software's working, design, and other development skills are taught in this course. No doubt that learning all these things in-depth isn't possible in just one year, but you learn most of the basic part. Once you get all these skills, you are ready to work in most tech companies. To start preparing for the entrance exam, you should take references from the official website of the institution as they provide all the essential details regarding the syllabus.
Related Articles