Computer knowledge is essential in today's date. You cannot expect to work without proper computer knowledge. Some people are not fortunate enough, and they have not been taught computers at the school level. For such people, there are some IT literacy programs available. These programs provide an opportunity for people to learn about computers and improve their employability. Computers are used in all parts of life, which is why the CCC Course has gained a lot of popularity. It can help people write letters, use the internet, send emails, prepare presentations, and do all other jobs. The computer has also helped homemakers as they can do some part-time jobs to earn additional income. CCC Course is an introductory computer course which helps the candidate in using a computer without any issues.
CCC Course – Introduction
The full-form of CCC Course is Course on Computer Concepts, and it is one of the in-demand course for people looking to learn using a computer. It teaches you about the hardware, but it also teaches you to use the necessary applications that you would need daily. After completing the job, you can get some primary jobs like office boy, document writer, data entry operator, internet operator, billing operator and office administrator. Since the computer is required in all these jobs, you will quickly get a job in small and medium level organizations. With time, you can make a shift to large organizations as well.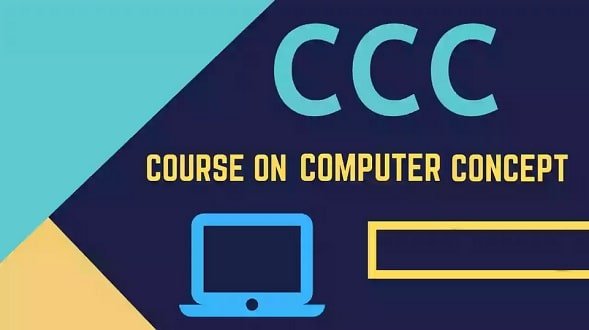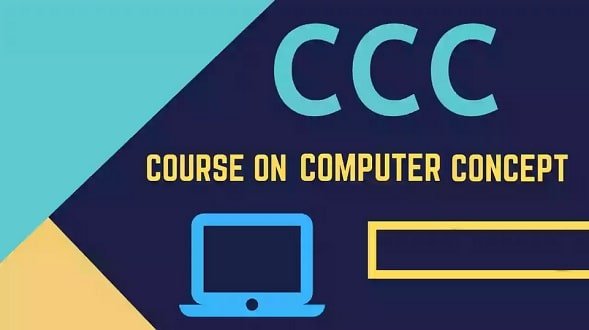 With a little in-depth learning, you can also learn applications like Photoshop, helping you set up your own business. We will talk about this later in the career section of the article. With all these skills CCC Course turns out to be a good option. The total course duration of the CCC Course is 80 hours. Out of this, 25 hours are theory lessons, 50 hours are practical lessons, and 5 hours are tutorials. We also understand that you would want to know about the CCC Course syllabus, so in the section below, we have listed those details.
CCC Course – Syllabus& Domains
Until now, we have shared some of the necessary details about the CCC Course. We understand that you might want to check out the CCC Course syllabus before you think about admission. In this section of the page, we have listed the prescribed syllabus of the CCC Course. We have listed all the concepts and software packs you will learn during the CCC Course. Check out the details now
Introduction to Computers
Introduction to Graphical User Interface/Windows
DOS System & Commands
MS Word
MS Excel
MS PowerPoint
Communications & Internet.
Emails and the World Wide Web
By looking at the topics, you would have understood that you will learn the essential elements of computer terminology in the course. You will also be able to use the various software to prepare the documents and other things. Below is the hour split of the CCC Course.
| | | | |
| --- | --- | --- | --- |
| Topics | Theory Hours | Practical hours | Tutorials |
| Introduction to Computers | 2 Hours | 4 Hours | 1 Hour |
| GUI Systems | 3 Hours | 8 Hours | – |
| MS Word | 4 Hours | 10 Hours | 2 Hours |
| MS Excel | 4 Hours | 10 Hours | 2 Hours |
| Communication & Internet | 4 Hours | 5 Hours | – |
| WWW | 2 Hours | 3 Hours | – |
| Collaboration | 2 Hours | 2 Hours | – |
| MS PowerPoint | 4 Hours | 8 Hours | – |
CCC Course – Eligibility Criteria
The good thing about the CCC Course is that there are no eligibility criteria associated with the CCC Course. You can acquire these skills at any age with no restriction at all. A school student can enrol for this exam, and even a senior citizen can take up this course. With no restrictions, CCC Course becomes a popular course. However, there is one such requirement when you are opting in for the course, and it is that you should know Basic English. English helps you interpret the computer screen, and it is required to learn using a computer.
CCC Course –Admission Fee& Admission Process
CCC Course is available via the government's NIELIT website, and this government organization has authorized multiple institutes to conduct the course. You can register directly with the institute to appear for the course and acquire the skills. In addition to this, you can also apply for the CCC Course examination using the NIELIT website. The institute you would be using to take the course will help you with the registration. The CCC is conducted every month except for January and July. The exam is scheduled for the 1st Saturday of these ten months. Below are the steps to get admission and register for the exam.
Getting Admission
To get admission to CCC Course, you need to approach the institute and enrol yourself. You will be able to get admission by simply filling the form and submitting the fee.
The course fee is usually between Rs 2000 to Rs 8000. This depends on the institute as well, so you can check the exact amount with the institute.
Registering for Exam
You need to apply for the NIELIT exam, and most of the institutes help their candidates with that. If your institute doesn't guide with the exam registration, you can do it yourself by visiting NIELIT Portal.
On the Student Portal, you need to click on Apply Online Link, and once that is done, you need to select the CCC Course among the options available.
Check out the guidelines and click on the Next button. You must also fill the CCC Application Form to proceed to the next step.
In the next step, you need to pay the fee and take the print of the receipt after scheduling your exam. It should be noted that some institutes have this exam fee included in the course fee. If it is not, you need to make the payment yourself, and the fee is Rs 500 for the exam.
CCC Course – Placement & Job Opportunities
Computers are a necessary skill required for the job in the private and public sector. You can acquire these skills by pursuing the CCC Course. If you would like to know about the job opportunities and placement, you will find all the options in this article. First, we would like to mention that some of the institutes may offer you placements if you are looking for a job. In such a case, you can look for institutes offering placements, which will be of great help. The job designations that you may get are listed below.
Application Support Executive
Back Office Executive
BPO or KPO Executive
Clerk
Computer Operator
Data Entry Operator
Junior Support Engineer
Office Admin
Front Desk Attendant
Technician or Technician Support
The salary would vary from one organization to another, but you can expect a minimum of Rs 1.2 Lakh per year. In addition to this, the salary would increase as you gain expertise and experience. You can earn as much as Rs 6 lakhs per year with years of experience, but that milestone would take time to reach.  If you are not interested in jobs, then you can also setup your business.
Many people used these skills to setup the business, including offering essential services to the people. You can submit the forms on the government website, or you can write documents for the people. You can provide Photoshop services and make brochures, pamphlets, posters, ID cards, Document Cover and other things. There are good margins in this. If you live in a rural area, you may even be able to open a cybercafé where people can use the internet and computer services.
Final Verdict
CCC Course is an excellent way to learn about computers and applications often used while working on computers. If you had been looking for a job and cannot find a job, then the easiest way to increase the chances of getting a job is by pursuing the CCC Course. It is a short term course, so you do not have to worry about spending a lot of time on it. In addition to this, the fee of the course is minimal, but the value addition is extensive. If you are planning to pursue CCC Course, remember that you should keep practising what you are taught.
Practising all the concepts will help you in using the computer fast. If you are looking for a job where you can also work on your personality, it would be the one in the BPO industry. You can work in a BPO even if you know a local language along with the computers. You can even open your computer outlet to take up basic jobs like printing documents, writing applications, filling online forms and other similar things. We can assure you that the CCC Course will help anyone by increasing their employability as it is the basic skill that you should have. If you have any other questions about the CCC Course, you can reach out to us, and we will help you find the answer.