Occupational English Test (OET) or OET is one of the language assessment tests that is undertaken by healthcare professionals across India. It is one of the recognized professional exams that is part of the regulatory healthcare bodies. The exam helps assess and evaluate the language communication skills and ability of healthcare professionals in an English-speaking setup. This exam also serves as a recognized assessment test for medical professionals looking for work opportunities in foreign lands like the UK, Australia, New Zealand, and more.
Various healthcare professionals in India appear for this exam every year to improve their career opportunities and scope. These exams help them to promote their skillset and get the best chance for a good career and growth.
Kerala has one of the highest attendees of this exam every year and students moreover take coaching to help them prepare in the best possible way. We here take a look at the five of the best OET coaching centers in Kerala and discuss them in brief down below. Let's check them out.
List of Best OET Coaching Centers in Kerala
1. Cosmo Center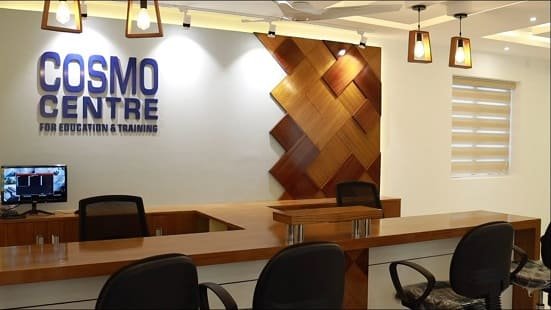 The first pick on our list is the Cosmo Center which for years has been ranked as one of the top institutes for IELTS and OET preparation in Kerala. The institute has been a top-ranked preference for students due to its high-level coaching and guidance. The center has for years helped healthcare professionals with OET preparation and helped them gain good opportunities in India and abroad. It has a meticulously designed course structure with proper guidance and mentoring.
Address: 2nd Floor, Kamalam Tower, Narayanan Assan Road, Ponnurunni, Vyttila, Kochi, Kerala – 682019
2. Tiju's Academy
The second name to be part of our list is the Tiju's Academy which has been providing healthcare professionals with OET training and programs for years. The center is one of the highest-rated institutes around and has been a top choice for students. The center has both online and onsite classes on offer per the ease of the students. It has a well-devised curriculum along with top-tiered faculty members helping students get the best coaching and mentoring.
Address: East of Buddha Junction, Revathy Complex, X/454, 455, 459, Mavelikara, Kerala – 690101
3. B-Ghud Academy
At third rank in our list is the B-Ghud Academy which for over 25+ years of its service has consistently ranked as one of the top-tiered OET and IELTS coaching centers in Kerala. The center is a much-renowned name in this field and has helped tens of thousands of students to learn and grow their careers during its operation period. The academy has a well-sourced team of faculty members who are well versed in this field and have a superior track record of consistently giving good results. The center has a detailed course guidance approach with great mentoring and counseling features.
Address: Manapallil Plaza Building, Puthiyacavu Junction, Mavelikara, Kerala – 690101
4. Medcity International Academy
Placed at the fourth position in our list of best OET coaching centers in Kerala is the Medcity International Academy. The institute is one of the major names in this state and has been a much-loved choice for healthcare professionals like nurses and doctors. The center is already nearing a decade in its services and has consistently provided top results for students. It has a well-drafted course structure focusing on building the analytical and intellectual capacity of the students along with decision-making capacity.
Address: Chettipedika, Kannur, Kerala – 670004
5. Ajinorah Institutions
Ajirnorah Institutions is a famed name in the OET coaching field in Kerala for its detailed approach and guidance metrics. The institute has been a top drawer for healthcare professionals looking to widen their careers and has unsurmountable growth. The institute has a top-ranked team of faculty members who for years have crafted their skills with top-level coaching and guidance. They have a very well-designed curriculum focusing on improving the skill set of the candidate and widening their knowledge base.
Address: 2nd Floor, Madhushila Chambers, Near Saint. George Forane Church, KMRL Pillar No 435, Kochi, Kerala – 682024
OET exams are a top preferred choice for healthcare professionals in India looking for growth and expansion in their careers. This exam opens the door to multiple opportunities for candidates and it's no surprise to see so many students appear for it every year. We hope that this list of the best OET coaching centers in Kerala will help you out in growing your career.