National Defence Academy is one of the major aspirations for youth across all of India. It's a gateway to the different branches of the army and air force in India and is quite coveted. National Defence Academy of NDA as it is shortly acronym has its base at Dehradun making the city itself the desired place.
This is a reason why many people go for NDA coaching to Dehradun from various parts of India to acclimatize and learn. Dehradun over the years has become a major attraction for NDA coaching with state-of-the-art coaching, training, and growth programs offered in the city.
It has various premier coaching institutions that have guided the students for years with meticulous preparations and top-notch training. We here take a look at five of the best among these NDA coaching centers in Dehradun.
List of Best NDA Coaching in Dehradun
1. Doon Defence Academy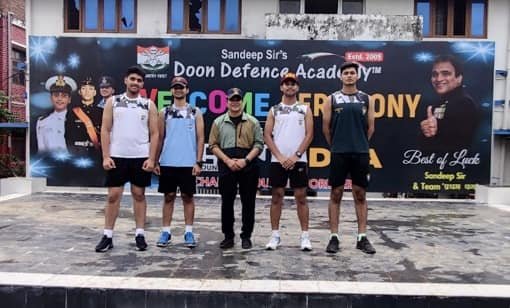 Doon Defence Academy located in Dehradun is a major name in NDA coaching for years and has been the benchmark center for preparing candidates for the NDA entrance. The center has produced top-notch results with multiple successes and sees one of the highest numbers of students across their overall batch. The center has a remarkable detail to attention when it comes to teaching and prepares students on a physical, mental, and intellectual level for success and growth ahead. It also has a hostel facility for students willing to come from various states and cities for preparation.
Address: 29 Subhash Road, Behind Lord Venkateshwara Wedding Point, Dehradun, Uttarakhand
Website: www.doondefenceacademy.com
2. Parmanu Defence
At second number on the list is Parmanu Defence with its growing reputation and brand name when it comes to NDA coaching. The center has been one of the fastest growing institutes when it comes to NDA preparation and sees students from all over India come across. It has been a top choice for students looking to crack the NDA exams. They bring forth the idealogy of teaching students with a strong aptitude, and analytical skillset to develop the required personality for NDA entrance and successful career ahead. The center has a comprehensively designed course with complete guidance and coverage.
Address: 151/1 Doon Vihar, Jakhan Raipur Road, Dehradun, Uttarakhand
Website: www.parmanudefence.com
3. Doon Defence Career Point
At third on our list is the Doon Defence Career Point, another of the great and reputed NDA coaching institutes in the city of Dehradun. The institute has been around for years and sees a prolific number of students join them every year. The center has been focusing on preparing students not just to handle the physical but the mental and analytical skillset to cover the qualifying exam and further reach for the best possible career option. It has seen several students qualify for the Indian Army, Navy, and Air Force. They also offer counseling sessions for students to help them understand the course and the preparation.
Address: 1, D L Road, 1st and 2nd Floor, Dehradun, Uttarakhand
4. Siddhu Defence Academy
The fourth pick in our list is the Siddhu Defence Academy which has stood around for more than 10 years and become a major name to reckon for NDA coaching in Dehradun. The center has an excellent combination of experience and expertise in guiding the students properly. It has already helped thousands of students to qualify for the NDA exams over the years which in itself speaks of its caliber. It has a well-crafted course structure with additional batches and meticulous preparation levels. It also offers students, extra classes, for additional development and growth along with routine weekly tests to evaluate their performance of students.
Address: 1, Cement Road (Opp. DBS PG College), Dehradun, Uttarakhand
Website: www.siddhudefenceacademy.com
5. Global Defence Academy
Rounding up our list of best NDA coaching centers in Dehradun is Global Defence Academy. It is a widely renowned academy for NDA training and guidance in the city. It has a great testimonial having trained well-known officers to qualify for NDA exams and make a great career in the armed forces. The institute is famous for its 360-degree approach where it not only trains students on a physical level but also guides them and allows them to grow mentally and intellectually. It has a focused teaching methodology with state-of-the-art facilities that give it a great setup for teaching students.
Address: 4, Cement Road, Karanpur, Dehradun, Uttarakhand
Website: www.globaldefenceacademy.in
NDA in itself is a great career option for students when it comes to overall development and growth. Various centers across Dehradun specializes in this and guides students to make the best of their career. We here enlisted five of the best ones and hope that it helps you find the right coaching for yourself.
Topics To Read Also: