You may have seen the CoBRA commandos' beautiful images on numerous social media channels. Some of you may have taken an interest in them. As a result, this post will attempt to provide you some insight into these jungle fighters. We'll find out who the CoBRAs are. How are they chosen and trained? What is their mission, and how can you join this elite secret force?
Commando Battalions for Resolute Action (CoBRA) is an acronym for Commando Battalions for Resolute Action. It's affiliated with the Central Reserve Police Force (CRPF). They're also known as "Jungle Warriors."
CoBRA's Background
For a long time, the CRPF has to get stationed in Naxal-affected areas with other CAPFs. They get mostly sent to help state police with anti-Naxal and counter-insurgency operations.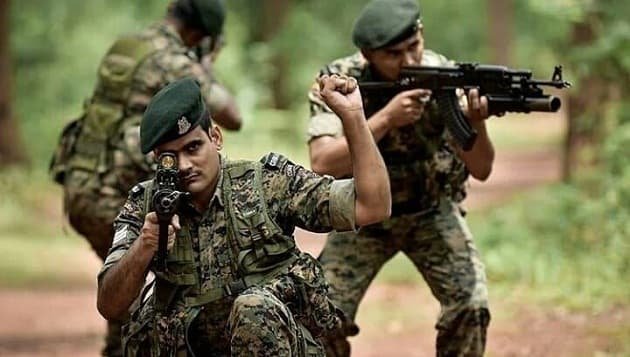 However, the Naxalites had one advantage in these red corridor forests. They were no strangers to these forests. Troops, on the other hand, had to acclimate to their new working environment first. As a result, it gets decided to form a CRPF elite commando force. That will get made up of commandos who have to get trained and equipped to survive, operate, and battle in jungles. As a result, it began to get raised in 2008.
Structure of the Organization
There are now ten CoBRA battalions. They get stationed in all areas plagued by left-wing extremism (LWE) or Naxalism. Chhattisgarh, Bihar, Jharkhand, Odisha, Madhya Pradesh, West Bengal, Maharashtra, Andhra Pradesh, Assam, and Meghalaya are among these states.
Mandate
Their mission is to conduct counter-insurgency and anti-Naxal activities. They do this by conducting long-range patrols. They also acquire information regarding rebel actions. In addition, top intelligence services perform unique intelligence training. When necessary, CoBRAs also carry out ambushes and precision strikes.
Challenges
The CoBRA is also up against several obstacles in this area. Apart from the adversary, the hostile landscape is also a significant challenge. Central India's jungles can be dangerous at times. Poisonous snakes, wild animals, and insects are just a few of the dangers.
It's also a significant problem to keep troops safe from infections like dengue fever. When operating deep within the forests, the absence of appropriate drinking water and basic sanitation is also a barrier. The monsoons, in particular, are far more brutal. Another difficulty is connectivity. However, because of technical developments, the CoBRA is better able to deal with these issues.
Official Cobra recruitment notifications get published by the CoBRA (Commando Battalion for Resolute Action) for all concerned individuals to the different positions. Those are Como Sub Inspector (SI), GD/Ostendant, Staff Nurse, Clerk/Stenographer, Tradesmen, and Sports Quota Jobs.
All interested applicants looking for Cobra jobs in India should visit this page for the most up-to-date recruitment information. Candidates get asked to submit their applications in the appropriate format before the deadline. Because after that, there will be no more applications accepted.
Detailed instructions available with the Cobra website

www.crpf.gov.in

get recommended for an interested and eligible person.
Online applications are to get submitted at

www.crpf.gov.in

. Before submitting their applications, applicants should also read all the instructions in the link. Candidates should keep their e-mail identifications & mobile numbers active until this induction is complete. The e-mail ID and mobile numbers registered will get sent in all correspondences. The online application link can get found at www.crpf.gov.in on the website of Cobra.
Details such as aging limits, education qualifications, selection process, application fees, and the application procedure are given below on Cobra Recruitment vacancy.
Qualification of education:
The applicant should get awarded the percentage shown in the detailed publicity by the recognized university for each degree.
Candidates should ensure that all eligibility standards get met. As of the closing date of the application submission, the candidate should have the required educational/technical qualifications from recognized universities/institutes.
At least a bachelor's degree with at least 50% marks in a given discipline (SC/ST/PWD Pass class) in the total. And PC text processing knowledge.
Those who expect the final examination results do not have to apply.
Age Restrictions:
Candidates should not be under the age of 20 and should not be over the age of 30. (20-30).
The actual age limit is 21 to 30 years old, with a two-year relaxation for OBCs and a five-year relaxation for SCs and STs.
Application fee:
The application fee gets specified in the advertising, and there is no fee for SC/ ST candidates.
Application procedure:
The candidates must ensure that they comply with all eligibility standards before applying. The candidates should have the following before registering their applications on the website:
E-mail ID and mobile no. for at least one year to remain valid.
At the time of application, candidates should ensure that they have the required skills.
Candidates should have a new passport photo colored size and a photograph of their signature in digital format (.jpg or.jpeg only not greater than 500 Kb size) which should be upload in the application format (the running signature and not the individual alphabets).
Applicants should carefully read the instructions for online application submission. The same information will be made available on the website.
Candidates must carefully follow all of the steps when filling out the online application.Incomplete applications, applications without fee, or do not meet any eligibility criteria will be rejected summarily. In this regard, applicants will receive no communication.There will be no communication with applicants in this regard.
After submitting an online application, the candidate must download the system-generated Provisional Registration Slip, which includes a unique registration number and other important information.
Candidates are not required to send any documents to Cobra Recruitment.
Application submission:
The applicants should –
crpf.gov.in has a Cobra careers page.
To ensure his eligibility, read the advertisement attentively.
Click the links Click on the link and enquire. I agree with this.
Make sure all fields required to get completed are done.
Make sure the information provided is accurate before submitting the online form.
As per the category, you pay the application fee.
Candidates should keep a photocopy of their e-receipt and Registration Slip on file in case they get asked to produce them for reference at any point during the selection process.
After applying online, the candidate must download the system-generated Provisional Registration Slip, which includes a unique registration number and other important information.
Print a copy of the Cobra Recruitment online application form.
There is no direct path to joining the CoBRA. It is a component of the CRPF. To become a CoBRA commando, one must first start the CRPF. You can join at any level, including Assistant Commandant, Assistant Sub-inspector, and Constable. You can volunteer for the CoBRA during the final phase of training. Because it is a special commando force, the standards for physical fitness and mental toughness are high. The CoBRA team then evaluates the candidates based on the parameters, and those who meet the requirements are eligible to join this elite jungle warrior unit.
Once chosen, a person serves on deputation with CoBRA for four years. After that, you can return to the parent unit.
Can Females Join CoBRA?
Commander UshaKiran recently joined the CoBRA as the first lady officer. The way for lady officers has get opened up. CRPF is also considering allowing women of other ranks, including constables, to join the CoBRA in the Times of India report.
Training
You have to undergo strict training after selection. CRPF jungle warfare schools in Belgaum and Koraput provide training. These training courses are similar to the NSG. They are both camouflaged, jungle fighting trained. Heliborne insertions and drops get training. The CoBRAs will get deployed at their units after three months of training.