To keep our country safe and offer high security for all citizens, many organizations work in the country. The Armed force of the Union of India has many soldiers to improve the security in the nation. Further, it categorizes the armed forces depending on their job roles. The CRPF or Central Reserve Police Force comes under the premier paramilitary force that maintains the internal security of the country.
This force is deployed by the central government to ensure peace and internal security. Generally, CRPF personnel has many duties to perform to serve the nation. The tasks of this organization include crowd control, rescue and relief operations, riot control, VIP protection, environmental degradation monitoring, large-scale security arrangement, etc.
Originally, CRPF was established on 27th July 1939 and declared as Crown Representative's Police. Later, it became CRPF or Central Reserve Police Force on 28th December 1949. The force is increased, and today it is an organization, and it recruits people for different job posts. Candidates from 8th standard to graduates can apply for different job posts of CRPF in India as per their interests. The CRPF officers are chosen by the Central Police Organization. It conducts entrance tests, physical tests, medical tests, and interviews to select candidates.
Many people in India want to pursue a career in CRPF to serve the nation. Also, CRPF releases vacancies every year to recruit candidates for various job posts. It requires both male and female candidates for different roles. But the requirement for women candidates is limited. Further, different job posts of CRPF require different educational qualifications depending on the roles. In this article, we are going to discuss the recruitment process of CRPF.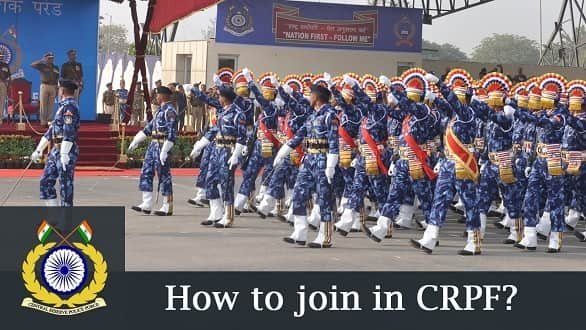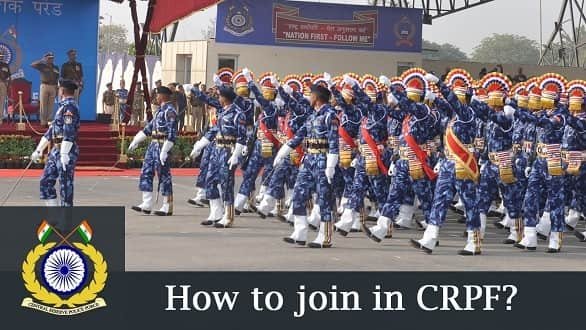 Facts About CRPF
Here are some of the facts that you need to know about CRPF.
CRPF is a huge organization, and it requires many people every year for different positions.
It is established on 27th July 1939 and declared as Central Reserve Police Force on 28th December 1949.
Currently, the force has 191 battalions, out of which executive battalions are 173, RAF battalions are 10, signal battalions are 5, and special group duty is 1. The executive battalions also include two Mahila battalions.
CRPF has 35 group centers which include a signal group center as well. It has 10 training institutes, 7 arms workshops, two mobile workshops, two central weapon stores, three base hospitals, one static workshop, and one 100 bed composite hospital.
CRPF offers a rewarding career opportunity for people that enable them to serve the nation.
CRPF officers are transferred frequently to different locations due to the nature of the job. So, it can be difficult for a CRPF officer to have a stable family life.
CRPF officers work in emergency situations to bring peace to society.
Officers who achieve higher posts can get better salaries. Some of them also can get an opportunity to work in India as well as abroad.
These were some of the details and facts about CRPF. You need to know these facts before joining this armed force.
Skills Required for CRPF Posts:
Those who want to serve the motherland and the citizens of the country can choose this career path. Some personal skills required for the CRPF officers include discipline, integrity, commitment, etc. If the candidates have these skills, then they can work in CRPF efficiently.
Different Job Posts of CRPF Or Central Reserve Police Force:
As discussed earlier, CRPF has many job roles or job posts depending on the eligibility of the candidates. This is why the organization has vacancies for a graduate and an 8th class pass out. So, candidates can join job posts of CRPF in India according to their eligibility. Here are different job posts of CRPF in India.
The Assistant Commandant job posts are similar to Group A job posts, and they perform various decision-making and supervisory functions. Apart from that, they are also responsible for various managerial functions. The main role of an assistant commandant is to lead the troop in the field. They play an important role in extremely difficult situations, which is an important job of this job profile.
Sub-inspector is an important job role of CRPF in India that maintains law and order to prevent crime. This job post comes under important rank officers in the CRPF because it serves as a direct link between the superior officers and below officers. They report directly to their superiors, and constable and senior constables report to them.
Assistant sub-inspectors directly report to sub-inspectors in CRPF. An assistant sub-inspector is the second in charge in the force after a sub-inspector. He/she is also a responsible person in the platoon in the CRPF.
A head constable in CRPF is employed to work as in-charge of general duty in police stations. They work as an officer in charge of outpost & guards and armed reserves.
Apart from the above job ports, CRPF also has posts for doctors. It also has some specific job posts for sub-inspectors, head constables, and doctors. So, you can join your preferred post in CRPF, depending on your eligibility.
How to Join CRPF In India:
Both male and female candidates can join different job posts in CRPF. Since it offers opportunities to candidates from 8th class to graduates, many people can join this force according to their educational qualification. Different job posts in CRPF require different educational qualifications. Here are the details of the recruitment process for different job posts in CRPF.
It comes under the gazetted officer group and recruits 50% officers from local and the rest 50%officers through direct recruitment. This recruitment process includes competitive exams conducted by the Central Police Organization.
It selects only 25% of the vacancies through a direct recruitment process. The recruitment for the sub-inspector post in CRPF is done by the staff selection commission. The recruitment process includes physical efficiency tests and written tests.
Constable (General Duty):
All constable posts in CRPF are filled by the direct recruitment process. The interested candidates can fill the form online and go through the recruitment process.
Online notification is released by the CRPF for the head constable posts. The interested candidates can apply for this job role online.
The recruitment process for the assistant sub-inspector post is the same as the sub-inspector.
The vacancies for constable technical job posts are filled by the unit commandant as per the directions of Sectors IsGP. The recruitment process is the same as described above.
CRPF has several follower posts such as Cook, Barber, Water Carrier, Safai Karamchari, and Washermen. The candidates for these posts are hired by the respective Unit Commandant as per the directions of Sectors IsGP.
Eligibility Criteria for Joining CRPF In India: 
Age: The minimum required age is 18 years to 25 years.
Educational Qualification: Matriculation or SSLC, 12th standard, and typing speed 25 to 80
Height: The minimum height requirement is 170 cm for male candidates. The minimum height requirement for female candidates is 157 cm. Relaxation is provided for both categories as per norms.
Weight: The weight of the candidates is measured according to their height and age.
Chest: The chest requirement is 80 to 85 cm for male candidates.
Distant Vision:6/6 to 6/9
Medical Standards:The candidates should be mentally and physically fit to be eligible for the posts of CRPF. They shouldn't suffer from flat feet, knock knees, squint in eyes, or any other physical defects.
These are the eligibility criteria for the job posts of CRPF in India.One should meet these eligibility criteria for a Job post of CRPF in India.
Selection Process for CRPF In India:
The selection process of CRPF is divided into five stages.
Stage 1: Written Test
Stage 2: Physical measurement
Stage 3: Physical efficiency test
Stage 4: testimonials checking
Stage 5: medical examination
Let's understand every stage of the selection process in detail.
Written Test:
The written test of CRPF contains a total of 160 questions with 160 marks. There are 60 questions from general intelligence, reasoning, numerical ability& awareness, 70 questions from professional knowledge, and 30 questions from communication skills.
Physical Measurement:
After clearing the written test, the candidates will go through a physical measurement test. The pattern for this test is as follows:
Height: The minimum height required for male candidates is 162.5 cm to 170 cm, and for male candidates, it is 150 cm to 157 cm.
Chest: This is only for male candidates. It should be 76 to 80 cm for unexpanded and 81 to 85 for expanded.
Weight: Weight is considered according to the height of the candidate.
Physical Efficiency Test:
Passing the physical efficiency test is important for candidates to join CRPF. Those who meet the physical standards of the CRPF will go through a physical efficiency test to be a part of the CRPF. It contains no marks, so one needs to meet the standards defined by the organization.
Male Candidates:
They should complete the100-meter race in 16 seconds.
Male candidates should complete a 1.6 Km race in 6.30 minutes.
They should reach 12 feet in the long jump in three chances.
They should reach 3 feet 9 inches in the high jump in three chances.
Female Candidates:
Female candidates should complete the 100-meter race in 18 seconds and an 800-meter race in four minutes.
They should reach 9 feet in the long jump in three chances and 3 feet in the high jump in three chances.
Testimonial Check:
After completing the written test, physical measurement, and physical efficiency test, the candidates will opt for the testimonial check. Those who have some additional achievements in sports or other activities will get extra marks in this phase.
Medical Examination:
After clearing the above four stages of the selection process, the candidates will go through a medical examination. The applicants will need to clear this exam in order to get a job in CRPF. This exam is conducted by the doctors in CRPF.
In the end, the selection board in CRPF prepares a merit list as per the results of all five stages. The candidates are listed separately in the merit list, depending on their category. The selection is done on the basis of marks obtained out of 220 marks. If two candidates have obtained the same marks, then the applicant who is older in age will get high preference in the alphabetical order. The merit list will be uploaded on the official website of CRPF so that students can download it.
Study Materials and Books for CRPF Exams:
There is no single book that you can study for CRPF exams. You will need to study different books for different topics to score good marks in examinations. You can study NCERT books and ready-made books that contain aptitude. The important topics that you need to study for the CRPF exam are NCERT science books, geography, modern and ancient history, reasoning, data interpretation, number theory, quantitative aptitude, international relations, Maths, etc. You should cover all these topics before giving CRPF exams for better results.
Salary of CRPF Officers:
The salaries of CRPF offers are different for different posts. The following are the basic salaries of CRPF officers per month.
Constable: 7,000 INR
Head Constable: 9,000 INR
Sub Inspector: 13,800 INR
Assistant Commandant: 16,200 INR
The above salaries are the basic pay for respective posts per month. This pay doesn't include any other allowances paid to CRPF officers.
Conclusion:
Many people in India want to be a part of CRPF and serve the nation, but not all people get this opportunity. One needs to fulfill the eligibility criteria of different posts of the CRPF to get a job in this armed force.  This force contains several job profiles, and each profile has a specific eligibility criterion for the selection of candidates. So, it is not going to be easy for you to get a job in the CRPF. However, if you are ready for the challenges and really want to serve the nation and ensure security for citizens, then you can choose this career to pursue.