Physical education is the study of psychomotor skills that are used when participating in sports. In other sayings, this is a science that investigates the various types of psychological abilities that are required to perform physical movements. The various types of sports necessitate a distinct set of psychomotor abilities, which are learned in Physical Education in order to hone specific sports abilities and abilities. Physical education (PE) is the study of all physical aspects to keep the body fit and healthy.
After completing 10+2, one can pursue a degree in physical education. It is possible for an individual from any discipline to enroll in this physical education course. With the exception of a few sports, there is no particular age limit for pursuing the course.
Course Details of Diploma in Physical Education
| | | | |
| --- | --- | --- | --- |
| Course Name | Course Duration | Eligibility | Course Type |
| Diploma in Physical Education | 1 to 2 Years | 12th Pass | Diploma |
A student who is interested in physical education can pursue a Diploma, a Certificate, or a Bachelor's degree in the field. Many universities and colleges, as well as government agencies, provide this course. As a demanding field, only students with a strong interest in the subject should consider pursuing an education in this field.
D.P.Ed is an abbreviation for Diploma in Physical Education program. This diploma program will teach you about the ease of access of different adventure sports, including those with low, medium, and high accessibility, as well as the factors that affect accessibility. The course provides students with a competitive advantage by preparing them to motivate and lead others in the pursuit of physical fitness and the resolution of health-related problems.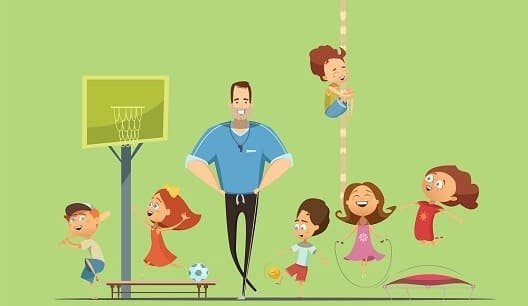 Eligibility
Candidates must have passed the 10+2 exams from a recognized board in order to be considered.
Course Duration
This course is 2 years long
Required Skillset
Candidates who are interested in physical strength and outdoor activities will benefit the most from pursuing a Diploma in Physical Education. A few of the skills and characteristics that candidates interested in pursuing a D.Ped course should have are as follows:
Communication skills
Teamwork
Positive thinking
Hardworking
Goal setting
Time management
Organization skills
Interpersonal skills
Determination
Adaptability
Patience
Athletic ability
Syllabus
Here you can find a list of the most important topics covered in this course. There are both practical and theoretical subjects covered in the D.P.Ed course.
Physical Education Foundations
Communication Skills and English
Physical Education History and English
Fundamentals of teaching, rules & regulations, about ground or play area, track measurements
Allied areas
Teaching ability and a lot more
Admission Process
Interested candidates who meet the basic requirements for this course can submit an application to participate in it. It is possible that the admissions process will differ from one college to another.
Admission to the Certificate in Physical Education program is based on a merit list.
In addition to the eligibility criteria, a medical examination may be required by a few institutions as part of the admissions process.
Candidates must have received 50 percent to 60 percent marks in their 12th grade in any subject from a recognized institution in order to be considered.
The application process for the exam begins with the registration phase, in which the candidate must provide their basic contact information, followed by the submission of the exam application form.
The application form contains all of the educational information, as well as personal information and other related documents.
The application process is completed once the fees have been paid.
Personal interviews/group interviews, as well as medical tests, are conducted by some institutions as part of the selection process.
Fees
A fee of approximately Rs. 30,000-80,000/- is charged for this course on a typical basis.
Top colleges offering Diploma in Physical Education course
Tatya Tope Shivpuri
Ramakrishna Mission, Belur
Malwa College Bathinda
Arya Kanya Vadodara
YMCA College Bangalore
Techno Global, Shillong
Pravara College, Ahmedabad
Job profiles
The sports news, sports marketing, sports gear industry, and the hotel industry, to name a few areas where applicants with a certificate in physical education can pursue their professional goals. Some of the most sought-after types of occupations for D.Ped candidates are as follows:
Physical Education Instructor: The primary goal of a PE teacher is to encourage students to participate in sports and other outdoor activities. An instructor helps students develop motor skills, as well as healthy eating and exercise habits, by organizing a range of sports and games for them to participate in.
Gym Coach: A gym coach is an expert who instructs clients on how to perform exercises and follow a workout routine. Additionally, the trainer assists the client in a workout by modifying exercises to suit their individual fitness levels, among other things.
Yoga trainers: A yoga instructor is simply a teacher who instructs students in the art of meditation with the purpose of improving their health and wellbeing.
Fitness In-Charge: He/she is an expert who is hired by individuals to assist them with their daily workouts, diet, and exercise regimens, among other things. He/She is a person who is in charge of the general fitness growth of a group of people.
In sports medicine, a skilled athletic trainer is indeed a highly skilled health – care professional who works in collaboration with doctors to provide players with services such as emergency treatment, medical assessment, and rehabilitation after suffering an injury.
If you have an interest in sports, exercise, or athletics, you may be able to pursue a range of different careers in the sports and fitness industries. You might decide to consider a career in mentoring at the grade 10, collegiate, or even at the top level if you have the necessary qualifications.
Salary
After gaining experience, a new physical education expert can expect to earn approx Rs. 10k-25k per month. With more experience, the candidate can expect to earn approximately Rs. 20k-50k per month.
Career prospects
D.P.Ed is a Competent Physical Education course that can be taken after completing 12th grade. Students who successfully complete this course can work as PTIs in both private and public schools. Aside from these, students can pursue a B.P.E.S (three-year course), a B.P.Ed (two-year course), an M.P.Ed (two-year course), an M.Phil, or a Ph.D. in education.
Also Read: Master Of Physical Education (M.P.Ed) Course: Details, Eligibility, Syllabus, Career, Fees, Scope
Conclusion
Fitness instructors, recreation workers, PE instructors, physiotherapists, human kinetics, sports medicine, athletics nutrition experts, and even athletic trainers are some of the other professions available. When it comes to pursuing careers in the sports activities or workout industry, there are numerous options to consider which you can opt for after the D.Ped course.