Physical Education Courses After 12th Fees, Scope, Salary, and more
Physical Education courses in India are great for students who wish to become a sportsperson and teach others about the importance of good health and physique. Unlike many other courses in the country, Physical education prioritizes practical knowledge rather than theory. Also, after completion of the course, you can target numerous colleges and other institutes that have related jobs.
In the article, we will be talking about the different courses related to Physical education that you can opt in after completing your school education. So, be with us until the end of the article and get complete information about the courses offered in the field of Physical education. Apart from being discussing the different courses offered by Indian universities, we will also be talking about the fee structure and course inclusions. So, if you are about to clear your 12th exams and are looking forward to get the best career opportunities without wasting too much money or time on other professional courses, you should look for physical education courses after the school level.
Different types of Physical Education Courses in India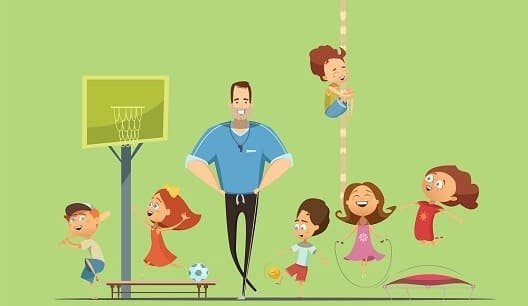 The best thing about the physical education courses in India is that they can opt for right after you complete your schooling. With the better-designed course structure and well laid out subjects, the students find physical education a great way to enhance their physical and mental strengths.
Depending on the level of course, physical education courses can be further divided into three categories. Have a look at them and then decide which one you should prefer after your schooling/graduation.
The first type of physical education course is graduate-level courses. These courses can be opted for right after completing the schooling. These courses offer the base knowledge of physical education and after completing the graduation in Physical Education, you can either after the job in a school or college or can choose a further specialization.
This is the first step to get physical education. There are plenty of colleges that offer different graduate-level courses for physical education including the BA, and BPEd in physical education.
Both BPEd and BA are three-year courses, that you can opt for after 12th. So, if you are looking for a professional trainer in school or college, you should opt for one of these courses according to availability and your preferences.
Additionally, you can opt for the more specialized courses like BA in Yoga, Aerobics, and others.
Another way to achieve knowledge about physical education in a proper way is the diploma courses available in the country. There are numerous colleges that offer diploma courses like the Diploma in Physical education, aerobics, yoga, or combined diploma in all these specializations. Depending on the colleges and fees, you can easily choose the best diploma course for yourself.
Unlike the degree courses, the diploma courses have a duration of 2 years. And usually, you can do them as a part-time course too. So, if you are looking for a short-term course that is available in different specializations, you should once try Diploma courses for yourself.
Another way to gain knowledge about physical education and its specializations is the certificate courses. Comparatively, these courses are for those students who are already doing a job somewhere and want to earn knowledge about physical education. Like the diploma courses, these are short-term courses and emphasize more on the essential rather than the complete training as in the degree courses.
There are limited seats for the certificate courses and lesser career opportunities than the other two courses. However, this is a perfect option for those students who have looking for the better hype in their career and already have completed degree courses, and are after specializations.
So, these were the three course types related to physical education. There are plenty of recognized universities along with autonomous colleges that provide great opportunities to the students who are looking for the best career opportunities in the field. So, if you are also one of those students who have a special interest in sports and physical fitness, you should try hands on one of these courses as per your needs and qualifications.
Course details
As said earlier, physical education is a more practical approach to learning about the field. NO matter what course you are enrolled in, you will get the information about the body strength, tactics that you should follow to get a better physique along with many other theoretical subjects regarding the goal.
This may seem fun, but the detailed approach makes it an ideal course for knowing the human body and its limitations. So, whether you were a science student or a biology student, you won't find the course too peculiar to study.
Scope of the Physical Education courses
Talking about the scope of Physical Education courses, you can get a great job in school or a college as a sports teacher. Additionally, there are numerous other ways to earn money and get a better job in government as well as private firms.
So, if you were looking for a better scope after completing the courses right after your +2. The excellent course structure will help you get a better job and secure future without making too much investment in your career.
With the different types of subjects including physical, and psychological well being, the physical education courses let the students know about the physical strength and better performance of the human body. So, whether you are looking forward to live a healthier life or are looking for better jobs, you should once try your hands on Physical Education courses in Indian colleges and universities.
Salary expectations after Physical Education courses
Salary expectations after completion of Physical education courses are something that varies a lot. This mainly depends on the firm or college you have joined and the skills you have. Apart from the physical education teacher, you can opt to work as an athletic coach, nutritional specialist, physical therapist, or personal physical instructor. After choosing one of these, you can easily earn over 4.5 lakh per annum (starting salary) that can easily go up according to your skills. So, whether you are after a good career or after knowing your body well, the Physical education courses are a great way to achieve your dreams.
How to enroll in Physical Education courses
Physical fitness is a key quality to possess for the students planning for the physical education courses. The Physical Education Common Entrance Test (PECET) is the common entrance test valid for physical education courses from different universities. After you crack the exam the physical test will ensure your admission to the desired college. However, there are a few colleges that enroll students directly depending on their physical test conducted individually. So, be sure to check the criteria for admission to your preferred college and university.
On the other hand, the diploma courses do not require the entrance test. You can easily approach the institute for admission according to the available seats. So, choose the perfect college and course for yourself.
Skills required for the better job prospective
Apart from having a degree in Physical education, it is essential to have some skills that can help you get a better job and reputation in the field. A few of such qualities are leadership skills, physical and mental strength, and dedication towards the goal. If you have these qualities in you, you can be assured of getting better job opportunities than other candidates looking for the job.
An additional experience in working under professional can also help you a lot in getting a better job in a firm or college. So, prepare yourself well and enhance your skills to get assured of getting a better job in a reputed firm or college.
Jobs you can apply for after completing physical education courses
There are plenty of career options to choose from once you have completed your physical education course at a reputed college. Some of these options are Yoga teacher, physical training tutor in a college, a personal fitness expert, nutritionist, serve as a coach in a sports center, and many others.
In other words, if you are looking forward to have a great and diversified career option after completing the courses, you should once try your hands on physical education and available courses in your preferred college.
Conclusion
So, this was all the information that you will require before choosing the Physical Education courses. Depending on your educational qualifications and future expectations, you can easily choose the better course for yourself. The better college and university can get better job expectancy. So, instead of choosing the college according to the fee structure, we will suggest to go with a college that has better job placement records along with better facilities for the physical education courses. This will help you find a better college and excellent job expectancy.