You must have heard the name of Diploma in Computer Applications (DCA) which is a one-year course. This course will help to know about computer applications in depth. Through this course you can gather knowledge about computer applications and have scientific knowledge of computer and soft computer skills. This course will provide the learners with all major computer applications that are required. This course has comprehensive options. You have a number of opportunities once you complete the course. This course is in high demand in the Indian market.
You can gather good knowledge about MS Word, Excel, Operating System, and Database Management System through this course. Once you complete the course, you can quickly get a job in many IT industries. Most of the IT companies look for people who have graduated from this course. The course provides some practical training to the students to get a clear conception on the subject. If you are willing to work in any reputed IT company you should try to complete this course. Students who have completed their 10+2 from the science stream or any other streams can pursue this course.
Many times it is found that even after doing a professional course, you are not getting a job. This can be frustrating for you. But sometimes even a short duration course can change your life. It can open new doors of opportunities through which you can get a better position. A Diploma in Computer Application [DCA] is one such course that can bring new prospects in your life. The system is cost-effective for the students who cannot afford high fees.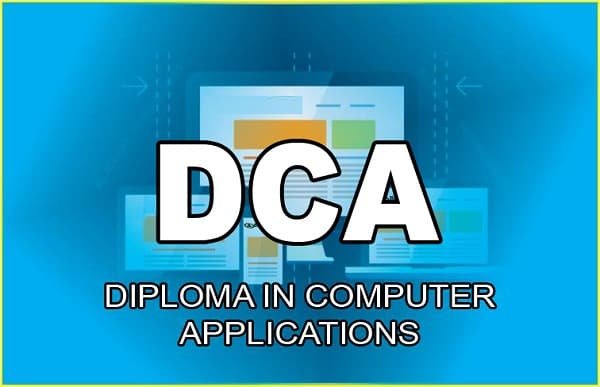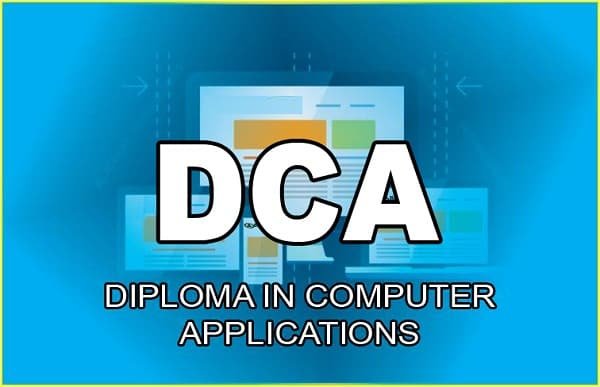 Diploma in Computer Applications Course Scope

You have good scopes and opportunities after completing the DCA or Diploma in Computer Applications course. You can get a lucrative job in any IT company. If you wish, you can also get a position as an accountant in any MNC. This will bring comprehensive options before you. Other than that, a good career option of Networking is always before you.
You can also earn excellent and handsome money by doing the job of data entry. Many companies look for data entry operators. You can again do this job by merely sitting in your home. It is a hassle-free, peaceful job. The scope of this course is increasing day by day. Students will get good exposure in the IT field. Through this one-year course, you will gain ample knowledge about computer applications. The best part of this course is that anybody can get admission to this course. No such strict eligibility criteria are required while taking admission. Once you complete the course, you should start applying to various companies for Accountant, web designer, or web developer.
Skills required for DCA course:
Now let us try to explore some of the skills required for a DCA course. A short description of this matter will make the whole thing transparent.
It would help if you had a passion for this subject.
It is okay if you have prior computer knowledge.
Your love for the subject is also required for this course.
Flair knowledge about mathematics is also required for this course.
Try to have patience while learning the subject.
Try to develop learning skills while pursuing this subject.
Course fee for the Diploma of Computer Applications Course (DCA):
The course for DCA course mainly varies from colleges to colleges. However, it is found that the average fees of the course range between INR 5,000 to INR 40,000.
Eligibility criteria for the DCA course:
You have to qualify specific eligibility criteria to get admission to this course. Let us discuss some of the vital ones.
You have to complete a minimum of 10+2 from any recognized board or institution.
You have to be from the arts, commerce, and science stream to get admission to this course.
However, no cut-off marks are required for getting admission to this course.
It is better if you have sound knowledge of computers. It can help to know the subject in a better manner.
Direct admission is provided to the candidates in selected institutions. Some colleges may take the entrance on a merit basis or as per the number secured in the 10+2 examination.
It is better if you have a sound knowledge of computers right from the beginning. This will give you a clear conception of the course.
Exams for Diploma in Computer Applications course:
In this part, you will know about the exam process of this course. You should remember it is a diploma course, and the exam is conducted multiple times. If you are pursuing this course from Government institutes, you can appear before the examination several times. The exam can appear in both online and offline mode. It depends upon you.
You will come across some essential subjects that are related to this subject. You have to complete two semesters to complete this course. You have to remember that both the semesters are to be qualified.
Some of the essential courses that come under DCA are software technologies, web designing, software hacking, and IT security, software engineering, operating systems, and data structures.  These types of courses or subjects under DCA can help to get a job quickly and smoothly.
Exam centers for DCA course:
All the major cities of India have their centers for DCA courses. You can appear from any of the cities. Kolkata, Mumbai, Delhi, Bengaluru, Chennai have their DCA exam centers. If you are from the adjoining cities, you can come to the town to appear before the exam. The exam centers provide all the amenities to the candidates of this course.
Syllabus for the DCA course:
In this part, you will know about the main subjects that are included in this course. The course is divided into two semesters, and each semester has some specific issues.
Semester I
Introduction to Computers
Principles of Programming
Programming Language Database
Word Processing and Spreadsheet
System Analysis and Design
Computer Graphics
Introduction to windows
Opening documents and closing documents
Formatting the text
Special features
Mail merge
Handling multiple documents
Windows settings
Semester II
Project Management
Unix Operating System
Management Information Systems
Financial Accounting Systems
Spreadsheets and manipulation of cells
Providing formulas and functions
Basic of electronic mail
Document handling
Power-point including small presentations
WWW and web browsers
Thus all the essential subjects are introduced before the students in these two semesters. You will get good interest while going through the issues in both semesters. The course materials of the syllabus are available on various websites. They will give a clear idea about the course. This will help to do good in your future. Apart from this, you have to perform some practical training in some companies. This can bring some exposure before you.
Career opportunities for DCA graduates:
It will help you to a reasonable extent if the prospects of the course are known. This computer course can help me to get a fantastic job and make a better career. Let us try to find some of the career benefits of this course. It will be love to know about the prospects of this course.
Once you complete the course, you can get a job as a computer operator. It is a great job that can help to get a decent salary. Most companies look for a professional computer operator.
You can also choose the job of a web designing after the completion of this course. It is a professional who creates the outlook and layout of the website.
The job of an accountant is always open before you after completing the course. You can quickly get a position as an accountant in any recognized company or organization.
The job of a software developer is also available before a DCA graduate. As a software developer, you will be entitled to update and maintain the software system from time to time.
On the other side, the demand for a C++ developer is gradually increasing among people. As a developer, you have to work as a team or lead the team on the correct path. It is a good side of this course.
The job of programming is always open before the students who are pursuing this course. The students can opt for programming jobs in any recognized companies or organizations.
So, you have broad scopes and opportunities after completing the course. If you desire to make a fantastic career in computer applications, you should move forward with this course.
DCA institutes in India:
In this section, you will know about some of the top institutes that offer Diploma of Computer Applications Course. Through this discussion, you can choose the perfect one.
University of Calcutta (Kolkata)
Lovely Professional University ( Jalandhar)
Jamia Millia University ( Delhi)
Savitribhai Phule Pune University ( Pune)
Aligarh Muslim University (Aligarh)
University of Madras (Chennai)
Panjab University (Chandigrah)
Benaras Hindu University (Benaras)
Frequently Asked Questions
DCA or Diploma in Computer Application course is a short-term course on a computer that will give you accurate information about computer and its applications. Through this course, you can also gain a thorough knowledge of computer tools. These tools are used in our day-to-day life while handling the computer.
What is the duration of the course?
The course is for six months to one year. During this course period, you will learn great things about computer right from handling it to knowing all its accessories in the best possible manner.
What is the cost of the course?
Generally, the cost of the course is estimated to be INR 12,000/- which may depend on the type of college you are enrolling. Sometimes the price may also decrease.
What are the subjects in this course?
You will feel good to know about the subjects taught in this course. The main subjects are computer fundamentals of windows, internet and e-mail, algorithm design, data communication (design), viva and various types of practical's. You have to attend the practical classes so that you get a clear conception of the course. The practical classes are the best ones.
What is the minimum eligibility to pursue the course?
You need to complete the 10+2 level while opting for the course. There is no requirement of having prior knowledge of programming. All these things will be taught during the course period. You can come from any stream to pursue this course. No need to be from any particular stream.
Is it a job-oriented course?
Yes, it is a job-oriented course that will help in getting a better job. Upon completing the course, you will get a suitable position in any business house or finance company. Most business houses always look for candidates with this background. You need to complete the course at a first stroke.
What is the average salary structure on completion of the course?
After completing the course, you can start with a salary of INR 2, 00,000, which may exceed to INR 6, 00,000 per annum. It will depend upon your skills and performance. If you get a job in a good organization, you will get good exposures that will help in increasing your salary. It would help if you always tried to get the job in a better place. It will be a wise decision. Many database companies always look for candidates from this background.