If you have a passion for painting and fine arts, you can pursue the course on fine arts. MFA or Master of Fine Arts is a post-graduate course on fine arts. Through this post-graduate course, you can get or gather ample information on fine arts. You will get a clear conception of the subject. The course includes both practical and theoretical parts. You have to appear on both parts of the course to gather complete information on the subject. It is a fantastic subject for those who have a love for painting.
Course details of MFA or Master of Fine Arts:
If you want to pursue the MFA course, you have to complete the BFA course. It is an undergraduate course on fine arts. The course is designed in such a manner, so you get a complete idea of the subject. Through this course, you can assume more information and opinion about creating a concept. It is an exciting subject. If you score 50% to 60% on the undergraduate level, you can quickly get a chance to pursue the MFA course.
Two modes are applied to pursue the course. Students are admitted on a merit basis or entrance test. In both the mode of admission, you have to appear before a selection board. The selection is made on the creative skills you possess. If you do not pass the entrance test, you will not be allowed to pursue the MFA course. For admission to the MFA course, you can download the application form from the respective university's websites. You need to download the form, and fill it up with all the necessary details. Any false information may lead to the cancellation of the form and you will not get admission.
Eligibility for MFA admission: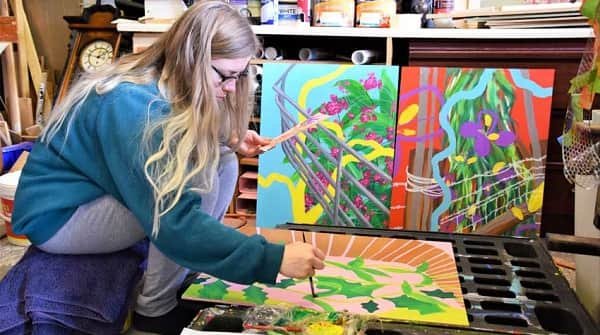 To get admission to the MFA course, you must meet some requirements. Here are some of the essential ones.
You need to complete your BFA course from a recognized board with 50% to 60% marks. This is mandatory to get admission.
The cut-off marks depend on the institute or University that you have selected.
The educational institutes provide no such age limit. However, in some cases, students can get admission till 27 years of age. It is applicable only to a few colleges and universities.
You must have a passion and love for painting and the arts. It is much required.
Syllabus of the MFA course:
Before getting admission, you need to have a clear conception and idea of the syllabus of the course. In the following few lines, you will get information on the syllabus of the course. The two-year MFA course is divided into four semesters.
Semester I:
Concepts of Marketing-I
Graphic Designing-I
Illustration-I
Visualization-I
Advanced communication
Self-development and Inter-personal skills
Foreign Business Language
Semester II:
Portrait Drawing
Concepts of Marketing –II
Graphic Designing-II
Illustration-II
Visualization-II
Communication for employment
Conflict resolution and Management
Foreign Business Language
Semester III:
Graphic Designing-III
Illustration-III
Portfolio Development
Portraiture-I
Creative Photography
Visualization-III
Professional Communication skill
Professional competencies and career development
Foreign Business Language
Semester IV:
Graphic Designing-IV
Illustration-IV
Packaging design
Portraiture-II
TV graphics-II
Typography Art
Dissertation
Visualization- IV
Cross- culture communication and global competence
Leadership and managing excellence
Foreign Business Language
You have to qualify for all the semesters to get the post-graduate degree.
Career prospects of MFA course:
If you have the passion and genuine love for creation and drawing, you will do well in this field. You will have ample options after completing the course. With technical proficiency and knowledge, you can get a suitable job in an advertising designing company or any other big business house which is engaged with some creative work. You will also get a tremendous scope to work in any Magazine company or textile company. It will bring good options and scope to your life. You can also engage yourself with an art studio or dance studio.
Fee structure of the course:
The course fee depends on the college you are selecting. You will get many colleges that offer this course. However, the course fee varies from INR 12,000 to INR 50,000. You can also take an educational loan for the course if you feel that the price is high. You can pay the fee according to your suitability. Many renowned colleges across India are engaged in delivering the course to the students. It is an excellent option for the students who are willing to continue their studies with this course.
Scope of the MFA course:
This two-year postgraduate course will bring ample options to your career. You can get a job in industries like animation, graphics and similar other ones. You can also become an art director in the future. The average salary of the graduate commences from INR 6 lakhs. If you complete your postgraduate the salary may increase to a great extent.
You can also start your career as a Product designer and a creative director. It is a beautiful field that brings ample options to the candidate. If you want, you can also select the job of an interior designer. In the future, you can start working as an independent artist and creative worker. If you wish, you can begin working as a freelance graphic designer. You can also turn out to be a coach and turn other aspiring people.
Top 10 Best colleges on MFA course in India

Here comes a list of some of the best colleges that offer the MFA course.
| | | | |
| --- | --- | --- | --- |
| SL No. | Name Of The Colleges | | Total Fees |
| 1 | Chatrapati Shahu Ji Maharaj University Kanpur | | 8,613/- |
| 2 | Amity University, Lucknow | | 66,000/- |
| 3 | Dr. Babasaheb Ambedkar Marathwada University, Auranganbad | | 40,000/- |
| 4 | Banaras Hindu Unversity, Varanasi | | 21, 756/- |
| 5 | Jamia Millia Islamia University, New Delhi | | 4,620/- |
| 6 | Mumbai University, Mumbai | | 28,000/- |
| | | | |
| 7 | Amity University, Noida | | 56,000/- |
| 8 | Kurukshetra University | | 34,000/- |
| 9 | Mangalayatan University, Aligarh | | 35,000/- |
| 10 | Rashtrasant Tukadaji University Maharaj Nagpur University, Nagpur | | 12,260/- |
Finally, the demand for fine arts will never decrease even in the future. It will go on increasing day by day. Most organizations, whether big or small, always require an art artist who can give a new look to their office space. Thus, if you pursue the course and become a competent artist, you will get a remarkable career. You can also earn a lot of money through your skills. It is a great subject that will provide you comprehensive career options. If you have a love for your art work, you must pursue it as a career.