The Nepali or Gorkha Regiment is another name for the Gorkha Army. Gorkha Regiment is the powerful armed force in the world.  Gorkha regiment knew for its integrity and courage.
The Gorkha regiment is India's oldest unit. The Gorkha regiment served in the British Indian Army in the first and second world wars.
Approximately 2 lakh Gorkha army troops served in the British Indian Army during World War I. Gorkha regiment is a more than 200-year-old regiment that serves our country in many capacities. The Gorkha Regiment, often known as the rifles, is one of the strongest regiments, having served on the Indian subcontinent since 1815. If you want to join this Gorkha Regiment, you need to know all this information before applying.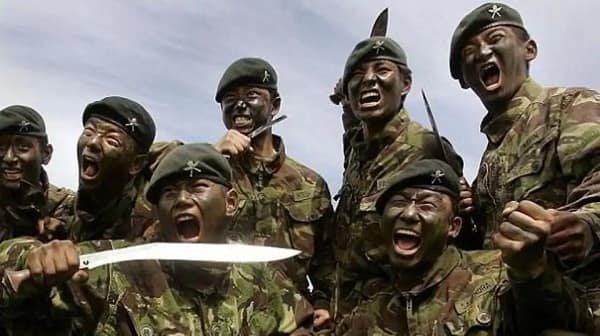 Gorkha Regiment Open Rally Important Information
Gorkha regiment leads an open Bharti rally for Gorkhas.
 All Gorkha with a Gorkha certificate is eligible to participate in this open rally. All young people interested in joining the Indian Army or the Gorkha Regiment have to put in a lot of effort to join the Gorkha Regiment. Gorkha regiment invites Applicants for the open rally.
Any qualified candidates are welcome to attend the rally. There are too many employment openings for young people based on their qualifications or eligibility. Soldier gd, soldier clerk, soldier tradesman, soldier technical, and Nursing Assistant are all positions, and you can apply for them.
Candidates are invited based on their district. Candidates can register for the Gorkha Indian Army Recruitment Rally in their respective cities or states. Before applying for any Gorkha regiment employment, make sure you meet the qualifying requirements, like age, height, weight, chest, and educational qualifications.
For the open Bharti rally, the board seeks fresh Gorkha candidates. They recruit young cadets for the Indian Gorkha army. All young people interested in joining the Gorkha regiment can fill out an online application form on the Indian Army's official website.
In Uttarakhand, Assam, Sikkim, West Bengal, and Kolkata, the board organizes Gorkha open Bharti rallies.
Eligibility Criteria for Gorkha Army Recruitment in India
All young people should be aware of the Indian Gorkha qualifying standards, including age restrictions, educational requirements, height, weight, and chest measurements. This army rally is open to all eligible applicants.
So, here are the age requirements and educational requirements for soldier gd, clerk, tradesman, technical, and NA positions.
CATEGORY
AGE LIMIT
EDUCATIONAL QUALIFICATION
Soldier GD
17 ½ to 21 Years
SSLC / Matric / 10th grade with an overall grade of 45 percent and a subject grade of 33 percent. With higher qualifications, such as 10+2 and above, no percentage gets taken into account.
Soldier Clerk
17 ½ to 23 Years
(I) 12th pass (Arts/Science/Trade) With a 50 percent grade in each subject and a 60 percent overall grade.

(II) English and Maths/Accounting/Bookkeeping studied in Class 12th or 10th.

Soldier Technical
17 ½ to 23 Years
12th-grade pass with 50 percent aggregate and 40 percent in each subject in Physics, Chemistry, Maths, and English.
Sol Nursing Assistant
17 ½ – 23 Years
(1) 12th-grade pass with 50 percent aggregate and 40 percent in each subject in Physics, Chemistry, Biology, and English.
Selection Procedure
 They will choose Candidates will for any Gorkha regiment based on the selection procedure. For all candidates, the selection procedure is the same.
Test of Physical Fitness
The first part of the selection procedure is a physical fitness test. Candidates will take the physical efficiency exam after their height will measure.
The following are the timing and markings for a 1.6 km (1600 meter or mile) run for Soldier General Duty:
Group I: Finish in under 5 minutes and 30 seconds – 60 points
Group II: Marks from 5:31 seconds to 4:45 seconds-48 points
=> Pull-Ups
The following is a list of the number of pull-ups and the marks awarded:
Ten pull-ups -40 marks
9 Pull-ups – 33 Marks
8 Pull-ups – 27 Marks
7 Pull-ups – 21 Marks
6 Pull-ups – 16 Marks
Qualify
Qualify
Physical Measurement Examination
| | |
| --- | --- |
| Post Name | Height |
| Soldier GD | 169 Cms |
| Soldier Clerk/SKT | 162 Cms |
| Nursing Assistant | 169 Cms |
| Soldier Tradesman | 169 Cms |
| Soldier Technical | 169 Cms |
Below things will common for everyone.
 Chest 77-82
  Weight 50kg
Physical Standard Relaxation in Army Recruitment
Category
Height

(Cms)

Weight

(Kgs)

Chest

(Cms)

Son of servicemen/ Son of Ex-

Servicemen/ Son of War Widow/

Son of Widow.

02
02
01
Adopted son/ son-in-law

(if she has no son) of a

War Widows of Army.

02
02
01
Sportsman, who has represented

India at International level, or

State at National level.

02
05
03
Sportsman, who has represented

District at State level and University

or Regional team at State/ National

level and secured 1st or 2nd position.

02
05
03
Verification of documents
Admissions card.
Certificates of Education Photographed
Certificates of Gorkha
Unmarried Certificate, Permanent Residential Certificate, and Character Certificate
Certificate from the NCC (if, have)
Certificates for these categories: SOS/ SOEX/ SOW/ SOWW Candidates
Sportsmen Certificate, Single Bank Account, PAN Card, and Aadhar Card
Affidavit
Medical Examination
All applicants who pass their physical exam or physical measurement will go for a medical examination. After 1 or 2 days of physical examination, the selected applicant will have a medical check-up.
During the medical examination, they will thoroughly examine all bodily parts. Clean your ear wax, clip your nails, hair, and save private parts hair before heading to the medical exam, and wear clean clothes for the medical test.
Exam (written)
All applicants who pass the physical measurement, physical test, all candidates will get the medical test rounds can give a written exam. The entrance card for the written exam. After the physical exam, the written exam will happen after 2-3 months. As a result, all candidates who will take the written exam must familiarise themselves with the syllabus and exam structure. After that, you can give the exam.
How to apply online to Gorkha Regiment:
Follow these procedures and fill in your open rally form of Gorkha Regiment on the official board website. These instructions let you fill out the form. Please, verify all data carefully before you submit your application form.
First, visit the website of www.joinindianarmy.nic.in
Enter the coding of the captcha.
The JCO/OR Login Apply option is displayed on the webpage, and click there.
A new registration and login page will open afterward.
Sign in and click on your username and password.
New users or candidates must register first on the website and then log into their army profile.
After logging in, select Apply Online.
Complete all fields and submit your signature and photo.
Then, finally, press the submit button.
Print the application form for future reference.
Pay, allowances, and other benefits
According to the Seventh Pay Commission, a soldier gets remuneration of 30,000 Rs. on monthly basis. Some other benefits includes basic needs of soldier such as; money for ration, staying accommodation, medical benefits, and an insurance scheme worth Rs. 40,00,000. Other benefits include annual leaves of 60 days in which, Casual Leave are of 30 days, and medical leaves. A soldier gets medical leave as per set medical rules. A soldier can avail Leave encashment for maximum 30 days in a year and 300 days of total service.
Marital Status for Army Bharti Rally
Married people under 21 will not be eligible for recruitment unless they are the actual brother of a war casualty who marries the battle casualty's widow. In such situations, the relevant documentation will be sent to the Recruiting Directorate for the competent authorities to waive the QR. Enrolled candidates over the age of 21 who are married will not request marital housing or any other ancillary benefits offered to married employees throughout the training.