In this modern era, a career in the healthcare field is a dream of certain people. A healthcare field always offers a wide range of lucrative job opportunities to candidates. Just like other medical disciplines, ophthalmology is also a good career option for those who have amazing skills to perform surgical tasks and study diseases that are related to the eyes. The students, who are willing to become eye doctors/Ophthalmologists, must have enough knowledge of the science field.
The science stream helps students to understand the aspects of ophthalmology field in the term of surgeries and analyzing the crucial stage of the patient. Under the ophthalmology course, candidates are getting enabled to perform tasks like- diagnosing and treating disorders of the eye, operating and implementing eye surgeries under the supervision of experts. Such experts have major responsibilities to perform the medical task to identify the actual diseases in the inpatient's eyes. For becoming expertise in this field you should follow some steps which we are mention in-depth. Applicants are suggested to explore the whole article for knowing further details.
About Ophthalmologist
An Ophthalmologist is an expert who measures vision, diagnose eye disease and prevent them by using ophthalmologic equipment. These professionals are specially trained to provide exclusive examinations to patients who are occurring from optical disorders. Apart from surgical and medical treatment, they can perform other tasks like operate patient's record and evaluate them with the past medical history, operate laser surgeries, take care of chronic diseases, testing patient's vision, enhance ophthalmologic services, implementing new tools and procedures, prescribe accurate lenses, reshape ocular tissue and among others.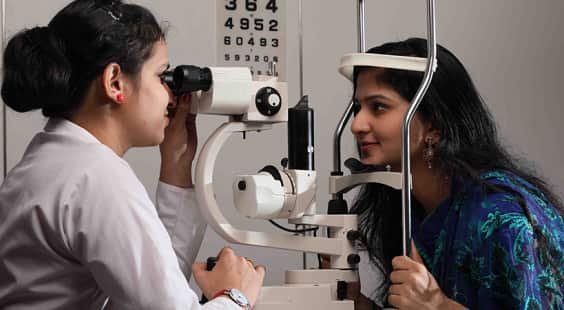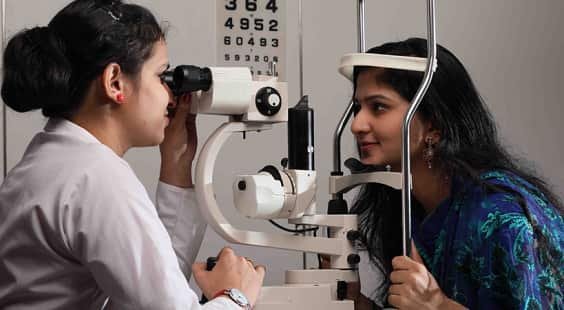 What is the basic eligibility required for becoming Ophthalmologist?
Those who have a keen interest to become an eye expert or Ophthalmologist required to take up the science stream. For further information, you can check the below mention academic qualification section-
Academic Qualification: Several UG, PG, and research programs offered Ophthalmologic courses. Here, you can check the whole detail.
B.Sc in OT (Bachelor of Science in Ophthalmic Techniques)
The course highlights studying techniques and modern equipment which can be used to diagnose and the prevention of disorders.
For pursuing B.Sc in Ophthalmic techniques, you must have passed Class 10+2 with Physics, Chemistry, and Biology from any recognized board.
Candidates should have scored at least 50% of marks in the qualifying exam.
Diploma in Ophthalmology
This one-year diploma course can be pursued after completion of 10+2. Those who have complete their Class 12th along with the science stream are considered eligible for a diploma course. This course imparts knowledge of physiology, anatomy & ophthalmic illness. The certain medical institute offered various diploma courses in Ophthalmology.
DOT or Diploma in Ophthalmic Technology
This two-year diploma course can be pursued after completing Class 12th. During the course period, candidates would learn about vision defects, optical diseases, examination of the eye, and eye surgery. On the completion of DOT, a valid certificate will be given to candidates who
MS or Master of Surgery in Ophthalmology
For pursuing MS in Ophthalmology, candidates must have passed their postgraduate with relevant discipline from any university which is recognized by the Medical Council of India. Aspirants must have scored at least 60% of marks in their qualifying exam. Apart from this, students also qualify for any relevant entrance exam. In this program, candidates will get to learn about the various eye diseases, physiology, and anatomy study.
Post Graduate Diploma in Ophthalmology
To get admission for this diploma course, you should have passed a Bachelor's degree in relevant subjects with a minimum aggregate of 60%. Moreover, candidates must have basic knowledge of reflection and light. In class 12th he or she can also study Mathematical subject.
Doctor of Medicine in Ophthalmology
It is a research-based and fully professional degree course. Those who want to become ophthalmologists must pursue this course. The course offers advanced training and in-depth knowledge of Uvea Disease and Vitreoretinal. Candidates must have a clear MBBS degree with good marks. Admission for a doctorate course is done through an entrance exam.
Master of Science in Ophthalmology
For MS in Ophthalmology, candidates must have passed bachelor degree in relevant field or either passed MBBS degree from any institute which is authorized by MCI (Medical Council of India). Candidates need to qualify valid entrance exam for a master's degree course. He or she must have submitted a copy of the mark sheet and passing proof of entrance at the time of admission.
Entrance Exams for Ophthalmology:
In India, Certain universities conduct own entrance exam or except national entrance exam procedure. So here we are listed top entrance exam which is conducted across the country every year, whether it is a state-level or national-level entrance exam.
AMU – Aligarh Muslim University Entrance Exam
NEET-UG – National Eligibility and Entrance Test
AIIMS – All India Institute of Medical Science entrance exam
AIMSRC – Akash Institute of Medical Science and Research entrance exam
AIIOS – All India Institute of Open Schooling entrance exam
AIPMT – All India Pre Medical Test
BFUHS – Baba Farid University of Health Science
University of Andhra entrance exam
Barkatullah University entrance test
Banglore University entrance test
Bausch and Lomb School of Optometry entrance exam
University of Calicut entrance exam
BVU College of Optometry entrance test
West Bengal University of Health Science entrance test
University of Rajasthan entrance exam
University of Lucknow entrance exam
Syllabus and Important key topics of MBBS Ophthalmology
Under the Faculty of Medicine and health science, major topics are taught by every Indian institute. The list of important topics is mention below-
Physiology of Eye and Vision
Anatomy and Development of Eye
Errors of Refraction
Elementary & Physiological Optics
Diseases of Uveal Tract
Diseases of Conjunctiva
Diseases of Cornea
Diseases of Sclera
Diseases of Lens
Diseases of Vitreous
Glaucoma
Diseases of Retina
Disorders of Eyelids
Disorders of Ocular Motility
Neuro-ophthalmology
Ocular Injuries
Diseases of Orbit
Diseases of Lacrimal Apparatus
Ocular Pharmacology
Dark Room Procedures
Clinical Methods in Ophthalmology
Clinical Ophthalmic Cases
Lasers and Cryotherapy in Ophthalmology
Ophthalmic Instruments & Operative Ophthalmology
Systemic Ophthalmology
Community Ophthalmology
Trauma and Emergency Ophthalmology
Disorders of the orbit, lacrimal drainage apparatus, Occuloplasty
Disorders of the Optic Nerve
Some other key topics related to MS Ophthalmology
Basic Science in Ophthalmology
Lens and Glaucoma
Trauma and Emergency Ophthalmology
Uvea and Vitreoretinal diseases
Disorders of the lids, lacrimal drainage apparatus, orbit, and oculoplastic
Disorders of the optic nerve, visual pathway Neuro-ophthalmology
External Eye Disease, Sclera, Cornea Ocular motility
Strabismus, pediatric ophthalmology
Optics and refraction, contact lenses, and low visual aids
Community Ophthalmology
What is the best institute for Ophthalmology Course?
Several Indian medical institutes offer Ophthalmology courses with various specializations. Here we have listed some top colleges that you can choose as per your choice and preference.
All India Institute of Medical Science ( AIIMS), New Delhi
Goa Medical College, Goa
Regional Institute of Ophthalmology, Kolkata
Guru Nanak Eye center in Maulana Azad Medical College, Mumbai
Regional Institute of Ophthalmology, Chennai
TN Nair Medical College, Mumbai
Advanced Eye Centre, Post Graduate Institute of Medical Education Research institute
Christian Medical College, Vellore
Regional Institute Ophthalmology, Ahmedabad
Jawaharlal Institute of Postgraduate Medical Education and Research, Pondicherry
Postgraduate Institute of Medical Education and Research, Chandigarh
Christian Medical College, Vellore
Kasturba Medical College, Manipal
King George's Medical University, Lucknow, UP
Sri Ramachandra Institute of Higher Education and Research, Chennai
Different Job Roles for Ophthalmologist
An Ophthalmologist can perform the different tasks under various sub-specialist such as Cataract, Oculoplastics, Ocular Immunology, Pediatric, Uveitis, Neuro-Ophthalmology, Corena, and Retina. An ophthalmologist deals with numerous cases under their job roles. Such professionals will be hired as per the need of organizations. An ophthalmologist can work as a surgeon, cornea specialist, retina specialist, pediatrics, and others. The best thing about this field is that its overall area covers various specializations in just a single course. In case you can pursue MBBS or another relevant degree, you will be trained for various sub-specializations. Aspirants who desire to understand the nature of the sub-specialties may read additional:
Retina Specialist – These specialists deal with the issues distressing the Retina of the human eye. They are trained to understand the indifference of retinal and prevent it by giving special treatment.
Cataract Surgeon – Cataract Surgeon deals with the procedures that can organize to eliminate the natural lens. Doctors of this specialty are enabled to diagnose blurred vision of patients and have the skills to install artificial lenses in the human eye.
Cornea Specialist – A specialist in this field can manage the surgical procedure to treat any disorder, infection, injury, and disease that occurred in the eyelids, cornea, conjunctiva & sclera of the human eye. Such experts may provide healthcare services to patients for their speedy recovery.
Neuro-Ophthalmology Specialist – These specialists will enable the management of eye issues that are related to the human nervous system. The major responsibility of this category is to ensure the nerve issues which may affect the visibility of the eye. They are taught to operate the movement of the human eye and ensure its vision.
Ocular Immunology Specialist – Professional of this stream will control issues that can affect the immunity of the human body, and cause eye diseases. It may involve sclerosis, uveitis, and others. These specialists are close enough with the general physicians.
Oculoplastics Specialists – The major responsibility of oculoplastics is to reconstruct the damaged eye. This category of doctors is majorly called surgeons who have years of experience in the implementation of high-level surgeries.
Pediatric Ophthalmologist – These types of experts are child specialists who may cure the eye of the children. They may cure diseases like Genetic, Amblyopia, Neoplastic Disorders, Misalignment of the eyes and childhood abnormalities, etc.
Pay Scale/ Salary Package of Ophthalmologist
An ophthalmologist may receive a salary as per their experience and specialization which they obtain. There are several profitable and non-profitable organizations and institutes that hired ophthalmologists as per their requirements. The great exposure to the field and years of experience will help you to grow under your specializations. Not only in India but also abroad, the demand for ophthalmologists has been rapidly growing. No doubt, a medical healthcare worker receives lucrative job opportunities and handsome salary packages according to their experience. On the completion of the internship period, you can be demand at least a 40,000 per month salary. The starting salary of an ophthalmologist is 4, 90,000 Per Annum. With several experiences, you can receive 30, 00,000 per annum. The salary may vary from organization to organization.
Job Opportunities for Ophthalmologists
Experienced ophthalmologists can seek jobs in the private and public sectors. They may also seek jobs in research centers or academic institutions. Candidates are suggested to pursue a specific field for better future growth. Here we are mention some popular departments where you will be expertise and showcase your skills.
Hospitals
Educational Institutes
Government Institutes
X-Ray and Ultrasound Centres
Research Centres
Private Nursing Homes
Non-Government Organizations
Pharmaceutical Companies
Colleges
Laboratories
Top Recruiting Companies/ Organizations for Ophthalmologists
After becoming an Ophthalmologist you can seek jobs in various companies. In India, such types of specialists are generally hired at research centers, hospitals and nursing homes. Here we are mentioning some top recruiting organizations that you can check for job
Eye Group
Indian Council of Medical Research ( ICMR)
Sheetla Eye Hospital
R.P. Centre for Ophthalmic Sciences at AIIMS, New Delhi
Sankar Netralaya, Chennai
National Institute of Ophthalmology ( NIO), Pune
V. Prasad eye hospital, Hyderabad
Aravind Eye Hospital, Chennai
Bombay City Eye Institute and research center
We hope, the above mention whole detail will help you. Before pursuing this field as a career, you just make sure that you possess good technical skills and high-tech knowledge of the science stream. Candidates are being for focused at the time of the training period and understand well about the research part. Therefore, it is an excellent career option for those who wish to become an optical surgeon. This field must be an added advantage for such candidates who are from a medical background. Candidates are suggested to be more focused in the class 12th and read basic concepts regarding this field.