A Career in engineering is an excellent choice for those who have technical skills. Just like other engineering courses, the scope of robotics engineer has become even more popular. Over the past few decades, technology will develop rapidly.
Therefore, the robots are the helping hands of humans that are why the demand for Engineer for this field is on another level. As you know we live in a world where technology has become an essential part of our lives.
Due to the fast-paced development, various universities are started offering the Robotics Engineering course including a research program and on-field training. Throughout the professional course, aspirants get to know about the computer programming (CADD/CAM) and safe operating systems of robots.
No doubt, this field has become popular and everybody knows very well about the course curriculum. For more information, you can check this article. In this article, we are giving in-depth information about the eligibility, course curriculum, college, scope, and future growth of the engineering field.
Who Exactly is Robotics Engineer?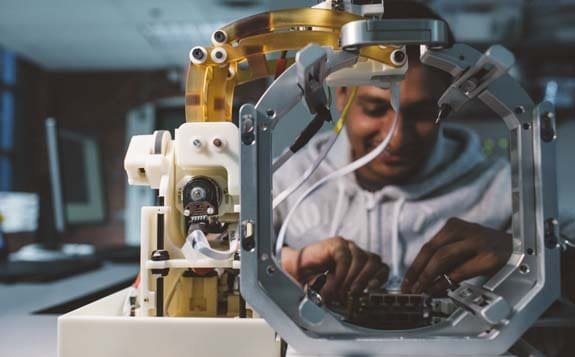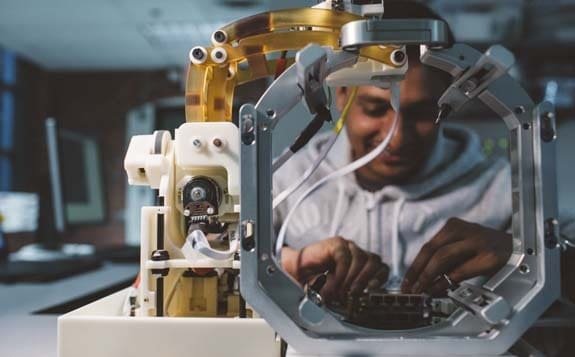 A Robotics Engineer is a qualified professional who deals with the aspects of robotic systems in the term of developing, managing, operating, and designing. Such professionals are also known as system engineers and robotics test engineers. However, these professionals are trained to develop an integrated environment between robots and human beings.
Candidates who have a keen interest in advanced technologies and have a creative mind can choose this career option. The major benefit to pursue this career is, it offers various specializations in a single respective field. Let's understand with an example, A Robotics Engineer can be pursued different options like Robot Design Engineering, Robotics System Engineering field, Robotics test Engineering, Automated test Engineering, and Robotics Programming.
Eligibility Criteria to become Robotics Engineer:
Becoming a robotic engineer might seem like a fun job but require several qualities. Those who have a desire to become Robotics Engineer should fulfill the following eligibility criteria –
Undergraduates Courses: (B.Sc in Robotics Engineering)
Candidates who have passed their Class 10+2 are eligible for pursuing a robotics engineering course.
Candidates must have scored at least 55% of marks in their qualifying examination.
B.Tech in Robotics Engineering:
The students should have passed their 10+2 with PCM from (Physics, Chemistry, and Mathematics) from the recognized board and opt. English as a mandatory subject.
Candidates should have scored at least 50% of marks in Class 12th.
M.Tech in Robotics Engineering:
An aspirant who has passed their bachelor's ( B.tech/ BE in Computer Science and Engineering/ Electrical/ Mechanical/ Electronics/ Instrumentation and Control engineering/ Electrical and Electronics Engineering ) from any authorized university is considered eligible for the M.Tech robotics engineering course.
Candidates should qualify for their bachelor's with 60% of the minimum aggregate.
MS in Robotics Engineering:
MS in robotics engineering is a multitasking course that offers specialization in the various areas of robotics. This program includes computer engineering, mathematical modeling, mechanical design, and control engineering.
Through this course, you can get a chance to enhance your knowledge in the field of expertise that you should obtain.
Candidates should have passed bachelor's for pursuing MS in Robotics Engineering.
Further Courses:
To become a robotics engineer, the aspirant must have done some specialized courses in Robotics engineering course such as Robot Motion in Planning, Designing and Controlling Robots, Medical Robots, Micro Robotics, Automation, and others.
Apart from academic knowledge, candidates must have opted for Computer Programming knowledge in such CADD or CAM (Computer Aid Design/ Computer-Aided Manufacturing).
Top entrance exams list for robotics engineering courses:
To apply for an Undergraduate and Postgraduate robotics engineering course, you should qualify for relevant entrance exams. There are various entrance exams for robotics engineering courses that conduct every year. Certain universities conduct their entrance exams whether another offers admission through national or state level entrance exams. The top entrance exam list is as follow-
JEE Main and JEE Advanced – Joint Entrance Exam ( Mains and Advanced
BITSAT – Birla Institute of technology and Science Admission Test
LPU – NEST – Lovely Professional University – National Entrance and Scholarship Test
AUEET – Andhra University Engineering Entrance Test
WBJEE – West Bengal Joint Entrance Exam
GEEE – Galgotias Engineering Entrance Exam
GATE – Graduate Aptitude Test in Engineering
SITEEE – Symbiosis Institute of Technology Engineering Entrance
IPU CET – Indraprastha University Common Entrance Test
UPSET – Uttar Pradesh State Entrance Exam
UPE SEAT – University of Petroleum and Energy Studies Engineering Aptitude test
BCECE – Bihar Combined Entrance Competitive Exam
MHT CET – The Maharashtra Common Entrance test
UK SEE – Uttarakhand State Entrance Examination, etc.
The above mention entrance exams are state-level and national-level exams that universities and states conduct. For More Details, you can check the official websites of different colleges or universities.
Robotics Engineering Courses:
As you know engineering is a huge field. Just like other engineering courses, A Robotics Engineering course has specialized fields that candidates can pursue. The particular fields list of robotics engineering are given below-
Automation
Micro-Robotics
Bio-Cybernetics
Medical Robotics
Digital Electronics and Micro–Processors
Design and Control
Robot Manipulators
Signal processing
Artificial Intelligence
Air traffic Management Systems
Computer-Aided Manufacturing
Computational Geometry
Robot Motion Planning
Computer Integrated Manufacturing System
Mechatronics Course
Robots Manipulators
Subjects and topics for Robotics Engineering Course:
Robotics Engineering Course is an amalgamation of various specializations. The major subjects that you can start reading before pursuing any robotics engineering course. Here you can check the whole list of important topics-
De-mining Robot: Embedded Robot Controller
I/O Interface, and PWM Amplifiers
Drives and Actuators
De-mining Robot: Controller Software and Sensor Inputs
Control Components
Control Software – 1
Control Software – 2
Sensors – 1
De-mining Robot: Implement Basic Sensor-based Controls
Plan Strategy for De-mining Task
Kinematics – 1
Tele-robotics and Virtual Reality
De-mining Robot: Refine De-mining Operations
Statics, Energy Method
Hybrid Position-force Control
Rescue Robot: Stage B – Prototype Implementation (cont.)
Dynamics – 1
Rescue Robot: Stage C – System Integration
Computed Torque Control
Legged Robots, Multi-fingered Hands
Kinematics – 2
Differential Motion – 1
Differential Motion – 2
Differential Motion – 1
Differential Motion – 2
Compliance, End-effecter Design
Sensors – 2
Legged Robots, Multi-fingered Hands
Non-holonomic Systems
Dynamics -2
Navigation
Key Topics for robotics engineering course:
Robotic Engineering
Motion Planning
Artificial Intelligence
Machine Learning
Computer Vision
Computer Programming for Robotics
Top college/universities/institutes offering robotics engineering course:
For the past few years, Indians works on the front foot in the engineering field especially robotics engineering. Several colleges in India provide a wide range of learning in the field of robotics engineering. They prepared their students to tackle real-life challenges in their respective job areas. Here, the top colleges are listed below-
Indian Institute of Technology – Kanpur
This popular institute offers M.Tech and Doctorate Programmes in the robotics stream. The institute mainly focuses on candidate technical skills and provides them in-depth knowledge of robotics devices associated with cover designing, controlling handling, testing, and implementation of robotics devices. Apart from this, candidates will be prepared to understand electrical hardware and integrated mechanical robotics devices.
Indian Institute of Science – Bangalore
The best thing about this institute is, it offers multiple robotics programs such as Dynamics and Control of Smart Materials, Design of Cyber-physical Systems, and Foundation of Robotics. IISc mainly focuses on the development of engineers by giving them various robotics solutions and mechanical techniques. The candidates will work with intelligence and smart materials during the course period.
BITS Pilani – Pilani
BITS Pilani offers a wide range of robotics courses such as Mechanism and Robotics and Mechatronics and Automation and among others. BITS Pilani is approved by the Centre for Robotics and Intelligent Systems for robotics courses. Apart from this, it offers other higher degree, integrated degree courses, and doctoral programs in robotics engineering.
Jadavpur University – Kolkata
Jadavpur University offers M.Tech in Intelligence Automation and Robotics Course under the Department of Electronics and Telecommunication Engineering. The course provides an in-depth understanding of mathematical foundations, automation, and engineering theories. Moreover, the institute focuses on the cognitive technologies and implementation of creative robotics systems.
Indian Institute of Information Technology – Allahabad
The institute offers three major programmes in robotics – M.Tech in Robotics, M.Tech – Ph.D. Dual Degree in Robotics and Integrated M.Tech in Robotics. This institute provides in-depth knowledge of computational intelligence, mathematical, formulation of Knowledge, Data Mining, and Humanoid Robots. Throughout the course, candidates will enable to understand the basic knowledge of computer programming, communication technologies, and graphics and algorithm methods. On the other behalf, the institute is associated with top-notch companies that offer job placement to professionals.
Manipal Institute of Technology – Manipal
In this institute, students can opt for M.tech in Industrial Automation and Robotics course. The institute offers conceptual knowledge and prepares candidates for on-field work. The best part about Manipal institute is that it has an excellent infrastructure to provide necessary hands-on training in laboratories. It also provides advanced laboratory facilities such as sensors & actuators, microcontrollers, hydraulics & pneumatics, and PLCs. Moreover, candidates will equip knowledge of robot dynamics, robot kinematics, motion and control, simulation & modeling of robots, etc.
Vishwanath Karad MIT World Peace University – Pune
Under the school of Mechanical Engineering, Dr. VKMIT – WPU provides B.Tech in Mechanical Robotics and Automation course. The institute aims to prepared aspirants for the construction, operation, designing, and applying methods of robotics. The institute is famous for its education system in which students will enable to equip technical skills regarding the robotics industry. Under the supervision of experts, candidates will learn to analyze, optimization of advanced robots, and other mechanisms methods.
Lovely Professional University – Phagwara, India
With the association of BN- Hitech Mechanics, LPU offers three major courses under robotics engineering – B.Tech in Robotics and Automation, B.Tech in Mechanical Engineering, Robotics and Mechatronics, and M.Tech in Robotics. Throughout the entire program period, aspirants will get to know about thermal specialization, the manufacturing of robots, and the designing of new robots.
Amity University – Noida, Uttar Pradesh
The Amity University offers B.Tech in Robotics engineering including electrical engineering and applied mathematical knowledge. The course prospectus offers advanced learning of autonomous robot systems and robot perceptions. Graduates from this institute will get desirable jobs on the completion of the course.
SRM Engineering College – Kanchipuram
This college offers three important courses under the robotics stream such as- M.Tech in Mechatronics Engineering, B.Tech in Mechatronics Engineering & Robotics, and M.Tech in Robotics. Under the supervision of teachers, candidates can learn various topics like intelligent mechatronics systems, industrial automation, vision-guided robots, and others.
Different Job Roles for Robotics Engineer:
A Robotics Engineer can be pursuing different job roles such as Robotics Programmer, Robot Designer Engineer, Robotics System Engineer, and Robotics Test Engineer.
Robot Design Engineer – A Robot Design Engineer is a qualified professional who uses advanced equipment and designing software to design the various factors of a robotics infrastructure.
Robotics Programmer – These professionals equip skills of robotics technology to design, operate and implement the various business processes in their respective areas.
Robotics Test Engineer – Robots Test Engineer are the professionals who are trained to design and establish an automatic system, whether they are safe for customers it can be tested by the Robotics Test Engineer.
Automated Product Design Engineer – The major responsibility of the automated product design engineer is to create the automated products and deliver them as per the demand of customers. They are responsible to invent reliable automation systems.
Top Recruiting Organization or Companies:
A Robotics Engineer can seek jobs in the following companies-
Indian Space Research Organisations
Precision Automation and Robotics Indian Limited
Indian Institute of Technology
Bharat Heavy Electrical Limited
Bhabha Atomic Research Centre
Defense Research and Development Organization
Salary Packages and Future Scope:
The demand for robotics engineers is getting high, Infect they can become scientists or can seek jobs in the IITs sector. No doubt, the robotics specialized has received lucrative pay scales and a wide range of job opportunities across the world. The average salary of a Robotics System Engineer is 50,000 to 1, 50,000 per month. It may vary as per the job prospectus and experience that you obtain. So, professionals are suggested to work more and sharp skills in their respective job areas for more future growth.