Engineering is one of the most popular choices of courses after completing school. And there are numerous reasons behind this amazing popularity of the course. The first and most talked about reason being great career opportunities. After completing your engineering, you can easily apply for different government and private sectors. And this diversity and outstanding course detail make engineering a worthy choice for the students.
In the article, we are going to talk about the engineering job field and will help you understand how you can become a reputed engineer in India with the help of different undergraduate and postgraduate courses from top-rated Engineering colleges in India. So, if you are planning to do engineering after your schooling, and are looking to know more about the field, this is the right place to be at. Stay with us until the end of the article and know how you can become an Engineer.
Eligibility Criteria for becoming an engineer in India
First of let's talk about the eligibility criteria to become an engineer. In India, there are several categories of courses that can help you enter the engineering field as an engineer. Here are the different categories of Engineering courses and their educational prerequisites. Have a look at them once and get the best info about the engineering courses.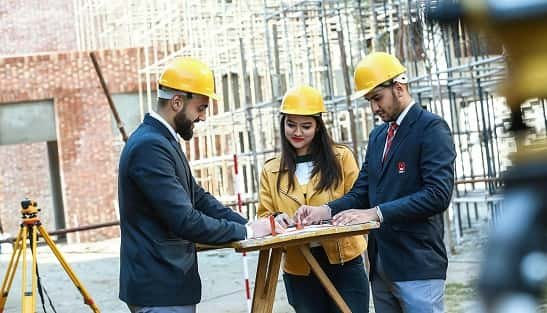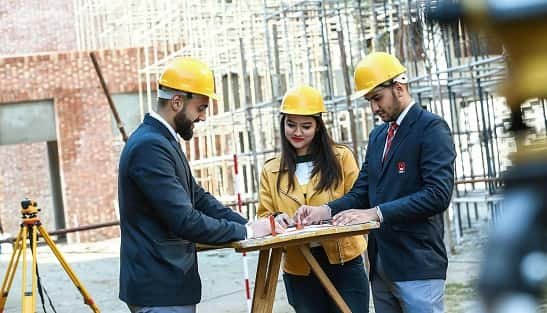 Undergraduate Engineering Courses
For the different undergraduate engineering, the candidate should have completed his/her school with Science stream and with a minimum of 65% marks. In addition to this, you need to clear the Engineering Entrance Test conducted yearly on both the National and State level. Most of the Undergraduate engineering courses offer excellent placement opportunities. So, you can start earning money right after your graduation.
Postgraduate Engineering Courses
For those students who are looking for more reputed job profiles, excellent salary and better knowledge of the field, the postgraduate courses are the best to go with. After completing the postgraduation, you can either opt for research or go with a better job in MNCs and government sectors.
To enroll in a PG Engineering Course, you need to score at least 65% in your graduation. Postgraduate courses also need students to clear the entrance exams. So, depending on the state you are in, and the college you prefer to enroll, go through the eligibility criteria and entrance test results.
Different Engineering courses available in India
Now let's talk about the different engineering courses that you can opt for after completing your school for entering the engineering field. Have a look at these and know which one of them is the right course for you.
BE and BTech are the most popular courses to enter the Engineering field. Both the courses are undergraduate degree courses having a duration of four years. After completing your 12th with science stream, you can enroll in a better college in your city or go with the renowned Engineering Institutes of India. IN addition to having a good academic record, you also need to clear the Entrance exams intended for Engineering courses. So, start preparing from school to enter the reputed Engineering college and get admission to the best college for Engineering.
ME/MTech is another popular choice for the students who are not willing to join the job after graduation and are looking forward to earn more knowledge of the field and want specialization in the field. After completing your postgraduation, you can either opt to work for MNC or try your hands on teaching students about Engineering as a Professor.
Diploma and Certificate Courses
Apart from the degree courses, you can also opt for the certificate courses. With these courses, you can easily get more knowledge about your specialization and stream. Also, there are Diploma and postgraduate diploma courses for different engineering streams. In addition to providing extra knowledge of the field, these courses do not any entrance tests. Just contact the institute and you will be able to enroll in these add-on courses for engineering. You can do these courses after the 12th or after your degree courses depending on your needs.
A step-by-step guide to become an engineer in India
Engineering is a perfect course for the users who are looking to get a promising career after course completion and if you prepare well, you can easily become an engineer in a reputed firm right after your graduation. Here is a step-to-step guide for becoming an engineer in India. Have a look at them and decide how you should prepare to get the best results.
Step 1: Complete your 12th with science steam and 65%
Step 2: Apply for the state-level Engineering test and/or All-India Engineering Entrance Exam. There are numerous options for the exam, and you can choose the most suitable one for yourself.
Step 3: The next step is counseling. Depending on the score you get in the entrance examination, you can attend the counseling done by different private and government colleges in India. Depending on the colleges and their reputation, you can easily opt for the best college for your preferred engineering stream.
Step 4: After the curse completion, you can either opt for the direct placement or brush up your skills and apply in the MNCs for the post of engineer depending on your stream.
These were the four simple steps to become an engineer in India. Just make sure that you choose the right college and stream to get the best engineering job at MNC or the government sector.
Job profiles for Engineers in India
After completing your graduation/postgraduation in Engineering, you can either look for in-college placements for getting a job in the field or apply individually according to the vacancies. The different job profiles that can opt for after completing the engineering course are
System Engineer
Software Engineer
Quality Checking Engineer
Programmer
Engineer-in-Chief for government projects
Along with these, there are numerous other job profiles that you can work for after completing your graduation/postgraduation. The only thing that you need to keep in mind is the college you are choosing for engineering and the rest will depend on your skills and academic performance.
Qualifying examination: Syllabus and exam pattern
In order to qualify for the engineering stream courses, you need to clear the Engineering Entrance exam. And for this, it is essential that you know the complete syllabus and latest exam pattern for the engineering entrance exam.
First, let's talk about the syllabus of the exam. Typically, the exam has three sections, Physics Chemistry and Mathematics. The course syllabus for all these three subjects is what you have learned in the 11th and 12th classes of your schooling.
That means you need to practice all the concepts you have learned in school and try to learn the shortcut methods of all the problems to get the results quickly and effectively. Some of the topics that are you need to focus on are
Mathematics:
Vectors
Matrix
Probability
Complex numbers
Binomial theorem
Physics:
Current Electricity
Heat & Thermodynamics
Laws of motion
Ray Optics
Electrostatics
Chemistry:
Chemical Kinetics
Chemical Bonding
Chemical Thermodynamics
Alcohol Phenol and Ether
Surface Chemistry
Atomic Structure
Redox Reactions
Apart from these, there are several other topics that you can easily find out on the website of Entrance exams website and from the coaching institutes.
Preparation tips to crack the entrance test and interview
As said, to enter the engineering college, you need to qualify for the entrance exams, and this is what we are going to talk about in detail here. If you are planning to enroll in engineering courses after the 12th, this section will help you prepare and qualify for the entrance exam. Here we are going to discuss a few tips and tricks that can help you gain better marks in the exam and get assured of getting a better college for engineering. Have a look at them once and then start the preparation.
Tip 1: Join a practice group or preparation class for engineering entrance. There are plenty of online as well as offline classes that offer these stuff for free or minimum fee for students who need practice on certain topics.
Tip 2: Search for the online mock test papers for getting better practice and knowledge of the exam paper's pattern.
Tip 3: Try to learn the shortcut methods for solving the problems. You can either join a class for this or opt for the online videos for the specific tricks you need to learn. practice more and clear the exam with good marks.
Tip 4: The last tip is to look for good textbooks that not only tell you about the most important topics for the different subjects and know about the different tricks and tips to score well in the exam. Also, you will know about the shortest and reliable way to solve tough-looking problems.
By keeping these four tips in mind, you will be able to get the best results in your exam and get a brilliant college on the basis of your marks.
Colleges/Universities you can rely on for better Engineering courses
Engineering courses are popular in India. And apart from the local colleges and universities, you can also opt for the country's best Engineering institutes depending on your exam's score. Here are a few institutes that you can opt for getting a good job in a reputed firm after course completion
Vellore Institute of Technology, Vellore
Birla Institute of Technology and Science, Pilani
PSG College of Technology, Coimbatore
Amity University
Thapar Institute of Engineering and Technology, Patiala
By choosing one of the above-listed colleges, you can be assured of getting better knowledge about the field and in the end get a better job opportunity depending on your academics and skills that can help the MNCs to grow.
Conclusion
So, this was the complete information that you will need to know about in order to work as an engineer in India. You can easily use the information and get better results and learning the engineering concepts from a reputed engineering college. So, use this information to find a better college and earn knowledge that can help you become a better engineer in the future.