All of us have been fascinated with flying, and well, we hardly know anyone who does not love to fly. Imagine having a career in the field where you get to fly every day. There are a few options that offer you such an opportunity. One of them is that of an air force pilot, the second one is the commercial pilot, and the third one includes a cabin crew member. Being a cabin crew member is considered to be a very glamorous and prestigious job. A lot of people prefer to work as a cabin crew after they complete 10+2. The career has a good scope, and many training institutes offer you training to become a cabin crew member.
Many people have a misconception that the cabin crew is responsible for serving the passengers. Well, this is partially true because the cabin crew is not just responsible for serving the passengers, but they are also responsible for ensuring the safety of passengers when the plane is in the air. They help them with the safety procedures, and they play a pivotal role in case of evacuation. If you are willing to be a cabin crew, then you are certainly at the right place. In this article, we have listed the ways you can become a cabin crew member in India. It should be noted that the profile of the cabin crew is not just restricted to female candidates, but the profile is open for male candidates as well. Let us learn more about this career option now.
Responsibilities of Cabin Crew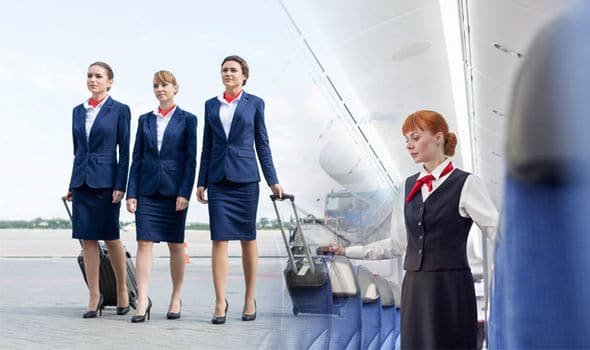 Before we proceed and tell you about becoming a cabin crew in India, we want to take some time and share the responsibilities associated with the job role. Below are the major responsibilities of a cabin crew member; however, it might not be restricted to these only.
Assisting & Attending to passengers
Briefing passengers about the safety protocols and procedures
Checking the cleanliness & equipment of the aircraft.
Conducting Pre & post Flight Checks
Making the announcements during the flight.
Managing the emergencies along with evacuation.
Operating aircraft equipment for routine tasks
Preparing the flight report.
Providing medical care to the passenger in case of a medical emergency.
Eligibility to Become Cabin Crew
You have checked the list of major responsibilities associated with the cabin crew role. Now, let us talk about the eligibility criteria. This list is going to belong because the job role itself is very demanding. So check out the details below.
Proficient with English, and the candidate should be able to converse comfortably in English.
The candidate should be between 18 to 26 years of age.
The candidate should have completed 10+2 with 50%.
The candidate should have a diploma, degree or certificate in hospitality.
The candidate's minimum height should be 157.5 cm, and the weight should be proportional to height.
The candidate should have an Indian Passport.
The candidate should be unmarried and should be in good health.
The candidate should have a clear complexion.
The candidate should also have 6/24 vision in both eyes.
Skills required are

Ability to Stay Calm
Ability to Work & Odd Hours
Communication Skills
Confidence
Good Physique
Great sense of responsibilities
Pleasing nature
Positive Attitude
Presence of mind & proactive
Soft Spoken
Team Spirit
Institutes & Courses for Cabin Crew Training
If you have the skills listed above, you would need to take up the course in one of the institutes to become the cabin crew. You need to ensure that you learn the skills from the institute. Some of the institutes offer placement services, and they would help you in arranging interviews as well. Talking about the placement process, you will have to go through several rounds, including a written test, group discussion and an interview.
These institutes cover different courses, and we have listed the top choices below.
Certificate Courses in Air Hostess
Diploma in Airline Cabin Crew
Diploma in Cabin Crew Services & Hospitality Management
Moving on, we have listed some of the popular academies in India that provide training for cabin crew. Check them out below.
Optima Air Hostess Academy
Frankfinn Institute of Air Hostess training
Livewell Academy
Pacific Airways
Talking about the path, you need to enrol in one of the institutes that offer these trainings. You can enrol in the institute after you have cleared 10+2. You should note that these institutes also offer a lot of scholarship to the students who have scored well in 10+2. Today, a lot of airlines have also started providing training to the candidates. If you would like to take the training directly from the airline, then you would need to keep an eye on the upcoming batches. You can apply for the batch, and if you are shortlisted, you will have to pay the fee and take the training. Post completion of training, you will go through selection rounds, and if you are deemed eligible, you will be offered a permanent role with the organization.
The airline offers training of 2 to 3 months after they have been hired, and post-training, the candidate is assigned flights where they need to work with senior flight attendants.Lastly, these institutes' fees vary, and the minimum fee that we came across was Rs 1 lakh for the whole program. The maximum fee that we came across was Rs 2.2 Lakh for the program.
Subjects for Cabin Crew Training
The syllabus and the topics covered by these institutes are common and the subjects included are listed below.
Aircraft Familiarization
Airport Familiarization
Communication Skills
Emergency Situation Handling
First Aid
Flight Evaluation
Food & Catering Services
Grooming & Presentation
In-flight Procedures
Leadership & Coordination
Passenger Handling
Passenger Psychology
Personality Development
Technical Training
Top Recruiters for Cabin Crew
By working as a cabin crew, you have the option not only to work with Indian Airlines but also have the option to work with foreign airlines. They also employ Indian Cabin Crew for a particular sector. Check out the options available below.
Air Asia
Air India
British Airways
Cathy Pacific
Delta Airlines
Emirates
Go Air
Indigo Airlines
Lufthansa
Qantas Airlines
Singapore Airlines
Thai Airways
United Air
Vistara Airlines
If you are not interested in working for commercial airlines, you can also work as corporate airlines, chartered airlines or other similar options. You can even get an opportunity to work as an air hostess training institute or personality development institutes.
Pay Scale for Cabin Crew
Another important thing for the person doing a job is the pay scale. Now, you might find it surprising, but the basic pay is very low, and the candidate might earn as much as Rs 30,000 as their basic pay. The flight allowance is, however, huge, and the cabin crew is paid for every minute after the doors of the aircraft has been closed. It can be said that the salary of the cabin crew would be close to Rs 5 Lakh per annum at a junior level. At the mid-level, the candidate will earn close to Rs 7 LPA, and as they progress, they can earn close to Rs 14 LPA. These numbers are just indicative, and the actual compensation depends on your organization, skills, and performance.
You should note here that you can be rostered for duty at any time. You will be working 9 to 12 hours every day for the work, and you will also have to serve on the weekends. You get two holidays in a week. In most cases, you are eligible to fly 36 to 50 hours a week. You should also note that you will have to spend time outside of your city where the company will be providing accommodation and food for you.
Career Path for Cabin Crew
The career Path for cabin crew is quite well-define. You start as an air hostess or air steward, and you need to look after the passengers in this role. Apart from taking care of the passengers, you would also need to take care of the flight procedures. You can progress through and work as a senior flight attendant or a lead flight attendant. Starting from the low-cost airlines, you can switch to full-service airlines, which offers a better growth opportunity. In the later years of the career, you can work as ground staff, trainer, crew manager or crew scheduler. The roles mentioned in the latter part of this section are a lot less demanding, and you will have a regular shift if you work as a trainer, recruiter, crew scheduler or crew manager.
Final Verdict
This was all about becoming the cabin crew member in India. You should note that you have a lot of options in the aviation industry. Moreover, the industry is growing at a rapid pace. You can exploit the opportunity and work as a cabin crew. We have also added some of the bonus content for you where we have listed the salary details, career path and other things. All this information should be a determining factor when it comes to becoming a cabin crew. If you would like to get any more information about the career as a cabin crew, you can write to us in the comment sections. We will get back to you with the information that you need.