Archaeology is termed as the study of ancient human past through material remains. It is called a sub-discipline of Anthropology, which involves the study of human cultures. The experts are known as archaeologists.
Archaeology is one of the popular courses that people are choosing for a bright career.
Who are Archaeologists?
Archaeologists are the experts that study the remains of past civilization and groups of people. They are the ones that study the things that ancient people have left behind long ago, as their bones, tools, clothes, home, etc.
These Archaeologists gather various evidence of the human past from different places and observes and examine the results. If you want to be an archaeologist, then you should have an in-depth knowledge of geography and history.
What is the work of Archaeologists?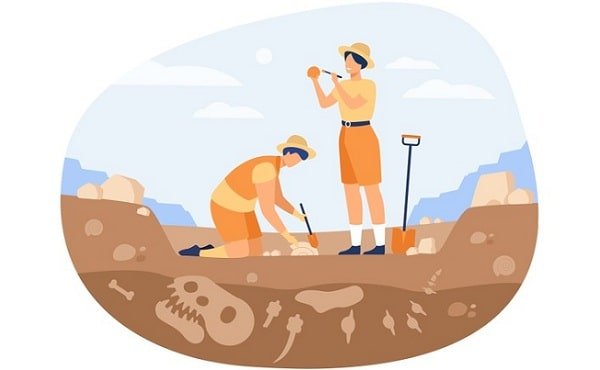 An Archaeologist is an expert that performs excavation and also studies the fossils and remains for understanding better the past civilizations. These social professionals find and preserve the artifacts like ancient ruins and are also responsible for existing artifacts that everyone possesses today. These experts make use of their findings for interpreting and explaining human behaviors in past and better understand the living species evolution.
As an Archaeologist, one has to perform the following work that includes:
Surveying of ground or using satellites for finding archaeological sites.
They perform surface surveys for examining the particular area.
They evaluate the significance of a site and complete a report for turning it to the office of State Historic Preservation.
They plan and execute research projects which are related to answering questions of human activity.
They also have to record data & records of what is found at any research site.
They need to analyze and form different conclusions about the culture and behavior patterns and also different aspects of humanity.
They present conclusions and findings of a group of organizations and people.
What is the eligibility criterion to become an Archaeologist?
For becoming an Archaeologist in India, you need to fulfill the following requirements:
You should have scored at least 50% of marks in Class XII in any of the streams from a recognized board.
You must be under graduated in the subject like History, Ancient History or Archaeology.
For having a master's degree in Archaeology, you should have scored at least 50% marks in the undergraduate degree. Some of the colleges also allow students from any stream for M.A. Archaeology.
Some of the universities conduct their entrance examination for admission in MA Archeology course. The students are required to qualify for their entrance test for securing their position in college.
Skills and study required for being an Archaeologist in India
For becoming an archaeologist in India, it is advised by the experts to choose Humanities in Class XI and XII. The subjects like Sociology, Anthropology, and History, etc helps in building a strong foundation for a career in archaeology.
 An undergraduate degree in History or Geology, Anthropology, and archaeology and a master's degree in Historical Studies and archaeology is needed for qualifying and working as an archaeologist.
The doctorate offers better opportunities and good pay. It opens up more options in areas of academics, research, and high-end level in the Archaeological Survey of India.
The students who haven't opt for humanities in past but still want to make their career as an Archaeologist can opt for humanities as a subject while pursuing an Archaeology course.
One must check the eligibility requirements and curriculum of different colleges, before applying.
The archaeologists have a great interest in one's heritage and history, for preserving one root and thirst for discovering more. On the other hand, a knack for research, a sharp observant mind, an eye for keen detailing, and a good amount of patience are some of the qualities that a person should have if they are planning to become an archaeologist in India.
Colleges offering Archaeology courses
In India, it is necessary to have a master's and bachelor's degree in Archaeology for working as an Archaeologist. A Ph.D. is needed for working as an academician in a college or university.
 Here are some of the institutes that offer a bachelor degree in Archaeology
Mahatma Gandhi University located in Kottayam
Barkathullah Vishwa Vidyalaya located in Bhopal
Maharaja Sayajirao University located in Baroda
Banaras Hindu University of Varanasi
The top-notch institutes providing master degree in Archaeology are listed below:
The Delhi Institute of Heritage Research & Management
The University of Kerala in Thiruvanthapuram
Bangalore University in Bangalore
Institute of Archaeology in New Delhi
The courses offered in these universities also vary from Museology to Archaeology, heritage management, and ancient history.
Scope of an Archaeologist in India 
India is one place that has the most well-planned and stupendous ancient cities as well as historical monuments that are etched on the map. It has great dynasties like the sultans, the Mauryas, and even the Mughals.
The ASI, Archaeological Survey of India is responsible for protecting and restoring these historical movements. It also takes care of all the archeological activities that are performed in India.
The Archaeological Survey of India is having various branches that include,
Temple Survey
Museums
Underwater Archaeology
Prehistory
Excavation and a lot more
It employs a great number of scientists, epigraphists, archeologists, conservators for its work. There are some organizations like the National Museum, Private and Public Museums, Indian Council of Historical Research, and others that keep on recruiting new and talented Archaeologists.
How you can become an Archaeologist in India? 
There are some of the important steps that you can follow for turning out as a practicing Archaeologist:
Grab a bachelor degree
Participate in fieldwork or do an internship
Get a master degree
Go for a doctorate
Get employed
Grab a bachelor degree
This is the first step for all the candidates that want to be an archeologist. You need to go through a bachelor's program in the field of anthropology or any related field like geography, history. Many of the archeology undergraduate programs offer students hands-on experience through labs & fieldwork programs.
Participate in fieldwork or do an internship
Many aspiring archaeologists go for participating in the internship program while doing their bachelor course or after completing it. The internship process offers them fieldwork experience which is important for most archaeology jobs.
The common places that can offer archaeological internships include government agencies, museums, and archaeological organizations.
Get a master degree
The entry-level archaeologist jobs require only a bachelor's degree, but if you are willing to join a high-end level archaeological job, then you should have a master's degree. The master's degree allows students around for developing their technical skills, which is important for working as an archaeologist, and to choose on which archeology field they should focus.
Some of the common master degree offered for this job includes archaeology and anthropology program.
Go for a doctorate
If you are willing to be an archaeological lecturer in any of the colleges or want to lead the high-level projects of archaeological departments, then you should go for a Ph.D. degree in archaeology or a related field. You just need to spend two or three years getting a doctorate and few months in field research for learning a dissertation.
Get employed
Based on the archaeologist type that you want to be, and the location where you are willing to work, you can start searching for a job for yourself after getting your bachelor's or master's degree. Getting a job as an archaeologist as soon as you are eligible and have gained experience is possible. This can help you in having better career opportunities.
The entry-level jobs for any archaeologist include research assistants, site excavation technicians, and also as archaeological laboratory technicians.
Career opportunities for an Archaeologist
Archaeology has completely captivated the minds of people around. Understanding the history, like from where we have come, how the world has changed, and such things attract almost everyone around.
There are several Archaeological jobs that one can apply for, this includes:
You can join as a Deputy Superintendent Archaeologist
As an Archaeological Lecturer
Work for museum preservation
Site excavation and preservation and many more
Pay scale and salary of an Archaeologist in India
Indeed, everyone who wants to build their strong career in any field considers the pay scale or salary of a particular job. Well, for an Archaeologist in India, the sky is the limit based on their ability and determination.
In India, as a beginner, you can expect a salary of around 3 to 4 lakhs in a year.
The well-qualified and experienced professionals can expect a salary package of around 6 to 9 lakhs in a year.
The salary of an archaeologist depends on their working area, education, sector, experience, skill level, and major other factors. A Ph.D. degree is also a must for a bright career and a good package in this industry.
Conclusion
Archeology as a career is best for all those that derive self-satisfaction to discover a part of the culture and a history that is long lost in past years. One needs to be very hardworking and patient enough to do wonders in this job profile.