Living a healthy life is very important for everyone. To maintain a healthy lifestyle, you will have to make sure that you eat properly and work out at least a few days a week. But if you are someone who does not like to work out, then Yoga is the best choice. It will not just keep you healthy but will also help in keeping your soul healthy and stress-free. Yoga also makes your body flexible and mentally strong. But for Yoga, it is always good to have a yoga instructor than just trying it yourself by watching some videos. Everybody has its own demands, and only an experienced Yoga professional will be able to suggest you the right things.
Making a career as a Yoga instructor is not going to be an easy job for you. You will have to get some certifications done and have good experience handling people. If you are someone who aspires to become a Yoga instructor, then this article is for you. Here we have provided all useful information that can be used for becoming a yoga instructor in India.
Who is a Yoga Instructor?
A Yoga instructor is a professional who has a professional degree in Yoga and will be able to train you in Yoga. There is a lot of demand for Yoga instructors in India, and that is one of the reasons why this is a good profession. Starting from schools to hospitals, you will be able to find Yoga instructors everywhere. Having a perfect and fit body along with good knowledge of meditation and Yoga can help you become a good yoga instructor in India.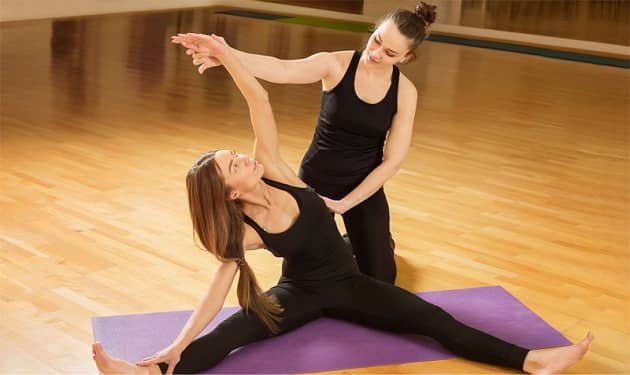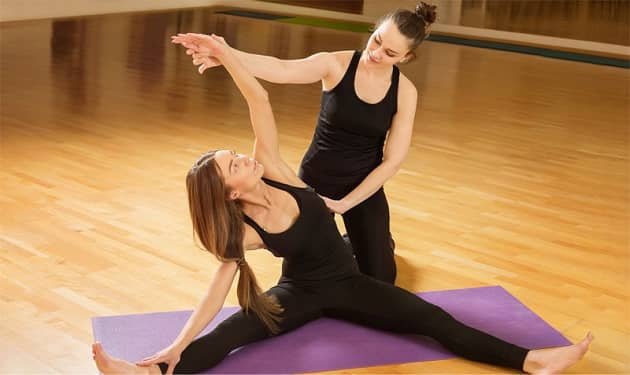 People across the world are very much aware that it is only Yoga that can help in keeping both mind and body in good condition. Maybe Yoga got popular recently, but it is in practice for the past three thousand years. Just like alternative medicine or holistic medicine, Yoga is also a form of medication that will treat you from the inside. You may need certain certification courses, but most importantly, you need to have deep knowledge about the science of Yoga. So, here is some more useful information about how to become a Yoga instructor in India.
Eligibility Criteria:
When you wish to make a career as a Yoga Instructor, there are certain things that you need to meet, and here is the eligibility criteria for becoming a Yoga instructor.
The candidate should have completed the 10+2 course from any recognized university or college in India.
You should have scored at least 50 percent marks in the 10+2 standard.
Make sure that you are medically fit to take admission for any of the courses that help you become a certified yoga instructor.
How to become a yoga instructor?
Here is a step-by-step guide on how to become a yoga instructor:
First, you should have completed your 10+2 standard from any recognized colleges or university in India with 50 percent marks.
Once you are done with the 10+2, you will have to enroll yourself in any of the courses that are related to Yoga training. You have different kinds of courses from a one-year diploma course to three-year Bachelor's degree courses as well. We have listed a few courses that can be very useful for you to learn about the courses.
You should complete the registration process and get admission to one of the best colleges in India.
Once you complete the course, you can continue your education if you wish to and get a master's degree in Yoga as well.
Some best course to take up:
If you are looking for some of the best courses that you can complete to become a Yoga instructor, then you need to be very careful. There are Diploma course, PG Diploma, Certification course, Bachelor's degree, and Master's degree as well. So, if you want some of the best courses, then you will have to consider:
B.A(Yoga)
M.A(Yoga)
Bachelor of Naturopathy & Yoga Science
B.Ed(Yoga)
M.Ed(Yoga)
Diploma in Yoga
PG Diploma in Yoga Education
BSc in Yoga
MSc in Yoga
Certificate Course in Yoga
Diploma in Yoga and Naturopathy
Syllabus or course details of Yoga courses:
As part of the course courses, you will be able to get in-depth knowledge about different kinds of Yoga asanas and Postures. Along with that, you will also be able to gain good knowledge about breathing techniques or meditation. The course fee is going to be somewhere between Rs 5,000 to Rs 45,000. It all depends on the college or university that you are selecting. Here we have listed some of the details about the course, like what you will learn as part of the course:
Asanas
Asana variations, from Basics to advanced level
Basic yoga postures
Deep relaxation with autosuggestion
Postural alignment
Release of blocked energy
Sun salutation
Kriya
Basti
Dhauti
Kapalabhati
Nauli
Neti
Tratak
Apart from that, you will also learn about Pranayamas, Yoga Physiology and Anatomy, Karma and Reincarnation, Other Teaching Practices, and much more. It all depends on the kind of course that you are opting for and the duration of the course. Above all, even the college that you are choosing will also be able to make the difference. So, this is just an overview of what you will be learning as part of the Yoga courses in general.
Job Opportunities:
If you are an aspirant who wants to become a Yoga Instructor, then you need to be very good at asanas and meditation. In-depth knowledge of these will make you the best one and also will provide you a number of opportunities as well. So, once you complete this course, you will be able to get the roles of:
Yoga Instructor: One of the most common roles that you get to play when you complete any course in Yoga is Yoga Instructor. Along with the Yoga postures, you will also be able to teach the students about meditation and its importance. Not everyone will be able to adapt to the positions very easily, like pregnant women and people with arthritis. So, this is where the role of a Yoga instructor is very important.
Yoga Advisor: A Yoga advisor is like a Guru who will help people who want to start their journey in Yoga. They will also help others to learn about the different kind of options available for Yoga. If you are already into Yoga classes, they will help you clear all your queries and other things.
Yoga Therapist: A Yoga Therapist will help in providing treatment to people who are having physical health issues like diabetes, back pain, asthma, high blood pressure, and other health issues. Along with these, a yoga therapist will also deal with mental issues like anxiety, depression, stress, and other related problems.
Yoga Researchers: A Yoga Researcher will work on the research part. They try to study and research the different yoga postures and how they affect the human body. How well they will be able to treat any kind of problem is important.
Yoga Aerobics Instructor: As a Yoga Aerobics instructor, you will be able to mix the techniques of Yoga with aerobics. They will help you make your body more fit both mentally and physically as well.
Yoga Consultants: A Yoga Consultant will be able to help you in checking out different programs or to customize a program for your particular needs. They will have their own studios or knowledge of different studios and hence you in finding the right one for you. You can consult them with your requirements, and they will give you the best information possible.
Yoga Specialist: A Yoga Specialist is a person who is specialized in a particular field of Yoga, like for pregnant women, for kids, for people with arthritis, seniors, or people with some special needs. They will only be able to train in that particular specialization. These are very experienced professionals with years of experience in this field.
Areas of recruitment:
It is important for you to understand the areas where your placement can be done as a Yoga instructor. That will give you some important information like where you can work and what your choices are. That will help you decide if this profession is good for you or not. So, the areas where a Yoga instructor will be placed are:
Centre Research Centers
Community and recreation centers
Consultation
Corporate offices
Fitness Centres
Government Schools
Gym
Health clubs
Hospitals
Management
Non-Profit Organisations
Private Schools
Private Yoga classes
Religious Institutes
Resorts
Yoga and Naturopathy colleges or institutions
Apart from these, you can even start a Yoga coaching center of your own if you like to start a business. This will help you have your own business and work as per your requirements. You will also be able to earn well if you start your own service.
Pay and Perks:
When talking about the salary of a Yoga Instructor, many people think that they will not be able to earn a good salary. But that is not at all true. Whether you are working for any company or you have your own yoga center, you will be able to earn pretty well. The salary of a Yoga instructor will depend on the role that you play in the company and your years of experience as a yoga instructor. As a Yoga Instructor, you will be able to earn Rs 2,00,000 to Rs 5,00,000 per annum. A Yoga therapist will be able to earn between Rs 3,00,000 and Rs 6,00,000 per annum, while a Yoga specialist will earn from Rs 4,00,000 to Rs 9,00,000 per annum, and a Yoga Researcher will earn from Rs 2,00,000 to Rs 5,00,000 per annum. Apart from these, you will also have roles like Yoga Aerobics Instructors, who will earn from Rs 3,00,000 to Rs 8,00,000 per annum. So, the pay will depend on the role you play.
Best colleges that you can opt for:
Any course to become a Yoga instructor is not going to be an easy job for you. You need to work very hard to become a certified Yoga instructor in India. India is one of the most popular countries in India, where a lot of people practice Yoga. Also, we have a number of colleges for getting Yoga certification course training. If you are looking for the best colleges in India for Yoga instructor courses, then here are some of them for you.
Awadhesh Pratap Singh University
Bharati Vidyapeeth Deemed University, Pune
Chaudhary Charan Singh University, Meerut
Deen Dayal Upadhyaya College, Gorakhpur
Delhi Degree College, Delhi
Dev Sanskriti Vishwavidyalaya, Haridwar
Devi Ahilya Vishwavidyalaya
Dr. C. V. Raman University, Bilaspur
DY Patil University (School of Ayurveda)
Himachal Pradesh University
Indira Gandhi National Open University
Kurukshetra University, Kurukshetra
Lovely Professional University, Jalandhar
Maharshi Dayanand University, Rohtak
Mahatma Gandhi Kashi Vidyapeeth, Varanasi
Mahatma Jyotiba Phule Rohilkhand University
Morarji Desai National Institute of Yoga, Delhi
National College of Health Sciences
Patna University, Patna
School of Ayurveda, D.Y Patil Mumbai
Swami Vivekanand Yog Anushthan Sansthan, Bangaluru
The University of Patanjali, Haridwar
Tilak Maharashtra Vidyapeeth
University of Madras
University of Technology, Jaipur
Uttarakhand Open University, Uttarakhand (Distance)
Vishwa Bharati University, West Bengal
So, this was our list of the best colleges in India. Apart from these, there are many other colleges and universities that you can find on the internet. It is always good to gather enough information about the course and the college before you enroll yourself for the course.
This was some good and useful information about Yoga and how to become a Yoga instructor in India. You should now be able to decide which is the right role for you as a yoga instructor. Apart from this, if you are a certified Yoga trainer, you will be able to teach Yoga in other countries as well. The income for a yoga instructor is pretty good as there is a lot of demand for yoga instructors in India and across the world as well. It is one of the best ways to stay healthy, both mentally and physically as well. It is also a simple course to complete if you wish to take up this career.