Tattoos are the latest trend in the youngsters, but did you know that this is not new? This is an age-old style, where ink is permanently embodied on the skin creatively. Earlier, the tattoos looked only green in color and nothing else. A small needle-like thing was used in the earlier day. People use to tattoo the names of the god or their loved ones on their hands. The designs were good but not perfect. Gone are those days before you have the best tattoo artists everywhere in India. There are many different kinds of inks, different designs, and in a very colorful way. Also, there are tattoo machines or pens that are used for embodying the ink onto the skin. All the credit to the latest and beautiful tattoos goes to the most talented tattoo artists in India.
The job of a tattoo artist is very interesting and creative. Not many people will be able to be so creative and do all the work. It needs a lot of patience to complete the job. If you are dreaming of becoming a tattoo artist, then this article is for you. We have covered almost all the important information you need to know if you wish to make a career as a tattoo artist.
Who is a tattoo artist? 
A tattoo artist is a professional who will design and apply the tattoo to your body. You have a choice of selecting from ample designs, and you can get them tattooed on any part of the body. You can get a tattoo of any design on your body. Tattoo artists have artistic skills and creative skills, with the help of making tattoos on your body. Along with talent, they should also have love towards making tattoos on someone else's body. It is not going to be an easy task. A lot of patience and concentration is very important. There will be different requirements of different customers, and along with that, there will be a lot of sitting for hours together if a big tattoo has to be completed.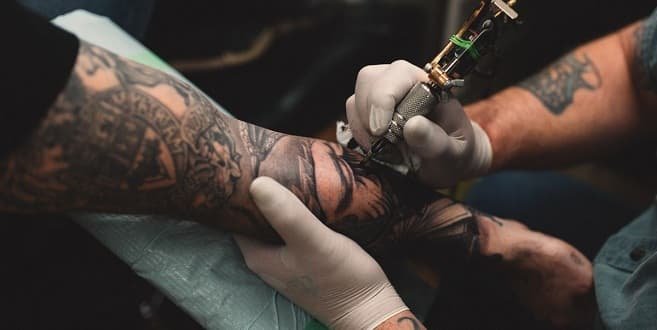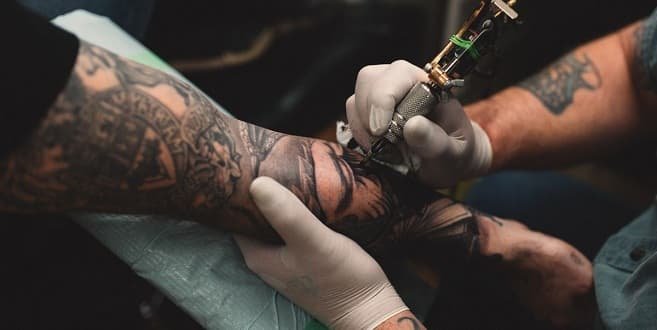 The pain is not too high, but it is not something that can be neglected as well. It is very important for the tattoo artist to work according to that and make sure that the customer feels comfortable and happy as long as they are getting it done. There will be a lot of care to be taken at least for a few hours after the tattoo is done. A tattoo artist will provide you with all the information that you need.
Here is more information about the eligibility criteria and other information for those who wish to become a tattoo artist.
Eligibility Criteria:
There are no specific eligibility criteria that one needs to satisfy if they wish to become a tattoo artist. It is good if you have completed your 10+2 with good marks as that will help you to enroll in certain apprentice programs for becoming a tattoo artist.
It is always good to have some knowledge about art like drawings, shading, and coloring from your high school level. If you do not know about it, then it is good to enroll yourself in an art training center to understand the basics of drawing. It is very important for you to have good knowledge about drawings and shading. This will help you get more creative, even with a simple design that the client chooses.
Age:
There is no maximum age limit for a tattoo ar when it comes to age limittist, but there is a minimum age limit. You should be at least 18 years old to start your career as a tattoo artist. If you have a true love for creating some amazing tattoos, then age is not at all a limit for you. You can get creative at any age. It is up to you when you wish to start your career as a tattoo artist. It need not always be a full-time job if you are very interested in creating tattoos on your clients' skin.
How to become a tattoo artist?
Here is a step-by-step guide for you on how to become a tattoo artist in India. It will not be an easy task for you to become a tattoo artist, as many people feel. So, here is what you need to do:
Take a tattoo artist course from any college or institution in India. The simple way to become a tattoo artist is to start your journey from an expert artist. You can take a few years of internship with the senior artist, and they will train you. But this alone will not help you. You will need certain educational certificates to obtain a tattoo artist license. That means you will have to attend classroom classes and learn. You will be able to learn more about how to become the best tattoo artist in India. You will provide a lot of knowledge about skin diseases, skin infections, blood-borne pathogens, and disease prevention. All this knowledge is required if you wish to get a license. As part of the course, you will also learn about how to draw, shading, blending colors, stencil construction,, and the history behind this art of tattoo. A certificate will help you get employment in top companies. You will receive a certificate after you finish the course.
You should now create your portfolio. This is very important for you to get a job or get an internship in any tattoo studio in India. You will have to design your professional portfolio. Creativity is one of the most important qualities for tattoo artists, and so you will have to make your portfolio as creative as possible. Your portfolio should contain at least 20 pictures to 200 pictures. You should keep in mind that they should all be original and showcase your creativity in it. You can also include a cover letter or a profile that explains your work and tells about your educational background.
Your next step is to complete the internship program. The internship program is usually for one to three years. This is a very important phase to start your career as a professional and individual tattoo artist. You will be able to get the certificate or license only after three years of internship at a tattoo shop or studio. You will learn the real work and some tips about the business if you wish to start one of your own. You will be able to earn a few bucks when you are doing your internship. You will have to find a perfect mentor who will train you in the right way. Drawing pictures on paper is different from what it will be when you do it on the skin. There are different tricks that you need to learn and master as part of this training program only. So, you need to be very careful while picking an expert or mentor for your internship.
Before you get started with the internship program, you may just need a portfolio. But when you get started with the work, it is important to make sure that you have your equipment. You can invest a few bucks and get an initial kit. You will get a pair of rubber surgical gloves, a heat transfer machine, stencil paper, inks of various colors and black, Needle configuration, tips, and tubes, spray bottles for alcohol and soap, Vaseline, ink caps, and a power supply cord.
Now you should get your license to start your career as a tattoo artist. With a proper license, you will not be able to start your career as a tattoo artist. The rules for tattoo artists are going to be different in each country. You need to make sure that you meet all the eligibility criteria if you wish to get the license to practice as a tattoo artist. Once you are done with the internship program, you will be eligible to get the license.
Continue learning more if you wish to make a better career as a tattoo artist. You can renew your license based on your knowledge of tattoo designing. So, if you enhance your skills, you will be able to get a better license.
Duties of a tattoo artist:
As a tattoo artist, you will have certain duties or responsibilities to take care of. Here are some of them for you:
You will have to make sure that the work area and your equipment are sterilized before every use.
You will have to practice new designs and sketch every day.
There are different tattoo movements, and you will have to keep yourself updated with those trends.
You will have to communicate with your client from time to time if required and make appointments.
There is an aftercare routine after you are done with the tattoo. You will have to make sure that your clients understand everything.
You should also keep yourself updated about the latest health and skincare practices.
Job Opportunities:
The job opportunities for a tattoo artist are high as many people love to get a tattoo done. There are some saloon and studios which need permanent staff as tattoo artists. Also, there are some malls where tattoo artists are required. You can check on the internet for job availability. It may not be possible that the paper will notifications like it happens with other professions. But if you try to find them on the internet, you will find a lot of job opportunities from various companies and studios. You can even plan to start a small studio of your own for a tattoo. It can help you earn well when compared to what you earn while working for another tattoo studio.
Salary:
When it comes to the salary part, during your internship at a tattoo studio or an expert, you will earn around Rs 10,000 per month. But once you get your license and start a studio of your own or get recruited in a good company that needs tattoo artists. Depending on the design and your skills, you will earn quite a good amount, even for a single tattoo that you make on the client's skin. Some tattoo artists are so magical that the design looks so realistic on the body. Some people get the tattoo design done on the whole body as well. So, that is how you can earn well even when you choose tattoo artists as your career.
Some good colleges in India for becoming a tattoo artist:
When it comes to the best colleges for tattoo artists, you will have to look for the best tattoo studios in your local area. You will have to get started with the internship program or enroll in any course offered by them. Then you can get started with the portfolio and internship. There are very few colleges in India that offer some courses related to tattoos. You can choose any of them and enroll in a course.
But before you enroll in any course, it is good to have a good grip on drawing and shading. This is one of the most important skills for any tattoo artist. You will have to draw tattoos of different designs on the skin. It is something that you cannot undo as it is done using permanent ink. You need to be very careful and creative enough to cover any minor mistakes that happen during the tattoo-making process.
So, this was some of the most useful information for you about becoming a tattoo artist in India. It is not a simple job for anyone as it needs a lot of patience to sit for so many hours to complete just one tattoo. If you can think out of the box and get creative with every piece of art that you make, then tattoo artist is the right career for you. You will be able to make a great career. It is a profession with lots of fun.