Did you ever see that one person who stands in front of the boss in the office and takes a note of everything that the boss tells? Did you ever wonder how they are able to write at the same speed they dictate things to them? They do not use the normal words that we usually use for writing something. They make a note of them in the form of codes or symbols, and that is called shorthand. This professional will be able to write faster with the help of shorthand and also be very fast in typing as well. Along with that, they are proficient in more than two to three languages. All together, they are called Stenographers.
In this competitive world, there is a lot of demand for stenographers. Every minute is considered to be very valuable, and these professionals will be able to complete the job in a very short time. They will be responsible for preparing all the files and drafting all kinds of emails that are sent to the clients on behalf of the companies. They are responsible for a lot of work, and so it is not going to be an easy job.
If you are someone who wishes to become a stenographer, here we have provided some useful information about how to become a stenographer, the eligibility criteria, pay structure, age, and a few best colleges that you can consider if you wish to enroll in a course related to Stenography. So, let us get started: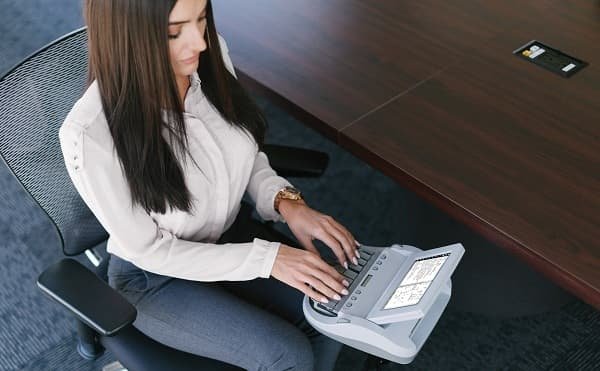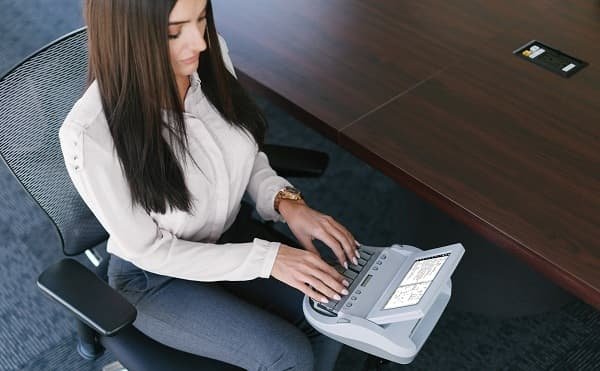 Who is a Stenographer? 
Stenographers play a very important role in any company. You will be able to find one of them in almost all companies, maybe their designations are different, but the kind of work they do is the same. They will be able to translate a language into a coded form, and it can be English, Hindi, or other languages depending on the requirement of the company where they work. The coded language is shorthand. This code language makes it easy for the stenographer to make an easy note of whatever the boss or manager asks her to type. Immediately for the shorthand, they will again be able to put down the matter on a paper or computer in a normal form. They type more than 50 words per minute, and that is a quite good speed for any stenographer.
The demand for stenographers is very high, and that is because of the kind of profession they are into. Any company needs a person who can easily document all the words that are spoken. Almost every field needs a stenographer, which includes both private and public organizations. That means, like any other profession, even a stenographer has a lot of demand and will receive many job opportunities. But it again depends on your skills, and hence you need to brush up your skills very well for becoming a stenographer. Continue reading if you wish to know more details about how to become a stenographer.
Eligibility Criteria:
Whatever is the profession that you are choosing, it is always good to know the eligibility criteria to make sure that you are eligible to take up the relevant course or not. To become a stenographer, you should have passed 10+2 in any stream of your choice from any recognized university or college in India. Also, there is no requirement for any particular marks percentage. But if you are planning your career in any government organization, then it is good to have at least 60 percent marks in your 12th standard. That can be very helpful for getting a better job. Even graduates can enroll themselves in a course if they wish to become a stenographer. Whatever it is, you need to have at least 60 percent marks in your highest qualification you have.
Age Limit:
Age limit is another important factor that you need to keep in mind. There is no age limit for becoming a stenographer. But for the recruitment into government organizations, the recruitment notification will have information related to the age limit. Usually, the age limit is between 18 years and 27 years. But for certain departments, they also allow 30 years as the upper limit. It also depends on the category to which you belong. You should read the recruitment notification very carefully to gather information about the age and qualification asked for the post.
How to become a Stenographer?
A few simple steps can help you become a stenographer without any worries. So, if you wish to know about how to become a stenographer, then here is how:
In the first step, the candidate should have completed 10+2 with a good score. Once you are done, it is good if you can enroll yourself in a shorthand course. There are many private institutes that offer you this course. Along with that, you can even start learning typing, which is also very important for a stenographer. This way, you can apply for the posts where stenographer with no experience and 12th standard are required.
If you want you can choose to go for a diploma or ITI course that offer you training in shorthand, typing and other required skills like computers, etc. There are a few colleges that offer a course for Stenography as well.
If you want to complete your graduation and then opt for a stenographer position, then you can complete your graduation and still enroll in a private institute for completing your shorthand and typing courses. There are certain positions in India that require candidates with graduation for the post of stenographers. Having a higher educational qualification is always an advantage, and you will never have any problem with it. You just need to make sure that you are taking a course in different languages at the graduation level so that you will get a bachelor's degree that can be useful for your stenographer's position. People who have knowledge of different languages will be given more preference.
The diploma and ITI courses are usually for two to three years. If you are choosing a private institute to get trained in typing and shorthand, it is going to be a course of six months to one year. There are different levels of shorthand, like higher and lower. So, it is good to complete the entire course before you apply for the stenographer post. There are many diploma colleges or polytechnics in India that offer this course. You should get a good score on the entrance test to secure a seat in one of the best colleges in India. Each state has its own entrance test, and hence you need to keep yourself updated about all the details of enrolment into the college.
If there is any chance, you can take an internship with any lawyer or some office where there is a need for part-time stenographers. That way you will be able to gain some experience as well. With experience, you will be able to get a good job in the government sector without any major issues. You just need to make sure that you are a master in typing and shorthand.
You should have a typing speed of 25 to 30 words per minute and a shorthand of 80 words per minute. This is for the English language, and for other languages, it is going to be different. For other languages like Hindi, it has to be 30 to 35 words per minute and at least 100 words in shorthand. The more languages you know, the more opportunities you will receive from different firms. You will also be able to get promoted from a stenographer to a personal secretary in many companies. It is just next to impossible without a stenographer in any organization. Whether it is a courtroom, senior lawyers, government organizations, hospitals, and all other organizations, you will be able to find a stenographer.
Salary Structure:
The salary of a stenographer is going to be less at the beginning. It will start from Rs 8,000 per month. Depending on how accurate you are in typing and writing shorthand codes, you can also expect a salary of Rs 10,000 to Rs 15,000 per month. As this is one of the most demanding professions in the present market, your salary will increase gradually if you gain more experience. There are a lot of openings available in the government sector for stenographers. Your salary will depend on the size of the company where you are going to work.
Job Opportunities:
It comes to job opportunities for a stenographer; there are several offers that you will receive. From courtrooms to many government departments and many private firms, you will receive job opportunities from all of them. The only requirement that you need to fulfill is to be accurate and fast in whatever you are doing. In private firms or corporate firms, they are called private secretaries or personal assistants as well.
Extra skills:
Apart from the typing and shorthand knowledge, you should be proficient in English. English is a global language. You should also be an expert in your local language as well. If you have knowledge of other foreign languages, then it is going to be an added advantage for you as you will be able to fetch a job in multinational companies as well. With the help of the latest technologies, the stenographers can even use recording devices that help in recording the speech of the person, and then that can be typed on the computer. That also makes things easy for you. But having good knowledge of shorthand is very important.
Some best colleges for courses in Stenography in India:
It is true that the courses for Stenography are very rare in India, and only a few colleges offer a specific course for it. In most of the polytechnics, you will be able to find one course for a stenographer, which is called DCCP (Diploma in Commercial & Computer Practice). You will be able to learn a lot that is related to the job role of a stenographer. So, if you are looking for some of the best colleges in India, then we have come up with a small list of colleges across India.
Ahimsa Women Polytechnic, New Delhi
Bhavnagar University, Gujarat
Delhi Institute of Early Childhood Care and Education – DIECCE, New Delhi
IEC University – Baddi Campus, Himachal Pradesh
International Women Polytechnic – IWP East Delhi
International Women Polytechnic – IWP North Delhi
International Women Polytechnic – IWP South Delhi
International Women Polytechnic – IWP West Delhi
International Women Polytechnic – IWP, Central Delhi
International Women Polytechnic – IWP, Chandigarh
International Women Polytechnic – IWP, Haryana
International Women Polytechnic – IWP, Punjab
International Women Polytechnic – IWP, Uttar Pradesh
Maharani Kishori Memorial College of Vocational Education for Girls – MKM, Haryana
Shri Vishwakarma Private Industrial Training Institute ( SVPITI), Indore
Sriram Institute of Professional and Vocational Studies (SIPVS), New Delhi
The George Telegraph Training Institute – Ansel, Gujarat
The George Telegraph Training Institute – Bagnan, West Bengal
Womens Technical Education & Research Institute ( WTERI), Nagpur
If there is any polytechnic college in your place, then it is good to check with them if they offer any course in DCCP. That makes it easy for you to get started with the training that is required to become a stenographer in India.
This was some useful information about how to become a stenographer in India. There are many diploma and certification courses available for those who wish to become stenographers. Like we already discussed, you can also go to institutes that can train you in shorthand and typing. If you clear all the exams of shorthand and typing, then you can easily apply to any small firm or any individual office where you can gain a few years of experience. This experience will not just fetch you a job in a better company but will also help you get paid better. So, you should always make sure that you start your career as soon as possible, with any small post as a stenographer to grow in the career.