Some people have an amazing voice, and they can just charm anyone with the help of their voice. Why not use your voice to entertaining some audience and earn a decent salary every month? Yes, you can do this with the help of just your voice, and we are not talking about singing. Radio Jockeying is the latest craze for many people. You must have seen television anchors having a lot of fans, but now even a radio jockey has many fans. It is going to be an interesting job for those who can create their own magic with the help of words.
Many people must be thinking that radio is not used any more. But that is not at all true. Since 1999, radio has become more and more popular, and you can see several radio stations in India. If that is not true, we will not be discussing radio jockeying as a profession today.
If you are someone who loves to host chat shows or talk shows and communicate with the daily callers, then this is the right profession for you. You need not always have to choose a very common career path that everyone else does. You can make your dreams come true with the help of radio jockeying. There are many students who have good talking sense and voice, who make a decent amount with a proper degree. If you have a relevant degree in radio jockeying, then you will be able to make a better career and earn better.
But again, it is not going to be an easy task for you to become a radio jockey or RJ. If you dream to make a career as a radio jockey, then this is the right place for you. We have provided you with enough information about this profession. Just go through all the information before you decide whether to pursue it or not.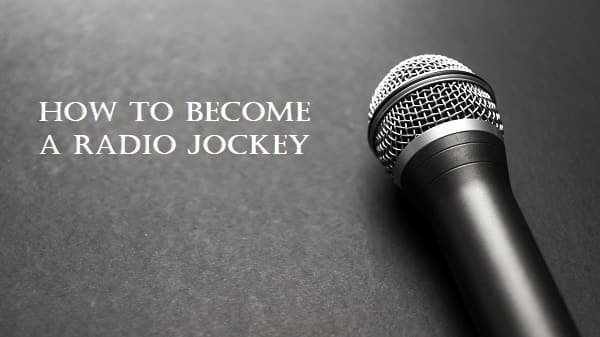 Eligibility Criteria:
It is very important to make sure that you meet certain eligibility criteria when you wish to pursue any career. But the eligibility criteria for a Radio Jockey are not too tough. Here are some important things that you need to meet and satisfy.
You should have completed your 12th standard for starting a career as a Radio Jockey.
You will have to enrol yourself on a good course in mass communication.
You should have complete one diploma course or a short-term certification course.
Along with all this, you will also have to make sure that you have a good voice. You should have a good grip over the language as well. You should be proficient in Hindi and English, along with your local language. The vocabulary should also be very good so that your language attracts a lot of people. The best thing about enrolling on the courses is there is no entrance test, and hence you will be able to get admission without any problem.
Also Read: How To Become A News Anchor In India?
Courses to take up for becoming a Radio Jockey:
Like we already discussed, instead of any general courses, it would be beneficial if you enrol yourself in some mass communication courses. There are many courses, but some of them are the best and will be very helpful in making the career that you always wanted.
You can enrol yourself in:
Certificate Course in Announcing, Broadcasting, Comparing and Dubbing (ABCD)
Certificate Course in Radio Jockeying (CRJ)
Certificate Course in Radio Production Program
Diploma in Radio Management
Diploma in Radio Production and Radio Jockeying (DRJ)
Diploma in Radio Programming and Broadcast Management (DRPM)
Diploma in Radio Station Operations and Management
Post Graduate Diploma in Radio and Broadcast Management (PGDM)
It is good to complete at least one of these courses after you complete your 12th standard. Your marks in 12th standard do not play any major role in becoming a radio jockey, but your diploma or certification course matters a lot. So, make sure you complete the course with a good score.
Employment opportunities:
When it comes to career opportunities after you complete your diploma or certification, then you need not have to worry at all. There are several different employment opportunities from both government and the private sector as well. You will start getting opportunities based on your voice, pronunciation, modulation, vocabulary and good command of the language.
One of the best government organization where can find employment is All India Radio (AIR). Apart from that, there are also state-wise stations and other stations. You will get a number of opportunities in the AIR as a Radio Jockey. The salary is also going to be quite good as a government employee. Apart from that, you will also be able to enjoy other benefits as a government employee like pensions, retirement benefits and health benefits as well. There is also job security when you get a job in the government sector.
If you are looking for a job in the private sectors, then there are so many radio stations available in India like Radio Star, Radio Mirchi, Red FM, Big FM, Radio Mid-day, Times FM, Radio Wani and many others. There will be a good competitive environment when you are working in the private sector, along with some good incentives. You will have to fulfil the business objectives in the private sector, which is not present in the government sectors.
Pay and perks:
One of the most important things that you should know before you choose this path is the payor salary that you will be able to make when you become a radio jockey. There is never a fixed salary for the post of a Radio Jockey. Usually, a newcomer will be able to make something around Rs 10,000 to Rs 25,000 per month. But as you start your job, your salary will increase. As you gain popularity from your callers, your salary will increase. You can even earn one lakh to 1.5 lakhs. So, you will have to attract more callers for your show on the radio, and that will help to make a better career.
Career Path as a Radio Jockey:
You will be offered different roles after you join any radio station as a radio jockey. As you get more and more experience, you will be able to reach a better position. There are many other skills that you will need along with the educational qualification. If you master those skills, then you can easily grow in your career.
AM/FM Radio Jockey: As an AM/FM Radio Jockey, you will have to interact with the audience who call you. You will be responsible for playing music, talking to the audience or sometimes do both. You will have to interact well and spontaneously so that you will be able to impress more audience.
Announcer: As a fresher, you will be posted in the position of an announcer only. This is the most basic position, who makes all kinds of announcements on a radio station, like reading a small advertisement or introducing the latest Radio programs to the audience. You will get promoted to other positions only after you are recruited as an announcer.
Talk Radio Jockey: Another good job opportunity that you will receive after completion of any of the above courses is a talk radio jockey. In this job role, you just have to talk about the entire show. It depends on what you are going to talk about in this show. It can be related to education, politics, social media, love, relationships or just any topic that is trending.
Satellite Radio Jockey: Another role that a radio jockey plays is a satellite radio jockey. They manage shows and talk about some trending sensitive content. There will not be any kind of restrictions from the boards. They can talk without any issues.
Sports Talk Radio Jockey: As a Sports talk radio jockey, you will have to talk about the current sports events, the latest news about sports and upcoming sports events.
News Readers: There is a very special format for reading news on a radio channel, and hence you will need a lot of practice to become a newsreader on a radio channel.
Apart from these, there are many other opportunities that you will as a radio jockey. It is your experience as a radio jockey that fetches you more and more opportunities. You can either opt for a full-time or a part-time job opportunity at a radio station.
Some best colleges in India for Radio Jockey:
When you wish for a career in a particular field, it is very important for you to choose the right degree or course. Along with that, the right college or university also plays an important role. You will be able to get a better education and more career opportunities when you get an education from the best college or institute. So, for completion of a diploma or certification course and make a career as a radio jockey, here are some of the best colleges and universities that you can check out:
Academy 18 networks Ltd, New Delhi
AJK Mass Communication Research Centre, New Delhi
Amity School of Journalism & Communication, Noida
Annapurna International School of Film and Media
Asian College of Journalism, Chennai
EMPI Institute of Advertising & Communication, New Delhi
Film and Television Institute of India, Pune
Garden City University, Bangalore
Indian Institute of Mass Communication, New Delhi
Institute of Mass Communication, Manipal
International Institute Of Mass Media, New Delhi
Jamia Millia Islamia, New Delhi
Kamla Nehru College, DU, New Delhi
National School of Drama, New Delhi
Radio City School of Broadcasting, Mumbai
Sardar Patel College of Communication & Management, New Delhi
Sir Aurobindo Institute Of Mass Communication, New Delhi
Symbiosis Institute of Media and Communication, Pune
The Mudra Institute of Communications (MICA), Ahmedabad
Whistling Woods International, Mumbai
Wigan & Leigh College, New Delhi
Xavier Institute of Communications, Mumbai
YMCA Centre for Mass Media, New Delhi
Zee Institute of Media Arts, Mumbai
List of top companies that offer you jobs: 
After the completion of your diploma or certification course, you will get job opportunities from some of the best radio stations, or you can apply to the best radio stations listed below.
104 Fever FM
AIR (All India Radio)
Big F.M 92.7
Club FM 94.3
Radio Mango 91.9
Radio Mid-day
Radio Mirchi 98.3
Radio Star
Radio Wani
Red FM 93.5
Times FM
There are so many benefits that you will be able to enjoy if you take up a career as a radio jockey. It is a fun-loving job, and you will be able to interact with different kinds of people every day. Usually, you have flexible timings, but sometimes you will have to work at odd timings as well. You will be able to work on multiple roles once you into a radio station as a radio jockey.
Maybe you will have to start your career at a pretty low salary, but that is not going to be forever. When compared to many other professions, this is low, but it is going to increase from time to time. This is a creative role, and many people love doing it. If you are someone who can talk for hours together without any prepared script, then this is the right job for you. Your profession need not always be a doctor or engineer; even a radio jockey is quite popular, just like many TV anchors and newsreaders. So, it is not going to be a very tough job as you are going to have more fun doing this job compared to the other jobs. You will also get a choice to host some private shows if you gain more popularity after doing the radio shows. You will also get a chance to give voice-over for many TV and movie artists if you have an amazing voice.
So, Radio Jockey is one of the best career for creative people, and if you are creative, then you should try this job. It will help you grow easily in this career.