Did you anytime travel by flight? Did you come across those very beautiful and helping people around you on the flight? They are called flight attendants. If you wish to work on a flight, you need not always have to a pilot. Even a flight attendant works on the flight and serves the people who board the flight. They can help you with all that you need during your journey on the flight.
If you also wish to become a flight attendant, then here we have provided some very useful information for you. Many people think that it is easy to become a flight attendant, and anyone can become one. But that is not at all true. It takes a lot of effort to become a flight attendant as you will have to learn about a lot of things related to serving the passengers on board and also other technical aspects that will be helpful when something goes wrong when the flight is still in the sky. So, continue reading to learn more about how to become a flight attendant in India.
Who is a Flight Attendant?
A flight attendant, who is also called the cabin crew or air hostess, are the people who travel along with the passengers to ensure they have a comfortable and safe flight. There are many different sectors like national airlines, international airlines, commercial airlines, and military aircraft where they can be hired. They will coordinate with the security team and also with the passengers on board for their safety. They are many tasks that a flight attendant does as part of the job, like greeting the passengers when they board the flight, help them to check their seats, and any other help the passengers need while they are still on board.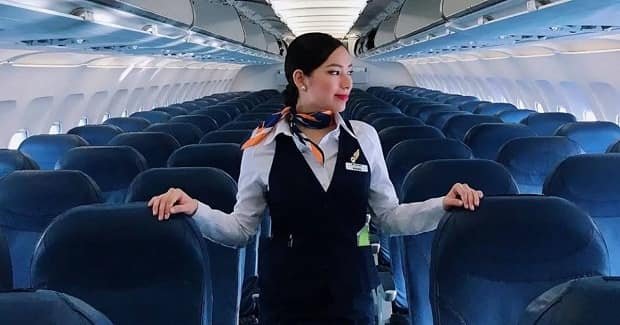 Check out the belong details that give you information about eligibility, the admission process, some best courses that you can consider to become a flight attendant in India. Along with that, we have given information about the best colleges, salary and job opportunities as well. This information can be very useful for you.
Eligibility Criteria:
If you wish to become a flight attendant in India, then you will have to satisfy certain things, and here are the eligibility criteria details for you:
The candidate should have completed their 10+2 from a recognized college or university.
The candidate should score at least 45 to 60 percent marks at the college level.
If you wish to apply for the flight attendant, your age should be between 17 years and 26 years only.
The height of the candidates is one of the most important factors, and it should not be less than 157.5 cm.
There is no specific requirement about the weight, but you should make sure that it is proportionate to your height.
Before you apply for the post of flight attendant, it is always good to get your passport ready. You can complete this process during your flight attendant course.
Along with all this, you should have very good knowledge and control over your language, especially English. Make sure that your vocabulary is very good and that can be very helpful for you to get a better job.
How to become a flight attendant in India?
Here is the process for those who wish to become flight attendants in India. We have listed a few important courses that you can take up to become a flight attendant. There are diploma courses, certification courses, Post-graduation diplomas, and Bachelor's and master's degree courses as well. So, you can choose one that you think fits you the most.
If you are seeking admission into a diploma or certification course, then you should have completed your 10+2 from a good college. The cut-off percentage depends on the college or institute that you are choosing. It should usually be between 45 percent and 60 percent. You can directly apply for the course, and the college will decide based on merit or other factors that they think fit the requirements. It is going to take between three months to one year to complete a diploma or certification course. Some institutes will conduct the entrance test as well.
If you wish to get admission in Bachelor in Business Administration, Aviation BBA Aviation, or Post graduation diploma courses, you should have completed your 10+2 or diploma course. There will be an entrance test that is conducted by the colleges or universities that you are choosing. You will have to pass the entrance test, and only then can you get admission. This is going to be a two years course.
If you choose to continue your education after your Bachelors's in Aviation, then you have the master's in Aviation. This course will require you to be graduation in aviation. The MBA in Aviation is a two-year course.
Once you complete the course, you can start applying to different areas of employment, whichever you think fits you.
Some important course to become a flight attendant:
If you are planning to become a flight attendant, then choosing the right course is very important. Here are some courses that can help you become a flight attendant directly or get to that level after gaining a few years of experience at the ground level. They are:
Certificate Program in Air Hostess/Flight Purser
Certificate Program in International Airlines and Travel Management
Certificate Program in Aviation Hospitality & Travel Management
Certificate Program in Air Ticketing & Tourism
Certificate Program in Aviation Security and Safety
Certificate Program in Airport Ground Management
Diploma Program in Ground Staff and Cabin Crew Training
Diploma Program in Air Hostess
Diploma Program in Air Cargo Practices & Documentation
Diploma Program in Hospitality, Travel and Customer Service
Diploma Program in Professional Ground Staff Services
Diploma Program in Airport Ground Staff Training with On-job Training
Post Graduation Diploma in Aviation and Hospitality Services
Post Graduation Diploma in Airport Ground Services
Post Graduation Diploma in Aviation, Hospitality, Travel & Customer Service
BBA in Aviation
MBA in Aviation Management
Syllabus and duration:
Most of the courses listed here are less than one year duration, except the BBA and MBA in the aviation program. So, you can choose a course that suits your requirements. The BBA in aviation and MBA in aviation are two years courses, but they can fetch you more job opportunities in India.
Having knowledge about the subjects that you will be able to learn during the course can be helpful in deciding whether the course is right for you or not. So, here is what you will learn in general when you opt for a flight attendant course:
Aircraft Familiarization
Airport Familiarization
Communication Skills
Emergency Situation Handling
First Aid
Flight Evaluation
Food & Catering Services
Grooming and Presentation
In-flight Procedures
Leadership and Inter-Department Coordination
Passenger Handling
Passenger Psychology
Personality Development
Technical Training (Basic Aircraft Functions and Safety Procedures, etc.)
The curriculum is going to be different for different colleges and institutions, and hence you need to check out the complete curriculum details on the official website of the college or university where you wish to complete the course.
Job Opportunities:
Like we already, there will be several job opportunities for those who complete the course of a flight attendant. They are not just limited to be a flight attendant on the flight. You will also be able to play the roles like:
Air hostess: The job of the air hostess is to take care of the passengers who get into the flight and when the flight takes off.
Airline Stewardess or Steward: They are professionals who will take care of the passenger's safety. They will give all instructions that are necessary for the passengers to be safe.
Flight attendants or senior flight attendants: These professionals will be very helpful in demonstrating the use of all safety equipment and how they can stay safe.
Apart from that, you will also be able to play roles like Trainers, recruiters, Ground staff, Crew Manager, and Crew scheduler. So, you need to be very careful when you are applying for posts at any airline company. As you keep gaining more and more experience, you will be able to move to a better position.
Areas of Employment:
Once you finish your course and become a flight attendant, you will start receiving job opportunities from different companies and organizations. In fact, there are many colleges and universities that have connections with different companies so that you will be placed in a good position as soon as you finish the education through campus placement services. Below are some of the areas where you will receive employment opportunities in India:
Air Hostess Training Institutes
Airports
Chartered Airlines
Commercial Airlines
Corporate Airlines
Military Airlines
Personality Development Institutes
Apart from these, you may also receive opportunities from many other areas as well. So there are so many offers that are waiting for you if you become a flight attendant.
Salary structure:
When you are trying to learn so much about the flight attendants, then why not know about their salary as well. The salary you earn from any profession is very important. Usually, the salary depends on many different factors like your educational qualification, which course you completed, your experience and in-depth knowledge of the subject. Along with that, your extra skills will also play an important role. The salary of a flight attendant is quite good, and you will start earning more when you start getting more experience in work. The starting salary of a flight attendant is going to be Rs 4,50,000 per annum. This is just the starting pay, and it can go up to Rs 10,00,000 per annum and even more. It will increase as you earn more experience.
Best Colleges To Become a Flight Attendant:
Apart from theoretical knowledge, there is a lot that you will have to learn when you wish to become a flight attendant. So, the college you choose is going to play a very important role. But in India, there are several colleges, and it is not going to be an easy job for you to pick the best college. Here we have given a small list of some of the best colleges and universities in India. Apart from these, you can also find some institutes in your city that can help you train in becoming a flight attendant. The course fee at these institutions is going to be quite high when compared to the colleges listed here. So, go through all the available options and then decide which is the right one for you.
Amity University, Noida
Birla Institute of Technology and Science, Pilani
Galgotias University, Greater Noida
Indian Institute of Science, Bangalore
Indian Institute of Technology Delhi, Delhi
Indian Institute of Technology, Kanpur
Indian Institute of Technology, Kharagpur
Indian Institute of Technology, Roorkee
Lovely Professional University, Phagwara
So, this was some useful information for those who wish to become flight attendants in India. It does not need you to qualify for any tough entrance tests, but it requires a lot of effort to become a flight attendant. Check out all the details and pick the right course today.