You all would have seen the popular crime series 'CID' on Sony Television India. The way the CID agents crack cases has inspired us to become a CID officer at some point in life. It has been a dream career for many children only because of the popular show. We are sure that you would have also thought about it sometime in your life. Coming back to reality, if you are still planning to become a CID officer, then you would be glad to know that you can be the one. CID stands for Crime Investigation Department, and it is quite a popular field who wish to work in criminal justice.
These job roles are very popular, and you can serve the country by working in CID. If you wish to be a CID officer, you would need to have a certain skill set. To begin with, you must have strong interpersonal skills, and you must also have problem-solving skills. In addition to these skills, you need to have critical thinking as this will help you during the investigation and collecting evidence for a case.
CID Officers have a certain set of responsibilities on them. These responsibilities include investigating complicated cases involving frauds, conspiracies, assassinations, murders, riots, and even rape. The CID Officer is also responsible for collecting evidence and helping the lawyers reinforce the case before it is presented in court. The CID Officers may also have to involve themselves in attending the autopsies, and they also coordinate with many other state and central agencies. If you are willing to be a CID officer, you would need to choose the path according to the career interest. In this article, we have listed all the information about becoming a CID Officer in India. Go ahead and check out the information in the sections below.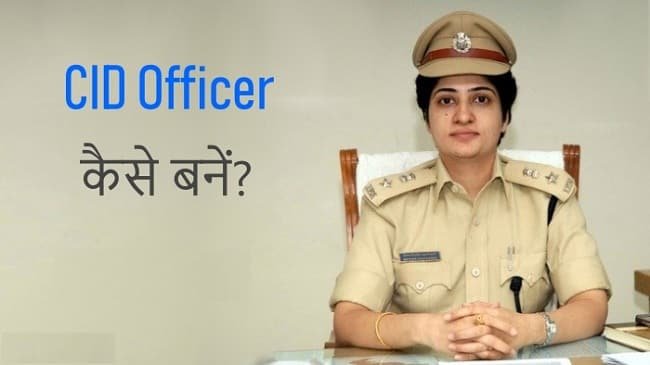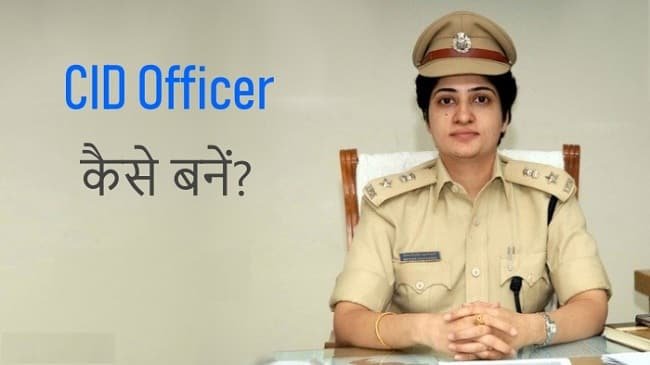 Eligibility for Becoming a CID Officer
The eligibility criteria for becoming a CID Officer is quite strict. In this section, we have covered the details. You can go over the points below, and it will help you evaluate your eligibility criteria for the job.
The candidate must be an Indian Citizen.
The minimum age limit for the job is 20 years, and the maximum age is 27 years. There is a relaxation in the upper limit of 5 years for SC/ST candidates. There is also relaxation for OBC candidate for three years.
The male candidate's minimum height should be 165 cm, and the minimum height of the female candidate should be 150 cm. Hills men and tribal are given a relaxation of 5 cm in height criteria.
The chest with total expansion should be 76 cm.
There are criteria for eyesight as well. The distant vision should be 6/6 in one eye and 6/9 in the other eye. The near vision should be 0.6 in one eye and 0.8 in the other eye.
You can choose any stream in 10+2 from a recognized, but you would need at least 50% marks.
The candidate should have done graduation from a recognized university. The candidate can be from any stream.
Having a degree in criminal justice or criminology is an add-on as it will help you in clearing the entrance test for joining the department.
You must have appeared in the civil services exam hosted by the Union Public Service Commission every year.
The candidate should have served in the uniformed department for a minimum of 2 years.
There is a maximum limit set for the number of attempts that are available to the candidate. This limit is four attempts for a general category candidate, whereas, for an OBC category candidate, this limit is seven attempts. However, there is no limit for SC or ST candidate.
Examination for CID Officer
There is a proper recruitment procedure for the CIO office. Check out the points below to know more about the CID officer examinations.
The candidate needs to go through three levels for selection. This includes a written test, physical fitness test and interviews.
The written exam is divided into two parts. These are known as Part 1 and Part 2.
The total duration of Part 1 is 2 hours, and it has four sections. Each section has a weightage of 50 marks. The sections in the exam are

English Comprehension
General Awareness
General Intelligence & Reasoning
Numerical Aptitude

The second part of the exam has a duration of 4 hours, and it has three sections. Below are the details for the same.

Arithmetical Abilities – 2 hours; 100 marks
English Language – 2 Hours; 200 marks
Interview – 100 marks

There is another way to join CID, and it is through direct entry. In this method, the candidate can join the police forces after his graduation. After joining the police force, the candidate can seek promotion based on his work and get placed in CID. In this approach, the candidate would need an experience of 2 years before you request the movement to the CID office station.
Lastly, you can also apply for the civil services exam that UPSC conducts. This exam will help you in getting into CID. You should note that this exam has three levels: a written exam, physical fitness, and an interview.
Roles in CID
In the section below, we are going to talk about the roles available in CID. You can check out these roles and see what roles you would work at. You will be starting at a lower level before you manage your way towards the top of the pyramid.
Additional Director General of Police
Constable
Deputy Inspector General
Deputy Superintendent of Police
Inspector
Inspector-General of Police
Sub Inspector
Superintendent
Superintendent of Police
Employment Opportunity for CID Officers
There are a lot of employment opportunities available for CID offices. It depends on your skills, career growth and your promotions. You can work as a fraud investigator, investigative officer, police officer, criminologists, narcotic officer or paralegal expert. All these fields offer a tremendous amount of opportunities to the candidate. You can give some time to yourself to understand your core area before you choose a field. A vigilant nature would always be of great help when you are working in such high profile departments. It can be said the employment opportunities are tremendous. You may even get a chance to join the elite forces like RAW, Anti-Terrorist Intelligence Bureau and other elite cells.
If you are worried about the job after your retirement age, then do not worry. You will be getting your pension after retirement. You can also join private security agencies as well after retirement and offer them consultation services.
Pay Scale for CID Officer
The pay scale depends on your grade and your ranking. It also depends on the pay commission. However, the minimum salary remains to be between Rs 8000 to Rs 24500. There is a lot of allowances offered to the candidate, along with many benefits. These benefits may include grade pay, leave travel allowance, dearness allowance, medical allowance, housing allowance and food allowance.
The salary range for a fresher in CID would be between Rs 1.75 lakh to Rs 2.56 lakh, whereas the candidate can easily make over Rs 15 lakhs after the experience. This doesn't include the benefits they receive from the government.
Final Verdict
This was all about becoming a CID Officer in India. You can follow the guidelines shared by us, and it will help you make a career in the field. There are some other variations to the job role, and you can choose them according to your interest. You can go through the best colleges list, eligibility criteria and other things covered in this article. There are different departments in CID itself, and you will also get to work in one such department. During the investigation process, you will also have to work with the police department and other agencies. In such a case, you should not only have good interpersonal skills, but you must also have developed the right channel for such communications.
We have covered all the information here, and if you have any other question, you can reach out to us via the comment section.We will get back to you as soon as possible, and we will help you find the answer. We hope the information helps you in reaching your goals.