The Hospitality Industry is related to the application of principles of management in the field of tourism. In today's world, professional life in hospitality is rapidly expanding, and it now encompasses a wide range of fields like travel, tourism, the hotel industry, catering, household chores, and other related fields.
The hospitality course does not only consist of classroom instruction, but also provides the student with the opportunity to gain practical experience in a variety of areas like planning, facility, housekeeping, catering, front desk operation, and more. Besides sales and marketing, students can also learn about management of human resources, hotel and restaurant law, financial management, and property management, among other things, through the Hospitality Management program.
Eligibility criteria
A professional course in hospitality deals with topics such as accounts management, customer service, resort management, hotel management, and travel/tour management.
To apply for Hospitality Management, candidates must have completed their 10+2 educational level from a recognized board or university, or have earned a Bachelor's degree, depending on the type of course being offered.
Students need to enroll in hospitality colleges following the completion of the counseling round which is held following the completion of the relevant entrance examinations
They can take part in entrance exams such as the CET, MAH-B.HMCT, UPSEE BHMCT, IIHM eCHAT, AIMA UGAT, NCHMCT JEE, and others, which will help them secure their place in the program.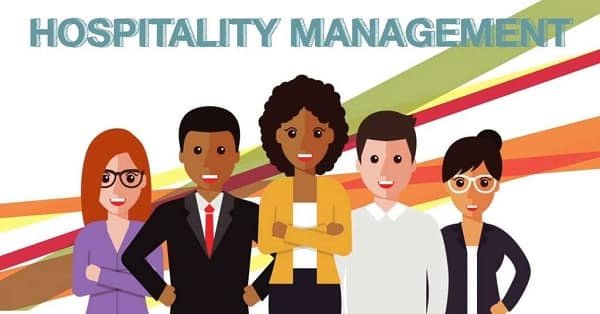 Courses under hospitality course
There are a variety of courses available under the umbrella term of Hospitality, from which students can choose to enroll and begin their careers in the field.
B.Sc in Hotel Administration & Hospitality – 3 Years
A B.Sc in Hotel and Hospitality Administration is an excellent choice for students who want to learn more about hospitality and the various fields that fall under it, such as planning an event, customer service, front desk management, accounting, sales, and other areas of study. To be considered for admission, students must complete their XII qualifying examination as well as obtain a passing score on the entrance examination.
BBA in Travel & Tourism & Hospitality – 3 Years
The Bachelor of Business Administration in Travel, Tourism, and Hospitality will enable students to gain advanced specialization in the hospitality, travel, and tourism industries. Through this three-year program, students can learn further about front desk work, holiday consulting, tour operation, tour planning, sales, marketing, housekeeping, and other related topics. Admissions are made based on an entrance examination, and students must have completed their 10+2 with the required minimum marks to be considered.
Hospitality Management in MBA- 2 Years
Undergraduate students who want to improve their managerial, hospitality, and catering abilities can apply for a Masters's in business administration in the Hospitality Management program. Students who complete this course will be in a better position to secure positions in the hospitality industry. Students must be grads in any field to be considered for admission, but a Bachelor's degree in Hospitality is preferred.
M.Sc Hospitality Management & Tourism – 2 Years
Those who are interested in applying for a course where the emphasis is placed on both tourism and hospitality will find that the M.Sc Hospitality and Tourism Management program is the best option. The two-year postgraduate course is designed to provide students with a thorough understanding of the tourism industry, as well as the skills necessary for management, customer service, and the long-term viability of the domain.
MBA Hospitality
MBA Hospitality is a program designed for students who do not come from hospitality or management backgrounds but who wish to pursue a career. This two-year postgraduate course will assist students in honing their skills in attending delegates and providing excellent customer service. Students can be from any ground and at any stage of their undergraduate studies to enroll in this course.
Specializations Offered under Hospitality Courses
Hospitality Finance
Luxury Hospitality
Hospitality Marketing
Event Management
Tourism Management
Duration of hospitality course
It usually takes three years to complete, with each year categorized into 6 semesters. It is typically taught as a full-time time management course.
Fees for hospitality diploma course
The average fees for a Diploma in Hospitality program range between INR 15,000 & 2 Lacs, with programs lasting anywhere from three months to three years
Salary for hospitality professionals
Depending on the individual's knowledge, experience, and skill set, the yearly pay for successful hospitality experts can range between INR 3 and 20 lacs and continues to increase. Students in the hospitality industry are also encouraged to pursue entrepreneurship, resulting in the establishment of their food chains and hotels.
Top colleges for hospitality courses
| | | |
| --- | --- | --- |
| College | Location | Fees |
| IHM | Chennai | 3,49,000 |
| IHM | Lucknow | 2,25,000 |
| IHM | Delhi | 2.4 LPA INR |
| IHM | Mumbai | 6.0 LPA INR |
| IHM | Bangalore | 4.7 LPA INR |
| IHM | Hyderabad | 2.4 LPA INR |
Course Subjects
The topics covered in the syllabus mentioned below are general and may differ from one institute to another.
BSc in Hospitality & Hotel Administration 
1st semester
Nutrition
I accommodation operations
I front office
Food beverage service
Food production
Hotel engineering
2nd semester
Principle of Food science
II accommodation operations
II front office
II food beverage service
II food production
Tourism foundation course
Communication
Accountancy
3rd semester
Tourism management
Human resource management
English Communication skill
4th semester
Research methodology
Hotel accountancy
Food safety & quality
Operations of Food beverage service
Front office operations
Food production operations
Food & beverage controls
Accommodation operations
5th semester
Tourism marketing
Strategic management
Financial management
I Front office management
I Advanced food & beverage operation
Food production operation
I Accommodation management
Research project
6th semester
Research project
Facility planning
Food & beverage management
II Front office management
II Accommodation management
II Advanced food & beverage operation
II food production operation
BBA in Hospitality, Travel & Tourism Syllabus
1st semester
Communicative English
I business communication
Business Mathematics
IT- I Fundamentals
Destination Mapping
Cost Accounting & business in tourism
Accounting
Managerial Economics
Principles of Organization Behaviour & Management
Management Concepts & Practices
Tourism science
2nd semester
Travel & Tourism basics
Hospitality basics
Human Resource Management
Environmental Science
IT- II fundamentals
Destination Mapping
II- business communication
Applied Macro Economics
Cultural Tourism
Computer apps
3rd semester
Organizational Behaviour
Financial Management
Business Communication
Adventure & Wildlife Tourism
Management of front office
I professional development
Presentation Skills & personality development
Hospitality Marketing & Tourism
Tourism Impacts
Hospitality & Tourism – Total Quality Management
Marketing Management
Tourism & Hospitality Marketing innovations
4th semester
GDS, Ticketing & airlines operation
Methods of business research
Tourism Event Management
Hotel Management
Hygiene & safety
Human Resource Management
Services Marketing
8 weeks internship
Tourism resources
Travel writing
Tourism Research Methodology
Property Management Systems
II professional development
Indian tourism resources
5th semester
Business values & ethics
Tourism issues & trends
Cargo Management
Product Development Management & tour operation
Tourism & Hospitality Laws
III professional development
International Travel and Tourism
Airline Ticketing & ICT- elective I
Tourism & Hospitality strategic management
Adventure Tourism & wellness- elective I
Study tour/project reports
Surface Transport Operation
6th semester
Tourism Development & Government Policy 1
Tourism Laws
Professional Development-IV
International Marketing
Tour operations & Travel Agency
Air Cargo Management- elective III
Entrepreneurship & Small Business
Environmental Tourism
Entrepreneurship Tourism Development
Dissertation Work
Business Environment
Job Scope     
There are numerous employment opportunities available in a variety of industries, including airlines, hospitality, the food industry, and resort management, among others. Opportunities exist in airline flight chefs, on-board flight assistance, navy, fast food places, cruise ship, and hospital catering, among other places of employment.
This course serves as a foundation for further study in this field, leading to advanced degrees such as an MA, MBA, M.Phil., or Ph.D. to improve one's job prospects. In many universities and colleges, teaching is indeed a financially rewarding career path.
The following are examples of the kinds of roles that can be played:-
Lecturer in an institute of hotel management
Manager at a night hotel
Account Manager
Assistant Manager
Manager in banquet booking
Manager for hotel booking
Manager for Hotel Maintenance
Hotel Manager
Reservations Manager
Revenue Manager
Sales Manager
Security Manager
Hotel Management Trainee
Sustainability of hospitality course
A pleasing personality, a cheerful attitude in the face of criticism, a great deal of patience, the ability to deal with people well, good communication skills, good interpersonal and organizational skills, and the willingness to work at odd hours are all required for success in this field.
It is necessary to have a strong sense of commitment and self-discipline. It is necessary to be courteous, cooperative, and polite to guests. Cultural, social, environmental, technological, and political factors should be taken into consideration when developing the overall strategy and management of the hotel industry. Knowing several various languages would be beneficial in this situation.
Job profiles 
Upon completion of this course, job and career opportunities in a variety of fields within the hospitality industry or in areas where management of food is still a priority are made available. Whether it's the government, airlines, railroads, businesses, offices, hotels, or shopping malls, the need for food experts can be found everywhere.
After finishing the program, students can work as managers, chefs, and other culinary professionals in hotels and food craft institutes, earning salaries ranging from 3 to 10 lakh rupees depending on their abilities.
Jobs with description & their salary 
General Manager
General Managers are responsible for overseeing the day-to-day operations of hospitality, business unit, or other organization. They make certain that their employees' work is done smoothly and efficiently while also focusing on their customers.
Average salary- 5 lacs
Executive chef
 They are in charge of modifying menus & making changes as needed to meet the needs of the organization. They make certain that the kitchen is well-stocked with all of the items necessary for the week.
Salary- 20 lacs
Duty manager
Managers on the job are held accountable for ensuring that their employees provide high-quality services to their customers. They make certain that their customers are pleased and fulfilled, and they also solicit feedback to suggest necessary changes.
Salary- 4.5 lacs
Scope of Hospitality course in India & Abroad
Hospitality Industry is among the newest fields to emerge in today's business environment. Many students choose a professional life in hospitality management because the employment opportunities in India and abroad are extremely good. As soon as they have completed their undergrad in tourism and hospitality, students can begin applying for top hospitality positions. They can also pursue postgraduate studies and a specialization that will permit them to pursue their careers in a specific field of profession.
If they do not wish to work in the field of management after completing their studies, graduates can pursue a career in the teaching field after graduation. Because of the tourism industry, graduates in hospitality management are also in high demand in foreign countries, where the demand for customer service specialists is extremely high.