Hotel Management courses are slowly gaining the interest of students in India. A promising career opportunity, a great salary package, and a perfectly laid out field make hotel management a great career for the students who are willing to do something unique in their lives.
In the article, we will be talking about one of the most popular courses for students planning to enter the Hotel Management industry, the BHMCT. BHMCT stands for Bachelor of Hotel Management and Catering. This is a 4-year bachelor's degree course that the students can enroll in after completing their school. So, if you are looking for a proper degree course in Hotel management and are willing to get a good job in the field, BHMCT is going to be a perfect choice for you.
IN the further sections of the article, we will be discussing eligibility, career opportunities, and other things about the course that you should know as a student. So, be with us until the end of the article and know whether BHMCT is the right option for you or not.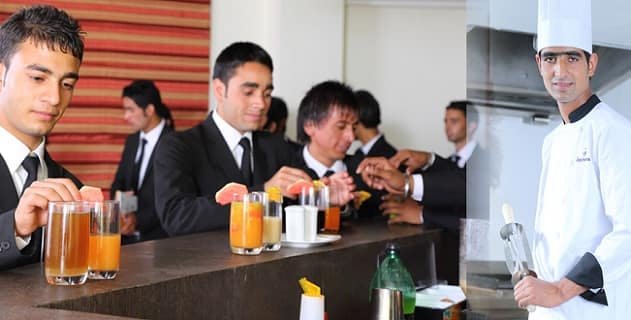 BHMCT Course Overview
Before digging into the details, let's first talk a bit about the course overview. BHMCT is primarily designed for those students who are looking to take their first step in the Hotel Management field. With all the basic subjects and key things that you should learn as a professional, the course is cleverly divided into categories. And as the course span is four years, you are going to learn a lot of basic and advanced ethics of being a Hotel Management professional.
After completing the course, you can either opt to work in a reputed hotel or open your own setup to earn good money. So, if you are looking for a great career option and a promising future, BHMCT can be a great option for you to look at.  Also, if you are willing to learn more about the field, you can opt for a master's degree in Hotel Management after completing BHMCT.
BHMCT Course: Eligibility and other prerequisites
Talking about eligibility for BHMCT, it is as simple as other professional UG programs. For enrolling inthe BHMCT course from your preferred college, you should have completed your 12th in any stream with a minimum of 55% marks. That makes it an easy to enter course even for those students who do not have a fabulous educational track record. Apart from specific entrance exams like IPU CET, UPSEE, NCHMCT JEE, you may need to face a personal interview at the time of admission. This is usually done to judge the potential and your communication skills.Also, there are some state-level entrance exams to enroll in for Hotel Management courses.
So, if you fulfill these prerequisites, you can easily enroll in your preferred college after completing 12th. Depending on the colleges you choose, you may face a college-level entrance test or interview to get the merit list and fee concession. So, be sure to talk to the college administration before enrolling in the course.
BHMCT Course: Fee Structure
As said earlier, BHMCT is a 4-year semester based course, where you learn about front desk management, communication skills, and other aspects of being a perfect professional. The fee structure of the course mainly depends on the college you are looking to enroll in. Roughly the private Hotel Management institutes askfor 5-7 lakh, which is divided into the semester-wise or annual fee. You may get some concession in terms of scholarship and others. So, be sure to check for fee structure from a legit source before enrolling in a college, or simply ask the college administration to know more about the fee structure for BHMCT.
The thing that matters the most in the average fee structure for BHMCT is the college's reputation and placement records. The JECRC University offers a degree for approximately 1lakh per year whereas the IHM offers the same course at around 50,000-70,000 per year. So, the choice is completely yours. Have look at the fee structure for the course and then decide which college is a better choice for you.
BHMCT Course: Syllabus
Along with the normal course subjects, the Hotel management course also offers serious specializations for the students who are willing to learn the specific skills during the course. In this section, we will learn about the different specializations in the BHMCT course along with the core subjects that you are going to learn through the course.
Let's talk about the BHCMT specialization first. Some of the popular specializations are
Hotel Management
Catering Technology
Tourism
Nutrition
Hotel & Catering Management
Food Production Management
Food and Beverage Management
Depending on the specialization you choose, the subjects may get a bit different. So, choose the specialization according to your interest and earn a great reputed job after completing the course.
Some of the most important subjects that you are going to learn about during 4 years are
Food Production
Food & Beverage services
Housekeeping Operations
Catering Science
Accommodation Operations
Computer Fundamentals
Hotel Accountancy
Along with these, there are numerous other topics and concepts that you will learn about during the BHMCT course. So, be prepared to learn new things that will help you become a better professional in the field.
BHMCT Course: Colleges/Institutes
For BHMCT, there are some renowned colleges across the country. All of them are great for the students and provide great infrastructure and facilities to the students who are looking to make a great career after course completion. Some of the most popular colleges for Hotel Management in India are
University School of Hotel Management & Catering Technology, Mohali
Pioneer Institute of Hotel Management, Hyderabad
DY Patil Institute, Pune
Amrapali Institute of Hotel Management, Haldwani
IIMT College of Hotel Management
Punjab University
Guru Nanak Institute of Hotel Management, Kolkata
In addition to these, there are numerous other institutes that can provide you great education and knowledge of the field. Try finding a better college in terms of placement opportunities and facilities to gain better knowledge and career option after course completion.
BHMCT Course: Further Studies
Apart from providing great career opportunities, BHMCT also opens a variety of PG options for the students. In case you aren't too keen to do the job after your graduation and are looking for a PG degree, the available options for you after BHMCT are
MHMCT
MBA Hospitality Management
MBA In Hotel Management
MBA In Tourism and Hotel Management
So, whether you are after further studies or a job, there are plenty of options available to you after BHMCT. Look for the eligibility criteria and join the course to enhance your knowledge about the field.
BHMCT Course: Career Options
Career optionis the most important thing that a student looks for while choosing a UG or PG course. And when it comes to career opportunities, BHMCT is a great course for the students. The detailed course structure, career-oriented specializations, and outstanding industries to work for make the BHMCT one of the most promising career-oriented courses in India.
Some of the job profiles you can opt for after completing BHMCT are
Steward
Front Office Manager
Sales Manager
Hotel Management trainee
Along with these, there are numerous other job profiles under reputed institutes and hotels that you can opt for. Generally, you can start earning over 4lakh per annum after completing the course. So, choose the right career path and earn a reputed and high-paying job.
Apart from having great demand in India, the Hotel Management graduates can also opt to work abroad at much higher pay and more reputed international food chains. In all, this is a great career option for students who are looking for high-paying jobs.
BHMCT Course: Should you opt for it?
Now, let's discuss the most important question, i.e., whether you should opt for BHMCT or not? The answer is quite simple. YES, YOU SHOULD OPT FOR IT. The course is primarily designed for students who are willing to serve the hotel industry and are looking for a high-paying job. With great career opportunities, useful specialization, and a great scope after course completion, BHMCT is a perfect course to join after 12th. IF you have an interest in the hotel management industry and are looking to earn more than others, this is the right field for you to choose.
Conclusion
If you are looking forward to a course that can assure you about a stable and reputed future along with a satisfactory job profile, BHMCT Is an ideal choice to go with. With lots of opportunities and a great course structure with numerous specializations, the BHMCT offers students a great career-oriented approach t learn things.
So, whether you are after a course that has easy to fulfill eligibility or is looking to enroll in a course that is different and unique from many other professional courses out in the country, BHMCT will be an ideal course to enroll in. There are numerous colleges for hotel management in India, and choosing a better college as per your needs won't be a tough ask for you.