Choosing the right career path may be difficult when you belong to the stream field. This is because so many Undergraduate, Postgraduate, diploma and specialized courses are being offered by various colleges/universities/institutes in India. The specialization associated with most degrees today further confuses aspirants as to which career path they should choose.
BSc and BEng have become popular these days among various students. These degree courses offer a wide range of job opportunities and career options. But the skills and knowledge that they offer after successful completion, of course, is different.Infect, they both have different purposes. There are variant similarities and non-similarities between BSc and BEng. In this blog, we discuss both of them and most importantly know about their differences.
About Bachelor of Science
Bachelor of Science or BSc is a three-year Undergraduate level degree course offered by most of the colleges and universities across the country. The BSc course covers numerous subjects and topics and prepares students for the respective job field. The interest in BSc is constant as they may include subjects like agriculture, computer science, animation, biochemistry and many others.
The BSc provides in-depth knowledge of science through the subjects chosen. Overall, BSc highlights studying Physics, Biology and Chemistry. This degree course is mainly based on theoretical study but also it includes practical knowledge. Students can pursue this course either full-time or part-time. Those who have a strong interest and background in Science and Mathematics can opt. for the BSc programme.
The BSc course is also beneficial for aspirants who wish to pursue inter-disciplinary science careers in future. It is one of the most sought and job-oriented courses. However, BSc has two sub-domains including BSc General and BSc Honors. BSc honour is a well-organised degree course that imparts both theoretical and practical knowledge. On the other hand, BSc General focuses on the basic study of science subjects.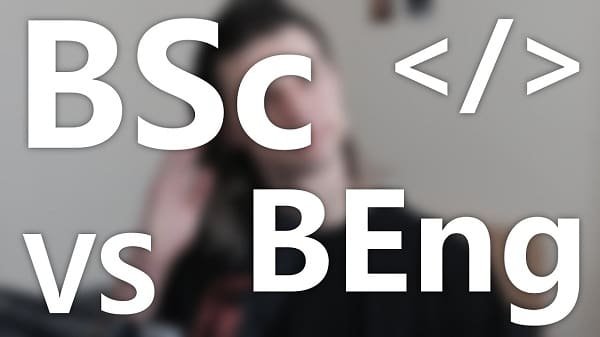 About Bachelor of Engineering
BEng or Bachelor of Engineering is one of the most popular degree courses all around the globe. Due to the development of advanced technologies, various countries hired engineer's professionals every year.  The BEng degree course is offered in yearly as well as semester pattern and is typical of 4-year duration. It is a UG level degree course offered in Indian universities and colleges as well in the United Kingdom, United States, Singapore, New Zealand, Australia, Germany and China.
BSc is more theoretical based whereas BEng is based on practical understanding. A major portion of the academic course highlights the application of the learned theoretical knowledge in a practical manner, but in this programme, students are also introduced to the theoretical portion. This studying pattern will allow students to join the corporate world.
Thus, engineering has different branches including Civil Engineering, Mechanical Engineering, Electrical Engineering, Aerospace Engineering, Electronics and Communication Engineering, Mechatronics, etc. This course offers an understanding of many engineering streams such as electronics, mechanical, chemical, civil and so on.
 The BEng degree shall remain popular and in-demand because of the future opportunities in technologies. BEng degree holders are always in demand as per their experience and knowledge. Those who have to learn more about the engineering field can opt. for a Bachelor of Engineering. Therefore, pursuing BEng as a career will raise your career to the peak with various perks & benefits.
On successful completion of this course, you can become a Computer Hardware Engineer, Development Engineer, Computer Architect, Design Engineer, Hardware & Network Administrator, Computer Operator, Professor, Quality Control Engineer, Technical Engineer, Network Administrator, etc.
BSc Vs BEng – Comparison
There is a variant difference between BSc and BEng in terms of duration, viewpoints, and curriculum and job opportunities. Bachelor of Engineering includes mainly revolves around engineering, while Bachelor of Science includes an in-depth study of science subjects. Also, BEng is a practical based degree course, while BSc is an amalgamation of both conceptual and theoretical subjects. Here are some of the differences between BSc and BEng.
BSc Vs BEng – Degree Course
BSc – Bachelor of Science is an Undergraduate level course or a general degree programme.
BEng – On the other hand, a Bachelor of engineering is a specialized degree offered at the UG level.
BSc Vs BEng – Course Duration
BSc – Generally, BSc consists three-year duration of the study which is divided into six semesters. The duration may vary from college to college.
BEng – In most colleges and universities, BEng is offered for a four-year duration.
BSc Vs BEng – Entrance Exams
BSc – Admission in popular institutes and universities are based on entrance examinations. Some of the popular entrance exams are:
Banaras Hindu University UET ( Undergraduate Entrance Test)
Allahabad University Undergraduate Admission Test
Central Universities Common Entrance Test
NEST
GGSIPU CET
AMU Entrance Examination
IISER Aptitude Test
BEng – Some of the popular entrance exams for the BEng course is below listed:
JEE Main
JEE Advanced
Birla Institute of Technology and Science Admission Test
IPU CET
UPSEE
BSc Vs BEng – Subjects
BSc – This degree course highlight study of botanical, chemistry, science, mathematics and physics related to the science stream.
BEng – Bachelor of Engineering provides knowledge in many streams like chemical, mechanical, civil, etc.
BSc Vs BEng – Objective
BSc – The main purpose of BSc is to provide an understanding of theoretical aspects in their respective field.
BEng – BEng focuses more on practical aspects; thus, the object is practical.
BSc Vs BEng – Job Opportunities
BSc – Job opportunities are slightly higher for BSc graduates. By doing this course, they can become Technical Writer, Scientific Assistant, Lab Supervisor, Lab Chemist, etc.
BEng – Graduate can get opportunities in various designations in several fields. On successful completion of this course, you can become a Software Engineer, Software Developer, Data Analyst, Business Analyst, etc.
Final Words
Both courses are related to the science stream but the scope of BEng is more than BSc if you want to work as a professional like engineer. On the other hand, BSc is a very good option for those if you want to join the teaching line. Infect with a BSc degree you can apply for competitive exams like banking, civil services, etc.