Civil engineering and B.Arch. courses are among the UG courses that commonly confused candidates. While both the courses focus on buildings and structures, they are not the same, despite their similarities, some differences are commonly overlooked. Only if you look deep into these courses, you could find out the real difference. However, you do not have to go through such scenarios, in this article, we will directly point out the differences and make it clear to you.
While both the courses offer the same level of salary and job opportunities, these courses should be selected based on their interests. Never allow someone else to decide the best course for you. Here is everything about civil engineering and B.Arch. that you need to know.
Civil Engineering course details –
Civil engineering is one of the core streams of engineering course, the demand for civil engineers is never-ending. The course is designed in such a way that it offers the candidate a load of knowledge, which makes him/her academically and practically skilled. As far as we know, there are 4 different reasons why you should peruse a civil engineering course.
Even if civil engineering is just a UG course, it teaches the student everything including the design, planning, execution, and maintenance of a project. No other course offers such deep knowledge.
While most of the other courses focus more on theoretical knowledge, civil engineering provides a higher level of practical experience to the candidates. Most universities and colleges sent their civil engineering students to mandatory internship or training.
When it comes to civil engineering, the scope of perusing PG courses is vast. There are several options for a civil engineer, maritime civil, water management, environmental engineering, etc.
Civil engineering graduation could get you jobs in both the private, as well as, the public sector. In both sectors, the pay scale is attractive.
Now, about the course, civil engineering course mainly deals with designing, building, supervising, operating, constructing, maintaining roads, buildings, dams, airports, tunnels, bridges, etc. As mentioned, as long as there is the world as we know it is, the demand for civil engineers will not die off.
Key skills required to be a civil engineer –
One of the most important things about civil engineering is that it helps to develop and to polish the existing skills of a candidate. Here are those skills.
Mathematical skills – candidate should have some basic knowledge of mathematics, especially algebra, calculus, trigonometry, etc. He/she should be willing to learn more and improve themselves.
Organizational skills – civil engineering is not a solo job, the best civil engineering is the one with the best organizational skill. He/she should be willing to monitor, evaluate, and control the flow of data and work.
Problem-solving skill – civil engineering course is designed to improve a candidate's problem-solving skills. A civil engineer is met by different issues practically, he/she should solve the issues without any loss or any tension.
Leadership skill – To be a good civil engineer and to rise to the next level in an organization or industry, the candidate should have good leadership skills. The course could help cultivate such skills, but, if you cannot do such a thing, do not peruse this course.
Oral communication skill – If you check the syllabus of civil engineering course, some subjects helps in the development of oral communication skill. A good civil engineer would be able to explain even the complicated design easily and offer better advice and instruction to the colleagues and workers.
Civil engineering course eligibility –
The eligibility criteria for civil engineering in India are the same for all universities and colleges. However, the marks and some criteria might see a slight difference.
The applicant should be from a science stream
The applicant should have passed with at least 50% marks in the 12th board exam.
The applicant should have studied physics, chemistry, and mathematics in the 11th and 12th standard.
Some of the top colleges or universities offering civil engineering course conducts their own entrance test, you need to attend and pass it to secure admission in such institutions.
The applicant should have attended any one of the engineering entrance tests.
Civil engineering course duration –
Almost all the engineering courses have the same course duration. It is the same for civil engineering, 4-years.
Civil engineering syllabus –
First-year –
The first year could be split into two-semester and so does the 2nd, 3rd, and 4th year. Some of the universities and colleges do not follow such a pattern.
Professional communication
Engineering mathematics 1
Engineering mathematics two
Fundamentals of computer
Engineering chemistry
Technical communication
Fundamentals of electrical engineering
Engineering physics
Engineering drawing
Fundamental of electronics engineering
Fundamentals of mechanical engineering
Environmental studies.
Second-year –
Strenght of materials
Fluid mechanics
Electronics and instrumentation
Building technology
Geotechnical engineering
Open channel hydraulic machinery
Transportation engineering
Engineering geology
Structural analysis
Civil engineering drawing
Third-year –
Advanced structural design
Advanced foundation design
Irrigation engineering
Transportation engineering
Groundwater hydrology
Engineering economics and principles of management
Numerical methods and operations research
Advanced structural design
Design and drawing of RC structure
Design of hydraulic structures
Fourth-year –
Building maintenance
Advanced mathematics
Construction engineering and management
Advance surveying and remote ESensing
Earth and rockfill dam engineering
Finite element method
Coastal engineering and marine structures
Environmental pollution control engineering
Architecture and town planning
Quantity surveying and valuation
Transportation engineering
B.Arch. course details –
While for most people civil engineering and B.Arch. might seem to be the same course, it is never the same course. There is a great difference in the course duration itself. B.Arch. is an undergraduate course that focuses on helping the candidates undergo both practical theoretical knowledge on the designing aspects of building models, preparing a construction blueprint, using the appropriate techniques. Like civil engineering, if you are planning to peruse B.Arch. here are 4 reasons that we think should be considered.
bachelor's degree in architecture is one of the in-demand credentials on the market today. To design a luxury home or a modern home, an architect is required.
B.Arch. course graduation could make a candidate self-efficient in starting an architect business.
International, national, and local construction companies offer good job opportunities and a better salary for a B.Arch. graduate.
Perusing PG courses abroad after completing B.Arch. in India could land you in a job in some of the world-renowned builders.
Key skills required to become an architect –
While most of the skills mentioned below might not be natural, they could be cultivated by perusing B.Arch. course. If you have confidence that you could develop or polish your existing skills, peruse this course.
Design skills – A good architect need to have good skills in designing a building, interiors, exteriors, etc. manually and on a computer interface. He/she should also know to use, Revit, AutoCAD, and other designing software.
Computer literacy – While being civil engineering does not require a computer, being an architect, you need to use a computer with ease.
Legal knowledge – An architect should be able to keep track of the changes in legal building codes and basic requirements set by the governing authority. The course is designed to offer such details, however, the candidate should be ready to learn even if the course is completed as these codes and standards could change.
Teamwork skill – A good architect should be able to work with the team and should be able to communicate with all the members of the team without any hitch.
B.Arch. Course Eligibility –
B.Arch. the course is not offered by too many universities or colleges, however, the ones that offer these courses follow the same eligibility criteria. There are two modes of admission, direct admission or through entrance test.
The applicant should have passed the 12th standard
The applicant should have secured at least 50% in the 12th board exam
The applicant should be from the science stream
If the applicant is a diploma holder, he/she should hold a suitable diploma for B.Arch. course
Some of B.Arch. colleges conduct their own entrance test, attend these tests, and pass it.
B.Arch. course duration –
Unlike most of the other UG courses, B.Arch. is a UG course that has a course duration of 5-years.
B.Arch. course syllabus –
The 5-year course could be split into 10 different semesters, each year with two semesters. However, some colleges do not follow this pattern, therefore, all the subjects taught are listed below.
Professional Communications
Climate-responsive Design
Architectural Design
Theory of Structures
Surveying and Levelling
History of Architecture
Visual Arts and Basic Design
Computer Applications
Building Construction
Human Settl. & Vernacular Arch.
Environmental Studies
Model making and Workshop
Sociology and Culture
Water, Waste, and Sanitation
Electrification, Lighting & Acoustics
Site Planning and Landscape Studies
Solar Active and Passive Systems
HVAC. Mech. Mobility & Fire Safety
Green Systems Integration
Energy System & Renewables
Sustainable Urban Habitats
Specifications & Contracts
Contemporary Architecture
Architectural Theories
Practical Training
Working Drawings
Project Management
Arch. Research Seminar
Architectural Design Thesis
Professional Practice
Thesis Design Research
Urban Design Studies
Professional Practice
Arch. Research Dissertation/ Art Thesis
Most of the subjects mentioned above divided into parts and taught in more than 4 or 5 semesters. We have neglected mentioned part 2,3,4,5,6,7,8 of several subjects.
If you have read everything compiled above, you might have gained knowledge of both the courses. However, to distinguish between these two courses here is a more detailed direct comparison.
Civil engineering vs B.Arch.: Key differences –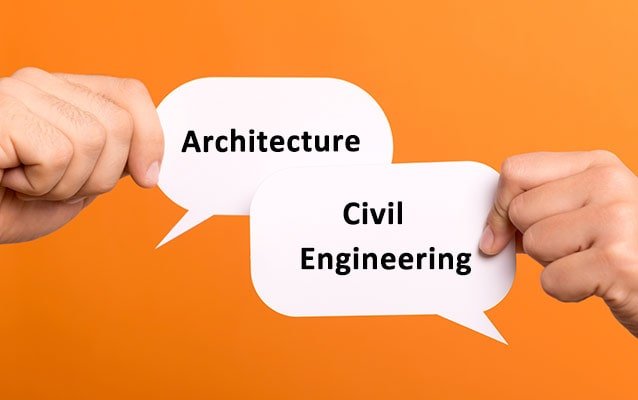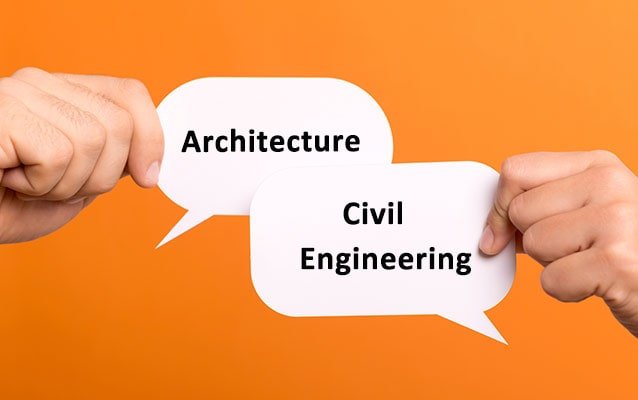 Scope of the subject – Civil engineering course teaches a candidate how to inspect, plan, execute the architectural design for a building or any structure. Civil engineering focuses on the structural elements of the design and sees that these structures are properly built. On the other hand, B.Arch. graduate has to design buildings and structures based on the customer's demand and requirement. The course focuses more on how to increase the look, feel, functionality, and aesthetics of a building or structure. All these done while keeping in mind the structural elements of building it.
Field of operation – Both civil engineers and architects need to work hand in hand on site. However, the field of operation of both differ. A civil engineer has a comparatively larger field of operation on-site, and B.Arch. does not have such a vast field of operation on-site.
An architect is most desired when the aesthetics of a particular building or structure needs to be different. A civil engineer could build a structure without an architect, but, if the customer has a specific requirement or needs to make the structure look aesthetically better, then it cannot be done without an architecture.
Civil engineering is a 4-year UG course, on the other hand, B.Arch. is s 5-year UG program.
The number of colleges offering civil engineering courses is more, but, the number of B.Arch. colleges are low. So the demand for B.Arch. admission is very high.
Employment opportunities – When it comes to the job, both architects and civil engineers are in-demand. However, the number of civil engineers required is more than an architect. But, the number of B.Arch. graduates coming out are comparatively very less, therefore, the demand for B.Arch. graduates are high. This high demand for B.Arch. and a low number of graduates coming out has brought an increase in the pay scale for architects.
Now, before concluding, here are the common job profiles of both course graduates –
Civil engineer –
Water engineer
CAD technician
Structural engineer
Site engineer
Contracting civil engineer
Consulting civil engineer
Government civil engineer
Railway engineer
B.Arch./architect –
Urban planner
Technical architect
Building surveyor
Interior and spatial designer
Workplace consultant
Design architect
Project manager
Conclusion: Civil engineering Vs Architecture, which course is better for you?
Asking someone else which course is best for you is your first mistake. Instead read the course details, differences, and then ask yourself which course would suit you better. As mentioned, no matter which course you graduate from, you would find a job, but, what kind of job do you want to do? Based on the answer peruse the suitable course.