For the students who are good in management and those who are looking to make a good salary after their post-graduation, there are courses that can help them get the best financial and emotional satisfaction to spend their lives comfortably. You can enroll yourself in any of these post-graduate courses and secure your future. There are numerous courses in India that can help you grab a position in a reputed finance firm, or help you open your own finance firm.We are going to talk about the two most common and popular ways to earn a better reputation in a finance firm. The two courses we are talking about are PGDM and MBA.
In the article, we will compare PGDM and MBA in detail so that you can make a better choice for a financially safe future. So, if you have done your graduation and are confused about whether you should go with PGDM or MBA, this article will help you in choosing the most perfect course for you. So, spend a few minutes with us in this article and you will be able to find the best post-graduation course suitable for you.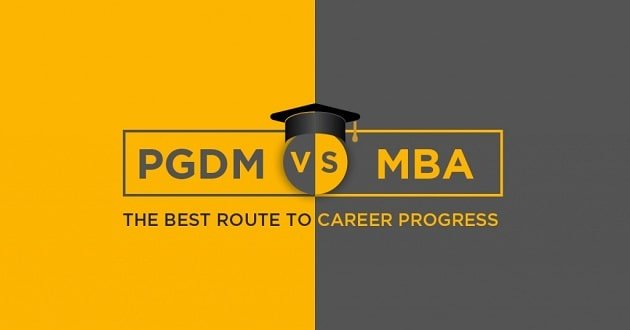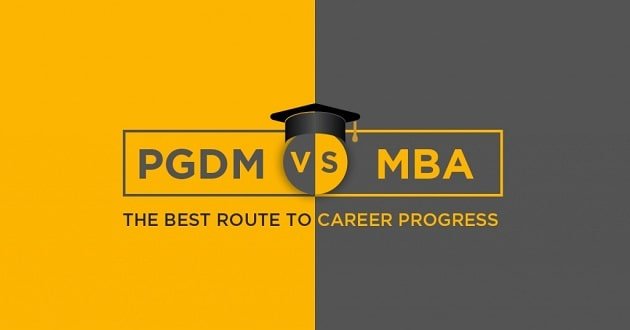 PGDM v/s MBA: Eligibility
The first thing that you should be looking for before entering the PGDM or MBA is eligibility. So, here's the eligibility for both the courses. Go through them, and then choose which one of these courses is the right choice for you. First of all, you need to understand that the PGDM is a post-graduate diploma course and it is thus suitable for those users who have done their graduation or diploma and are looking for having more knowledge about the subjects that have learned about during their Diploma. Additionally, the PGDM can be a better choice for those students who are looking for more practical knowledge about the subjects they have during their graduation.
PGDM can be done by those students who have done their diploma or graduation. Whereas the MBA is a degree course and you need to clear the entrance exam to enroll yourself in a reputed college. After an MBA, you may get into the recruitment drill in your college to enter a reputed firm. So, if you are looking for the best career opportunity after your post-graduation, you should prefer doing an MBA.
PGDM v/s MBA: Course complexity
PGDM and MBA are both a great course for management students. However, there is a difference in the course structure of both the courses. The structure not only means different subjects, but also the complexity of the subjects. Though the course for MBA and PGDM may differ from states and universities the colleges are affiliated with, but still there are a few differences that you can easily spot on boththe courses.
PGDM is an excellent program to go with if you are looking for practical knowledge of the subjects and the things that you are going to use in the real-life while working on the company's projects. However, the MBA is perfect for students who are looking for both theoretical and practical knowledge of the subjects. The MBA course (regardless of the university you have taken admission to) is designed in such a way that it suits the students who have done the graduation in management and have the basic knowledge of the field.
So, try your hands on MBA if you are looking for better opportunities and career options that can help you earn better and provide better stability in the future.
PGDM and MBA: Course fee and colleges
Another important thing to consider while choosing the post-graduate course is the course fee and colleges in your range. The reputed colleges require a more fee and even if you have scored well in your entrance exam, you need to pay extra money for getting admission. On the other hand, the PGDM requires a lesser fee in comparison with the MBA. So, if you are looking to save some money and gain practical knowledge, the PGDM would be a better choice for you to go with.
Another important thing that you should keep in mind while choosing a better post-graduation course is the college. The MBA is provided by the reputed colleges affiliated with the reputed universities of the country. This also makes it easier for the students who are looking for a better life after the post-graduation. On the other hand, PGDM is offered by the colleges and autonomous universities that offer you better value. However, if you are after the value of education and course, MBA is a far better choice than PGDM. So, try your hands on MBA and get a better and secure future.
PGDM v/s MBA: Future and salary expectancy
For the students, the two most important things to consider while choosing a course are the future and salary you can expect after completing the course. Though both PGDM and MBA offer better job opportunities, there are a few points that make the MBA a better choice for the students. The better colleges and great career opportunities after completion of the course make the MBA an ideal choice for the students looking for a better future.
On the other hand, PGDM offers amazing career opportunities that make it a popular choice for students who can't afford an MBA. However, if you are looking for better companies to get into and want to enter the top-rated firms in the country or abroad, the MBA would be the better choice to go with.
Even if you are looking to be recruited to a local firm in your city, the salary expectancy for an MBA student is better than a PGDM student. Regardless of the college you have completed your course, MBA is always a preferable choice for firms and reputed companies. So, if you were looking to enter a good firm after your course completion and if you are looking for a better salary and a secured future in a reputed company, the MBA is going to be a perfect PG option for you as a management student.
PGDM v/s MBA:Reliability of the course
Another thing to consider while choosing the PG course for management students is the reliability and future growth of the course. If you are looking to join the course that can help you secure a better future, you should check the reliability of the course, and whether it is worthy enough to opt for. Check for the market trends before enrolling in a PG course and if you think that the course is worth considering, then only you should opt for it.
Comparatively, the MBA is a more reliable and reputed course than the PGDM. The reason being the PGDM is a diploma course, whereas the MBA is a proper post-graduate program that is designed for management students who are willing to make a career in management.
The MBA is a perfect choice for the students looking for an ideal PG course that not only enhances knowledge about the subjects, but also ensures a secured future. On the other hand, the PGDM offers students practical knowledge of the subject rather than influencing theoretical knowledge of the subjects. So, if you are after quick and practical knowledge, you should opt for the PGDM which is a reasonable and efficient course for all the students who have completed their graduation or diploma.
PGDM v/s MBA: Which one is the better choice for you?
To conclude, both PGDM and MBA are a great choice for management students. However, if you are looking for a less expensive course that can help you gain knowledge of the field and offer better time utilization, the PGDM would be a better deal for you. This can also be a great choice for you if you are already working in a firm and are willing to move further into the company by gaining knowledge and experience.
On the contrary, the MBA is an excellent choice for the students who are looking to enhance their knowledge before joining a company and want to be assured of getting a better starting package. Also, there are many firms that prefer hiring an MBA person rather than trying hands on the guys who only have done the graduation course.
In all, it is your choice that what your preferences are and what you want to do after the degree. For us, we will suggest you wait and complete your MBA first and get the best job opportunity after completion of the course. Additionally, you are going to get better opportunities in your career and better job offerings from the reputed companies. And this can't be guaranteed with PGDM, until you are exceptionally well in your field and have an enormous amount of experience with a reputed firm.
So, if you have choices, we will suggest you stick with MBA and get enrolled in a better college with a better reputation and placement history. You can opt for the best MBA college in your city or opt for the IIMs if you have an exceptional CAT score.