Postgraduate diploma in management is known as about 2-years course in the field of Management. From the top-level institutes to all the Universities, every management institute provides the diploma. Students who want to pursue the course part-time or full time can do it easily. The duration of the PGDM course is about two years. Whether you want to be eligible for a post-graduate diploma in management, you have to complete the graduation with 60% marks.
Students holding the postgraduate diploma in management can be placed at the managerial level in top MNCs. The diploma is considered the same as the MBA.
This article offers all information about the PGDM course, such as eligibility, carrier admission process, fees, and more. Now you do not need to waste your time to get all the details about PGDM courses and more-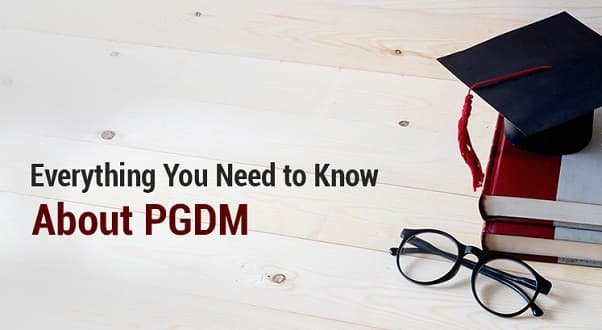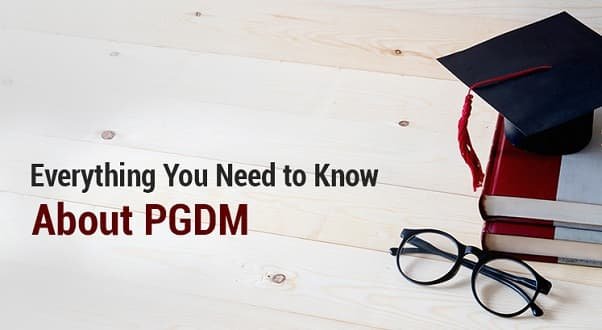 Why Study PGDM Courses?
Education might lead to several opportunities. Completing higher education is a Paramount path to success in a competitive world. This is the reason a post-graduate diploma in management is imperative. Take a look at all these reasons why a PGDM degree is required to do in the business world-
Enhance career opportunities
The better opportunities you get, the more education you have. PGDM graduation is quite a valuable asset to an organization. Due to the competition in the business world, you might find that you have to do a management degree.
Once you get a management degree in hand, you can opt for a higher salary. According to a survey, it is proved that a person gets more salary after completing the PGDM course. You have to do a lot of hard work to get a PGDM degree, and unquestionably, it can reflect your salary.
One of the valuable parts of completing a PGDM course is great to network opportunities. When you once study management, you can work with people and connect with people for a long time. You get a chance to connect with more and more people in the business world after completing a PGDM course.
Success and failures are the two important sides of life. One can learn about the value of success more than a management graduate. It is really valuable when you understand the concepts of the PGDM course. It is always a good idea to get great results for the future. Moreover, one can get sets of knowledge after obtaining a PGDM course.
PGDM Course details
Let's have a glimpse of the complete course details of PGDM. Check out the specializations that a candidate can opt for. Now, you can pursue a career in different fields with a postgraduate diploma in management-
1. PGDM in International Business
The course is about two years provided dip training and knowledge in managing business and the related aspects. Postgraduate diploma management in international business could be pursued from different colleges as well as Indian Institutes of international trade. The average fees of the candidate in PGDM international business are about 4 to 12 lacs INR. The average salary of PGDM international business is about 4 to 10 lakh per annum.
2. PGDM in Operations Management
The course claims to provide skills to all the individuals who want to deliver great services. Postgraduate diploma management in operation management is followed by students and professionals who want to achieve the skills to be very smooth and optimal in work. The post is about to work in the operations department. The average fee of operation management in PGDM is 3 to 10 lacs.
3. PGDM in Business Analytics
Analytics is defined as a Paramount part of any company. Postgraduate diploma management in business analytics provides the services to train students and knowledge to practice the business analytics techniques and tools to provide the right information. The average fee for this particular course is 3 to 12 lacs. Once the candidate is recruited for the post, the starting salary is 5 to 10 lacs per annum.
4. PGDM in Marketing
Those who want to know more about the postgraduate diploma courses in marketing can check out here. The course has covered all the aspects that are related to marketing research as well as management. It is a course about training the students to boost a product and its market value with many strategies. The average starting fee for the course is 2 to 5 lacs.
5. PGDM in Finance
It is an excellent course for students interested in learning about several aspects of financial management, such as international finance and Capital Management. When it comes to finalizing the expenses of several aspects and making the balance sheet by analyzing the different cost morning depreciation concepts, you must go for PGDM in finance.
Eligibility
Students waiting for admissions for a post-graduate diploma in management must consider the minimum eligibility criteria. The eligibility is different from Institute to institute. Hence you have to check out all the details before apply. You need to check out all the given points to know about the basic eligibility criteria-
Make sure the student has a bachelor's degree in any stream from a reputed university.
When it comes to getting admission in PGDM, you have to get a minimum of 60% marks in graduation.
In the case of CGPA, you have a minimum of 6.5 CGPA on a scale of 10.
Admission process
Would you want to know about the admission process for a post-graduate diploma in management course? Several universities and colleges are providing post-graduate diploma in management. The admission procedure is quite different for every institution. Here you can consider all the details about the admission process-
First of all, you need to know about the eligibility criteria to get admitted to the required University and college.
Once you are qualified, you have to fulfill the form and submit all the required details correctly.
Make sure to scan all the required documents rightly to get admission.
As well, you have to know about the fee portal of college and university.
You have to visit the official website to get all the updates about cut off marks.
Students hoping to get admission to the best college and university have to pass the interview session and cut off marks.
Admission is based on the entrance exams such as the CAT, MAT, and XAT.
When it comes to getting admission to the desired University and college, the student has to qualify the entrance exam and clear the cut off marks.
Some universities and Institutions conduct the personal entrance test to learn about candidates' knowledge and experience.
Fees
The fee structure of the PGDM course might be different from one Institute to another. Some many institutes and universities provide the services of PGDM courses that you can choose from. Everyone wants to choose the best Institute to provide great study facilities. According to the resources, the PGDM fee payment schedule for the first year is-
The first installment of rupees 1, 25,000, need to pay at the time of admission.
The second installment of her 1 20,000 needs to be paid within 30 days of admission.
The third installment of rupees 1, 15,000, need to be paid before the given time.
Syllabus
Let's consider all the details about the syllabus of PGDM semester-wise. This will help us to study and qualified for the PGDM course-
Semester 1
GC-101           MANAGERIAL ECONOMICS
GC-102           BASICS OF MANAGEMENT
GC-103           ACCOUNTING FOR MANAGERS
GC-104           PRINCIPLES OF MARKETING
GC-105           BUSINESS LAW
GC-106           BUSINESS RESEARCH METHODS
GC-107           ORGANIZATIONAL BEHAVIOR
GC-108           ECONOMIC ENVIRONMENT OF BUSINESS
HA-109           BUSINESS COMMUNICATION
HA-110           IT SKILLS FOR MANAGERS
HA-111           LIFE MANAGEMENT SKILLS
HA-112           BUSINESS AWARENESS FOR MANAGERS-I
SEMESTER 2
CODE No.      Name
GC-201           MANAGEMENT INFORMATION SYSTEM
GC-202           BUSINESS STRATEGY
GC-203           FACULTY STUDENT COLLABORATIVE LEARNING
HA-204           QUANTITATIVE TECHNIQUES
HA-205           MANAGERIAL AND LEADERSHIP SKILLS
HA-206           BUSINESS AWARENESS FOR MANAGERS-II
HA-207           APTITUDE SKILLS
FC-221            CORPORATE FINANCIAL MANAGEMENT
FC-222            FINANCIAL MARKETS AND INSTITUTIONS
FE-223            FINANCIAL REGULATORY FRAMEWORK
FE-224            INCOME TAX-I
FE-225            SECURITY ANALYSIS AND PORTFOLIO MANAGEMENT
FE-226            BANKING OPERATIONS-I
SEMESTER 3
CODE No.      Name
GC-301           ENTERPRENEURSHIP DEVELOPMENT AND PROJECT MANAGEMENT
GC-302           MANAGEMENT CONTROL SYSTEM
GC-303           SUMMER INTERNSHIP PROGRAM
HA-304           CLDP CERTIFICATIONS
FC-321            INTERNATIONAL FINANCE
FC-322            MERCHANT BANKING AND FINANCIAL SERVICES
FC-323            VALUATIONS MANAGEMENT
FE-323            EQUITY RESEARCH
FE-324            INCOME TAX-II
FE-325            PERSONAL FINANCIAL PLANNING AND WEALTH MANAGEMENT
FE-326            BANKING OPERATIONS-II
ME-316           ETHICS  IN MARKETING
HE-336           SOCIAL LEGISLATION FOR MANAGERS
SEMESTER 4
CODE No.      Name
GC-401           BUSINESS INNOVATION AND SUSTAINABILITY
FC-421            INSURANCE AND RISK MANAGEMENT
FE-422            ACCOUNTING STANDARDS AND IFRS
FE-423            FIXED INCOME SECURITIES
FE-424            FINANCIAL STATEMENT ANALYSIS
FE-425            CREDIT ANALYSIS AND APPRAISAL
FE-426            BUSINESS ETHICS AND CORPORATE GOVERNANCE
Career
PGDM provides a chance to get practical experience in human resource management and marketing or more. It is an Occupation program that imparts work abilities in understudies and provides the arrangement offers contrasted with expert courses.
Retailing Manager
Sale-purchase Assist. Manager
Teacher & Professor
Tourism Manager
Accountant
Executive Director & Head
Hotel & Catering Manager
Logistics
Manager
Public Relation Officer
Publisher & Columnist
There are many career opportunities available after completing the PGDM course. One can get the complete experience of working in multinational companies as an accountant manager and more. The course provides an opportunity to start a career in different fields. So if you want to get her experience in different fields, you can get admission in the PGDM course. Make sure to get admission to a recognized University to get the job as soon as possible.
Scope
Once you have completed PGDM, you can find several employment opportunities in the private and public sectors. The starting salary is about 5 lakh to 10 lakh per annum. Students can become a part of Educational Institutes and become professional professors and teachers for accounting, soft skills, and Management.
Students can become a Human Resource Development Manager, where they can comply with its standards or firm. Moreover, they manage human resources and work under the key component of the form. After completing the course, you get enough skills for efficient management. There are many more job profiles waiting for you after completing the course of PGDM.
Conclusion-
The facts will help to be a part of the best PGDM course. One can get qualified for the recognized universities and colleges to be a PGDM expert. However, you will know about the eligibility criteria to get admission to the best university. Moreover, you know about the exams that you need to qualify for.