Almost every one of us might have gone through this phase of the uncertainty of choosing a good postgraduate course. In recent years, MBA and MS are one of the most widely chosen courses by students. These courses are more popular among engineering students, and it always creates a dilemma.
Both the courses are expensive to study, and one must be extremely cautious in choosing the best course and also the right university. Money is just one of the various factors to consider. But seeing a career path ahead of time is a smart move. Mainly, an individual should have the urge and interest to choose an MBA or MS program so that one can take in the full benefits of the course.
Here is a neatly curated comparison of both MBA and MS to guide you in deciding the best post-graduate program.
What is an MBA program?
Master of Business Administration is shortened as MBA. It is a postgraduate degree program dealing with business and other entrepreneurship-related subject matters. The students learn the theory and how to apply management and business principles.
The main courses in MBA are accounting, business communication, applied statistics, business ethics, finance, business law, ethics, entrepreneurship, marketing, and operations. Specialized programs are also available such as Financial Management, Accounting, Business Management, Economics, corporate management, etc.
This course is made available full time, part-time, and also executive programs. MBA is pursued by both students and office going people who are aiming for a good managerial position in an organization. Entrepreneurs prefer this course to widen their understanding and knowledge about business.
What is an MS program?
Master of Science is known as MS shortly. This is a very commonly studied degree. MS deals with both mathematical and scientific matters. The student gets to develop knowledge in a specific area. Engineering students will benefit more by taking up the MS program. The duration of this course depends upon the specialization the student opts for. It comes around 2 to 3 years. Each college has its duration for an MS course.
There is an MS in Computer Science, Information Technology, and Engineering. Studying MS is quite technical. One of the popular careers in MS is research. After an MS degree, one can pursue a Ph.D. if they want to get into teaching.
MBA Vs. MS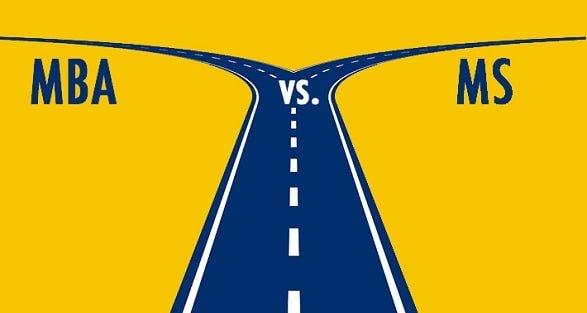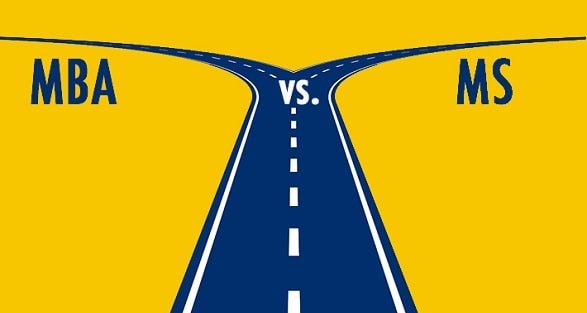 MBA is a degree in management done after completing an undergraduate program. Almost every student dreams of studying MBA, and it is one of the most desirable courses. Every college which provides an MBA degree is flooded with lakhs of applications from undergraduate students. If a student dreams of getting into the corporate world, this course can lead them into it.
Having said that, MS is also a postgraduate program that has various courses related to science and engineering. This course is popular among international students. For a student who aims to get deeper into a specific subject and do research, then this course is the right choice.
Comparison of Admission Process
To get selected for an MBA program, the student must possess a 50% score in their undergraduate course. After that, the students are encouraged to pass an entrance exam in CAT, GMAT, ATMA, MAT, CMAT, and XAT. Students who pass one of these tests with a good cutoff required for their specialization are eligible for further selection process conducted by the college. The selection process can include a Personal interview, a written test, and a group discussion.
Coming to the eligibility and selection process of the MS program, the candidate should be a graduate in the same MS program they are applying to. They should have 50% average marks. The admission process changes from country to country and also the colleges you are applying to. Either an IELTS, GRE, or a TOEFL certificate is needed. Some colleges check not only the pass percentage but also the student's interests and plans.
Specialization in MBA and MS
According to MBA, an individual can opt for a wide range of specializations depending upon one's interest. The number of specializations has been increasing every year, depending upon the need in today's world. Some known specializations include Data Analytics, Finance, Marketing, Information Technology, Hospitality, etc.
MS, on the other side, deals with specialization on a particular subject. Some of the specializations include Computer Science, Power Engineering, Game Design and Development, Life Science, and Marketing.
Career opportunities in MBA
With an MBA degree, one can find a managerial position and escalate from there. One can apply for jobs overseas. There is a competition between Indian and Chinese MBA graduates for overseas jobs. But Indian candidates are preferred because of their English communication skills. Some of the job opportunities of MBA include,
With the completion of the MBA course, there is hope for becoming a marketing manager in any reputed company that wishes to sell products and services. Your main work would be to efficiently manage the marketing department and market the products and services to increase sales.
A sales manager is yet another opportunity to do after the MBA course. Sales are vital to any business environment. To hold the position of a sales manager is to uphold the business sales and keep the business standing in the market. You may have to run the sales department to meet the demands of the customers
The HR manager is a decent job to get after an MBA course. In large and medium-sized companies, the HR department is an absolute necessity for the smooth functioning of the company. They are the people who choose the right candidate and position them in their rightful jobs.
This position needs an MBA finance degree. You can gain knowledge and experience working in the finance department. As a finance advisor, you will give capital and investment management advice to companies and individuals in exchange for a fee.
Business analytics is an emerging field in the world of business. There is a high potential for MBA students to get jobs related to this. With increasing data in the business processes, there is a greater demand for skilled business analytics to generate reports and patterns of the received data. It is generally an analysis of data from various business fields. They need to manage a business analytic team and use software to analyze data. They need to monitor data and plan strategies regarding the findings.
MBA Careers in Accounting
If you have an MBA degree with accounting as your specialization, then you could choose a work in the accounting field. The work includes managing the accounts received and spent on departments and transactions, and tax calculations, financial accounting, and consultancy. You may be called as comptroller, accountant, managing accountant, and financial accountant.
MBA Careers in Business Management
MBA course is usually accompanied by business management. You can also specialize in the field and make it a career option. There is a great need for a manager in every field of business. Career opportunities in this field are human resource management, computer operation management, and supply chain management.
If you have specialized in the financing field coupled with an MBA, then there is an excellent opportunity for such a candidate. Career opportunities include financial analyst, budget analyst, financial officer, financial planner, and investment banker.
MBA Careers in Information Technology
Information technology is the most needed knowledge in the business world, especially if it is coupled with an MBA degree. You can grade overseas projects and supervise people and handle information systems. Career opportunities are project managers, information system managers, and information technology managers.
Career opportunities in MS
MS program comes with a variety of job offers, both in India and abroad. Job opportunities are found both in the public as well as private sectors. If one pursues an MS program, they are sure to get placed in an educational institution or research area.
Some of the job opportunities include, 
A food and drug inspector would check the stages of production, the quality, and whether it is safe for human consumption.
A research assistant is a person who researches and studies information acquired from laboratories and experiments with it.
A chemical analyst collects data and information from a chemical substance and communicates this data through mediums of science, engineering, and mathematics.
Laboratory technicians are known for taking tests and detecting the presence and absence of diseases.
A manager or executive does all the planning and leading in an organization. Depending on your talent and skills, you can either become a senior, assistant, or junior manager.
A professor job lets you guide students in a specific course. They are required to help students with their research and project works.
A junior research fellow does research and other experiments related to a particular study. These study papers are later published as scientific papers.
A biochemist works to find new medicines for various diseases. They analyze DNA, enzymes, molecules and do research work.
A mathematician is known to use advanced and complicated concepts in mathematics and use them to solve problems in business, government, and engineering sectors.
A scientist is involved in a systematic activity to gain knowledge by researching any field.
What are the skills required for MBA Professionals?
MBA certified Course is a fast track business course, and it requires excellent skills to join a reputed company. Speaking of skills, a successful MBA professional should possess the following.
Great leadership quality
Motivating personality
Ability to deal with uncertainty and ambiguity
Good analytical competences
Ability to think methodically
Formidable business acumen abilities
Emotional and people intelligence
Outstanding communication skills
What are the skills required for MS Professionals?
Some of the basic skills required for MS professionals are:
Determination
Patience
Analytical skills
Attention to detail and accuracy
Scientific skills
Ability to work in a team
Observation skills
Problem-solving skills
Research skills
Why Choose MBA better than MS?
This is the most common question of why to choose an MBA. Here are some reasons to take up this course:
Big pay packages
It has better growth prospects inside the business and moves up on the ladder of career.
Enrich your professional network with diverse, successful and people
It creates and develops your personality.
It is a kick start for a career
You can learn new skills
You have career support
Who will recruit MBA Professionals?
Now that you have studied all job options and required skills, you must know who will recruit MBA professionals. Here is a curated list of some of the leading companies which you can look for a futuristic prospect.
Who will recruit MBA Professionals?
Now that you have studied all job options and required skills, you must know who will recruit MBA professionals. Here is a curated list of some of the leading companies which you can look for a futuristic prospect.
Leading Recruiters for MBA Professionals
Morgan Stanley
Amazon
Johnson & Johnson
Walt Disney
Bain & Company
Apple
BCG
Deloitte
Citigroup
Ernst & Young
Nike
Price water house Coopers
Facebook
Tesla
Goldman Sachs
JP Morgan
LinkedIn
Procter & Gamble
Deutsche Bank
Microsoft
Accenture
A.T. Kearney
PepsiCo
McKinsey
GE
Unilever
Conclusion: MBA or MS

Both courses have their benefits and demerits. They are different in every aspect. A candidate who has a clear goal regarding their career and plans will be able to go through the above guidelines and decide on a smart choice.
Here is a briefing about MBA and MS courses for candidates who are still with a confused mind.  
| | |
| --- | --- |
| Master of Business Administration (MBA)  | Master of Science (MS)  |
| Focuses on business management and other corporate-related subjects. | Focuses on Science, Medicine, Mathematics, and other engineering-related subjects. |
| The duration of the course is 1-2 years. | The duration of the course is 1to 3 years. |
| Need 36-48 credit hours | Need 30 credit hours |
| Students can apply for jobs in corporate companies. | A Ph.D. degree can be pursued after an MS degree. |
| The scholarship is available for students. | The scholarship is available for students. |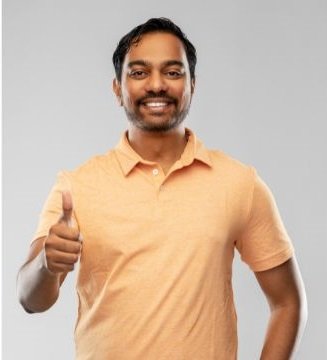 Rahul Kumar is a passionate educator, writer, and subject matter expert in the field of education and professional development. As an author on CoursesXpert, Rahul Kumar's articles cover a wide range of topics, from various courses, educational and career guidance.