Once you are done with your bachelor's degree and aspire to make a career in business management, the MBA (Masters in Business Administration) is one of the most common options you get to hear. But in recent times, you can also hear about another course, and that is MIM (Masters in Management). MIM may not be as popular as the MBA program but is one of the best courses for those who aspire to make a good career in business. As an MBA, this MIM also offers courses in economics, marketing, and other fields related to business management.
But which is the best course for you – MIM or MBA? Though this is a tough question to answer, it can get easy when you get some detailed information about both the management courses. So, for all those in a dilemma whether to pick an MBA or MIM for the masters, here is some useful information. You can go through this information carefully and get to know more about each course.
What are MIM and MBA? 
If we are talking about the differences between Masters in Business Administration and Masters in Management, then most of you would say there is no difference in both the courses. That is true to some extent, but not completely true. Earlier, MBA was for graduates who have at least two to three years of work experience. It is still the same in many countries. But there are a few universities which offer this course even to students with no work experience. When it comes to MIM, it is a course offered to fresh graduates with a bachelor's degree. So, usually, no work experience is required to get yourself enrolled for the MIM course.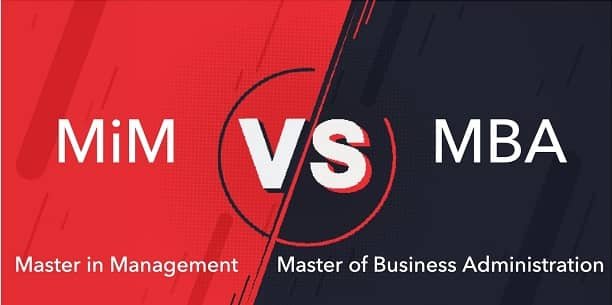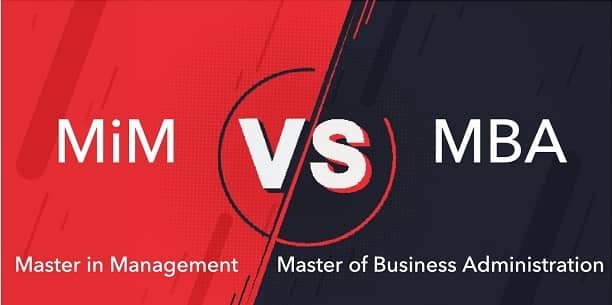 Even when you check out the curriculum, course duration, and course fee, there is a lot of difference in both the management courses. Let us have a look at these points in detail before you make a choice.
| Aspect | Master in Management (MIM) | Master of Business Administration (MBA) |
| --- | --- | --- |
| Focus and Target Audience | Primarily for recent graduates or those with minimal work experience. Designed for individuals seeking entry-level managerial roles. | Geared towards professionals with several years of work experience, aiming for mid to senior-level management positions. |
| Work Experience | Typically requires little to no work experience. | Requires a minimum of 2-3 years of work experience, though some programs may accept candidates with less. |
| Curriculum | Emphasizes foundational business and management concepts. Offers a broad view of various business functions. | Provides a deeper and more specialized curriculum, often with elective courses that allow for concentration in specific areas like finance, marketing, or operations. |
| Duration | Generally shorter, ranging from 10 to 16 months. | Typically 2 years, although there are accelerated programs available. |
| Internship/Work Placement | May include internships but is not a mandatory component. | Often includes a mandatory internship or a structured practical component to gain real-world experience. |
| Networking Opportunities | Provides opportunities to network with peers and companies. | Extensive networking opportunities with industry professionals, alumni, and guest speakers. |
| Global Exposure | Some programs may have international components or partnerships. | Many MBA programs emphasize global perspectives and may offer opportunities for international study or projects. |
| Cost | Generally less expensive compared to MBA programs. | MBA programs are often more expensive, but financial aid and scholarships may be available. |
| Admissions Criteria | Focus on academic performance, test scores, and potential. | Consideration of work experience, leadership skills, recommendation letters, and a more holistic approach to candidate evaluation. |
| Career Outcomes | Typically leads to entry-level management positions. | Opens doors to mid to senior-level management roles, executive positions, or entrepreneurship. |
Entrance Test: 
Depending on which country and which university you prefer to take admission to, you will have to give an entrance test. The score of your entrance test will help you grab a seat in the best universities. If the score is not very good, then you may not be able to get admission to the best universities or colleges. GMAT or GRE is the most common entrance exam that you need to take for admission into an MBA or MIM course. Apart from that, there are a few other tests, which depend on the university or college you are choosing.
To get admission in MIM or MBA, you should have completed your bachelor's degree from a recognized university. Your bachelor's degree can be of any discipline, and that does not make any difference.
Course duration:
When choosing between MIM and MBA, the duration of the course is one of the most important things to consider. MIM is a course for ten months to 18 months, and an MBA is 18 months to 24 months. It usually varies depending on your college or your university. It is usually in semester mode.
Some universities offer part-time MBA and MIM courses as well. Part-time MIM is usually an on-campus program, which is not as long as the full-time course. But when it comes to a part-time MBA, it is both an on-campus and also online course. This part-time is usually preferred by working professionals.
Course Fee:
This is also a deciding factor that can help you make a decision. If you compare the course fee of a master's in management with a master's in business administration, you will be able to find a huge difference.
MBA course is more the double the MIM course fee per year. Usually, you will have to spend $28,000 to $50,000 for a MIM course, whereas it is $40,000 to $130,000 for an MBA course in most of the universities. The fee sometimes depends on the specialization that you are choosing in your MBA.
Curriculum:
Both of them are courses related to business management, but there is a lot of difference in both the curriculums. In MIM, the main focus is on classroom lectures, case studies, guest lectures, and also some group projects. The professors use some business-related problems and real-world problems to help you understand the projects better. A lot of learning happens with the help of debates, and so every student will have to participate actively in all the activities. This kind of activity will help the students handle business problems when they get started with their job.
An internship program is also mandatory for every MIM student. This way, students will be able to understand and solve real-time problems in organizations.
But when it comes to an MBA, most of the learning is with the help of case studies. The students will apply the theory practically to the real-time complexities in the business. As most of the students in MBA have prior work experience, they will be able to apply their practical knowledge in learning and problem-solving.
Specialization in the course:
When it comes to specialization, MBA has several options as electives. Usually, an MBA student has prior work experience, and they want to improve it or gain more knowledge in the field of their experience. So, there will be a lot of options from which you can make a choice. That means you can pick some specialization that can help you grow in your career.
But when MIM, it is going to be different. Yes, in a MIM course, you are just getting started with the fundamentals of business, and hence you will have to start from the core. As the MIM course duration is less compared to the MBA course, you will have just a few specializations to choose from. You can either go for a general MIM program, or you can concentrate on just one field of your interest.
Work Experience:
Usually, MIM students do not have any kind of work experience, or they do not need any work experience to get enrolled in any college or university. But if you are enrolling yourself in an MBA program, most universities make it mandatory to have at least two to three years of work experience. That is not mandatory for a few colleges as many students pursue an MBA after a bachelor's degree as well.
Career opportunities:
When you look at the career opportunities after MIM or MBA, then you can see that the type of jobs they offer they receive are different.
After the completion of the MIM course, you will have to start your career from entry-level management positions. This course is basically for those who have just completed their bachelor's degree and do not have any experience in the real world. So, it is usually entry-level positions that they will be offered.
After completing an MBA, you will receive job offers at mid-level or higher managerial positions if they have prior work experience. Usually, most people opt for an MBA when working on getting better pay, better job offers, or promotions in the existing companies. As an MBA is offered online and as part-time, working professionals will not face any difficulty in completing the course. Their work also does not get hampered.
Salary packages:
Now comes the most interesting part and that part for which you enroll yourself in a course. Yes, you complete any course to get the best job and start your earning. The salary package is always an important point to consider when you are picking a special course. But the salary part is very clear when we compare the salary for MIM graduate and MBA graduate.
As the MIM graduates just start their career after completing the MIM program, they will earn less when compared to MBA graduates. The MBA graduates have prior experience, and also they will be hired for mid-level and high-level managerial positions in the companies. So, now based on their specialization, the number of years of experience, and the organization for which they are working, the salary will differ.
Finally, Which is better for you?
So, after going through so much information about the Masters in Management and Masters in Business Administration, which one do you think is better for you? Only one thing is constant when it comes to the world of Business, and that is Change. Yes, it keeps changing very frequently, and having theoretical and practical knowledge will help you adapt to the world of business changes. Having a master's degree in business can be very useful for aspiring to make a career in business management.
But whether to choose MIM or MBA is completely your choice. MBA is mostly for the people who are already in this world of business and want to improve their skills in a specific field. But MIM is targeted at fresh minds who are interested in starting their career in business management. There are different benefits of pursuing these two different courses in your life.
As an MBA is more popular than MIM, many people show more interest in the MBA. But you should know that MIM will never stop you from pursuing an MBA at a later stage in your career. Instead of going for an MBA after your bachelor's degree, you can go for it after MIM. Once you complete MIM, you can start your career in a low-level job, and you can use that experience and MBA at a later stage to jump to a better position. So, you should first think about your current stage in your career and choose according to it. Also, make sure that you have the best score on your entrance test.
So, all the best and make the right choice that can help you move forward in your career and achieve your goals.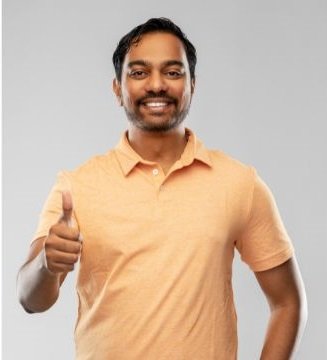 Rahul Kumar is a passionate educator, writer, and subject matter expert in the field of education and professional development. As an author on CoursesXpert, Rahul Kumar's articles cover a wide range of topics, from various courses, educational and career guidance.