BBA and LLB are among the common courses that a 12th standard passed student might consider perusing these days. However, both the courses are entirely different from each other. While the demand for these two courses has increased, the confusion about which course is the best has also increased. The only way to get rid of such confusion and select the best course is to know more about these courses.
Just knowing more about the courses might not be enough, a direct comparison could give you a precise conclusion. In this article, we will discuss both the courses and also compare both the courses to serve your purpose. At first, we will start with the details of both the courses, and then, we will move to key differences. Yes, there are several differences between these two courses, highlighting these differences would help you understand more and come to a satisfactory decision.
LLB Course Details

Bachelor of legislative law (LLB) is a course designed for those candidates who want to enter the world of judiciary and law in India. Even if this course could be perused only after graduating from a UG course, is still considered to be a UG course itself. While some people mentioned LLB to be a postgraduate course. However, as far as we know, it is just an undergraduate course.
As of today, perusing the LLB course is one of the best options for 12th pass students, the demand for LLB graduates is increasing every year. Therefore, perusing this course has its upside. There are almost 1200 law colleges in India and this includes several well-known universities and colleges too. Like other courses, a person could do a postgraduate course after LLB.
There are two different types of LLB course, integrated LLB course, and regular LLB course. Integrated LLB course is designed in such a way that it combines LLB with some other course. For example, BA. LLB, B.Com LLB, B.Sc. LLB, etc. On the other hand, regular LLB course teaches LLB only. The duration and syllabus of both these types of courses differ.
No matter which type of LLB course you peruse, the course would include almost very Indian laws, criminal law, family law, civil law, international law, etc. The core purpose of the course is to develop problem-solving skills, law knowledge, apply the law in the right way, and many more. Peruse this course if you love working with the law.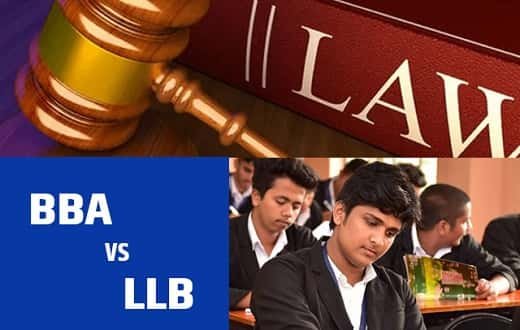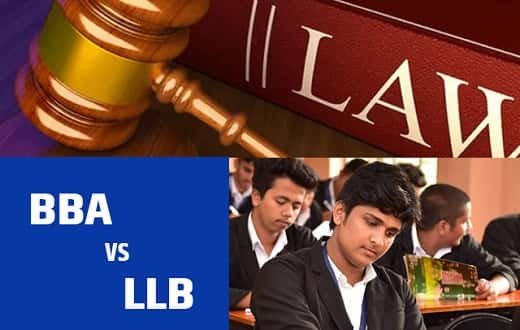 Who could peruse LLB/eligibility criteria?

As already mentioned, there are two types of LLB courses based on the nature of the course. Integrated and regular LLB. Both courses have different eligibility criteria.
Integrated LLB –
The candidate should have passed the 12th standard from a recognized board
The candidate should have scored at least 45% marks
The candidate should have appeared and cracked the entrance test conducted by the central or state government. Some colleges or universities conduct their own entrance test, the applicant needs to pass such test too.
The applicant could be from any 12th standard stream, however, for BBA LLB, B.Com LLB, BA, LLB, candidates from commerce or arts streams are given more preference, when it comes to B.Sc. LLB, etc. candidates from the science stream are given more preference.
Regular LLB –
The candidate should have graduated from any UG course with a minimum of 45% marks.
The candidate should have attended and passed the entrance test for the LLB course
The candidate should have graduated UG course from a reputed or recognized university or college
There is no age limit to peruse the LLB course.
Now apart from all these, some colleges and universities allow direct admission to their colleges based on merit. However, there might be a donation involved in such scenarios. Therefore, you do need not be concerned if you have not attended any entrance test.
The LLB course duration –
The course duration of the LLB course depends on the type of course perused.
If it is an integrated LLB course, the course duration is 5-years
And if the course is regular LLB, the course duration is just 3-years.
The LLB course syllabus –
The syllabus of the integrated LLB course and regular LLB course is different, while the integrated course includes several subjects from the other combined course, the regular LLB course covers only subjects related to law. Here is the syllabus of the regular LLB course.
Year 1 –
Family law 1
Family law 2
Labor law
Women and law
Constitutional law
Professional ethics
Crime
Law of tort and consumer protection act
Year 2 –
Environmental law
Jurisprudence
International economics law
Practical training and legal aid
Property law including the transfer of property act
Arbitration, alternative, and conciliation
Human rights and international law
Law of evidence
Year 3 –
Administrative law
Legal writing
Company law
Code of the criminal procedure
Practical training
Interpretation of statutes
Land laws including ceiling and the other local laws
Civil procedure code (CPC)
Job profile of an LLB graduate –
After you graduate from an LLB course, there are two options for you. You could get employed somewhere or you could peruse postgraduate courses. However, if you are planning to get employed, here are some of the common job profiles for LLB graduates.
Lecturer
Legal advisor
Law officer
Government lawyer
Corporate lawyer
Legal counsel
Legal administrator
Legal associate
BBA Course Details

Bachelor of Business Administration (BBA) is an undergraduate course that is entirely different from the LLB course. This course is designed to help the candidate develop skills and knowledge in different fields of business and administration. As of today, BBA is one of the common UG courses that most of the commerce or art students who have passed 12th commerce and arts peruse these days.
Most commonly, BBA acts as a bridge course for those students who plan on perusing MBA. Opting to peruse BBA course for MBA course is one of the best things that a candidate could do, while BBA is just a UG course, it could lay the foundation for your business administration and management field career. Peruse the BBA course only if you are planning to work with the management and administration side. The course focuses more on accounting, sales, finance, human resources, marketing, etc. If you are planning to join this course, check the syllabus carefully, and then decide.
Unlike other courses, BBA courses have specializations and the job profiles could differ based on the specialization. Some of the common specializations are marketing, aviation, finance, banking, finance, human resource, etc.
Who could join BBA course/eligibility criteria?

The eligibility criteria for the BBA course are almost the same in all the universities and colleges in India. However, if the course is integrated, there might be a slight difference.
The candidate should have passed the 12th standard from a recognized board
The candidate should have passed 12th standard with at least 45% marks
The candidate's age should not exceed 25-years.
The candidate could be from any stream, however, candidates from the commerce, humanities, and arts stream are more preferred.
Duration of BBA course –
As mentioned, BBA is a UG course and it has a course duration of 3-years. Each year is split into 2 semesters. So, in total there are 6 semesters.
Course syllabus of BBA course –
First-year –
Human resource management 1
Computer application
Management accounting 1
Business law 1
Managerial economics 1
Effective communication 1
Quantitative methods 1
Financial accounting
Principles of management 1
Principles of management 2
Second-year –
Business law 2
Managerial economics 2
Effective communication 2
Human resource management 2
Quantitative methods in business 2
Business environment
Project work
Management accounting
Family business management
Financial management 1
Third-year –
Direct taxes
Indirect taxes
Marketing management
Operations management
Environment management
Project management
Export/import management
Public relations management
Research methodology in management
International marketing
Job profiles suitable for a BBA graduate –
After graduating BBA course, a candidate could either get employed or consider perusing PG courses. If you are planning to get employed, here are some of the common job profiles that you could apply.
Marketing executive
HR manager
Sales executive
Accountant
Bank clerk
Financial analyst
HR generalist
Senior business analyst
Executive assistant
Executive assistant
All the details about both the courses are mentioned above, you should read them carefully before you decide which course to join. However, focusing more on the syllabus, job profiles, might help you more. Here is a direct comparison of the BBA and LLB courses.
LLB Vs BBA, similarities and differences –
Both LLB and BBA courses are UG courses, however, the BBA course could be perused after 12th directly and LLB cannot be. To peruse LLB after 12th, you need to join for an integrated LLB course. Example, B.Com LLB, BBA. LLB, B.Sc. LLB, BA. LLB, etc.
BBA after passing 12th standard is a 3-year course, but, LLB after 12th pass is a 5-year course if opted integrated LLB course, or 3-year basic UG course duration + 3-year regular LLB course.
LLB course is all about law and how to use law, on the other hand, BBA is all about business, management, and administration.
LLB could be perused even after perusing the BBA course first, but not vice-versa.
The job opportunities for both BBA and LLB graduates tend to be in the same number. However, BBA graduates find it easier to find a job than LLB graduates.
The course fee of both BBA and LLB courses are the same, however, if you join a top college or university, the course fee might differ.
Conclusion: LLB Vs BBA, which course is better for you?
We cannot tell you which course is the best for you, as already mentioned above, LLB is a law course, BBA is a business administration course. Which of these two do you find attractive and interesting? Peruse the course that interests you, that's the best course for you. Graduating from any of these courses could get you a job, therefore, none among these courses are inferior or superior. Read the course details mentioned above carefully and decide the suitable course for you.
Related Topics: