Over the past few years, the crime rate has been increased rapidly in India. The Indian Judicial system has weak as compared to another county's judicial structure. Its high time to improve the Indian judiciary and there is only one way to change it. Well, today's generation is the only one who has understood the niceness of law. The Law field is an ideal choice for those candidates who have a bold personality, ability to tackle pressure, possess good communication skills, and have wide-circle where he or she can foothold easily.
 The professional needs to be more focused and concentrated during the case study. If you have an eager interest to know more about the judicial system in-depth, then you can pursue the law field as a career option. Infect, good spokesmen have the quality to modify the passé concepts of law and Public prosecutor is one of them to have this authority. It is just not only a higher post but it also brings lots of responsibility on the behalf of state government and central government. Here we are trying to cover up all the important aspects that you should learn to become a public prosecutor. Without wasting any time, let's get started learning about PP power & responsibility, eligibility factor, future scope, and pay scale.
Who is Public Prosecutor?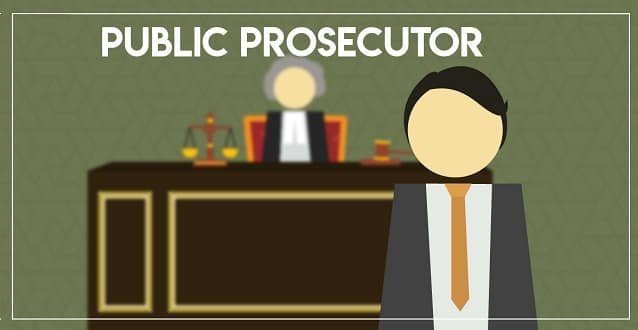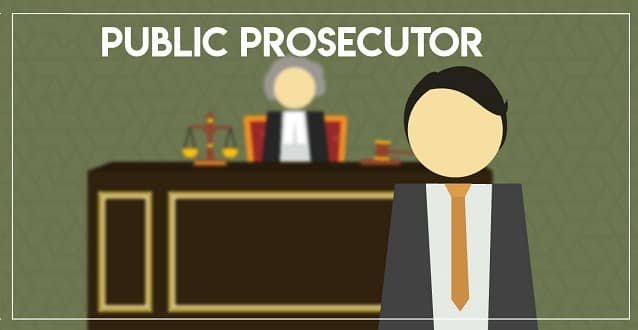 A Public Prosecutor is a qualified professional who has been hired by the legislature (Central Government & State Government) to appear for those criminal cases that have been trialed against the State. He or she is also known as the legal representative of the state in criminal trials. The major role of the PP is to serve justice in the favour of the Public. Moreover, he or she has the power to file the charge sheet in court after completing the investigation of the Police. He or she has the responsibility to present all major facts, evidence, and documents in front of the court and act neutrally. A public prosecutor gives the accurate lead to the lord justice during the final verdict.
Here we are explaining few steps that you should follow to become Public Prosecutor.
Step -1 Eligibility Criteria
Before explaining the eligibility criteria, candidates must have to know about the category of Public Prosecutor. There are two categories in Public Prosecutor:
District Prosecutor – This category of the prosecutor has been appointed for a duration of three or five years.
Lower Magistrate Courts Prosecutor – Prosecutor of this category has been appointed permanently. The selection of this category is through the UPSC exam procedure.
Eligibility Criteria:
Candidates who are willing to become the Public Prosecutor must have fulfilled the following eligibility requirement-
Academic Qualification: Every law college in India has a different selection process for undergraduate and postgraduate law courses. However, you can pursue one of the following courses in the law field.
Eligibility for Undergraduate law courses :
Candidates must have passed their class 10+2 with any stream from any recognized board.
Candidates must have scored at least 45% marks in the qualifying exam.
For UG law course admission, candidates need to qualify for entrance exams such as CLAT, All India Law Entrance Test.
Those who want to pursue a career in law at the Undergraduate level can pursue 5-year integrated LLB courses like BBA LLB, BA LLB, B.Com LLB, B.Sc LLB.
Eligibility for Postgraduate law courses:
To pursue a PG law course, candidates should have passed a bachelor's degree in any of the following streams (Arts, Commerce, and Science) from any recognized university.
An aspirant should be passed bachelors with a minimum aggregate of 60% marks.
Some popular exams that candidates should consider to secure a position in a reputed college like Delhi University LLB Entrance exam, All India Law Entrance test ( AILE), Law School Admission test- India, etc.
Eligibility for Master degree law course:
To make a career in law at the Master's level, the aspirant must have passed three year LLB course from any university that is recognized by the Bar Council of India.
Candidates must have scored at least 55% of marks to pursue LLM.
Further Eligibility Criteria for lower magistrate court Public Prosecutor –
Nationality: Candidates must have Indian Nationality or Citizenship.
Law Degree: Candidates have a law degree.
Experience: Applicants should have worked for at least 7 years as an Advocate.
Age Limit: At the time of application for a post he or she should be between 35 years to 45 years. The age limit may be extending by the government for the candidates who belong to the Scheduled Castes, Scheduled Tribes, and Other Backward Classes.
Step -2 Gain experience during the training period
Being a public prosecutor a challenging task. Applicants are suggested to join any law agencies for long-term internships. It is necessary to have some experience in the role of a public prosecutor. Throughout the internships, applicants would have a chance to enhance their drafting skills, presentation skills, proofreading skills, and conveying skills. Applicants can be able to know more about the law field in-depth. Regular activities, case law studies, important verdicts will help in your immense growth in this field. However, applicants must be updated with the latest events, news, and current affairs. Years of experience and the right supervision will help you to boost your career in your respective job area.
Step-3 Qualify UPSC Exam
UPSC ( Union Public Service Commission ) offers an application for various posts of Public Prosecutor like Assistant Public Prosecutor, Home Department of NCT, Directorate of Prosecution. Candidates who have a desire to become Public Prosecutors must appear for the examination that is conducted by the UPSC. Candidates are selected through written examination which is set by the UPSC. For further details, you can visit the official website of UPSC.
Syllabus for Assistant Public Prosecutor Exam:
The UPSC exam will cover the following papers-
General English – 100 Marks, duration: 3 Hours
General Studies – 100 Marks, duration:2 Hours
Law Paper – 1, 200 Marks, duration: 2 Hours
Law Paper – 2, 200 Marks, duration: 2 Hours
(A) Law Paper – 3, 150 Marks, duration: 2 Hours
(B) Aptitude Test – 50 Marks
(C) Personal Interview – 100 Marks
General English: This subject will comprise the following topics-
Essay Writing
Précis Writing
Letter Writing
Idioms & Phrases
Expansion of passages
Comprehension of given passages
Grammar – Parts of Speech, Nouns, Adjective, Verb, Adverb, Preposition, Tenses, Antonyms, Synonyms, etc.
Correct usage and vocabularies
General Studies: This subject is dedicated to Objects Type Question (MCQs). Some of the major topics of this subjects are-
Current events of national and international importance
History of India & Indian National Movement
Indian and World Geography: Social, Physical, Economic Geography of India and the World
Indian Polity and Governance: Constitution, Panchayati Raj, Political System, Public Policy, Rights Issues, and more.
Economic and Social Development Sustainable Development, Poverty, Social Sector initiatives Inclusion, Demographics, and more
General issues on Environmental Ecology, Climate Change, and Bio-diversity
General Science
General awareness on Mizo culture, its heritage, and society
Law Paper-1: This paper is also dedicated to Objective type questions. Some major subjects of this paper are-
Jurisprudence – Nature, and sources of law, Schools of law, Concept of ownership and possession,  Concept of rights and duties,  Legal personalities, Rule of law, Legal reasoning
Administrative Law – Nature, scope, and importance of administrative law, Relationship with Constitutional law, Separation of powers, Legislative power of administration 5. Judicial control of administration, Ombudsman in India
Law of Torts – Evolution of torts, nature, scope, and meaning, General principles of tortuous liability, General defense, Specific torts – Negligence, nuisance, trespass and defamation, Remoteness of damages, Strict and absolute liability, Tortuous liability of the State
Law of Contract – History and formation of a contract, Offer and acceptance, Consideration Capacity to contract, Legality of objects, Remedies for breach of contract
Law Paper – 2: This paper consists of objective-type MCQs. The major topics of this subject are-
Constitutional Law – Historical background and meaning and preamble, Nature of the Indian Constitution, Citizenship, Fundamental Rights, Directive principles of state policy, Union and state executive and parliament, etc
Family Law – Sources and schools of law, Marriage, and dissolution of marriage, Matrimonial remedies – Divorce and theories of divorce, Hindu undivided family, Maintenance,  Adoption and guardianship, Succession and inheritance, will, gift, etc.
Environmental Law – Meaning and types of environment, Environmental pollution – causes and effects, Common law remedies, International environmental law and UN Conferences, Constitutional and legal framework for the protection of the environment in India, Environmental Impact Assessment and control of hazardous waste in India, Environmental legislations in India, etc.
Labour Law – Industrial Disputes Act, 1947; Trade Union Act, 1926; Workman's Compensation Act, 1923; The Minimum Wages Act, 1948; The Factories Act, 1948
(A) Law Paper -3: Objective Type MCQs
Indian Penal Code – Offence against public tranquillity, Offences affecting the human body, General explanation and principles of crime, Right of private defense, Abetment, Defamation, Offences against the property.
Criminal Procedure Code – Powers of courts, Arrest of persons, Process to compel appearance, First information report and powers of investigation of the police, Trials by magistrates, Provisions as to bail, Appeal, reference, and revision
Law of Evidence – History, and development of evidence law, Relevancy of facts Documentary evidence, Burden of proof, Witnesses and examination of witnesses
(B) Aptitude Test: This test also offered Objective type questions.
Numerical and Figure work Tests
Verbal Analysis and Vocabulary Tests
Visual and Spatial/3-D Ability Tests
Abstract Reasoning Tests
(C) Personal Interview: The shortlisted candidates will appear in front of the penal of experts.  Candidates are advised to go through with the latest case laws and orders. Moreover, he or she should possess good communication skills. After qualifying for the interview round, candidates will undergo professional training.
Step – 4 pick a right institute/college /university
In India, both private and public law institutes and universities offer UG and PG law courses. Before pursuing a law course as a career, candidates must have to know about the college which they consider. Some of the colleges that offered law courses are below mention-
National law school of India University ( NLSIU), Bangalore
National Law University, New Delhi
Chandigarh University, Chandigarh
Nalsar University of Law, Nalsar, Hyderabad
Parul University, Vadodara
Indian Institute of Technology, Kharagpur
Symbiosis law school, Pune
National Law University, Jodhpur
Bharati Vidyapeeth deemed University, Pune
The West Bengal National University of Judicial Science, Kolkata
Bennett University, Greater Noida
National Law Institute University, Bhopal
Indian Law Institute, New Delhi
Pay Scale and Remuneration of Public Prosecutor:
A Public Prosecutor may receive a handsome salary package according to their post and experience. The salary may vary from position to position of public prosecutor which they obtain. The salary of a public prosecutor is divided into three levels: Entry-Level, Mid-Level and Senior-Level. At the entry level, the public prosecutor will be offered INR 3, 50,000 per annum. On the Mid-level, he or she will receive INR 8, 40,000 per annum and on the senior level, he or she can get INR 13, 30,000 per annum. Additionally, government-approved PP will get allowances as per their position.
Different Job Roles of Public Prosecutor
A Public Prosecutor will be work as a senior public prosecutor or works under any senior. The position will be decided by the higher authorities of government whereas; an assistant public prosecutor will be transferred to the senior Public Prosecutor post. Here is some popular public prosecutor job profile mention-
Public Prosecutor
Chief Prosecutor
Additional Prosecutor
Assistant Public Prosecutor
Director of Prosecution
Job opportunities for Public Prosecutor
A Public Prosecutor can seek jobs in both private and public industries. But remember these are district prosecutors who can work in various firms. A government-approved prosecutor is only a state legal representative. Here are mention some sector that you should consider-
District Court
Law Firms
High Courts
Supreme Courts
Legal Websites
Corporate Sector
Law Universities
Business Firms
Establishing a career as a public prosecutor is quite difficult but also a challenging task. This post offers you worldwide contacts with government official bodies or non-government sectors. I hope, this article will give you the right guidance.