You must know that the job of an air force is demanding and challenging. You have to accept all the challenges in this challenging and complex world. If you are willing to become an air force professional, you are ready to fight for the country and keep your homeland. If there is a war, you have to run and save your motherland. You must have the passion for fighting for the country and protecting it. You have to prepare right from the school days. It would help if you were passionate about your profession.
An Indian air force has to pass through several stages to become a strong personality. What is the central role of air force personnel? Your main work as an air force pilot is to identify the enemy's location or dens and destroy them from a specific distance. At the same time, you have to save and protect the people or the residents in which the attack occurs. This job is challenging and requires a lot of patience and dedication. If you have decided to fight for your motherland, it is a wise decision. You should give your best for this noble work.
Educational qualification to become an air force pilot: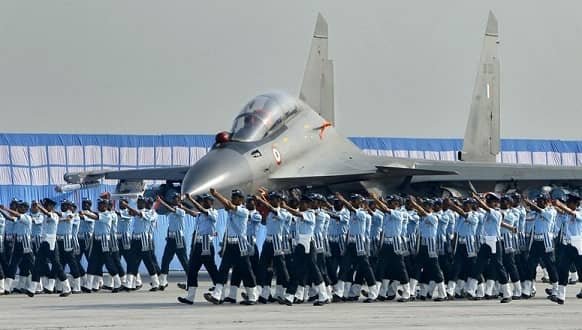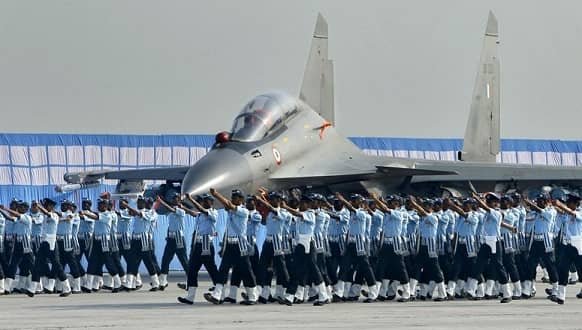 You must have specific academic qualifications for becoming an Indian air force pilot. This requirement is mandatory, and you should maintain it.
You have to complete your 10+2 from a recognized board with a minimum of 55% of marks.
You should pass your 10+2 exam from the science stream. This is essential without which you cannot appear for the air force job. At the 10+2 level you should have subjects like mathematics and physics.
You should be aged between 16 ½ to 19 years for appearing before the NDA or (National Defense Academy exam). It is the authentic way of entering into the profession.
Skills required becoming an air force pilot:
Apart from all this, you must possess specific skills to become an air force pilot. Let us discuss them in the following lines.
You must have an excellent command of English. This is required while interacting with other people.
You must have a clear and correct vision of the eyes. It would help if you remembered to become an air force pilot; you must have good eye sight.
It would help if you also had a specific height for becoming an air force pilot. Both girls and boys can become air force pilots.
It would help if you were bold and intelligent. You should remember that you should have the passion and zeal to save the country. At the same time, you must have a true love for your country.
You must have a positive approach to this profession. It is much required for this profession. You must be steady and ready to face any situation at any point in time. You must be prepared to destroy the enemy of your country who is trying to ruin your motherland.
Exams required qualifying for the air force position:
The job of an air force is tough. You have to qualify for some examinations to get enrolled in this job. In the following lines, you will know about the various exams that are related to this position.
Combined Defense Service Examination:
The Union Public Service Commission or UPSC organizes this exam twice a year to recruit air force officers and other military professionals. Once you qualify for the exam, you have to undergo a training period to become an air force pilot. This training is required to get a permanent position. If you are a candidate for this exam, you have to qualify all the eligibility criteria. You have to complete your three-year graduation course from a recognized board with a minimum percentage of marks. It is okay if you pass 10+2from the science stream with mathematics and physics. You have no age bar for the CDSE exam, and only men can appear for it. Every year during November and August, CDSE releases the exam dates. You have to apply as per the procedures. You have to fill the forms accordingly and appear for the exam. It is mandatory.
NCC Special Entry:
It is another way through which you can fulfill your dream to become an air force pilot. Both men and women can come to this line to get a permanent position in the air force. The Directorate General National Cadet Corps does the recruitment for this job. However, you must have the minimum educational qualification for this job. You have to complete your B.Tech from any field with minimum mark of 60%.  The advertisement for this entry is made by the Indian Air Force every year June and December. You can apply accordingly.
Air Force Common Admission Test:
If you dream of becoming an air force pilot, you can also apply through AFCAT to apply and join the flying branch. It is a short-term job. You can serve this organization up to 14 years, and there will be no further extension.  To get into this field, you have to pass your 10+2 with science from a recognized board. You have to secure minimum marks of 60% in this exam. Further, you have to complete your graduation from B.Tech or similar other courses. Indian Air Force releases the advertisement of AFCAT every year June and December. You must try to appear on this exam to get your dreams to come true.
National Defense Academy (NDA):
It is one of the premier places for becoming a pilot. The exam of NDA is conducted by UPSC or Union Public Service Commission. You should be from science background in 10+2. You have to score a minimum of 60% marks in this exam. If you qualify for the exam, you have to undergo a three-year rigorous training period. It is tough to withstand the training procedure. If you complete the training period, you will be commissioned to the permanent position. You can also get a lucrative job in the air force and posted all across India.
Thus, these are some of the entry points to this job. If you qualify for the exams you can quickly get a pass to join this team. If you are sincere and dedicated, you can come and join this team.
Benefits and prospects in Air Force:
If you are serving the country with full dedication and honesty, you deserve the best. The Indian Government has always supported the life and family of the Air Force officers. The Government tries to give the best benefits to these families.
If you are serving as an air force pilot, you will get free accommodation wherever you are posted. It is a great help for the families. The flats that are offered to you are furnished and have all the facilities. They are packed with all the modern amenities.
Every year you and your families will get full-body free health check-ups. If you have elderly parents, they are also included within this benefit. A full dental check-up means that you will get full eye and dental treatment also.
You will be given all traveling assistance while you are on vacation. All sorts of top arrangements are made so that you can fully enjoy it.
Your kids can also get reasonable educational and financial assistance. The air force supports and gives various scholarship programs for the aspiring students of the employees. It is a great facility that will help students who require it.
You will get free food passes to buy household items. This will help in the smooth running of the family. All the good-quality food products are served to the family members of the air force professionals.
The best benefit that you can get is after retirement from the job. You will get a good pension along with other allowances. It is a small token of respect that is shown by the air force to its employees. You will be given the best treatment that is required during the old-aged days.
However, the respect that you will get in your whole life is the best achievement. It is above all.
Salary of an air force pilot:
If you become an air force pilot, you will get ample benefits. Besides this, you will also get a handsome salary along with other perks. As a beginner, you will get a salary of INR 80,000 to INR 90,000 per month. This will increase with time and experience. The job of an air force pilot is exciting and adventurous at the same time. It is full of challenges. You have to give your best for the nation to get something good.
Conclusion:
Being an air force pilot does not seem to be an easy one. If you are ready to give best for your country or do well for the countrymen, you must become an air force pilot. Your dedication, sincerity, and love for the nation can help you become a perfect air force pilot. You will feel proud of your country. Your family members will be proud of you when you will become an ideal protector of your motherland.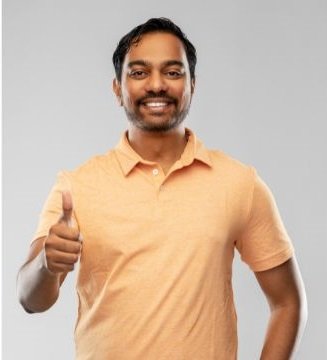 Rahul Kumar is a passionate educator, writer, and subject matter expert in the field of education and professional development. As an author on CoursesXpert, Rahul Kumar's articles cover a wide range of topics, from various courses, educational and career guidance.