Biomedical and Bio-Genetic Engineering has become a popular field in India. Many of the universities in India are known to be the best for the courses in genetic engineering. The Indian agricultural scenario has also evolved because of genetic engineers. You will find GM (Genetically Modified) crops which has a better output with a lower failure rate. If you do not know much about the work of a genetic engineer or this field then you are on the page.In this article, we have shared a lot of details about genetic engineering and the career path of the genetic engineer. If you are interested in this domain or if you are exploring this career opportunity then you can check out the details on this page. Let us go ahead and check out more about becoming a genetic engineer in India.
What does a Genetic Engineer do?
As the name suggests, a genetic engineer is someone responsible for altering the DNA of the organism. The technique to alter the DNA is called genetic engineering. You would have heard about terms like bio-technologist or bio-medical. These terms are interrelated and the job family deals with altering the DNA to evolve the living organism to meet certain human needs. A common example of this is GM Wheat which can grow with a low amount of water and also has better resistance to diseases.
In India, the field has gained a lot of popularity and there are research scholars that are hired by MNCs located in India. They are involved in research of new variations which can be a viable product in the market. A genetic engineer often works in a controlled environment in labs that are equipped with modern technology. They have tools to analyze and modify the DNA. The use of genetic engineering is not just restricted to agriculture but is also used extensively in treating diseases.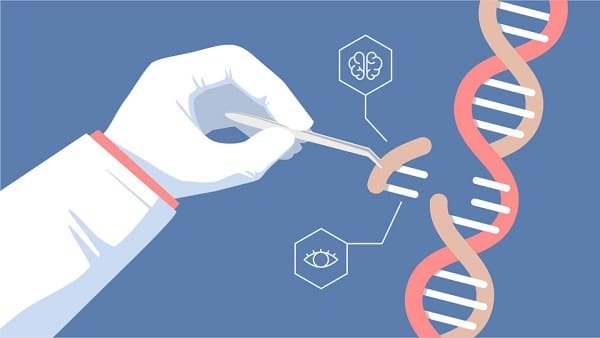 Eligibility Criteria to Become a Genetic Engineer
When you are planning to choose a field, it is better to check the eligibility criteria first. This helps you in avoiding any disappointment in the later part. Below is the eligibility criteria associated with becoming a Genetic Engineer.
The preparation starts with 10+2 itself as you need to have a Medical field during these two years. Maths, Chemistry, Physics and Biology are the mandatory subjects.
You need to score at least 60% in 10th and 12th to be eligible for the entrance exams. Without that, you would not be able to make it.
For a Master's and doctorate, you need to have the minimum marks in Bachelor & Master level degree.
There is a certain skill set required that can help you in your career. We have listed some of those below.

You need to have a scientific attitude.
You need to have good problem-solving skills along with logical reasoning
Knowing graphical tools like CAD along with a photo imaging brain helps you in understanding the structure of DNA.
Knowing Python is an add-on and you can also learn the skillset during your graduation.
You should have excellent communication skills.
Having good mathematics is also important and you should be able to use all the scientific instruments easily.
Courses for Becoming a Genetic Engineer
In this section, we have listed various courses that you can pursue to become a genetic engineer. We have listed these courses at various levels, check them out now.
Bachelor Level – At a bachelor level, you have an option to go for B.Tech in Genetic Engineering or Biotechnology Engineering. Both the courses are very similar and you get to learn almost the same subjects. This is a 4-year course and many universities in India offers it to you. The course has 8 semesters. You need to opt for one of the two courses to become a Genetic Engineer.
Master Level – Once you have completed your Bachelor Degree, you have an option for opting for working in the industry for some time before you jump into a Master degree. You would have to opt for M.Tech in the same field and IITs are some of the best institutes for that. The master level course is 2 years long and it is divided into 4 semesters. You may also get a stipend during the last year of the course.
Doctorate Level – If you wish to become a research scientist in genetics then a Master's might not be enough. A lot of organizations demand doctorate level courses and you need to opt for PhD in such a case. You can choose the topic of research and draft your thesis around the same.
Admission Procedure for Genetic Engineer Courses
You have been through the courses that you need to opt for to become a Genetic Engineer. In this section, we are going to talk about the admission process for domestic colleges & universities.
Bachelor Level – At this level, admissions are offered only after a competitive exam. You need to appear in exams like JEE or the specific university level entrance exam to get admission. This is usually followed by a personal interaction round and you get admission after all of those formalities are complete.
Master Level – If you are looking for admission in M.Tech Genetic Engineering then you would have to appear in exams like GATE. Admission to this PG course is granted only after a competitive exam. The procedure is similar to getting admission to B.Tech.
Doctorate Level – Things are slightly different at this level. At a doctorate level, you need to apply to various universities and appear for the personal interaction rounds. The admission is granted based on the research topics and your proficiency in the subject. You also get a good stipend while pursuing a PhD.
Foreign Universities – We can't deny the fact that things are a lot better when you study in foreign universities. The chances of getting a good job also increase but it can be financially draining. To get into a Genetic Engineering course in a foreign university, you need to understand the application process of the university by visiting their website. There is a lot of variation here and hence we can't share the generalized procedure.
Job Roles for Genetic Engineers
By now, you would have an understanding of the courses that you need to pursue and how to get admission in those. In this section, we are going to talk about the various job roles that are offered to Genetic Engineers. So, to begin with, you will mostly be involved in a research role. You may be working as a lead scientist or you may even be assisting a researcher in the initial days of your career. Many graduates work as technicians, supervisors and researchers. A lot also depends on your education level and experience.
If you do not want to be a researcher then academics are also open for you. You can work with colleges that teach Genetic Engineering or Bio-Medical. This will help you in staying in academics. Apart from this, another option available for you is becoming a medical writer or a scientific writer. Under this job role, you will be publishing scientific papers after the clinical studies.
So, there are extensive job roles available after you complete the education and you can choose one according to your preference.
Recruiting Agencies for Genetic Engineer
Finding a good job is more important than finding a good college. Your career is dependent on this and your pay scale also depends on your recruiter. Genetic Engineers are hired by healthcare companies, research centres, hospitals, agricultural companies, pharmaceutical companies, forensic research organizations and even by government agencies. Some of the best recruiters for Genetic Engineers are listed below.
Apollo Hospital
Dr Reddy
International centre for genetic engineering & biotechnology
Novartis
Sun Pharma
Tata Institute for Genetics & Society
Tata Memorial Center
Pay Scale of Genetic Engineers
Studying Genetic Engineering is the investment part of the job. Let us now move on and learn about the returns that you will get on your investment. The salary depends on a lot of factors and your experience as well as your educational institute plays a major role in the same. If you are working as a trainee or an intern then you can expect close to Rs 3 Lakh per annum. However, things are different for research associates and lab technicians. They can expect a salary between Rs 3.5 Lakh to Rs 6 Lakhs per annum. For the supervisors and junior scientists, the salary is usually under Rs 10 lakhs. If you are a lead scientist then you can earn close to Rs 18 Lakhs per annum. It should be noted that these are the starting ranges and there is no upward limit. It all depends on your career and your portfolio.
Pros of Becoming a Genetic Engineer
It is always interesting to know about the Pros & Cons of a job title. Knowing the Pros helps you in making up your mind when you are choosing the domain. In this section, you will find some of the Pros of becoming a Genetic Engineer. Check them out below.
Helping the Society – The first advantage of working as a Genetic Engineer is that you are helping society when you are working on any project. You have the opportunity to create a new modified species of a crop or animal that can serve society in better ways. Most Genetic Engineers work in the agricultural field and it required considering the pressure on the resources.
Research & Innovation – If you are fond of research and development then this is the right job for you. You get to learn new things and you get to innovate. You get to learn about the basic life form and you have the power to create something new.
High Paying Job – Genetic Engineers are paid well. The only thing to consider here is that you need to be clear with your fundamentals and you need to get into a good organization. Any patent filled by the company will also help you earn royalties and a good patent commission.
Different from MBBS – When we talk about medicine in India, most people would think about becoming a doctor. Genetic Engineering is something different from the regular Medical Line and you will surely be glad of choosing this different field.
Cons of Becoming a Genetic Engineer
As for the sides of the coins, there are disadvantages to any career that you choose. In this section, we have listed some of the cons associated with becoming a Genetic Engineer. Check them out below.
Risky Job – When you are modifying the DNA or when you are dealing with something on the molecular level, there is always a chance that things might go wrong. You end up creating a pathogen that can be very contagious. You may also end up creating a variety of crop which can harm others. There are certainly ethical concerns with Genetic Engineering and that can't be ignored.
Time Consuming – You will never get quick results when you are working. This job requires you to have a lot of patience and there is no way to expedite things. You will have to give your own sweet time to the things and this is how the real scenario is.
Evolving Field – Genetic Engineering has evolved a lot in recent time but there is still a lot to happen in the field. There are still few organizations in the sector and they often hire people with masters or doctorate. Sometimes, it may become hard to find a job especially if you are not from a creamy layer.
Final Verdict
We have covered most of the details about Genetic Engineer in this article. The field has its advantages and disadvantages. There is no doubt about the fact that Genetic Engineer is the way forward and it would be required by humans to meet the demand-supply curve. The career option is bright but at the same time, it is very demanding. If you are interested in biology and if you want to opt for something unique then you can certainly choose to be a Genetic Engineer. It is a very respectable job and you will get to learn a lot.
If in case you still have any questions about the domain then feel free to write back to us. We will try our best to help you and answer the questions that you have.